Why should customers buy from you? How do you stand out and solve their problems better than anybody else? Every marketer knows these are important questions, but finding the answers can be a challenge.
In this guide, you'll learn how to differentiate your business and attract your ideal customers by creating a unique selling proposition.
We'll cover why a unique selling proposition is important, how to uncover what your customers are hungry for and share a framework for developing and testing a proposition that makes an impact on your business.
What is a unique selling proposition?
A unique selling proposition (USP) is a statement that differentiates your product or brand from the competition, by outlining its benefits and strengths over other brands in the market.
The best USPs often read like clever copywriting. They sell the customer on a product or service and compel them to learn more. But pulling this off in as few words as possible requires more than inventive wordplay. 
What makes a good unique selling proposition
For a USP to hold up under scrutiny, it has to do three things well:
Be memorable. A statement that can easily be copied, like "high-quality products tailored to your needs" is too generic to make a lasting impression. A USP has to communicate an unmatched benefit.
Be tangible. Your message has to be backed by everything that you do. 
Be customer-focused. It must showcase a feature or benefit that customers value and want.
Take FedEx's classic USP:
"When it absolutely, positively has to be there overnight."
The boldness of its claim makes it memorable. FedEx is promising that they can deliver a parcel the next day; 
It's tangible because FedEx has the network and infrastructure to get a package to its destination on time, and; 
It's customer focussed. FedEx has found a unique part of its service that customers value.
Sure, other companies offer fast-track delivery. But back in the 1970s when FedEx introduced this USP, only they could help you meet a deadline. 
As catchy as the line is, it only works because it services a need and addresses a gap in the market. The best unique selling proposition examples all share those fundamental qualities. These come from speaking and listening to your audience, and successfully differentiating your brand.
How a USP attracts better customers and builds your brand
Crafting your unique selling proposition (USP) means defining the element (or series of elements) that communicates what makes you different from your competition. 
For many marketing leaders, answering this question usually means finding a specific feature, component, or methodology that their competitors don't offer. This leads to brands and startups playing a game of catch up on each other's features.
But there are other ways to stand out. Take ConvertKit, for example. On the surface, they have similar features to the likes of Mailchimp, ActiveCampaign and iContact.
It's important to note that despite face-value similarities, they are feature-poor compared to the traditional marketing automation space. Despite not competing on classic features, they're loved by "independent creators and solopreneurs" all over the world: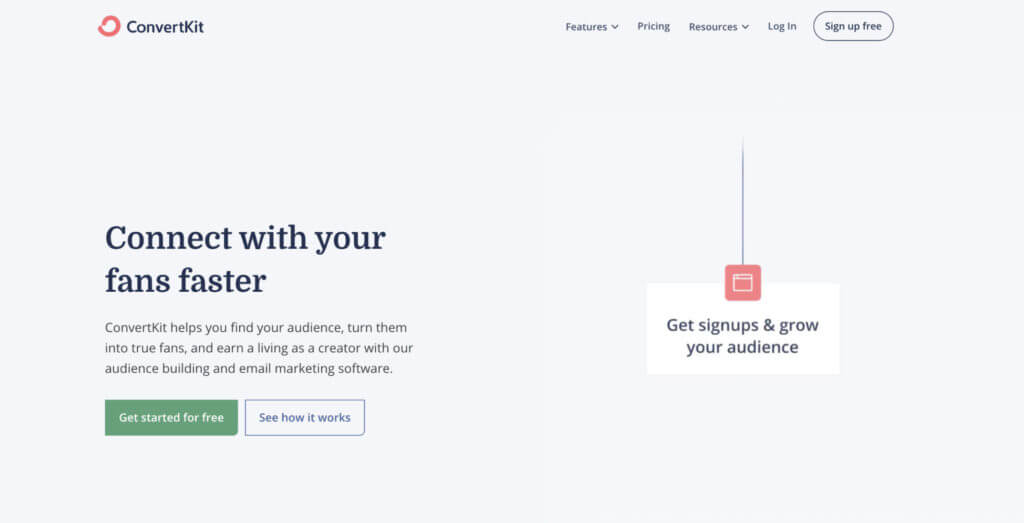 Why? Because that's the audience they've dedicated to serving, which happens to be a segment of the market that nobody else was directly talking to when they first launched. They developed features with their specific audience in mind. It's a position that's helped them build a SaaS brand that generates over $2.3 million in monthly recurring revenue (at time of writing).
Your USP isn't just a clever copywriting tool. It allows customers to peer in and find out if what you're offering is for them—and if they should stick around to learn more.
ConvertKit's strategy is geared around building email marketing tools for independent creators, allowing their customers to build and nurture their own audience. The USP that communicates this is:
"ConvertKit helps you find your audience, turn them into true fans, and earn a living as a creator with our audience building and email marketing software."
Without a purpose, this USP wouldn't exist. They could have written it as part of a thought experiment, but it's an unlikely conclusion to arrive at without a driving mission.
Finding your unique selling proposition will help you attract your ideal customer. It will force you to identify what they struggle with and what they most desire, filling those gaps in a way nobody else can or chooses to.
If you're worried that this approach will narrow your opportunity, think again. ConvertKit built a multi-million dollar brand in a highly competitive space. Finding your niche will attract more of those ideal customers than appealing to the broader market ever could.
How to write your unique selling proposition (USP)
Here's how to create a unique selling proposition that differentiates your business and attracts your ideal customers:
Step 1: Use customer interviews for an objective and qualitative view of the market
To find your USP, you must go beyond the echo chamber of internal committees. The best approach is going straight to the source, asking your customers what they want, need, and already love about your products or services.
The basics are important (e.g., how your product helps solve a problem), but it's key to go beyond surface insights. Conduct Jobs-to-Be-Done research (JTBD) to uncover what job your customer wants to get done with your offering. The JTBD approach gives you a window into how they view success, or desired outcomes.
Take the search for a hat as an example. The customer isn't necessarily looking for a hat, but for a way to block out the sun or keep their hair out of their face. When you don't focus on the hat, you see diverse solutions (e.g. sunglasses, headband, hair tie, umbrella). 
Diving into the purchase experience and desired outcomes helps you uncover Voice of Customer (VoC) data. This will motivate prospects towards a purchase as you're evoking emotions through relatable, personalized language. 
Interviewing your customers with the right questions can help you achieve the following:
Identify the attributes they truly value. Your product or service is likely built of many features or components, but which of those do your customers truly value? Asking your most loyal customers why they keep coming back can put your marketing biases to the test.
Uncover gaps that are being unmet. Use these conversations to understand the needs and desires your customers are struggling to fulfil. Uncovering what led them to search for X product or Y service helps inform the customer journey and buyer motivation. 
Who your customers are. Discovering that your customers are solopreneurs when you're trying to appeal to large marketing teams can be a powerful revelation. Identifying those who truly value your product helps you craft a compelling USP and informs a more effective marketing strategy.
Why customers left you (churned). While these are trickier to reach, finding out why past customers moved on can uncover problems you can fix with a USP or product strategy.
Segment your customers
What makes a loyal customer will vary from industry to industry, some examples include:
SaaS: Length of their subscription
Ecommerce: Average order value (AOV) or repeat purchases
Services: Renewed contracts (and praise given during meetings)
Education/Courses: Several product purchases or upgrades
Advocates are more likely to agree to an interview due to positive sentiment. The downside is they may be positively biased, and may be remiss in sharing what they don't like about what you offer.
One way of countering this is setting expectations upfront. When inviting them to a conversation, tell them you want to hear both the good and the bad. This will give them time to think through every angle beforehand instead of putting them on the spot during an interview and missing key insights.
Another way to uncover what you can do better is by interviewing churned customers. These are people who have canceled or stopped purchasing on a regular basis. They can be tricky to reach, so here are some tips to improve response rates:
Reach out as soon as possible after a churned action. For example, two days after they cancelled their subscription to your SaaS product. Best practice is within the first few weeks. Any later than 30 days and you're likely to be a distant memory.
Let them know it's not a thinly-veiled sales call. Their guard will be up, so be transparent about the purpose of your call.
Limit the call to 10 minutes. Aim to reduce friction wherever possible.
Invite your customer segments to an interview
How you reach out to customers depends on the segment. First, avoid contrived incentives (e.g. Amazon gift vouchers) unless you know your audience responds well to them.
To get genuine insights, you need customers who are excited to contribute. You may see a lower response rate, but you'll have confidence that those getting involved are truly interested in helping you achieve your mission.
Here's an example invitation email for existing customers:
Hi [NAME],

You've been a loyal customer of [COMPANY] for over two years now!

We're in the process of improving our product and are interested in how you use it and what you think we could do better.

Would you be open to a 15-minute phone or Zoom chat? It could help us shape the future of [COMPANY/PRODUCT NAME].

Let me know a date and time that works for you and I'll send a calendar invite.

Thanks,

[YOUR NAME]
Short, transparent and to the point. Customers who want to contribute to a product they use daily are likely to be thrilled at the opportunity to have their say on how it will take shape.
What about churned customers? Here's an example email from a fictional landing page SaaS brand:
Hi [NAME],

I noticed you recently cancelled your subscription with [COMPANY]. We're in the process of improving our landing page builder, and part of this is speaking with past customers to see what we can do better.

Would you be open to a 10-minute chat to talk about why you decided to move on? We're open to feedback no matter how negative it is, and I can promise you this is not a sales call in disguise.

Let me know a date and time that works for you if you're open to this. If not, no worries—we wish you all the success and conversions in your future landing page journey!

Thanks,

[YOUR NAME]
Many email experts might say this email is too long. However, it's necessary due to the nature of the interaction. It also allows you to address potential objections without needless back-and-forth.
How to conduct interviews and uncover true motivations
Go into your customer interviews armed with only a handful of questions (e.g. three to five). Not only will this help you prioritize the conversation, but allow you to dig deeper into their responses.
Asking follow-up questions based on responses to surface-level questions will uncover the true motivations behind their answers. This is the foundation of the JTBD style interview (see this example).
Let's say a fictional razor subscription brand wanted to improve their USP, "High-quality razors delivered to your door, every single month." Here's what a "transcript" between the marketer and customer might look like:
Brand: "Why do you continue your shaving subscription box every month?"

Customer: "Well, I don't need to think about adding them to my shopping list when I get low. Plus your razors are by far better than others I've tried."

Brand: "Interesting! What do you feel is better about our razors?"

Customer: "Well, most other brands I've tried can be quite uncomfortable. I never feel a sense of dread when shaving with your razors."

Brand: "In what way are our razors more comfortable?"

Customer: "They don't tug at my facial hair. I don't feel my skin is being ripped to shreds whenever I want a clean shave!"
Here, we've gone from "your razors are better" to "they don't tug at my facial hair." Without digging deep, these insights would have been lost.
If we were to create a USP from this conversation alone, a better USP might be "Razors that don't tug or tear, delivered to you every month." 
This message appeals to customers who value a comfortable shave without leaning solely on the subscription business model. Convenience is table stakes in the DTC landscape.
After a dozen or so of these conversations, you'll begin to identify patterns. Here's a process to help you collect and organize them:
Get your conversations transcribed. This can be done affordably through Temi, which produces 99% accurate machine transcription, Fiverr, or a service like Rev.
Identify and highlight quotes that indicate what your customers like, dislike, or need.
Store your insights in a spreadsheet, attributing them against personas or demographics.
Highlight commonalities and categorize quotes by sentiment. For example, a category from our transcription above could be "Comfortable Shave."
Step 2: Conduct competitive research to uncover gaps in the market
Measuring yourself against the competition can often be distracting. For this exercise, it's a powerful tool to uncover gaps in the market that aren't being fulfilled.
Step into their customer's shoes
It's easy to get complacent with competitive research, conducting only surface-level analysis of your competitor's home page, social media, content, etc.
A better approach is to become a customer yourself. It allows you to paint a comprehensive picture on how competitors treat their customers at every touch-point. You end up analyzing their entire customer experience, not just their marketing.
This means buying their product, booking a demo or signing up for a trial. Depending on your industry, look out for the following:
Ecommerce. What product attributes are being highlighted? What's the packaging like? Do they throw in any add-ons or freebies? What about upsells during checkout?
SaaS. Sign up for a demo and go through the sales process. How do they present their features? How do they differentiate from other competitors (including yourself) and handle objections?
Agency. Check out their about page. How do they position their services or methodologies? Go through the sales process and see how they say they're different.
Do this across several of your competitors. Look for things that some do and others don't. Most importantly, look for gaps that aren't being fulfilled, using insights from your customer interviews to identify them.
Read customer reviews
Next, look at what competitor customers are saying about them; the good, bad and ugly. Browse the five star reviews to see what customers love, and the two or three star reviews to identify where they could do better.
Why ignore the one star reviews? Because these are often outliers from rare bad experiences and can skew your research. Two and three star reviews are usually fair and objective. For example, here's a three star review for a coffee subscription brand on TrustPilot:
It's a highly specific review for such a subjective product. People have different tastes. However, there are some insights we can glean from reviews like this one:
People expect an easy and enjoyable buying experience. These are table stakes, and would not make for a truly "unique" selling proposition.
Many customers aren't impressed with the taste. Most of the three star reviews report a mild tasting coffee.
Despite some good experiences, some customers have complained about how difficult it is to cancel their subscription.
From these reviews alone, we've uncovered a gap for coffee that carries a strong flavor. Supporting elements include making it clear that it's easy to cancel (especially if other brands have set a poor precedence in this area) while following through on this promise.
Other sources for customer reviews include G2, Amazon and your competitor's company Facebook page.
Breakdown their product and landing pages
Once we've got the customer's perspective, we can explore their marketing in more depth. Focus on landing pages and product pages for this exercise. Analyzing their content or social media strategy will distract you from product-focused messaging.
Start with the home page. How do they communicate what makes them different? For example, here's a prominent USP featured on Copper's home page:
They've found a gap in the market by appealing to customers who do the majority of their work in Google Workspace (Docs, Sheets, etc.). While it's not seen above the fold, it's a prominent part of what makes them unique.
Another example can be found on the about page for Billie, a shaving subscription service for women:
We learn that Billie was built for women who were sick of overpaying for razors (which happens to also be rhetoric found in the zeitgeist for sanitary products).
Finally, here's a product page example from Four Sigmatic's Mushroom Coffee:
They put an emphasis on coffee that doesn't make you crash. Digging deeper, they promise "No jitters or hocus-pocus, just hours of crash-free focus." They've clearly gone after coffee lovers who want a drink that sustains them.
What to do with this competitive insight?
Look for further gaps in the market, and ask yourself where your competitors have already hung their hats.
Going back to our two coffee examples, Four Sigmatic is fairly well known for their jitter-free coffee. However, there may be an opportunity for a subscription service with an emphasis on stronger flavors.
Create a spreadsheet and record the following information for each competitor:
What customers love about them
What customers don't like about them
Description of the customer experience/sales process
Unique identifiers from landing and product pages
Customer needs that aren't being fulfilled
The last point relies on customer interviews. Based on this information, make a list of potential gaps in the market you can (or already do) fulfil.
Step 3: Develop and test your unique selling proposition
With solid research in hand, you can get down to fleshing out your USP.
Get clear on your purpose and revisit your strategy
A unique selling proposition shouldn't be used as a bandaid. This is the perfect opportunity to review how to apply your USP across your business.
For some, this process will be a product development exercise, finding the best way to differentiate a new product or feature release. Conversely, if you're early in your business journey, this could define your entire product and marketing strategy.
The two aren't mutually exclusive. Businesses who have been around for years may find a need to pivot based on their findings.
You might expect to find this advice as "step one" of this process. But this guide assumes you already understand the need for clear goals. It also acknowledges the reality that assumptions are challenged when presented with facts and data.
If you have the power to offer customers something they want (that nobody else is giving them), it's your responsibility to provide. This could mean creating a new complementary product, or pivoting your entire focus on a new segment of the market.
Write your USP with these frameworks
Using a formula to write your USP is not a marketing exercise. It should be used to communicate internally to all individual contributors and stakeholders exactly how you plan on serving your corner of the market.
USP formulas can help you shape your USP, but don't let them confine you. The goal is to clearly articulate to your specific target market and segment the differentiators they care deeply about. If that doesn't fit into a formula, live outside the box. 
A common USP formula is:
"We help [AUDIENCE] achieve [TRANSFORMATION] with [PRODUCT/SERVICE]."
This puts focus on an outcome that nobody else promises. For example:
"We help online creators build an audience of raving fans with email marketing tools."
It doesn't answer the "how," but is clear on the "who." If I were an independent creator trying to build my audience, I would quickly get the feeling that the brand behind this USP truly understands me.
These principles also apply to specific products within a broader product line:
"Our [PRODUCT] is built for [AUDIENCE] who [TRAIT]."
An example of this in action:
"Our razors are built for women who are tired of overpaying for toiletries."
These frameworks act as internal statements for the direction your business, marketing strategy and products are going to take.
Testing your USP and its variations
It's wise to test a new message or stance in the market before committing to it. If the response is positive, this will help you confidently enter a new space or fill gaps in an existing one. If negative, it's a sign to tweak and try again.
Wynter makes message testing for website, ad, and email copy easy. This helps you understand if and where you missed the mark and what did or didn't resonate. You can also run customer development surveys to glean target audience insights, like top pain points they want to solve. 
Another option is to test messaging with paid media. Run Facebook or Google Ad variations to identify the best landing page headline:
Set up a creative test with 5-6 headline variations. This increases the likelihood that your ad will show. It shouldn't take longer than an hour to set up (assuming you've already completed market research).
Set a threshold for X clicks per variation (vary by low and high-ticket-value products). For example, you could set 40 clicks per variation for low-ticket-value DTC products and 500 clicks per variation for high-ticket-value luxury products. For DTC products, if you're paying 30 cents per click at 40 clicks per 5 variations per adset (let's use 1 adset for simplicity), that's ~$60 minimum daily budget.  
Run the experiment for 7 to 14 days to allow for statistical significance. $60 daily budget x 7 days = $420 minimum test budget, for example. 
While a data-driven approach can provide an objective conclusion, it doesn't always get the qualitative feedback that can help you measure and refine based on an interaction with your customers.
This is where product validation can help. Reach back out to those who gave you feedback during customer interviews and gauge their commercial response.
This will reveal if they'll buy into your new offering and why (or why not). 
You could do this by asking them back on the phone with you. To avoid communication fatigue, it may be worth starting with email and seeing how they respond. Create a dedicated landing page to present your new offering, or shoot a bespoke video demo.
Finally, test your USP on a small percentage of your email list. See how different segments respond to your message. Some of these segments include:
Those who recently churned (as covered in step 1 of this guide)
Existing customers who haven't purchased in more than three months
Leads who are stuck early in the sales cycle
Subscribers who have yet to make a purchase
If you find there are different variations of your USP based on customer interviews and gap analysis, test them against each other.
The length of time this takes will vary depending on audience sample size, but well worth doing for the added clarity. It also has the added benefit of challenging strong opinions held by internal stakeholders.
Once you've extensively tested your USP, you can confidently roll it out across your marketing activity. This process could be as simple as changing the copy on your home page. However, if the result of this exercise has caused you to pivot, you may need to overhaul your entire website.
Conclusion
You won't find what makes you unique by relying on internal committees. To uncover a unique selling proposition that moves the needle, you must first ask your customers what they want.
Get their insights. Find out what needs aren't being met. Measure yourself and your competitors against these needs to uncover gaps in the market that you can fill.
Most importantly, test this USP on the market before rolling it out across your marketing activity. See how they respond, and analyze the commercial impact it makes on sales and bottom line.
!function(f,b,e,v,n,t,s){if(f.fbq)return;n=f.fbq=function(){n.callMethod?
n.callMethod.apply(n,arguments):n.queue.push(arguments)};if(!f._fbq)f._fbq=n;
n.push=n;n.loaded=!0;n.version='2.0′;n.queue=[];t=b.createElement(e);t.async=!0;
t.src=v;s=b.getElementsByTagName(e)[0];s.parentNode.insertBefore(t,s)}(window,
document,'script','https://connect.facebook.net/en_US/fbevents.js');