What's the secret to boosting engagement on your social media content?
It's by writing compelling captions that captivate your audience's attention.
Often overlooked, social media captions can be a prime real estate for connecting with your audience.
Strong captions can attract audience attention, encourage people to take action, and boost your social media content strategy's results enormously.
But writing captivating social media captions can be tricky.
Luckily, there are many social media writing tools out there that can help you create engaging ones.
Want to learn what those social media writing tools are?
1. SocialPilot
SocialPilot is an all-in-one social media management and analytics tool that allows you to easily create and publish compelling content across all major social media channels in just a few clicks.
The tool also offers personalization features for your content so you can easily customize your posts for each specific social channel you want to post on.
To keep track of your social media content, the tool offers an intuitive content calendar so you can get a comprehensive view of your content strategy.
This is one of the leading social media writing tools that enables you to schedule your content in bulk. For instance, it allows you to schedule up to 500 posts at once for all your social media platforms.
You can also save your top-performing content and trendy hashtags in the content library so you can use them in your future posts
Price: SocialPilot pricing starts from $25.50 per user (for up to 10 social media accounts) but you can try it for free for 14 days.
2. Flick AI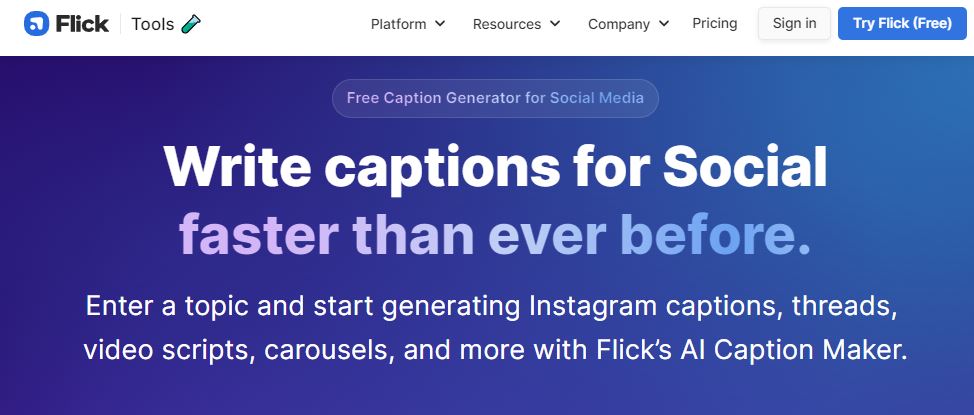 Flick AI is a caption generator is a powerful tool for creating captions in few seconds for social media posting.
With it, you can craft engaging and highly personalized captions 10X faster so you don't need to hire an expert copywriter.
Increase your content's visibility on social media with expertly auto-generated hashtags that are based on your captions and content.
What's more?
It also helps marketers in copywriting, content scheduling, hashtags, analytics, and more. With this tool, you can churn out huge amounts of content quickly.
Price: Flick offers a 7-day free trial. Pricing starts from $11 for 4 users per month
3. CopyAI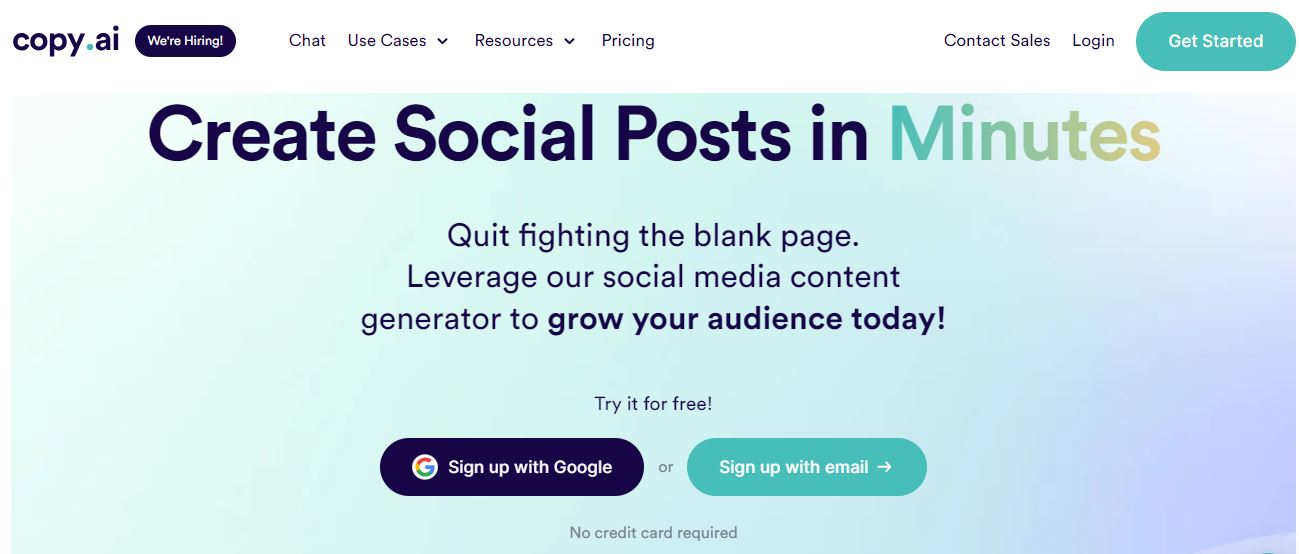 CopyAI is yet another AI copywriting tool that helps you engage your audience with compelling social media copy.
The tool uses machine learning to help you craft the following types of social media copy:
Killer YouTube descriptions
TikTok scripts
Pinterest descriptions
LinkedIn posts
Furthermore, the tool comes with a free Instagram caption generator to help you write super-engaging Instagram captions for your posts and photos that can help you generate more likes, comments, and followers.
There's also a handy TikTok caption generator that creates catchy captions you can add to your TikTok videos.
CopyAI also goes the extra mile to provide suggestions for tone, language, and style that matches your brand's messaging.
The good news?
The tool offers over 90 tools and templates to streamline your content production process.
Price: CopyAI offers a free version for up to 2,000 words per month but you can purchase the Pro plan at $36/month and create unlimited captions.
4. Jasper

Jasper is one of the most popular social media writing tools out there.
The tool leverages AI technology to help you write interesting social media copy efficiently.
What's great about Jasper is that the software can suggest and complete sentences based on your writing style and tone.
What's more?
Jasper's Instagram photo post captions template enables you to write short, relevant, and actionable content that attracts your target audience.
Besides that, you can also use its free TikTok caption generator to brainstorm and creatively write amazing TikTok captions that will stick with your audience.
Want to add emojis, hashtags, and clever sayings to your social media content?
Jasper allows you all that too.
Price: Jasper offers a 7-day free trial. Pricing starts from $39 per user/month.
5. Narrato Workspace

Narrato is a robust all-in-one AI content creation and collaboration platform that lets you ideate, create, collaborate, and publish high-value content at scale.
With Narrato's AI content assistant, you can ideate and create content quickly using hundreds of customizable templates.
Besides, you can make content briefs, complete with SEO optimization in seconds.
What's more?
The tool allows you to plan, generate, optimize, collaborate, and publish your content — all from a centralized dashboard.
The platform goes beyond just creating captions. Its easy team management and collaboration tool allows you to work with your internal team and freelancers on one platform.
Ready to Create Social Media Captions En-Masse?
Utilizing these five social media writing tools can help you create scroll-stopping captions that drive more engagement, conversations, and sales.
Note that to use them effectively, you must first understand your brand's voice and then train the tool to create captions that align with your goals.
So, go ahead and start creating social captions at scale.