Do you know that 90% of Instagram users follow at least one business on Instagram? What do businesses on Instagram do for these users to find and follow them? The answer is that many of them leverage Instagram SEO to boost their visibility on IG so that their target audience can find them.
Want to learn how this works? Then you have read this post till the end because I'll show you how to boost the visibility of your business on IG.
What's Instagram SEO?
Instagram Search Engine Optimization is the process of optimizing your content to be found on search results. When users search for keywords, hashtags on the Instagram search bar, your content or account will show on top results if you optimize them.
Instagram is a bit clear on the important signals its algorithm considers and the order. They are as follows:
The keyword a user searches for
Activities of the user which include the accounts the user follow, recent interaction, post viewed, etc
Details about the search results which include clicks, likes, shares, and hashtags for accounts that appear on search results for that particular search
What are the benefits of Instagram SEO?
Instagram, in November 2020, announced that it would be more search-friendly. Now you can discover accounts on the search results without using hashtags. This is a benefit to you as a business on Instagram as you can expand your reach by optimizing for keywords. Other benefits of Instagram SEO include:
The number of users who follow your business on Instagram will grow organically.
You can attract an audience who has an interest in the products and services you offer.
More target users can find your content without searching for hashtags your business uses.
You can build a community of loyal audiences for your brand.
The chances of generating quality leads that can convert to sales are high.
It saves you the money you could spend on Instagram ads.
You can survive the fierce competition on Instagram, especially if you're in a competitive niche.

How to boost the visibility of your business via Instagram SEO
1. Optimize your business profile
Leveraging Instagram SEO to boost the visibility of your business on Instagram begins with optimizing your business profile. Instagram's algorithm looks at the accounts users follow and interact with before recommending content.
So, if you optimize your profile, the algorithm can suggest it to users who interact with other accounts related to your own. Your content can pop up on their explore page.
Take the following steps to optimize your business profile:
Use an image that represents your business as a profile picture
Although there is no proof that profile photos boost the visibility of your account, users who see that your profile photo relates to what they're looking for can easily identify with your business.
Instagram recommends 320×320 pixels for profile photos, although it displays at 110×100 pixels. This is for it to fit in properly and display in the circle format.
Let your target keyword be part of your name, username, and bio
This boosts your chances of showing up on search results. For example, I searched for fashion, and many accounts with such a keyword in their names and usernames showed up in the search results.
You also notice that some of the accounts that appeared on search results have images related to fashion as their profile photos. This confirms my suggestion that your profile photo should represent your business.
Take a look at the screenshot below.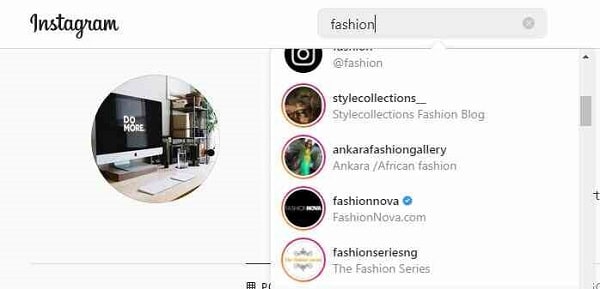 Although it is hard to have your target keyword form part of your name or username because other businesses may have picked it as their official name and therefore may not be available, you must play around with it to ensure that part of it forms your username or name.
Your bio is where you describe your business and the products and services you offer. Jasper AI writing tool has templates that help you write an Instagram bio. It's also important you optimize it. Again your target keyword and related keywords should be part of it.
Take a look at @Jasmine Snow Skinguru. She is a skincare expert, and her bio has related keywords like botanical skincare products and skin care repair.

These are keywords audiences interested in Skincare can search for, and this said account will show up on search results.
2. Post quality and valuable content always
Valuable and high-quality content rocks on Instagram. It is the best way to engage your target customers and get their honest views about your business. Even the algorithm boosts content that users find helpful, especially on the explore page. When users discover that your business posts useful content, they are likely to share it and come back to consume more of it.
The screenshot below is an example of a valuable post from creativepuddles about how to beat your competitors and make more sales on Instagram. It has over 200 likes which shows that users find it useful.
You can organically generate quality leads that convert to sales using content.
The first step is to identify the pain point of the target audience in your niche and create content that helps them overcome it. Video content and photos cut it on IG. Make sure your videos and photos are of high resolution. Edit your videos to ensure they look professional, and use Canva to design your images.
3. Use keywords related to your business as hashtags
Using target and related keywords as hashtags when writing stories and posts is one of the ways to let a new audience discover your content.
Hashtags are what keywords are to webmasters who want to optimize their blog posts to rank for a target keyword on Google or Bing.
If you perform a search on the Instagram search bar using a hashtag, several posts with such a hashtag pop up in the search results, including hashtags similar to it.
I performed a search with #Makemoneyonline. See the result I got in the screenshot below.
I clicked on the #Makemoneyonlinefree and saw content ranking on Instagram for such a hashtag.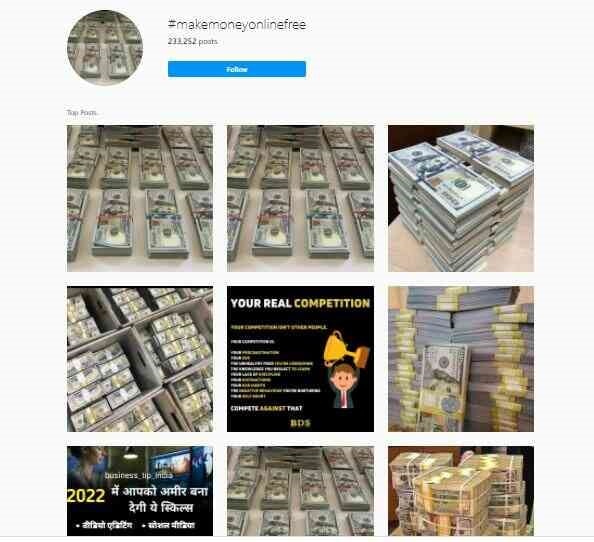 Your content stands a chance of appearing on search results if you use your target or related keywords as your hashtag. Beyond Instagram SEO, hashtags help you in running campaigns for your brand, build a community of loyal audience and research your target audience.
4. Add alternative texts
Alt-text isn't only an optimization strategy on search engines like Google. It also works on Instagram. Your target audience on IG who are visually impaired can't see the images you post. They get to know what it is through the help of a screen reader that describes it to them. That's why you should always add Alt text to accommodate this set of users and for the algorithm to push it to them.
Instagram auto-generates Alt text for every image you post. Don't rely on it. Rather write your Alt text using your primary or secondary keywords. This will make it more detailed and understandable.
To add Alt-text to your images, take the following steps:
Go to Advanced setting
Click Write Alt-text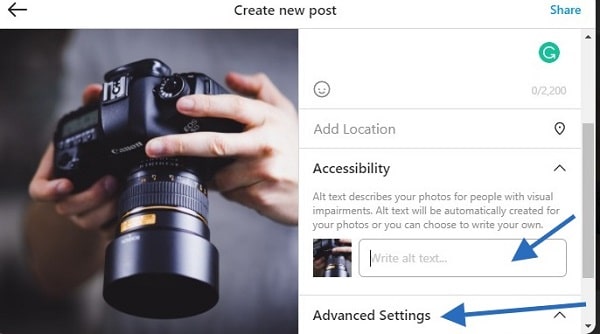 Add your Alt-text and tap Save
5. Avoid black hat SEO practices
Instagram SEO isn't a sprint rather a marathon. I know how frustrating it can be when you put in effort but see no positive results. Don't engage in black hat SEO practices such as:
Keyword stuffing
Hashtags spamming
Content theft
Buying followers
Using bots to fake engagements
They suggest that you want to game the algorithm. It can land your business account into trouble, and the consequence can be disabling or banning your account.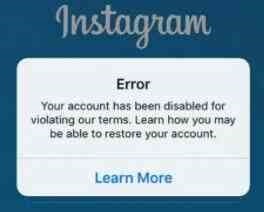 Then your Instagram SEO efforts would have gone, and you return to square zero.
6. Get tagged
When Instagram accounts that are public tag you in a photo or video, you receive a notification for that. And anyone who sees the photo or video will see that your account is tagged. That gives your account exposure as users are likely to check out your account.
When you get tagged frequently, it sends a signal to the algorithm that others find your account helpful and that is a boost to your account.
Take a look at the screenshot below to see what it is like for an account to get tagged.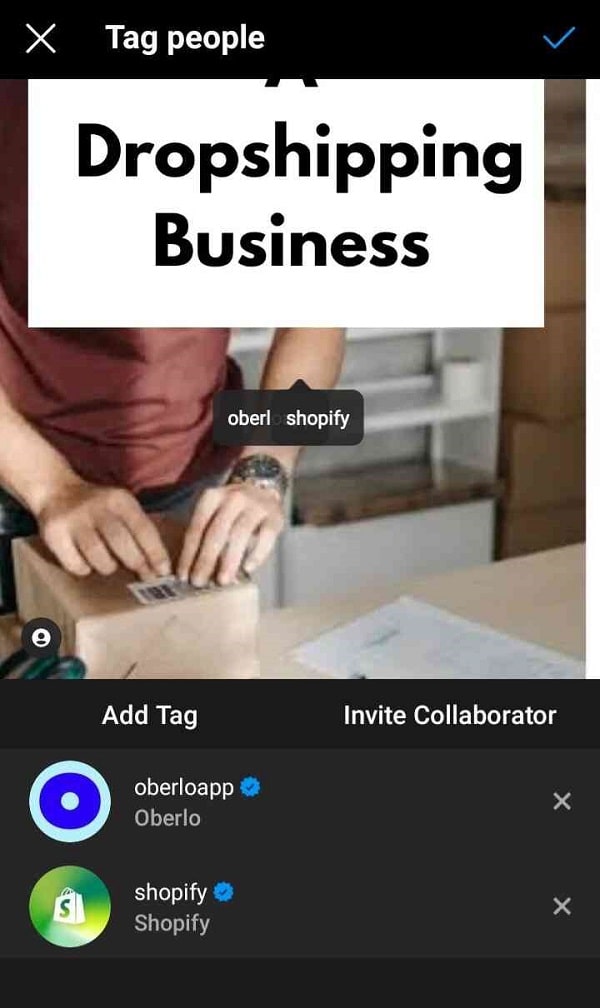 Getting tagged the right way requires building relationships and offering value in return. A tag from a high-quality account in your niche is more valuable than a tag from a new account in a different niche.
The idea is to follow high-quality accounts in your niche, engage their content, and let me know you are a big fan. Since businesses on IG want to expand their reach, they can tag you on their post knowing that you can share or repost them on your account.
7. Analyze performance
Whether the goal of boosting the visibility of your business on IG is to drive traffic to your website, make sales, or build a community, you won't know if your Instagram SEO efforts are working towards achieving that goal unless you analyze the performance of your content on IG.
Instagram has an in-built analytics tool, but it doesn't offer detailed insight.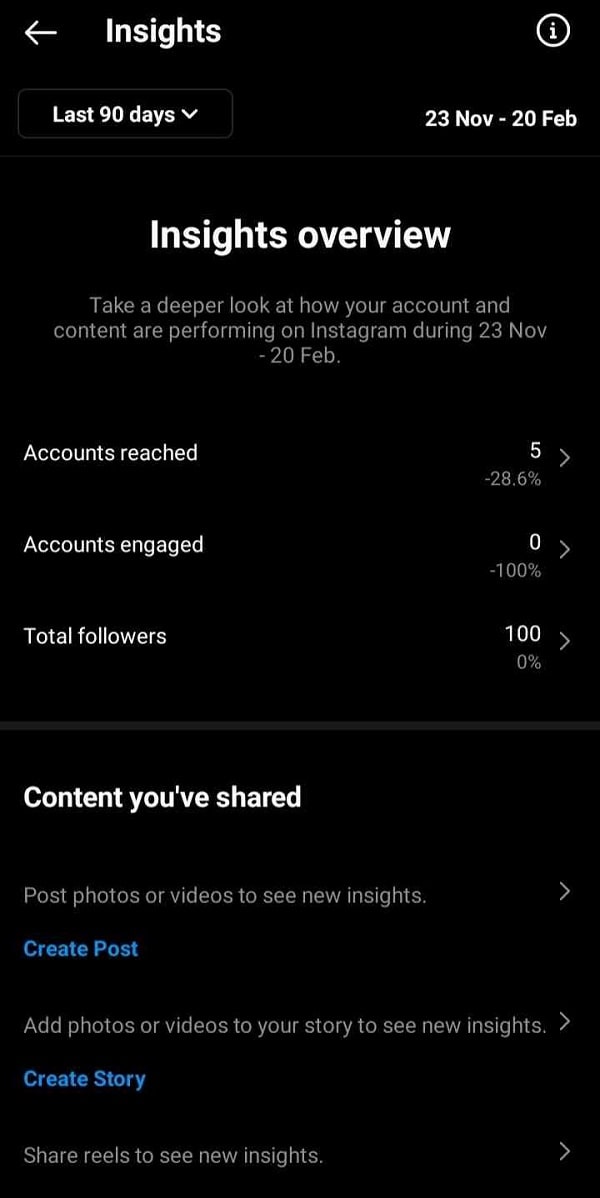 The data you pull from a particular date can get lost once the window closes.
For marketing purposes, Instagram analytics tools would be of great help. That will give the accurate and thorough details you need to make an informed decision.

Related Content
Final Thought
Businesses that have established themselves on Instagram without spending a dime on ads have paid much attention to their Instagram SEO.
You too can join them by implementing all that I have shown you in this guide.
Start by optimizing your Instagram business profile, post valuable content, use keywords related to your business as hashtags, add Alt text, shun black hat Instagram SEO, get tagged, and finally analyze your performance.
Remember the goal is to boost the visibility of your business on IG. Therefore whatever it takes to get it done the right way is worth doing.
---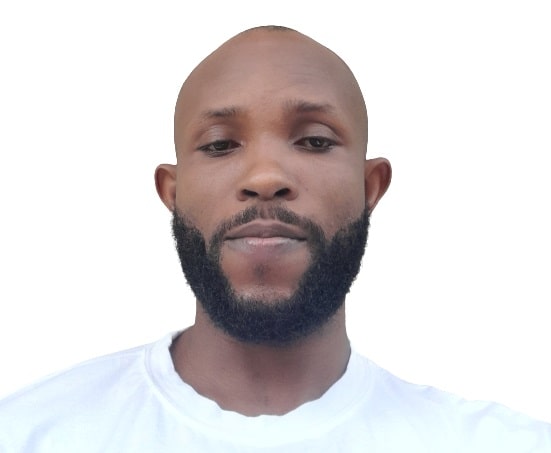 Written by our guest writer Chuks Chukwuemeka, a freelance SEO content writer & strategist
He helps SaaS brands grow their online presence organically. He's the founder of depreneurdigest.com, a marketing blog, and loves learning new things about SEO. Connect with him on LinkedIn.