More than 2 million!
According to Business Statistics, this signifies the total number of Linkedin communities.
What does that imply?
It implies that using LinkedIn to advance B2B marketing is worthwhile. After all, LinkedIn is the best social media platform for establishing solid business ties and generating qualified prospects.
If your business is mostly B2B, you might have thought about creating a LinkedIn community. Perhaps you're also considering how to manage it.
But cultivating LinkedIn communities can become overwhelming over a period of time. Just think of tens and hundreds of pending connection requests you have no idea what to do with.
So, how do you manage your LinkedIn community to foster better professional relationships without taking undue stress?
Let us dive deep into professional relationships and how you can create and manage your LinkedIn community without making things overly complicated for yourself!
To begin, what makes a LinkedIn community successful?
The answer depends on what you want the community to accomplish. If creating a LinkedIn community is all that you want from it, you're done after setting it up.
Most people who go to the trouble of setting up a LinkedIn Community do so for other reasons, such as:
Start a discussion on a certain subject
Establish connections with particular people
Advertise an idea or product
Get feedback on a particular topic
Raise awareness
Form a community.
Success in those situations looks different.
Success could be measured by how frequently members of the LinkedIn community engage with one another, how frequently they visit your organization's website or blog whenever you post a new update, how satisfied or loyal your customers are, how many members you have, etc.
Success will undoubtedly be related to the initial aim you set, and this goal will direct your interactions with other members of your group and on LinkedIn.
Define & Understand Your Goal for Using LinkedIn
What is the purpose of your organization, and why should someone join your community and take part?
Be able to explain why you're establishing a community and what you hope to achieve as a result.
To effectively manage your LinkedIn community, you need more than a content planning platform; you need to define and understand your primary goals for using the platform.
Establish your goals for using LinkedIn first. Determine who you would encounter on this platform, what you want them to know about you and your company, and what data and insights you want to find.
More often than not, LinkedIn users have wasted the platform's potential by keeping its utilization extremely narrow. LinkedIn is a versatile platform that presents various opportunities for professionals.
For example:
Highlight work experience, skills, and career trajectory
Cultivate your professional brand identity
Market your original content
Curate new business opportunities
Build long-term professional relationships
Create a robust sales funnel for referrals and recommendations
Increase website traffic
Conduct market & competitor research
If you want to expand your business, ask your current clients if they use LinkedIn. Find pertinent companies and significant contacts, then look up their activity on LinkedIn to understand what's going on in your industry.
Top 7 Tips To Effectively Manage Your LinkedIn Community
Professional relationships on LinkedIn are no different from any other form of relationship you might build in your life.
Understanding the emotional aspect of a relationship and how to manage it goes a long way to help us mitigate the feeling of pressure from building up while maintaining said relationships.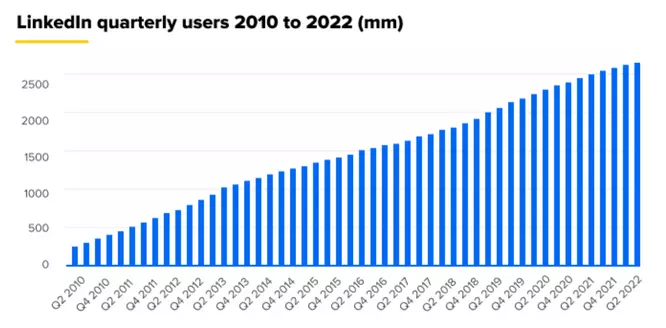 The above graph is an example of how rapidly and steadily the user base of LinkedIn has grown over the years. Making connections and communities on LinkedIn is crucial since it increases your professional versatility. You have a network of people you can turn to for support when you find yourself in a challenging position.
Because you will eventually need them, you should always maintain your network "warm" and your LinkedIn connections current.
Here are the top seven tips you need to know to build a strategic plan to manage your LinkedIn community without making you feel overwhelmed!
1. Screen Incoming Connection Requests
This is the first step you take as you make efforts to build and manage the LinkedIn community. It all starts with sending and receiving connection requests and here we'll focus on the latter.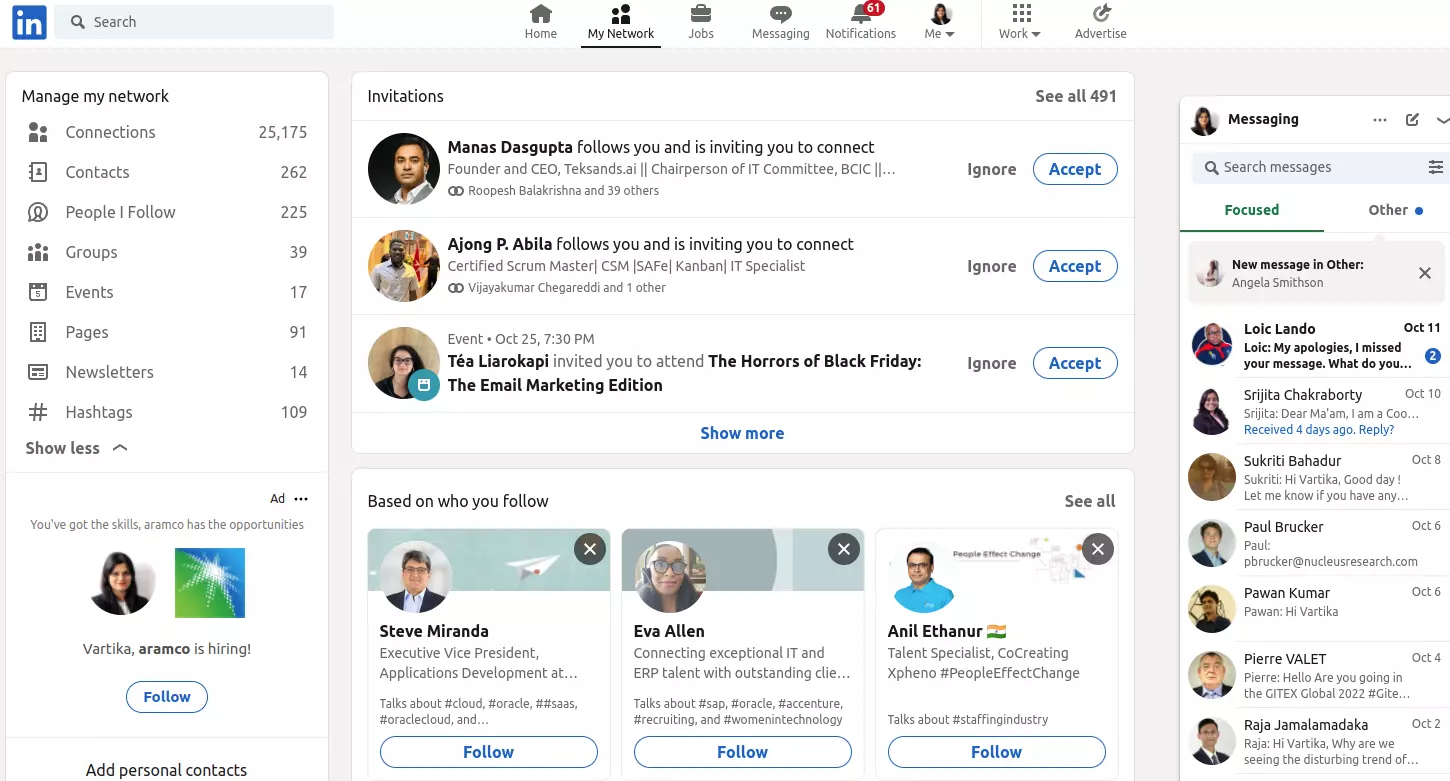 As a pro, you are not supposed to add connections randomly just to build a community. You might have many pending connection requests because you don't know what to do with them. These might be genuine professionals from the relevant industry or abusers whose sole intention is unsolicited marketing, phishing, and other unethical activities.
Managing the LinkedIn community becomes easier if you are clear about what type of people you want to connect with.
Make a list of the following questions to ask yourself every time you receive a connection request to join your LinkedIn community.
Do I know this person already, and worth trusting?
Did the connection request come with a personalized note mentioning how the requestor knows me and how both sides can benefit from connecting?
Does the requestor's LinkedIn profile look genuine?
How do my LinkedIn community and I benefit from adding the requestor?
2. Encourage your LinkedIn Community Members
One of the most effective ways to manage the LinkedIn community is by encouraging them to make valuable contributions to your community.
A few words of appreciation can motivate them to share relevant content and interact actively. Post comments, participate in group discussions and lead the conversation to successfully navigate your LinkedIn community.
At the same time, make it a point to discourage unprofessional conduct within your community. If a member posts negative, abusive comments, you should first warn them before blocking them from your group.
3. Keep Track of Your Interactions With Your Connections
Tracking essential conversations with key influencers, clients, or leads is critical. Easier and more organized access to crucial conversations will help you to rapidly review the discussion and keep the relationship strong. The best part is that you will have context for your interactions with those LinkedIn contacts.
As your network of online contacts expands, keeping track of names, contact details, and other pertinent details is crucial to ensure your interaction is as fruitful and successful as possible.
Yes, you can do that using your LinkedIn inbox. However, you must better organize your LinkedIn inbox due to the simultaneous growth in the number of connections and the volume of messages.
4. Understand The Discussion Hierarchy
There will be certain comments or messages with LinkedIn connections that have greater weight than others. So, remembering what other people are saying in the conversation can be an important aspect of connection-building.
These conversations will have an asymmetrical impact on your future career prospects. Hence, it would help if you do not get bogged down in every single discussion on LinkedIn and start to prioritize the conversations you bookmark.
An example of the types of conversations that are important:
Selling – In this conversation type, you are selling something to someone. It is when someone shows interest in purchasing from you, so you can follow up later on or have another team member do so.
Resource Sharing – In an interaction like this, your LinkedIn connection readily shares its resources with you for whatever reasons.
Inquiries – These interactions are unique as they allow you to build social credibility on the platform.
Crucial Interactions – Keep tabs on critical discussions with clients, leads, or influential people. The more accessible this knowledge is in the future, the simpler it will be to examine it and keep the relationship strong rapidly. The encounters with those LinkedIn relationships will have context, which is the best part.
Is it getting hard to manage Linkedin interactions on comments for multiple pages?
SocialPilot can make this process much easier by keeping all your Linkedin comments interactions in one place. Use a universal Linkedin inbox to switch between multiple client Linkedin pages and quickly reply to crucial conversations happening in the comment section to boost your credibility.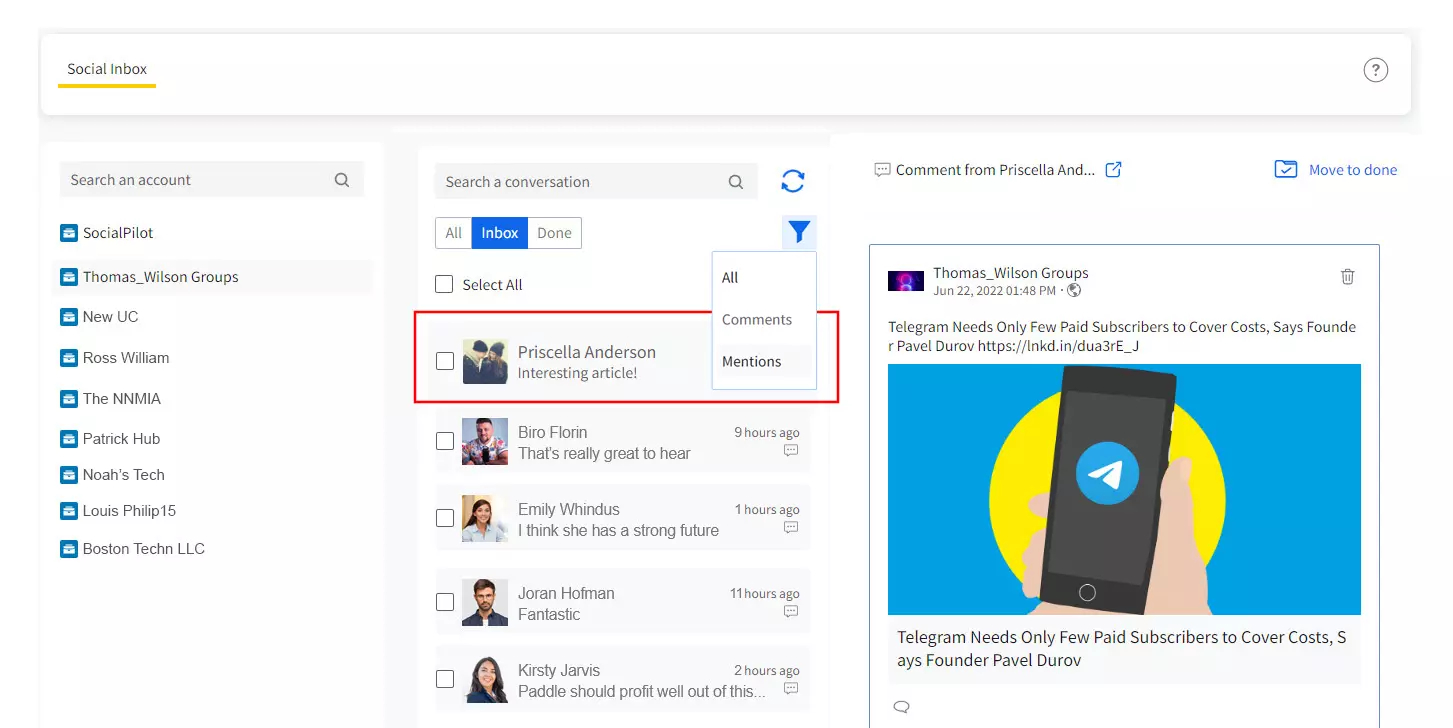 5. Optimize Your LinkedIn Profile
Before considering how to use the LinkedIn network effectively, ensure you're ready to conduct business.
What we mean by that is having your LinkedIn profile fully optimized, set up, and relevant to the audiences.
Most LinkedIn profiles are unfinished and just copies of CVs or resumes. A CV is a perfect document for job seekers because it is a documented account of your professional history.
It is less significant if you already work in a position that focuses on business growth. Customers don't want to know that you are an expert at finding new business and the best salesperson. They want to understand how you and your business can help them, so ensure that's evident in your LinkedIn profile.
A Highly Optimized LinkedIn Profile Includes the following:
A stellar professional photograph with more than 60% of your face showing
A catchy headline
An introduction detailing your professional background and how you can assist them right away
A filled-out experience section that includes summaries of each role
A section that consists of a list of up to 50 skills, soft skills, and knowledge of your business that are pertinent to your job function
Complete educational information
Here is a sample profile that includes its salient features and crucial takeaways.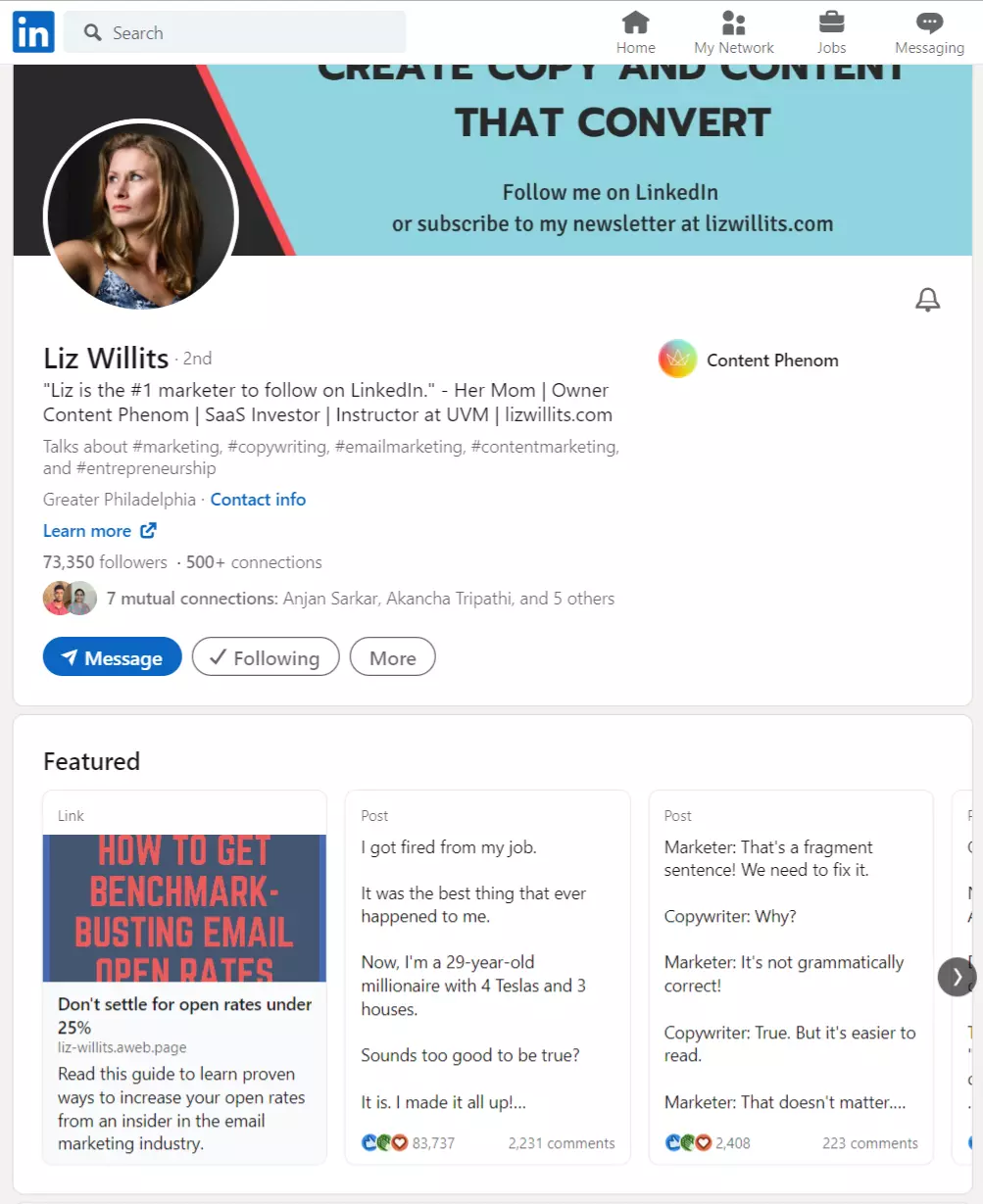 The profile covers all the essentials, starting with published content and a succinct collection of summary facts in bullet style. Highlights include the following:
An eye-catching profile headline, a succinct summary, and third-party contributions are all included.
Complete information on background, training, and other important professional details
Volunteering experience, passions, and involvement with the groups, organizations, and influences listed.
6. Use Reporting To Check What Content Is Working
As a LinkedIn user, you have access to post report analytics, which provide information about the effectiveness of your content (including short-form posts, images, videos, events, polls, and articles).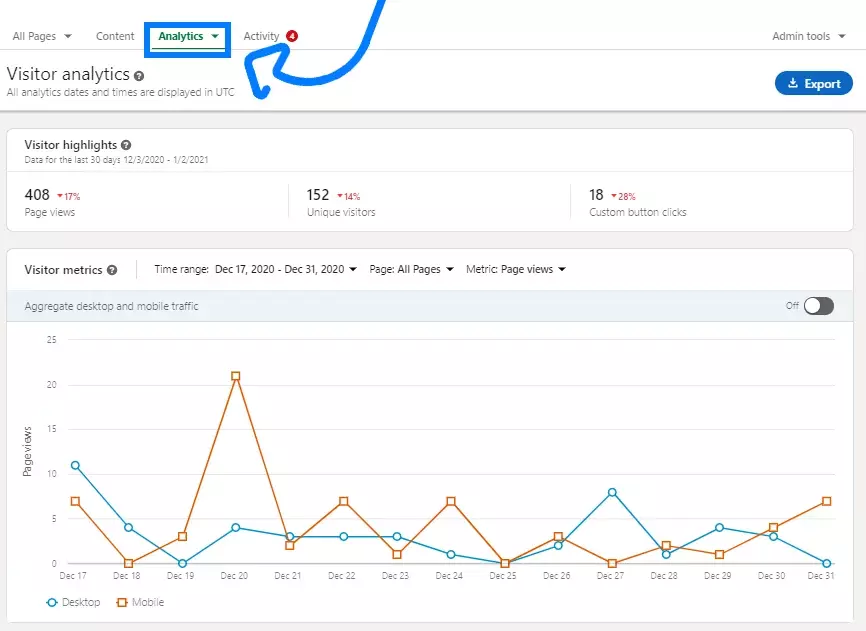 These analytics reports might help you adjust how you approach content creation and audience engagement. Members of LinkedIn can access the following analytics and generate reports including:
LinkedIn Updates Report
The Updates Report contains all the information about the posts you've made to your LinkedIn Company Page. This section of the report provides you with a thorough analysis of the organic and sponsored performance of your updates over a period and covers:
Impressions
Clicks
Comments
Reactions
Shares
Engagement Rate
Update Engagement
The engagement data for individual updates are displayed on the second sheet. You can view specific information for each post you published in this section of the report, including:
Update type
Campaign name
Posted by (who published the update)
Creation date
Campaign start and end date
Audience (all followers or targeted)
Impressions
Video views
Clicks
Click-Through Rate(CTR)
Likes
Comments
Shares
Follows
Visitors Report
This report includes demographic information on the users of your page. You may really go into their attributes there, such as: to see if the users who have seen your content are the ones you intended to reach.
Location
Job function
Seniority
Industry
Company size
Life Page traffic
7. Focus On Your Inbox To Maintain Conversations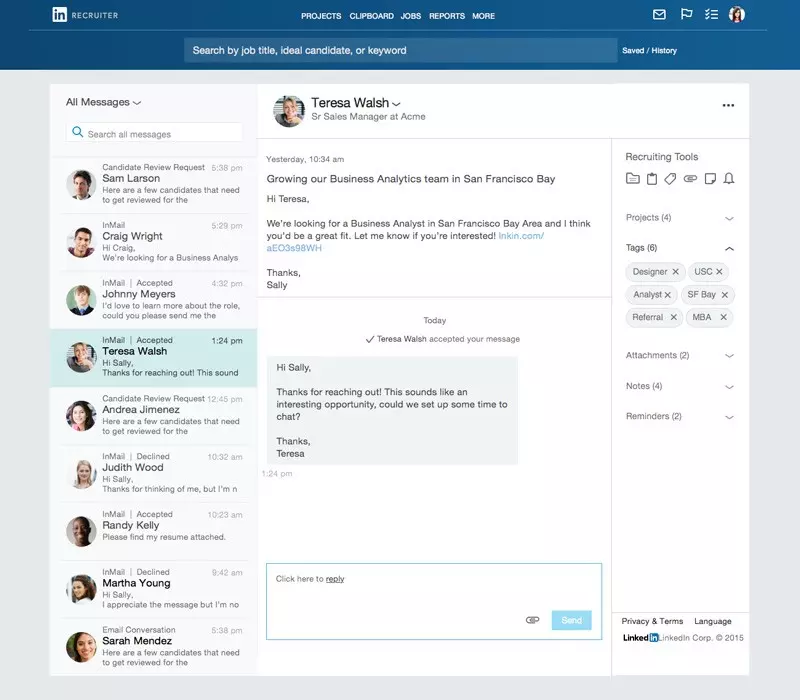 Cultivating a community and actively participating in the platform's discussions are crucial components of community management. Both are essential if you want to manage your LinkedIn community well.
When working as a team, it is sometimes advantageous to tag the appropriate person even though it is best to answer quickly. Get their response if you're representing a CEO, for instance, and someone poses a challenging query.
Additionally, rather than providing inaccurate information, you might need to designate a team member to search for answers to someone's questions and provide the correct answers.
Manage Your LinkedIn Community Easily With SocialPilot
Once you have built a strong community, it's important to nurture it with consistent posts around your subject matter expertise.
But managing consistency is not a piece of cake. At least, not without a Linkedin management tool like SocialPilot.
SocialPilot is a stellar tool for all your LinkedIn management needs. You can get all the features you need under one roof to effectively manage and publish content on all of your LinkedIn profiles and Company pages.
The planner on SocialPilot can help you schedule the content for your company page and your personal LinkedIn profile from a single dashboard.
With its scheduling capability, you can wrap up all your posting work way ahead of time by putting them in the queue for automatic posting.
Not only Linkedin, but you can also use SocialPilot to boost your social marketing on all other major networks like Facebook, Instagram, Twitter, and more.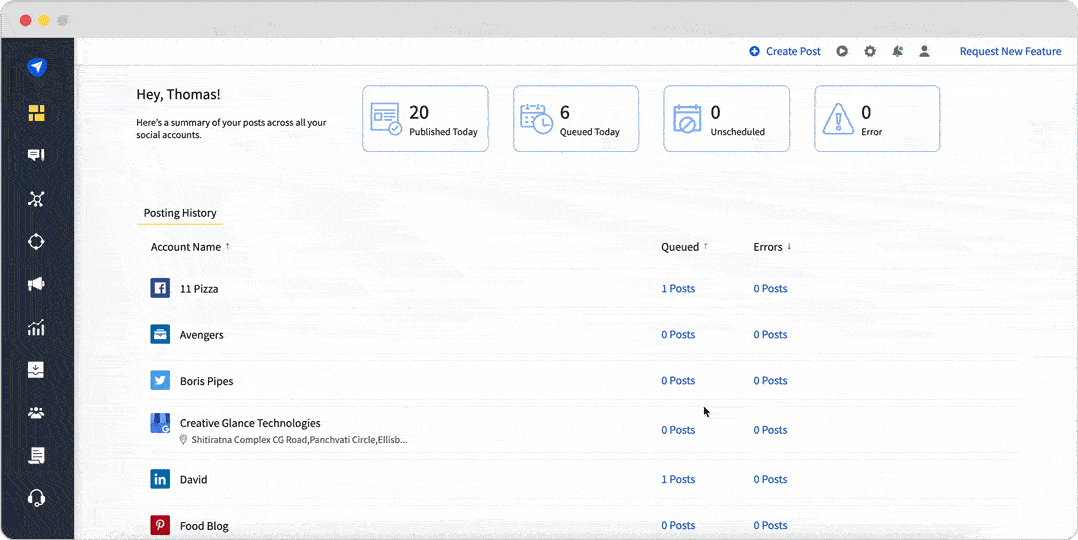 Moreover, you also get an inbuild analytics section to understand how well your content efforts performed.
Experience the power of SocialPilot yourself. Start your free trial today and manage your Linkedin community effortlessly.
In Conclusion
The most useful and effective aspect of LinkedIn is its communities. All you need to do is be willing to contribute a little time and value to the community, and you'll get back so much more.
The LinkedIn community is the ideal setting if you want to establish your brand, become more visible, and create a community of your own. You can position yourself in front of your connections as a thought leader by serving as a group moderator.
What do you think, then? Do you plan to create your own LinkedIn community? If so, we hope these suggestions were helpful.