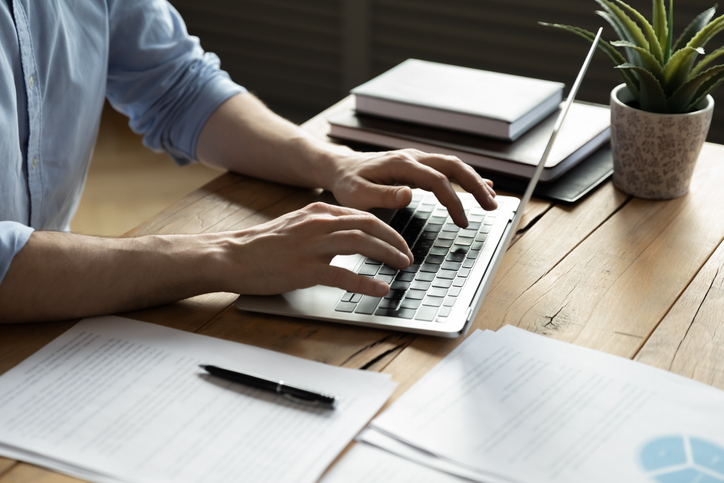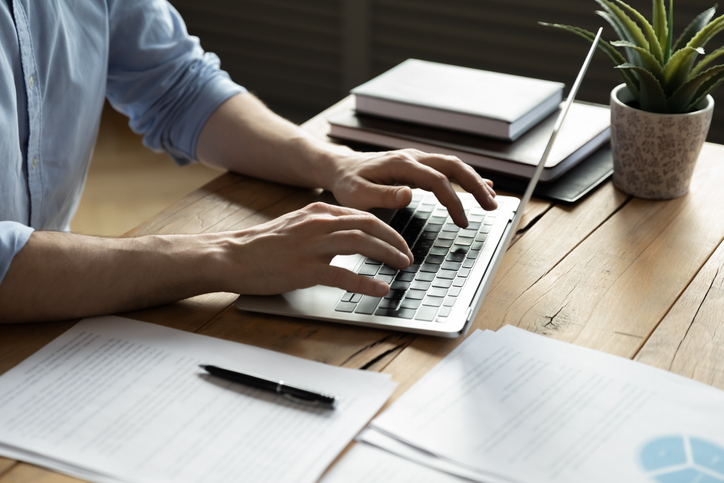 In the world of advertising for student recruitment, many schools will surely rate Google ads as one of their top choices for achieving solid results. The built-in advantage with this type of ad is that people using Google are already searching with intent – and Google ads gives you the power to match your prospects' searches to your school's own unique programs and courses.
If you've already taken the time to research the steps for creating Google ads and know the right audience to target, why are you still getting lacklustre results from your efforts? In these cases, the culprit is often down to the writing. If you're failing to follow the rules and tricks of Google ad writing, you'll have trouble motivating people to click.
Google ads can certainly be a challenge to write, with such a restrictive allowance to the number of characters you can use in an ad. Yet there are some key things you can do with those few words to make the type of impact with your prospects that can lead to conversions. We share the details with you here.
Step 1: Know the Difference Between the Google Ad Types 
Before you can begin writing your ads, you'll need a quick overview of the difference between the two types of Google ads available for your school. The first type is a display ad. These ads are largely visual, and therefore there is no writing component for your school to worry about. Instead, this ad type is based on keywords that your school can select, and Google will choose websites within its vast display network to place your ad on based on those keywords. 
Example: Display ads can be horizontal banners, large images, and come in various other shapes and sizes, with one type shown here from Universitas Indonesia. As you can see, these ads are mainly visual in nature, with very little writing included as a rule.
The second type of Google ad is a search network ad. These are the text ads that appear at the top of your results page whenever you search for something on Google. Search ads are based on specific keywords. They look like these results that come up from a Google search of "MBA programs in Canada":
Your prospective students will appreciate the efficiency of these types of ads, as they're placed alongside information they are already searching about courses, programs, and other educational endeavours of interest. As you can see from the above examples, in Google search ads, there is most definitely a writing component. Your ad writing here can make a real difference to the success of your campaigns – and with this in mind, the Google search ad is the type we'll be focusing on in this article. 
Step 2: Find Relevant Keywords and Use Them in Your School's Search Ads
Next, you'll need to understand the importance of keywords in creating Google ads for schools. Google search ads in general are primarily based on keywords that you can bid on based on the searches you'd like your school to rank for. Google will display your ads by targeting keywords selected by your school. 
Your school will need to conduct research to build a good keyword list to work with. This will be based on the terms you think your prospects are most likely to type in when looking for the types of courses offered by your school. There are many keyword research tools to choose from, such as Moz, for example, that will assist your school in building keywords lists, helping you to examine each keyword's search volume. Using a keyword research tool, you can enter a keyword you have in mind and the tool will then produce several highly relevant keywords you can use in your school's Google Ads campaigns. Moz and other tools like it can also help your school to discover additional keyword ideas.  
Example: On the keyword research tool in Moz, a list of "Keyword Suggestions" comes up associated with the keyword "business program" selected by a school looking to promote its courses. Note the option at the top right to select by region.
You can also choose your keywords based on a simple investigation of the keywords that some of your competitors are most often using. This can be done by checking the search results that come up under certain word combination queries with those schools.
If your school decides to create a Google search ad, it will typically start with you bidding on the keywords you want to rank for. From there, every time a person clicks on your ad you'll be charged the cost per click (CPC) bid amount. However, this bid isn't the only element determining where your ad will appear alongside a search. Your keyword selections will be combined with a "Quality Score" assigned by Google, based on relevancy and landing page quality. In creating your ads on Google, you'll also have the opportunity to direct them to certain demographics for more accurate targeting.
Bid on Keywords Based on Ad Groups
It's best to build ad groups to reflect the end goal or intent of a prospective student, taking one base word and building keywords around that. Knowing, for example, that prospects are trying to earn a certificate or enrol in a course or program, you might divide your keyword selections under the headings of those end goals to create three ad groups. For example, in the case of a dentistry school, the base word might be "certificate." The school would then create keywords for that ad group which could include dentistry certificate and dentistry certificate in San Francisco.
Example: The screenshot below shows how keywords are divided into ad groups – in this case, there are ad groups containing keywords promoting personal support worker courses.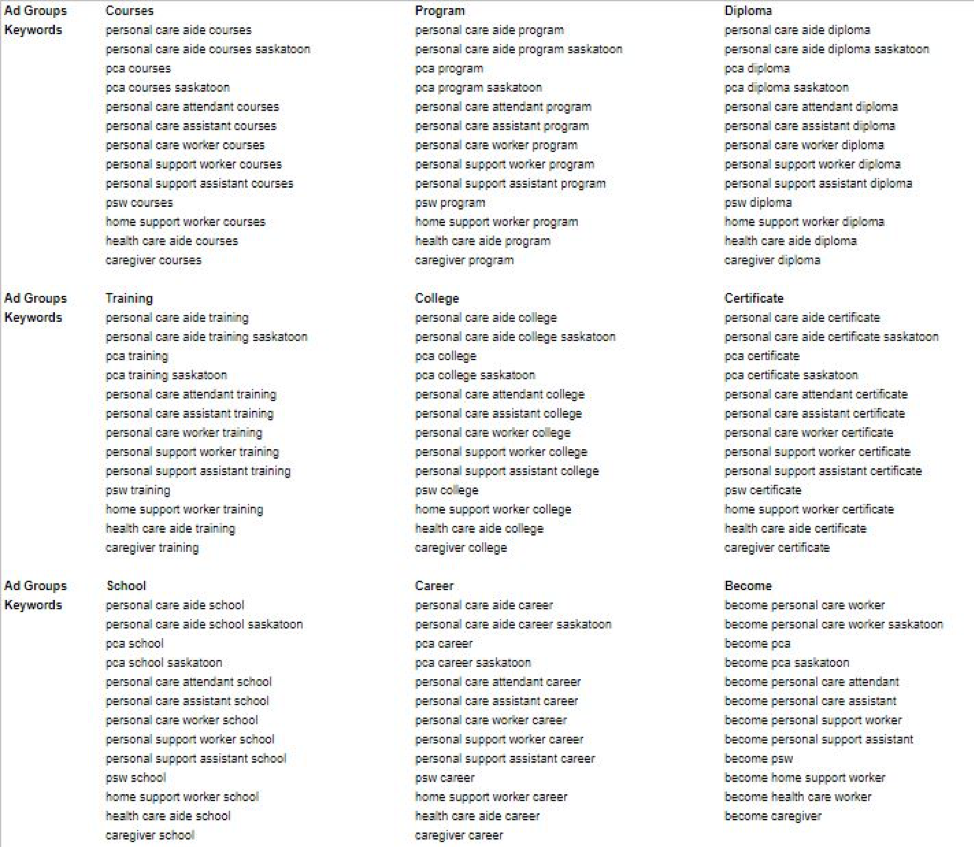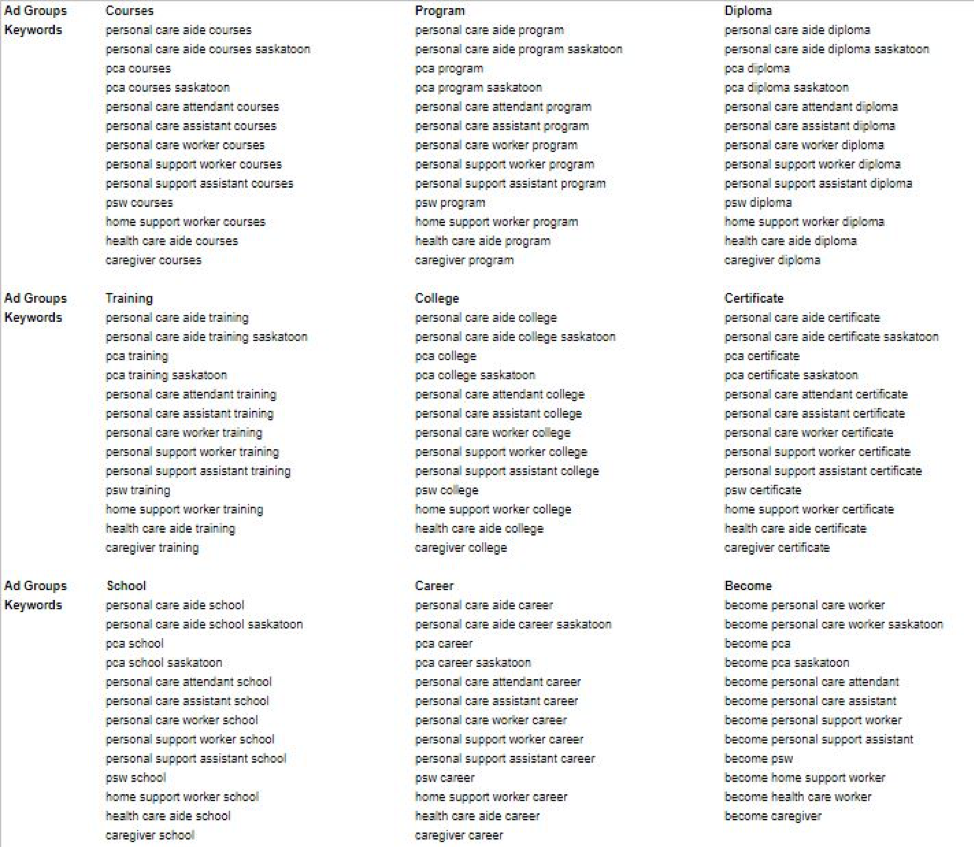 Note how the keyword ad groups are categorized by course, certificate, program, training, and college. Grouping your keywords by categories helps to organize your ad bidding. Creating ad groups is also recommended as a way of keeping your ads varied, avoiding several ads that use the same exact wording apart from your main keyword. 
Step 3: Fill in Your School Ad Details Following the Google Ad Writing Framework
Now that you know about the importance of using keywords in your  Google ads for education, you'll need to have an understanding of the framework you'll be including them in, and basing the rest of your writing around. We can take a look at this Google ad from the Columbia Business School below to see this framework:
As you can see above, Google ads typically have a headline and URL, together with accompanying description copy. When creating your ad, adding in the display URL is straightforward. There's more to writing the headline and description that your school should know about. 
Headline: This is the most important part of your ad for grabbing immediate attention. When creating your school's ad, Google will ask you to fill in three headlines of up to 30 characters each, as seen here:
Since 30 characters is not a lot to work with, schools have to be strategic about what they use in each of these three headline spaces. According to Google's best practices, the content of a keyword should match the content of the text ad and the content of the landing page. A good rule of thumb is adding the name of your school's program (or other most relevant information, such as school name if the college is reputed) in Headline 1, and any additional information, such as campus location or qualification type, in Headlines 2 & 3.
Example: The London School of Economics (LSE) is world-renowned, so adding that high-value name in the headline makes sense for this educational institution. Additional pertinent details like "online courses" and "earn a certificate" were likely added into Headlines 2 & 3 during ad creation, with Google's algorithm producing the final wording we see here:


Description: Your description gives your school an opportunity to add further important details. It's a good idea to add a keyword here, along with some unique selling points about the school itself. Google will let your school write up to three descriptions, allowing up to 90 characters each. 
Example: Looking again at the LSE ad we examined earlier, we can see that the description is where the school has the opportunity to show a little more of its character, with the words "created to support you at every step." We also get snippets of additional highly pertinent information, including that the course is "personalized" and led by 'industry experts."'


Adding a call to action (CTA) in your descriptions is also highly recommended for spurring your prospects into clicking. HEM has noted that Google ads including a CTA in the description tend to have slightly better click through rates. 
Step 4: Use Creative Ways to Grab Your Prospects' Attention 
The rule of thumb with Google ads is always to keep your copy specific and concise. At times, following those directives can, unfortunately, lead to bland, non-engaging copy. To ensure your school doesn't fall into that trap, here are a few ways to make your ad copy more compelling.
Highlight the Ultimate Goal of Your Prospects
When a person searches for a course or program, it's usually because they hope to do something with that qualification following their studies. Instead of communicating to them that you offer certain courses and that they can earn a certificate or other qualification from your school, why not mention what they can do with that qualification in the future, according to their most likely end goal?
Example: This ad from the Vancouver Film School hooks prospects by telling them they can quickly start a VFX career:
Here's another example from the Trebas Institute in Montreal, which lets the person know they can become a live sound expert by training at the school:
Can you see how the ad written this way becomes more compelling to the reader than simply communicating that the school offers courses in sound?
Try Using Numbers and Figures in Your School's Ads
Including numbers and figures in your ads that are relevant to your school's courses and programs may serve to pique the interest of your audience.
Example: In this Google search of the term "applying to law school, " the searcher immediately gets the numbers of an impressive score range that can be achieved through this LSAT prep course. 
Another ad below from the Vancouver Film school adds in figures to good effect in the description, letting interested searchers know that 15 programs are offered to over 1000 students at the school. Now prospects have a better idea of how expansive the school's offering is, and even have a clearer impression of the campus size through the mention of student numbers.
Make Your School's Ads Local
Keeping your ad writing local is another way of connecting with more specific search intent. Since some of your prospective students will be looking for the types of courses offered in your city, it makes sense to include your city name in some of your ads. 
Example: You can see from the screenshot of the search below that this person is interested in studying business in Boston based on their "business programs Boston" search query. By having the foresight to include the city name in some of the keywords they bid for, the schools that appear in the search come ahead of the local competition.
Step 5: Make Sure Your School's Landing Page Content Matches Your Ad Details
Your school is paying for Google ads with one thing in mind – getting your prospects to a specific landing page that includes the right elements for moving them along the enrollment funnel. With this in mind, it's important to ensure the content on your landing page is consistent with your ad offering. To help your landing page drive conversions, you'll want to include a lead form or some other type of downloadable asset, as well as a CTA to encourage prospects to take the next step in the admissions journey.
Example: Looking at that ad again from the Trebas Institute in Montreal, we can see how the school manages to effectively achieve all of the above. They start with their ad:
After clicking the ad, the prospect is quickly directed to the information they're looking for:
There's also a lead form at the right to help the school generate valuable lead information, with a clear CTA of "Start Your Journey Today!" As we can see from this example, the school has included all of the necessary components on this landing page to help steer leads in the right direction.
The Final Step: Do Plenty of Testing
After adding all of the recommended written ingredients to your school's Google ads, the only way to really know if these additions are making a difference is to test your ad campaigns. This will help you determine what type of ad copy is working and what's not, allowing you to continually optimize your Google ad performance. 
Testing your ads to see what's working starts by monitoring the performance of an ad set over a scheduled period of time – with a month being a good testing period standard. You'll also need to determine which metric you're planning to focus on. The main metric your school will want to look out for is conversions, whether that may be represented by filling out a lead form, downloading a brochure, or taking some other concrete action on your landing page that leads your audience further down the application journey. Conversions are more important than clicks because bringing traffic to your landing page through ad clicks is one thing, but if those prospects are not filling out the form or taking another action, then you have to view this as an indication that your ad may be bringing in the wrong traffic.
When checking your metrics, try to observe how many clicks have been amassed compared with how many conversions have been achieved over the set period. 
Here is an example of the type of testing metrics you might be looking at:
Note how you can quickly see clicks and cost for each ad group over the given testing period, along with other key metrics such as conversions and cost per conversion. In metrics tables like these, your school can quickly spot underperforming ads. 
Google recommends testing by creating three to four ads for each ad group and using different messages for each to see which does the best. From there, Google will deliver your school's ads and start measuring their performance. The ad with the best performance will be displayed more often than the others as part of Google's own rotation algorithm.

If one ad doesn't present a good performance, you should try rewriting it. When choosing to re-write an ad, it's important not to test too many written elements at once. For example, you wouldn't want to change your headline and description in the same test, as this will make it difficult to ascertain which change made the difference. Instead, try making a change to your headline in one test, and a change to your description to another, so it's easy to flag the messaging that made the difference to your ad's performance. 
Writing Google ads can be challenging, but this guide is a great introduction to helping your school land more conversions!