Performance Max is a new campaign type from Google Ads that promises to simplify advertising in a world where user behavior has become more fragmented. It's an especially appealing promise for new advertisers who may have not known where to start with Google Ads.
Now they can create one campaign and get their ads wherever users are interacting with Google, whether that's on Search, Display, YouTube, Maps, Discover, or Gmail.
But for existing advertisers, the introduction of yet another campaign type may be confusing. So here I'll shed some light on how to think about Performance Max.
Is Performance Max replacing other campaigns?
For now, Performance Max will ONLY replace Smart Shopping, Gmail, and Local campaigns. Other campaign types will continue to exist until further notice. Google has announced a timeline that includes the transition from Smart Shopping and Local to Performance Max by the end of September 2022.
Starting in April, you can begin upgrading your Smart Shopping and Local campaigns to Performance Max to access additional inventory and Google will offer a 1-click upgrade tool to make the transition easier.
Gmail campaigns haven't been editable since July 2021 but now Google has clarified its intention to deprecate stand-alone Gmail campaigns by June 28, 2022. Advertisers can access this inventory with a stand-alone Discovery campaign or the new Performance Max campaign.
Where Do Performance Max Ads Run?
Performance Max provides the equivalent of running the following current Google Ads campaign types: Search, Display, Shopping (or Smart Shopping), Video, Local, and Discovery. It can then place ads across Google's vast number of pages and properties as shown below.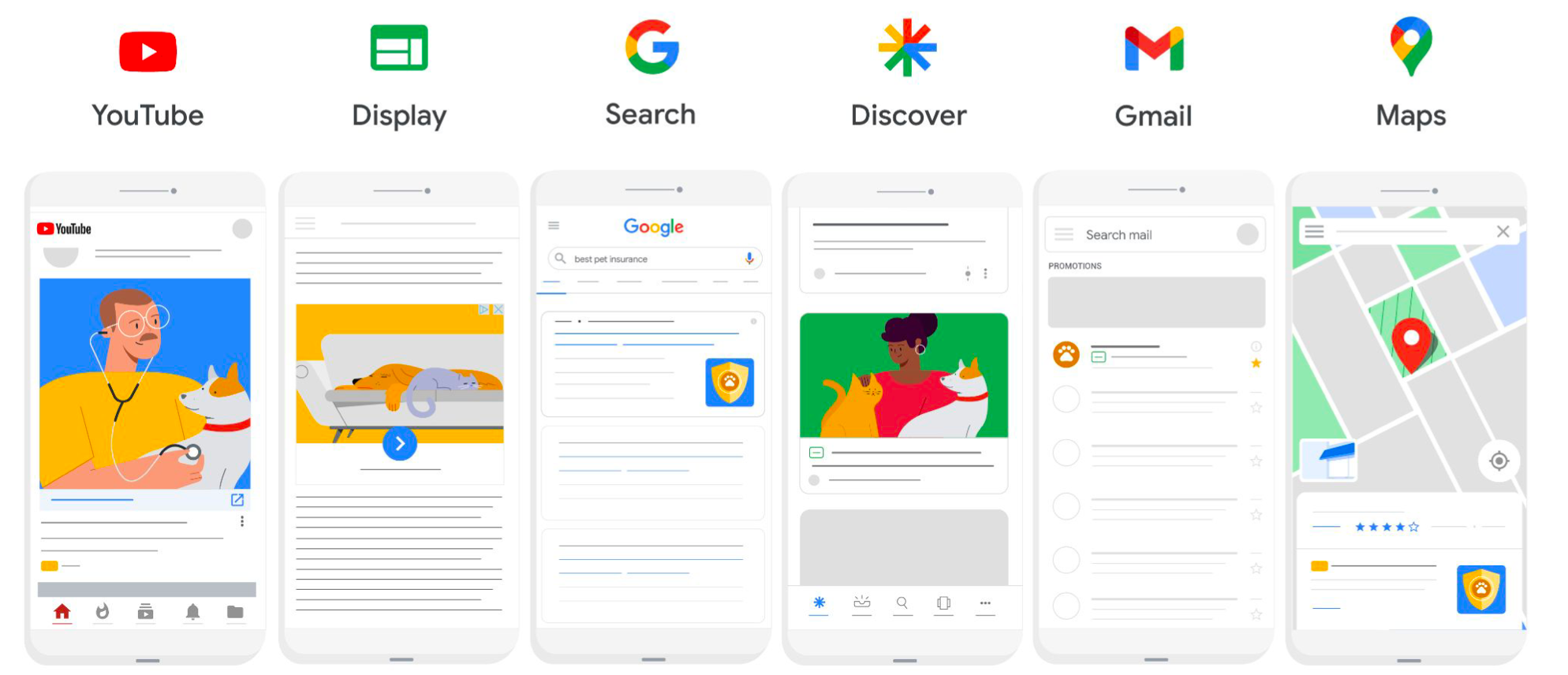 Should I Run Performance Max Instead of Other Campaigns?
According to Google's data, Performance Max campaigns drive 13% more conversions at the same or lower cost per conversion when run alongside the current campaign types.
That means that Performance Max is best thought of as an incrementality play, and should be enabled in addition to your current set of campaigns. Unless you have a Smart Shopping or Local campaign, there is no need to turn off those campaigns.
It is recommended you keep your existing campaigns in addition to a Performance Max campaign.

Image courtesy of Google.com
If you are a new advertiser and are starting with a Performance Max campaign, Google's guidance is to add Video, Search, Display and Discovery campaigns to further enhance the performance of your account.
Optmyzr also recommends maintaining a traditional Shopping campaign in addition to a Performance Max campaign. Check out this excellent post by Kirk Williams for more insights on shopping ads and Performance Max.
What Inputs Do I Have With Performance Max Campaigns?
When setting up a Performance Max campaign, Google will ask you to provide the following inputs to help their artificial intelligence get started with good ads:
Your marketing objectives and goals
Budget
Creative assets, including:

Text
Images
Video (optional, since this will auto-generate)

Geo-targets
Optional Feeds, such as:

Google My Business
Google Merchant Center
Dynamic Ads feed
Business data feeds

Optional Audience signals, such as:

First-party Audiences, including remarketing lists
Google Audiences, including custom audiences
With that information, automation is off to the races and will try to show your ad where it expects it may lead to a conversion.
How Can I Use Optmyzr to Optimize Performance Max Campaigns?
1. Optimize Your Goals
Since Performance Max's results are so closely tied to your stated goals, one of the best ways to optimize this new campaign type is by refining your conversion actions and goals. For example, when you tell Google you want leads, is that really what you want? Or do you want leads that turn into loyal customers?
If you aren't yet communicating the true value of conversions to Google, you can now score audience segments in order to create value rules that help steer Google automation to find better quality conversions.
2. Optimize Your Structured Data and Feeds.
You can join the alpha of our feed optimization tool. With this tool, you can do things like ensuring the terminology you use in product titles is closely aligned with how consumers talk about your products. That way they will be more likely to recognize the relevance of your ads to their searches.
If you're interested in trying this out, contact our team at support@optmyzr.com to request an invite.
3. Leverage Insights From Campaigns You Already Run
Chances are you already have data about poorly performing placements from other campaigns you've run. Use Optmyzr's Rule Engine to automate finding these types of money-wasting placements and automatically add them to your account-level negative placement list.
That way even a Performance Max campaign won't be able to show your ads in places that don't work for you.
4. Write Better Ads
Use our ad optimization tool to get aggregated metrics for ad text phrases and then use the best-performing ones as the basis for the ad assets you provide to Performance Max campaigns.
Again, this is an example of using your existing data to help the Google machines bypass some of the initial learning phases during which they may spend a lot of money for very little results.
Will Optmyzr Add More Support for Performance Max Campaigns?
We work hard to provide advertisers with modern PPC tools that align with both old and new best practices in PPC. In addition to the ways you can already optimize Performance Max campaigns discussed above, we are working to add more support for Performance Max campaigns.
You can follow our roadmap, suggest new features, or upvote capabilities that are on the roadmap.