Keyword discovery is the process of finding keywords that you want to rank for in search engines. With a keyword research tool, you can get your keyword search volume, CPC, and insights for all keywords you search.
The keyword discovery process
How to choose the right keyword research tool
How to shortlist your best SEO keywords
Get to know my favorite tool – LSIGraph
Good keywords can make or break a SEO campaign. The quality of your keywords is the difference between a successful marketing campaign and a waste of time. The keywords you pick will determine the strategy you are going to take, hence keyword discovery is a crucial process for anybody who wants to grow their business.
 To be honest, finding the right keywords is not easy. You can create the best content, build incredible backlinks, score #1 Google rankings and still get zero benefits in terms of business growth or revenue if you target the wrong keywords.
To help you with this, you can use a number of free and/or paid tools to learn what people are searching for on Google and other search engines.
But before we dive into the tools, let's explore why keyword discovery is crucial for your SEO.
Keywords are words or phrases that people type into search engines when they are looking for something. So, to optimize your content for search engines, you can't ignore what people are searching for and must first understand what they are looking for.
There are various types of keywords. If we sort by length, there are 2 popular types: "short-tail" and "long-tail" keywords. Short-tail keywords are keywords with one or two words, usually get a lot of search volume, and they're very hard to rank. On the other hand, long-tail keywords have three or more words, don't get searched as much, but are usually much easier to rank.
For example, "bluetooth headphone" is a short-tail keyword whilst "Sony black wireless bluetooth headphone" is a long-tail keyword.
Now that you have a glimpse of what keywords are, you then want to understand why you need a strong keyword strategy for your blog. 
The fact is 90.63% of pages don't get organic search traffic from Google (but there are 3,5 million searches on Google every day!). What does this mean? This means organic traffic can be the most valuable asset for your blog if you can tap into this traffic and lead them to your blog. In this situation, the keywords you target will allow you to attract readers with a genuine interest in what your blog has to offer. Especially when high-quality content is one of the two most important signals used by Google to rank your website, keyword research serves as the blueprint for your entire content and SEO strategy.
The keyword research process will also help answer the following questions:
What information are people searching for? 
What keywords do they use to find that information? 
How many people are using certain keywords?
What type of information do they want (searcher intent)? 
Just coming up with keyword ideas off the top of your head isn't enough to ensure that you are targeting the right keywords.. You need to use keyword research tools to help you find the best-performing keywords so that more are able to find your site and do business with you.
To help you make the right decision, here are the three things you should look for in a keyword research tool: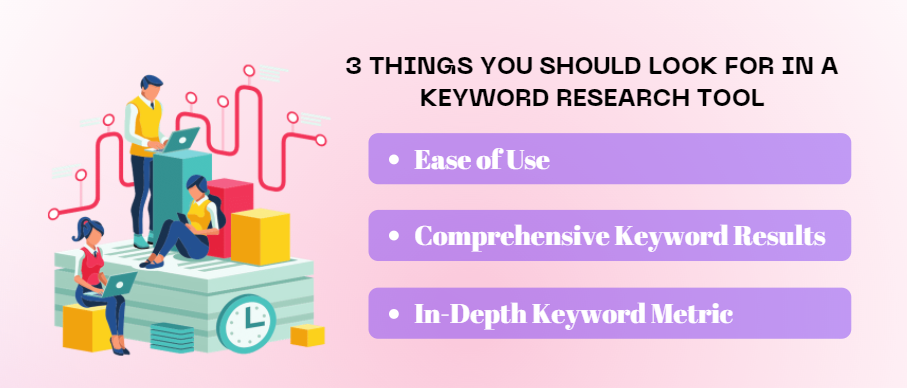 Ease of Use
First and foremost, you need to look for a keywords research tool that won't overcomplicate your research. The tool should allow you to jump into the action without all the unnecessary hoops. You should only need to enter a seed keyword, a relevant search phrase, or any URL to get things rolling.
Comprehensive Keyword Results
Now that we have usability covered, it's time to focus on the actual results you'll get.
You need to pay attention to the number of keyword suggestions a platform can generate.
Of course, the more results, the better (granted the keywords are relevant). You need all of the keyword ideas you can get to make sure you don't miss out on profitable opportunities. Let's compare the two tools: One gives you 20 keywords, but the other gives you 200 keywords, isn't it obvious which is better?
In-Depth Keyword Metric
It's not only about the words, keyword tools also need to show you related metrics, like the CPC, Volume, Trend, and so on. 
Volume: A keyword phrase's search volume is an indicator of its popularity or how many times the exact word or phrase is searched.
Trend: The trend reflects how much the volume of search has changed in a specific period. Seasonal trends are important to watch. If you know that a search term peaks at a certain time (or times) of the year then you know when to target it, and when to avoid it.
CPC: The cost-per-click estimates how much bidders (your competition) are willing to pay for a keyword phrase, thus alerting you as to whether it's worth paying for.
There are a lot of tools that give you keywords, but I want to introduce you to LSIGraph. It will give you hundreds of keywords that are semantically related to your target keyword. 
Just like most keyword tools, it also provides you with trends, volume, cost per click, and competition. However, not only will you get long-tail keywords, but also the LSI keywords. LSI (Latent Semantic Indexing) keywords are conceptually related terms that search engines use to deeply understand the content on a webpage.
To use LSIGraph, you only need to go through 2 steps.
Step 1: Visit lsigraph.com.
Step 2: Type in your main keyword and press the 'Generate' button.
Please note that to further refine your results, you can also enter your geographic location. Which will help LSIGraph provide you with even more accurate keyword data. 
Since the costs, competition, and performance of similar keywords can vary greatly from one region to another (even for two businesses operating in the same industry), it's a good idea to be as specific as possible.
With the free access, you will not be able to see LSV metrics and export features as the pictures showed. However, all the basic data, as well as the great "Top Performing Content" are ready for you to use.
When you've entered your initial search query, you'll see a range of keyword data. The keyword recommendations themselves can be found on the left-hand side, and each keyword has four corresponding metrics: Google Search Volume, Competition, CPC, and Trend.
The tool can be accessed for free, but the best features are only available with the premium membership.
LSV metric is one of the premium features
If you get your premium access, you can have unlimited searches. Not only that, but they will also offer you features that uncover all the accompanying data. For example
Unlimited LSI keywords search 24/7: You can get extensive data on all the keywords you'll need to rank.
Search volume data for the past 12 months of each LSI keyword.
Latent Semantic Value (LSV) shows you the most valuable keyword to rank. 
Export your handpicked keywords as PDF & CSV files, no more scribbling down on a notebook or relying on Google Keep.
Endless exclusive white-label reports give you free rein to customize the report as you like. 
Project manager for every project and client, so you won't need to frantically dig through your notebook to recall details for old projects.
To find more keyword generator tools, read this: Climb Your Rank with These 8 Free Keyword Generators
What's next after getting your list of related keywords? Not all the keywords are suitable for your content and business, so you will need to continue sorting out the most relevant ones.
Consider these 4 metrics:
Volume: 
As you can see in our example search, the top keyword suggestion – "desserts recipes" – has an approximate monthly search volume of 90 thousand, suggesting strong commercial intent and solid perennial interest.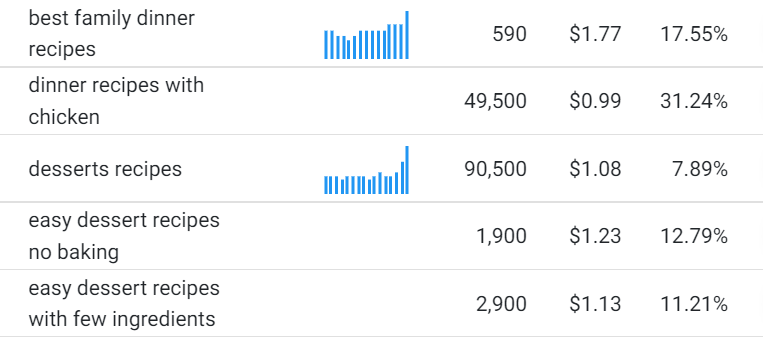 Volume is a tricky thing. If you choose a keyword with a low search volume, you can easily rank first, but then hardly anyone is out there looking at it.
On the other hand, if you pick a keyword with a high search volume, you'll have lots of competition when it comes to trying to rank on the search results page.
In order to determine if a keyword is good for your content, try a mixture of different search volumes to see what works best for you.
Competition:
Competition is a metric representing how competitive a given keyword is. 
Keywords are often ranked as being of Low, Medium, or High competitiveness, allowing you to get a feel for how aggressive to be in your bids if you're targeting that particular keyword. In some tools like LSIGraph, it will show the percentage of competitiveness.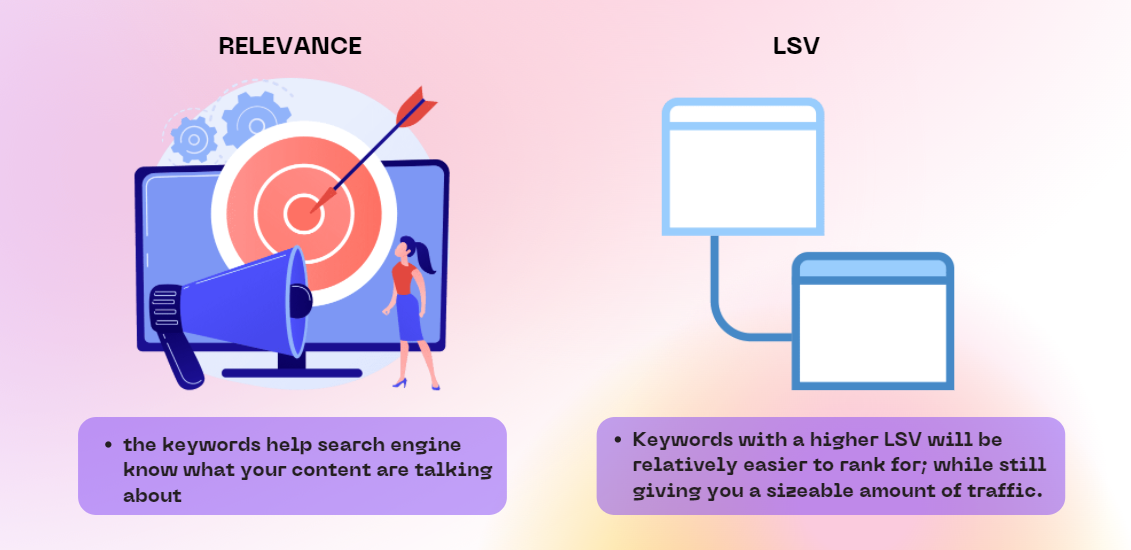 Relevance:
The whole point of a search engine is to serve the most relevant piece of information for the query. Your content will only show up in the search for a specific keyword if the search engine determines that your content is relevant to that keyword and vice versa.
This prevents people from sticking in random keywords like "bubble tea" in an article about coffee in an attempt to capture that traffic. A good keyword is relevant to your topic and your content and will provide the needed info to the people who are searching that keyword.
The key here is to consider your target audience. After you have made a list of keywords you might want to use, go over them again and think about why people would search for those terms. What are they hoping to find? What stage of the buying process are they at? When you use your keyword on your site, make sure your content provides the information those searchers are looking for.
LSV:
LSV takes into account the search volume, keyword competitiveness, and traffic potential from LSIGraph's database from over six years of service. They created this algorithm that can tell you precisely how valuable an LSI keyword is. Only LSIGraph shows you the metric about this. The number will range from 0 to 100, with 100 being the best and 0, the worst. Keywords with a high LSV will be relatively easier to rank, relevant, and still draw in a bunch of traffic.
In conclusion, keyword discovery allows you to make business decisions about your campaigns based on what people actually search for, not what you think they might search for. When choosing a keyword research tool, you should look at 3 things: ease of use, the comprehensive keyword result, and the in-depth keyword metric.
Whatever you do, don't use keywords that aren't a good fit, even if you think they will be easy to rank for. You should also shortlist your keywords based on the volume, competition, relevance, and LSV metric. Once you've got your long-tail keywords, the next step is to create content and optimize them on your pages to get organic traffic.
During the research phase, you can use a keyword discovery tool like LSIGraph to get keywords with sufficient.
Updated: 27 January 2022