While creating your Facebook account, you must verify your account via a valid email address or mobile phone number.
The purpose of this process is to prevent any possible Facebook account hacks in the future and secure your Facebook account even more.
In case of unauthorized action, product updates and upgrades, you will receive notifications directly to your email address.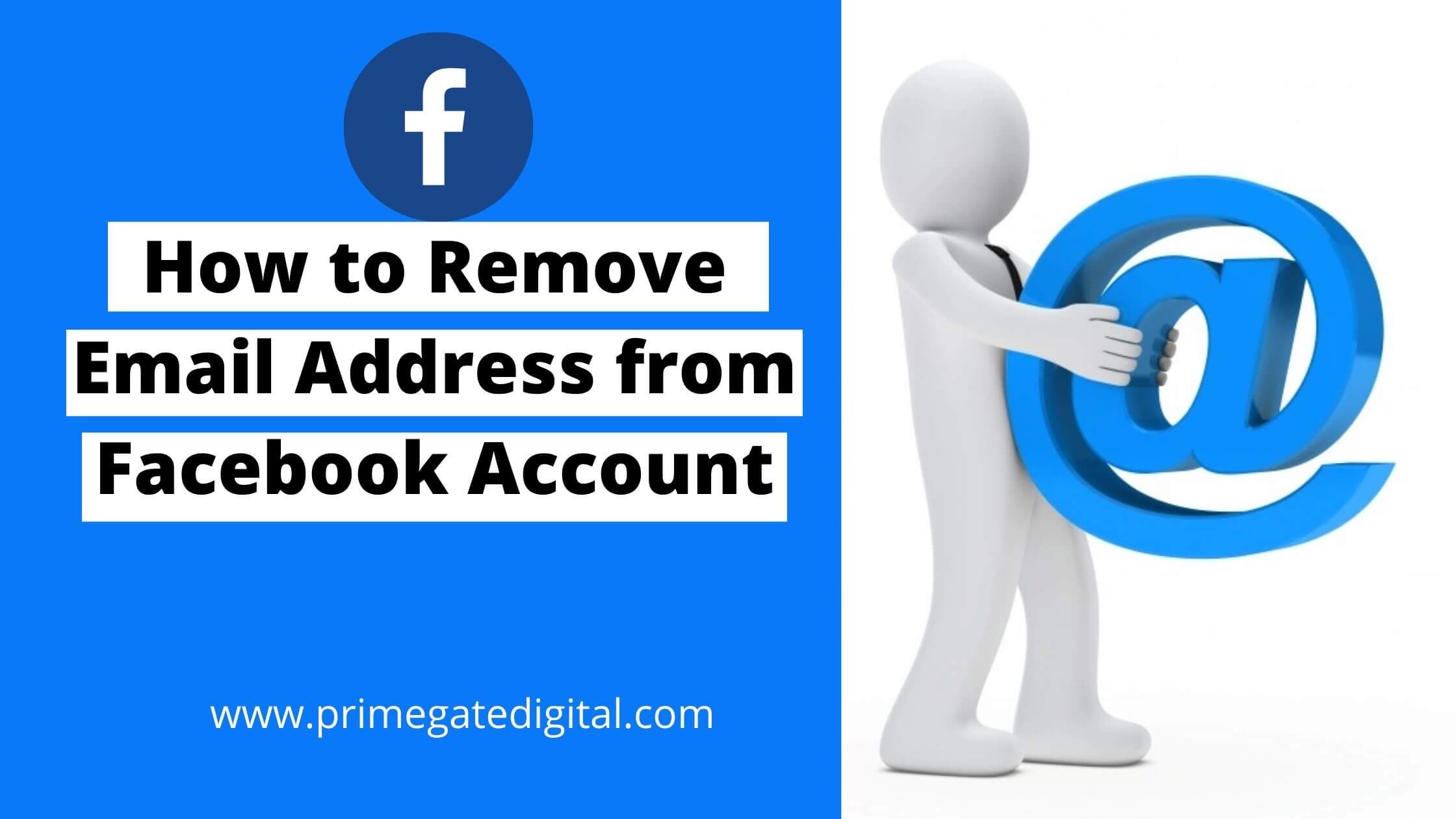 However, you might not be comfortable with all these email notifications from Facebook. The only solution is to stop receiving email notifications from Facebook.
In this article, we will guide you on how to remove the email address from your Facebook Account
Without further ado, let's take a deeper dive into it.
See Also: How to Fix Disabled Facebook Ad Accounts
How to Remove Email Address from Facebook Account
To remove an email address from a Facebook account, follow the steps below:
Click on the 3 horizon icon at the top right side of your Facebook profile
Navigate to the "Settings" tab
Under the personal information section in the account settings, tap on "contact info."
Choose the email address you wish to remove from Facebook and click on "remove."
Enter your password again to verify this action
Finally, click "remove email."
Facebook does not allow users to delete an email address from their account without changing the existing email.
Hence, to remove your email address from Facebook, you must first change your primary email address linked to the account before permanently deleting it.
See Also: How To Recover Deleted Messages From Facebook
How to Change your Email on Facebook App (iOS)
You can also change or remove your email using the Facebook mobile app. Here's how to do so with an iOS device:
Launch the Facebook app on your mobile device.
Try to sign in with your password and phone number/email address.
Move to the hamburger icon (three horizontal lines) in the lower section of your screen.
Navigate downwards until you locate Settings.

Select it. You will access the Account Settings option.
Navigate to Personal Information and tap Contact info.
Next, locate the "Add Email Address" button.
Input the email address you wish to associate with your Facebook account.
To finalize the settings, input your correct password in the box provided.
Select Add Email.
Like the web version, you will instantly get an email authenticating the process. After confirming your account ownership, Facebook will effect the changes that you have made to your email. It's as easy as that!
Facebook also allows you to change your mobile number via the smartphone app if you wish.
How to Change your Email on Facebook App (Android)
The process of removing/changing your email on the Facebook mobile app via an Android smartphone is quite the same for an iOS smartphone. The most significant difference lies in the layout of the settings and a couple of tabs.
Access the Facebook mobile app. Ensure that you are properly logged in.
Navigate to the Menu tab. Now you will locate it in the upper right corner of your screen.

Navigate down to and select Settings > Account settings.
Select the Personal and Account Information option and then tap Contact info.
It will direct you immediately to the "Add email address" box.

Input your new email address in the space provided.
Type in your Facebook password to validate the process.
It is important to note that Facebook allows you to add a recovery email, which helps when you have difficulties accessing your main email.
How to Update Facebook's Primary Email Address Without a Password
It is usually difficult for users when they forget their password, particularly regarding a hugely important thing such as email. But don't panic. There's a way to rectify it.
In this section, we will explore the process involved in recovering your password on Facebook. Hopefully, this will rectify the issue.
Access https://www.facebook.com/.

Select the "Forgot Password?" Tap the Log In option below.
You will be directed to a new tab where you can input your email address.
Note: If you are unable to access your email for any reason, you can input your phone number alternatively.
You will immediately receive a recovery code via email from Facebook. This code will assist you in gaining access to your account. It will lead you immediately to the Settings section, where you can input a new password.
Now that you have successfully completed these steps, the next thing to do is to change your email address using any of the steps we detailed above.
After carrying out a password reset, Facebook allows you to sign out of every device on which you signed in earlier. You may choose not to do this, but we recommend you do it in the event that somebody has logged into your account without your knowledge.
See also: How to Reset Facebook Password Without Email or Phone Number
How to Update Facebook's Primary Email Without Your Email Password
It is usually very annoying when you have forgotten your email password.
This could be a major hitch because you will need your password to access your email to get the confirmation code that Facebook has sent. However, if you are signed in, then it is not much of a problem anymore.
The process of retrieving your email password varies depending on your email provider (Yahoo, AOL or Gmail).
However, having a recovery email or mobile number connected to your main email simplifies the entire process.
Once you receive a confirmation code similar to Facebook's, set up a new email password, access Facebook and use the steps listed above to make changes to your email.
Remove Email Address from Facebook Account FAQ
I can't update my Facebook Email. Why?
While this issue doesn't happen regularly, you may experience it occasionally. If you find it difficult to make changes to your email on Facebook, whatever the case, do this:
Add an extra email address. In situations where the main email you wish to add is already associated with another Facebook profile, the best step is to take is to add another email to your account.
Ensure that your spam and social tabs are thoroughly checked. This is because Facebook notifications may be directed to spam.
Patiently wait. If the steps above do not work, you can refresh your page multiple times and exercise patience, as Facebook will send you a confirmation email.
I am being requested to add my contact number or email to my Facebook account. What is the reason?
Facebook usually requests your mobile number or email address for a number of reasons:
To assist you during log-in. If you can't remember your password, you will have to use your email address or phone number to change it.
Make suggestions on "People You May Know" in order to engage with them using Facebook.
Tailor and optimize ads for you and other users. Facebook claims that they don't share your personal data, such as mobile numbers and email addresses, with third parties.
To assist you in safeguarding your account via security features like email or SMS alerts for unauthorized logins.
Why can't I get email notifications about activities on my Facebook account?
If you experience challenges getting notifications via email, try the steps below:
Review your email notification settings to ensure your email notifications are not deactivated.
Go through your junk and spam to ensure emails sent by Facebook don't end up in this folder. If the reverse is true, be sure to add @facebookmail.com to your email whitelist.
If you still can't get Facebook notifications to your email, reach out to your ISP and make sure they don't restrict email traffic from Facebook.
Why can't I receive the Facebook sign-up email?
If you set up a Facebook account using an email address, it is expected that you will find a confirmation email from Facebook in your inbox. If you don't receive any, follow the steps below:
Go through your Junk mail folder. For Gmail users, review emails in the social category.
Ensure that the email address you input is correct. If it is wrong, make the corrections and send it once more.
At this stage, it might be worthwhile to use your mobile number to set up your Facebook account rather than your email address.
I have received password reset emails from Facebook, and I didn't request them. What should I do?
If you are getting password reset emails from Facebook and haven't made any requests, it's possible that someone has either mistakenly inputted your email or username while trying to sign into their account. This mostly occurs when your username or email is popular. Don't worry. Your password won't reset or change if you do not click the password reset link.
However, if you receive an email stating that a password reset was carried out on your account, ensure that you quickly secure your account.
Conclusion
Imagine getting an email notification whenever a friend makes a post or comment on your post or even a friend's birthday. At some point, this can really be frustrating.
Not everyone wants to know who just made a post or who is celebrating a birthday. Therefore, unlinking your email from Facebook comes in handy.
We hope this article guides you on how to remove emails from your Facebook account.
You might want to review how to contact Facebook support to fix your account issues and also how to delete your Facebook account without a password.