Additional Resources
3. Improve mobile responsiveness to fix bounce rate issues
Your bounce rate will be extremely high if users can't view your website on mobile devices. If you've ever tried to navigate a non-responsive website on your smartphone, you know how frustrating the process is.
So, one trick to reduce your bounce rate is to make sure every element of your site is easily usable on mobile devices. That includes every page from the navigation menu to the contact page to blog posts.
March 2021 was the start of Google's switch to mobile-first indexing. If your site is not mobile friendly, then you may see a decrease in overall rank.
4. Use visual content to improve bounce rate
Visuals are a great way to grab attention and capture visitors' interest. To be clear, on their own these elements won't necessarily reduce bounce rate since they are designed to keep visitors on a page longer rather than get them to visit other pages on your site.
However, visual content is more engaging. And that could decrease bounce rate if users take actions that trigger events — such as watching a video or downloading a template.
Compelling CTAs are also an excellent way to help drive the customer journey.
Additionally, content like infographics and videos are highly shareable, which can increase the amount of social media traffic to your website.
When using visuals, it's important to properly optimize them for websites. When not optimized it can greatly affect your page weight and load time making for a very frustrating experience for visitors.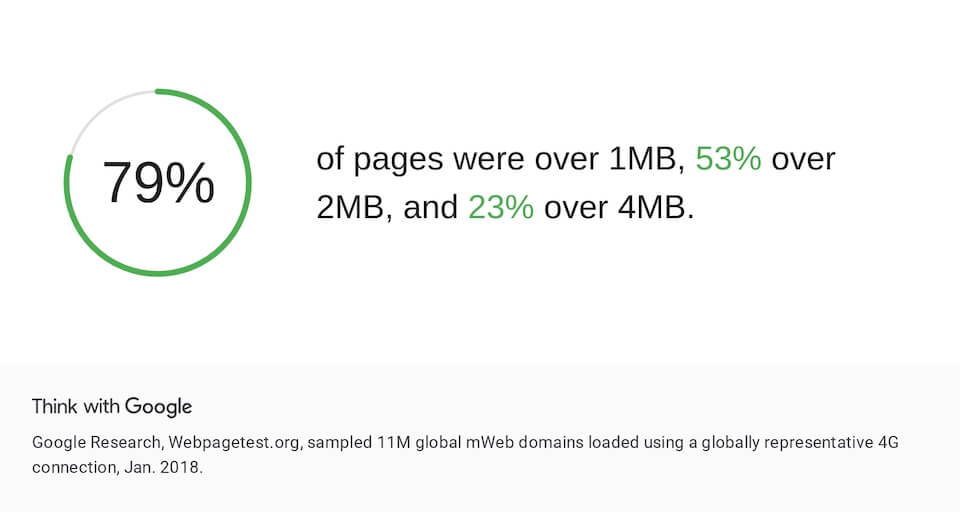 And finally, don't go overboard with too many videos, widgets, and graphics. Sometimes a little white space can help your important content stand out even better.
5. Create interactive experiences to reduce bounce rate
Creating interactive content on your website is a great way to reduce a high bounce rate. There are many opportunities to add interactive content to your website including:
Quizzes
Infographics
Surveys 
Polls
Calculators
Personality assessments
Webinars
Games
E-books
For example, say you have an in-depth blog post about how to choose the best running shoes for a variety of situations. At the end of the post, you could include a quiz that asks a series of questions and then provides running shoe recommendations based upon the answers given.
Not only does this help lower your bounce rate, it also provides valuable information to visitors, making it more likely they'll come back to your site in the future.
A fun example comes from Adobe. They created an interactive personality test called Creative Types that can help designers and artists determine their creative personality. It also serves as a lead generation tool since it shows how artists can use their tools to express themselves.
6. Add strong search functionality to your website
If your website has a high bounce rate, it may be because visitors can't find what they want.
Adding strong search functionality to your website can solve that problem. In addition to search, you should also build intuitive faceted navigation — especially for an ecommerce website where information architecture is crucial to UX.
7. Run A/B tests to lower a high bounce rate
A/B testing allows you to consistently optimize your site to provide an outstanding user experience for visitors, improve your conversion funnel, and ultimately reduce bounce rates.
There are numerous elements of your site that you can A/B test, including:
Landing pages
Layout
Calls-to-action
Navigation menus
Opt-ins
And more…
Start with pages that have a particularly high bounce rate. Develop a hypothesis about possible causes, and then run A/B tests to determine the validity of your hypothesis.
If you were correct, make the appropriate optimizations and then move to other areas of your site.
8. Match content to search intent
An easy way to reduce bounce rate is to ensure that your content matches the search intent for each keyword you target.
For instance, when users search on broad, top-of-funnel keywords, they're looking for broad, informational pieces of content. They don't expect to see a homepage, product page, or service page when they click through from the search results. Shocking them with something is a surefire way to make them click the back button.
So, think beyond keywords when you create your content. Understand what your users want to accomplish, and answer their questions. You can lower bounce rate scores even further if you anticipate their next question and link out to that content.
9. Improve content readability
Content readability is an important factor in your bounce rate. Even if your content matches search intent, if it's difficult to read you're still likely going to have a high bounce rate.
Remember, a large percentage of people visit your site on mobile devices with relatively small screens. Making content easy to read is essential if you want to reduce your bounce rate.
Some simple ways to improve readability include:
Increase the font size
Use lots of paragraph breaks and avoid walls of text
Use plenty of headers and subheadings to make content more skimmable
Turn lists into bullet points
Add creative elements like images or illustrations
Use color blocks to break out important text
The more readable your content, the less likely it is that visitors will quickly bounce from your site.
10. Optimize title tags and meta descriptions
Title tags and meta descriptions are what is displayed in the search results for each page. It's important that your title tags and meta descriptions be compelling so searchers want to click-through to your pages.
That said, it's also just as important that they accurately describe the content of the pages.
If the contents of a page are different than what was described in the title and meta description, visitors will feel like they've been tricked into clicking on your website in the search results. You can be sure they will bounce quickly.
11. Test and optimize call to action placements
Calls to action (CTAs), such as email opt-in pop ups, have the potential to disrupt the user experience and increase your bounce rate.
Be strategic about where you place your CTAs so they don't frustrate visitors but can still be an effective lead generation source.
Behavioral analytics tools like heat maps can show you exactly how visitors are engaging with your website, including how they respond to different CTAs.
Test placing CTAs in different locations and then optimize based on how visitors respond. Your goal is to find the balance between compelling people to take action while also not disrupting the user experience.
Enterprise SEO Playbook
Build a more efficient SEO strategy and leave your competitors in the dust.
Download the Study
12. Reduce pop-ups to decrease bounce rate
Pop-ups can be an effective way to grow your email list and drive conversions. Yet, they can also disrupt the user experience and cause visitors to bounce from your site. For that reason, Google stated they might penalize websites that aggressively use disruptive interstitials.
So, try to use pop-ups that are triggered by specific user behavior. For example, if a user reads through a significant portion of a blog post, it suggests that they find the information valuable.
A pop-up that only appears after a person reads through 65% of a page is much less disruptive than one that appears the moment someone lands on your site.
Another alternative is to use exit intent pop-ups which only appear when a visitor is about to leave your site. These can potentially keep users on your site without disrupting the user experience.
13. Improve overall user experience to fix high bounce rates
Perhaps the most effective way to reduce bounce rate is to improve the overall user experience of your website.
Make sure you have an aesthetically pleasing design, an intuitive layout, relevant content, clear navigation menu, and limited ads.
Also, leverage behavioral analytics tools like Mouseflow or Hotjar to spot areas of user friction. Heatmaps and visitor recordings can reveal frustrations and help you provide a better digital experience.
Use a combination of Google analytics and behavioral software to evaluate things like:
How far users scroll down the page
The types of behaviors that trigger a bounce
Whether users engage with your content but don't take action
Which segments of users stay the longest and shortest
Whether mobile users bounce more than desktop users
The point of this exercise is to identify areas of your website with a poor user experience. Then, you can use A/B testing to make improvements and reduce the bounce rate.
Reduce bounce rate to increase engagement
It's easy to get focused on metrics to the point where you forget what they represent. Your website's bounce rate is more than just a number. It represents how well you are serving your target audience.
It tells you whether the content on your site answers their questions, solves their problems, and adds value to their lives.
So, as you do the hard work of improving your site speed, A/B testing, or optimizing content for search intent, always keep your primary goal in mind. Your objective is not a low bounce rate for its own sake. It's to provide the best possible experience for those who visit your website.
Increased Business Value by 429%
Terakeet increased the business value per blog visit by 429% for a leading mortgage company
View Case Study