Choosing the perfect audio to accompany your latest Instagram Reel is an art, not a science. Still, opting for a trending sound or music clip could provide the boost you need to get your video on the Reels feed or Instagram Explore page. 
But where to find them? If you always feel like you're chasing the tail-end of audio trends on the app, you've come to the right place. In this article, I'll guide you through all the methods you can use to find the most popular music and sounds on Instagram before they drop off the charts. 
Instagram's trending audio list
Look out, TikTok: Instagram is on a mission to make its video editing tools the best of the bunch. They've rolled out a host of updates in recent months to improve their in-app Reels editor (I'm still living for their Instagram templates). In November 2023, they added a feature that may be even handier: a way to see trending songs and sounds when you edit your video. 
Follow the steps below to get, as Instagram puts it, "the top 50 tracks with a sharp rise in Reels usage over the past three days." There you have it: piping hot trending audio for Reels content, fresh out of the oven.
Here's how:
Tap the Create (+) button at the bottom of your screen in the Instagram app.
Choose REEL from the bar at the bottom.
Tap the Trending button at the top of the screen — it should be between the camera/drafts and audio tab. (Note that this new feature is still being rolled out, so it might be available to you yet. Sit tight — it should land in your app soon!)
Trending Reels on Instagram
If the most popular songs on Instagram's trending Reels audio list don't quite work for your planned video, it's worth scrolling through the Reels feed for audio that might be more aligned with your niche. Yes, scrolling is a crucial step in content creation (even if you become so absorbed in the scroll that you forget what you were looking for — it happened to me many times while writing this article). 
Think of your Reels feed as a Reels Explore page — unique to you and the best place to find trending Reels from content creators you follow and those you don't, based on your behavior (this is how Instagram's algorithm works). 
Pay attention to the other clips gaining traction in your niche — it's a great place to source Instagram Reels trends and ideas and make the most of Instagram Reels templates, too.
Here's how to find trending Reels:
In the Instagram app, tap on the Reels video icon on the bottom right of the screen.
Find a Reel with a sound you like, then tap on the artist and title (next to the little music note) on the bottom left of the video.
This will take you over to the audio page. Here, you'll find how many times the sound has been used, where the Reel sound originally came from, plus all the other videos it's been featured in and how many views they have.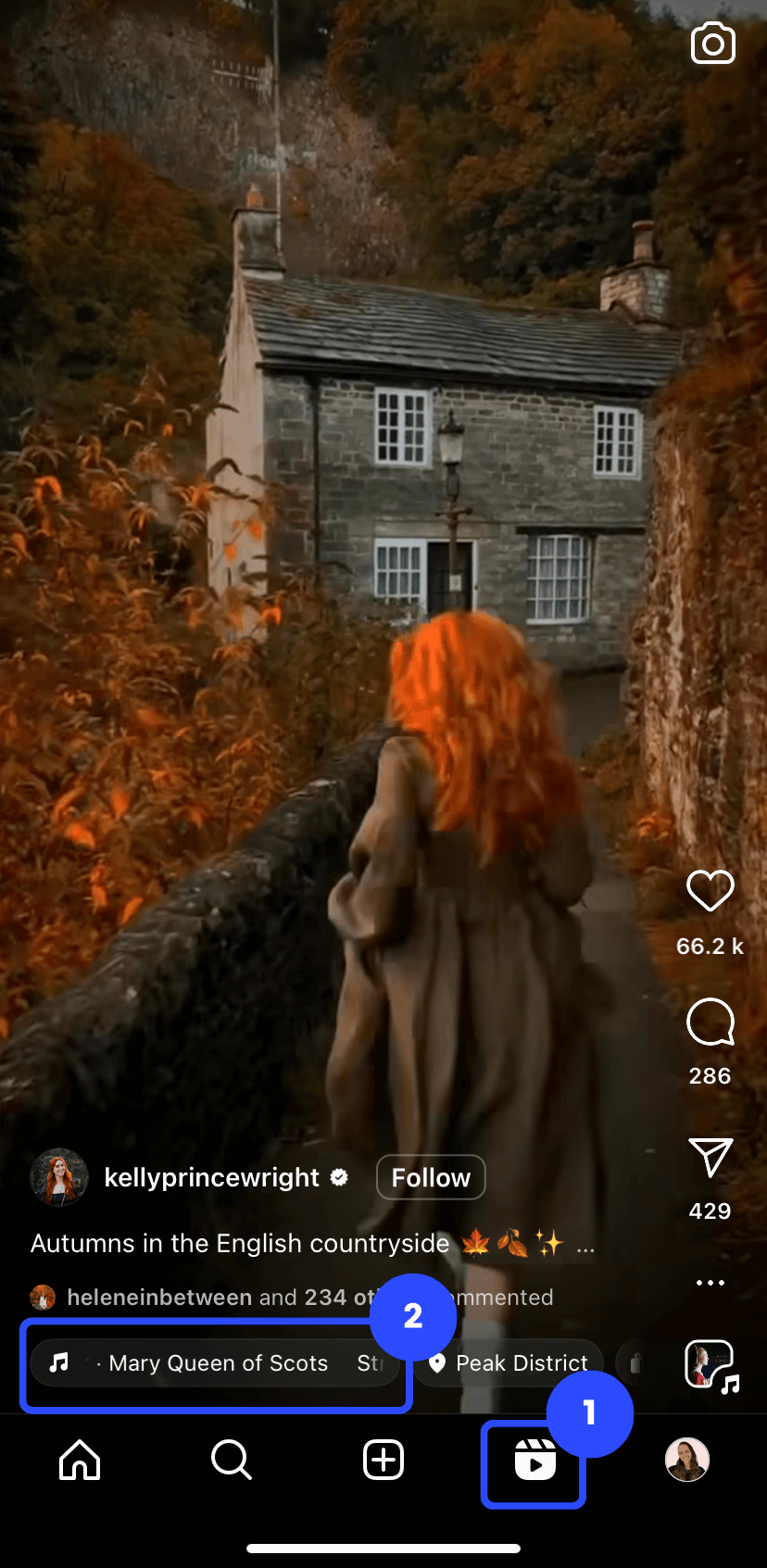 ⚡
Pro tip: If you don't want to use the audio in a video right now, save it for later by tapping the little bookmark icon on the bottom right. You'll find all the sounds you've saved in the Create Reel space by tapping the little music note icon you would usually use to find your sounds. Just tap Saved above all the music Instagram is recommending for you.
Instagram's search feature
While this method of finding trending sounds on Instagram isn't quite fool-proof, it's a great way of exploring outside the content Instagram is recommending to you.
Tap on the magnifying glass at the bottom of the app to head over to the Explore/Discover page.
Tap the search bar at the top of the page to type a phrase like "trending audio." You could even opt for something more specific to the video you plan to post, like "spring clean" or "morning routine," to see what other creators have used for similar videos. 
It's worth tapping on both the Audio and Tags filters at the top of the results and scrolling through those on offer.
A note on the latter: anyone can tag their Reels with #trendingaudio, so it doesn't necessarily guarantee that the sound used is popular at the time. However, using the Top Posts filter (applied automatically when you tap on a hashtag) is an excellent indicator of what works!
Instagram's Creator Account
Instagram's @Creators account is a wealth of great info and ideas for Instagram growth. They regularly publish a Reels trends carousel that not only shares the latest and greatest sounds top creators are using but editing tips and tricks, too. 
⚡
Pro tip: Join the Creators
broadcast channel
to have news of Instagram's latest features and trends sent straight to your Instagram inbox.
Sign up here
TikTok
Ok, hear me out. I know a lot of die-hard IG Reels creators will loathe the idea of switching allegiances, but having a little look-see at what's happening on Gen Z's social platform of choice doesn't necessarily mean you're a TikToker. (Unless you want to be — and repurposing your Instagram Reels for TikTok is laughably easy and doubles your chance of content success.)
What resonates on TikTok often strikes a chord on Instagram, too. Head over to our How to Find Trending TikTok Sounds guide for more tips you can carry over to Instagram.
There are three simple ways to do this:
TikTok's Creative Center
One of the best ways to find trending sounds for your short-form videos is via TikTok's Creative Center (it's also a great spot to hunt for hashtags and videos edits that are on the up). The best part? You can get super specific with your search time frame and choose your country to find which music is resonating the most in your region right now.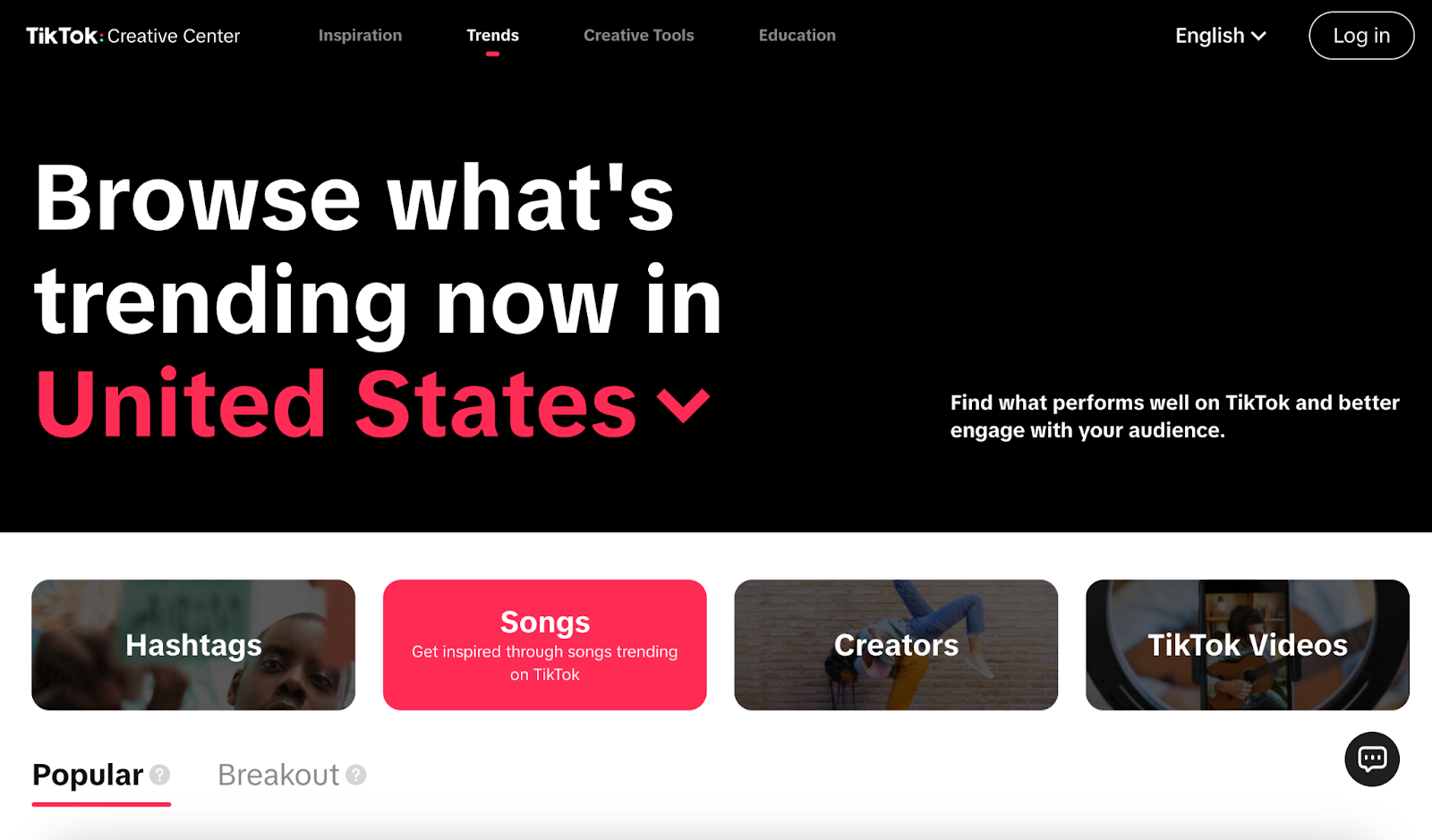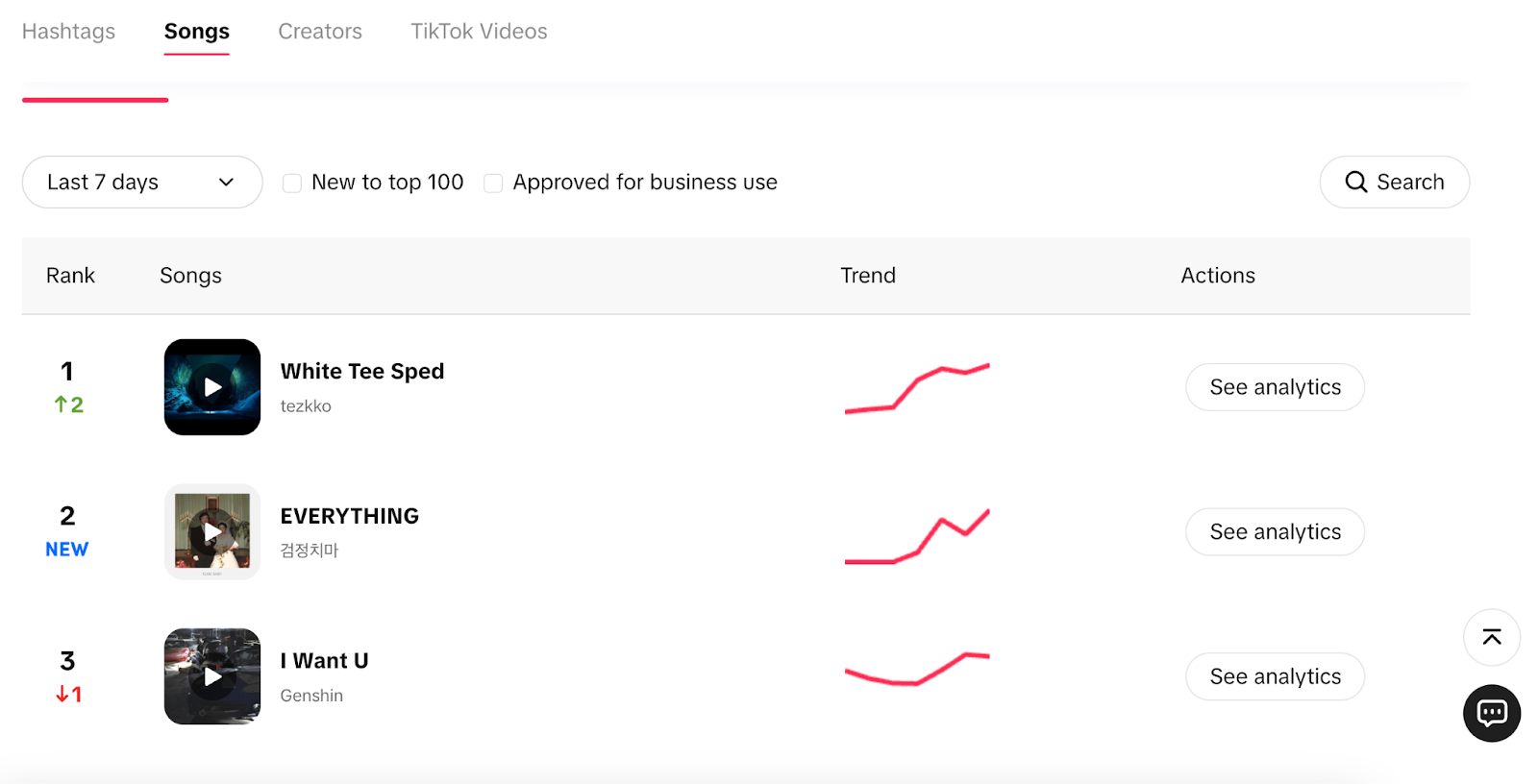 TikTok's search function
TikTok's search function is pretty great (there's a reason TikTok SEO is the new frontier for social media managers), and it offers a straightforward way to find trending sounds. Just as you would on Instagram: 
Tap the magnifying glass icon on the top right of the app to open the search tool in the TikTok app.
In the search bar, type a phrase like "viral sound" or "trending audio."
Tap the 'Sounds' tab and scroll through, paying special attention to the ones labeled 'popular.'
When you find a sound you like, note the name and search for it on Instagram.
TikTok's playlists
While you're on TikTok, it's worth hopping over to TikTok's curated sound library. To find them:
Tap the '+' button on the bottom middle of your screen (don't worry, this doesn't mean you're instantly adding a new video).
Tap the music note icon on the right.
There, you'll find sounds recommended for you, plus a host of categories created by TikTok. Make a note of any sounds you like, then search for them on Instagram. 
Buffer's Social Media Manager, Mitra Mehvar, is our source of all things trending when it comes to short-form video and audio — in fact, she picks one trend a week to feature in our social media newsletter. She even interprets the trends and gives some ideas on how best to use them. 
If you'd like her recommendations sent straight to your inbox, sign up here. She shares all sorts of social media tips there!
Thousands of rights-cleared sounds and audio to use on content for Instagram, Facebook, or Meta's other apps? Yes, that exists: meet Meta's Sound Collection. 
Copyright concerns mean that finding audio to accompany your commercial content as an Instagram business account user is a little trickier, which is why this handy sound and music library of free-to-use commercial sounds is a game-changer.
Best used on a desktop computer, the system is much more user-friendly than the in-app audio libraries for Instagram and Facebook Reels. There are a whole bunch of search filters that you can apply — Genre, Mood, Duration, and Tempo, for example — to help you find the perfect audio to accompany your branded content. You can even sort the sounds by 'Most popular' to give you a good idea of what audio is trending. 
Before you ask: Yes, those with Creator and personal Instagram accounts can use this library, too. 
The regularly updated audio on offer can be streamed or downloaded. The only catch: according to the terms of use, content you create with these sounds can only be used on Meta platforms (sorry, TikTok and YouTube Shorts). 
13 top trending Instagram sounds of 2023
There's no official Reels trending chart — if only — but using all of the methods above (and some recommendations from Mitra), I've pulled together some of the most viral, versatile trending sounds from Instagram this year. 
1. This is What Space Feels Like
This clip by JVKE has an epic build and lends itself perfectly to transitions — so it's little wonder the audio has been used in almost 150,000 Reels (and counting). Photographers often use it to show off the results of their work, as @danielmacadangdang has done in the Reel below. 
2. Moonlight Serenade
This dreamy old-school clip from Moonlight Serenade by Glenn Miller is ideal for small businesses, particularly if you're looking to showcase beautiful scenery, a meaningful moment, or — my personal favorite — glorious foodie clips. Check out how @alexarosa used the audio to show off these drool-worthy pie cupcakes.
3. "My boyfriend has two girlfriends"
This is a newer trend that I think we'll be seeing around a lot in the coming weeks. Don't take the title at face value — this sounds offers a fund trend to jump on showcasing two sides of you. See how @amusedesignstudio_ put her own spin on it below.
4. Strangers
If you've been on any social media platform that allows for short-form video, chances are you've heard Kenya Grace's Strangers. The track has been remixed within an inch of its life — several versions are trending — but this sped-up version lends itself well to some fun time-lapse edits, like @gisou's Reel below.
5. "I should get some sleep"
The surprisingly versatile, seconds-long audio is a clip from Family Guy, in which Stewie says, "I should get some sleep" before turning over and giving a rather pitiful sob. 
Here's how Buffer's social media manager, Mitra, hopped on the trend. 
6. Rosyln (feat. a thunderstorm)
There can't possibly be a track cozier than this one by Bon Iver, layered with the patter of rain and rumbling of thunder for good measure. Save this one for your ambient winter moments. (good luck topping @the_onlycookiemonster's dreamy Reel below, though). 
7. "Thank you, Barbie"
Unsurprisingly, the year's most talked-about movie has given us lipsync fodder for months. This clip is a moment from the Barbie movie, where Ken shares a little more about his job ("beach," apparently). "Shredding waves is much more dangerous than people realize," he tells Barbie, to which she responds — not at all condescendingly — "You're very brave, Ken." 
To hop on this trend, replace the "shredding waves" bit with a misconception about your job or minor accomplishment. Here's how Mitra made it relatable to social media managers.
8. Energetic dance 
This is another new trend, so jump on this crazy track fast to ride the inevitable wave. The frenetic clip is perfect for any wild moment you want to showcase. 
Here's how creator @oneilthomas used the audio to show off, er, all the voices in his head. 
9. Greedy
Various remixes of Tate Mcrae's song Greedy has become the official anthem of the #tubegirleffect (made popular by Tube-frequenting, London-based influencer @sabrinabahsoon) that is all over TikTok and Instagram. The song goes beyond just the trend, though, and is versatile enough for any confidence-boosting situation. @iamabiarchila's is a great example. 
10. "You are"
This hilarious trend leans on the Backstreet Boys hit, I Want it That Way. In the bridge from the song, the boys croon, "You are" in harmony several times, which creators have jumped on to show something they're in denial about or going to be contradicted on. 
11. Paint the Town Red
Doja Cat's explicit track Paint the Town Red is another that dominated short-form video platforms in 2023. It's great for videos that showcase controversial opinions — "I said what I said," the lyrics go — or for moments worth showing off. If you're doing that latter, try a slow-motion finish for extra oomph, a la @tanseycoetzee. 
12. Cruel Summer
Thanks to the Eras Tour, album re-releases, and a romance with a football star that's enough to make even non-Swifties melt, any of Taylor Swift's tracks could be considered trending audio. Cruel Summer, though, is the gift that keeps on giving. Even though it was released in 2019, the song keeps sashaying back up to #1 on the global charts — which probably has a lot to do with how popular it is for social media videos. At the time of writing this, it had been used in a whopping 600K Reels.
The song is versatile enough to work as a backdrop for almost any video, but if works particularly well for fashion and other lifestyle accounts. 
13. Makeba
A round-up of the most popular sounds of the year for Reels would be incomplete without a mention of Makeba by French singer-songwriter Jain. The track is great for so many moments, but it's often been used in conjunction with a clip of actor Bill Hader dancing on Saturday Night Live to showcase something the poster is feeling smug about or particularly proud of.
Here's how we used it on Buffer's Instagram:
Bonus trending audio: Makeba (but not quite)
This goofy remix — which cuts from the original to a few seconds of someone enthusiastically wailing the song sans music — is a brilliant way to showcase Insta vs. reality moments. We're seeing it often used in travel clips like the one below. 
Happy Reeling!
If you've created a Reel with one of the trending sounds in this guide, we'd love to see it! Tag @buffer on Instagram so we can find you. 
!function(f,b,e,v,n,t,s)
{if(f.fbq)return;n=f.fbq=function(){n.callMethod?
n.callMethod.apply(n,arguments):n.queue.push(arguments)};
if(!f._fbq)f._fbq=n;n.push=n;n.loaded=!0;n.version='2.0′;
n.queue=[];t=b.createElement(e);t.async=!0;
t.src=v;s=b.getElementsByTagName(e)[0];
s.parentNode.insertBefore(t,s)}(window, document,'script',
'https://connect.facebook.net/en_US/fbevents.js');
fbq('init', '1521042244879171');
fbq('track', 'PageView');