In 2023, there are a total of 4.89 billion social media users worldwide. One of the many reasons you should build your brand's presence on social media is to capture a slice of this pie.
So, if you're a marketer wanting to crush it online — this is your time to take action. The social presence of billions of users shows great potential to connect, engage, and build lasting relationships with your target audience.
The real power lies not just in being active on social media networks but in planning social media goals in advance and crafting engaging social media content strategies that make a meaningful impact.
And creating one isn't as easy as it sounds. It requires a thoughtful approach that goes beyond the basics.
To help you accomplish your social media goals, we'll cover ten advanced tips that you can use to craft an engaging social media content strategy.
1. Conduct A/B Testing
A/B testing allows you to optimize your social media marketing strategy based on insights and social media metrics.
Experiment with different content formats, headlines, captions, and visuals to see which format performs better.
You can also try different content styles and focus on visual content, which is 40x more likely to be shared on social media.
Example: Test two different headlines for a product announcement social post and use the one that users engaged with and shared more. You'll need to track social metrics like reactions, shares, and new followers during your test.
2. Personalize your content
Before creating a social media marketing plan or content calendar, segment your audience based on demographics, behaviors, and interests.
Craft tailored messages for each segment and find social media content ideas for that target audience.
And to encourage them to engage with you, publish funny content. 80% of marketers say that funny content is the most effective form of social media posts.
Example: Tap into Instagram retargeting ads to promote personalized product recommendations to customers based on their past purchase history.
3. Embrace User-Generated Content (UGC)
User-generated content is a powerful way to build trust, gather a sense of community, and increase engagement rates.
Encourage users to share their experiences and stories about your brand.
Plan a posting schedule using social media tools, highlight, and feature UGC in your content, and give credit to the creators to showcase the authenticity.
Then, create a dedicated UGC marketing campaign.
Example: Invite customers to share photos of themselves using your product with a branded hashtag. Comment on and share these photos on your company's social media (with permission, of course), thanking the participants for joining in on the fun.
4. Incorporate influencer collaboration
Partner with influencers in your industry who have high engagement rates. 67% of marketers agree they prefer working with micro-influencers with 10k-100k followers or subscribers.
Collaborating with influencers allows you to tap into their social networks and leverage their credibility to boost engagement.
Use social media management tools to co-create content, host giveaways, or collaborate on campaigns aligning with your brand and the influencers' style to extend your reach and gain engagement.
If your target audience is Gen Z, you can prefer Instagram Reels for influencer marketing.
For context, look at the stats below: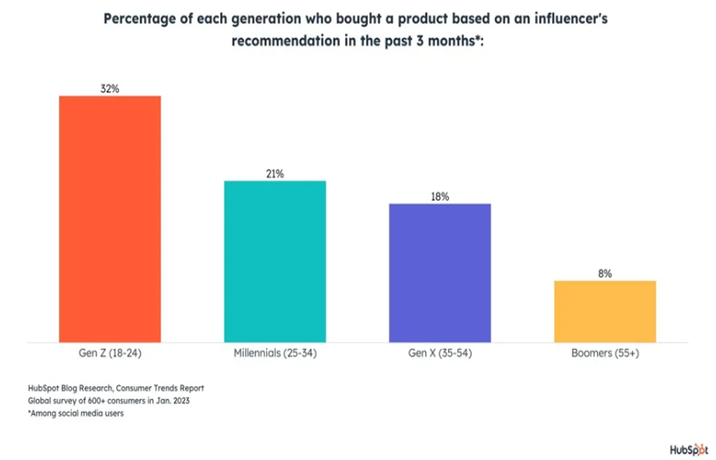 Example: Partner with a fitness influencer to promote your health supplements through workout videos.
5. Use interactive elements
To accomplish your social media marketing goals, you can engage people to interact with your brand via polls, quizzes, and surveys. Encourage them to participate and share the results.
Incorporating interactive elements into your social media marketing strategy will spark active participation between your social media team and audience, making them more likely to engage and share opinions.
Example: Host a poll on X (formerly Twitter) to let your audience choose the next product feature you'll develop or the types of content they'd like to see.
6. Leverage user reviews and testimonials
Showcase user reviews and testimonials as part of your content strategy. Highlight positive feedback and make improvements by taking accountability for negative feedback.
Incorporate these testimonials into your social media strategies to create dedicated reviews or testimonial videos. Sharing this social proof helps build trust and credibility with your audience.
Example: Feature video social proof of a satisfied customer explaining how your software improved their business.
7. Create long-form content
While social media platforms are mostly known for short-form content, they're switching gears to focus on long-form content.
It's great, especially if your business receives great engagement on X (formerly Twitter).
"Long-form posts on the microblogging platform are now at 3 billion views per day and rising.", said Elon Musk, the owner of X.
"This is roughly on par with all newspaper articles views on Earth," he continued.

Educational content and case studies tend to work great on LinkedIn. Additionally, blog posts can also help you establish your brand as an authority in your industry.
Publishing compelling content is a great way to increase engagement and shares. You can also repurpose educational content on multiple sites and tailor it to each platform for the best results.
Example: Publish content about challenges and opportunities your company faced and how it helped you increase return on investment.
8. Collaborate with other brands
Collaborate with complementary brands or businesses for promotional content.
As part of your digital marketing strategy, come up with mutually beneficial collaboration ideas that can help you both increase reach and tap into ideal customers.
Joint campaigns, cross-promotions, or co-sponsored events are great ways to use the power of collaboration.
Example: Team up with a travel agency to promote your hotel and their vacation packages through a joint social media campaign.
9. Emphasize customer service
Social channels aren't just a source for publishing content but also for providing excellent customer service.
Marketers these days actively invest in building social media communities to better connect and interact with potential customers.
Respond promptly to inquiries, comments, and feedback from your audience. Show them you genuinely care about them by addressing their concerns and providing helpful solutions.
This level of engagement can build customer loyalty and community building.
Example: Respond to customers' support requests on social accounts and resolve their issues within a few hours.
10. Monitor trends and stay updated
Stay updated with social media trends, algorithm changes, and content formats. Track performances, content audits, and social media KPIs.
Experiment with new features or types of content introduced by social media channels.
Plan your social media content calendar based on engagement metrics. Keep an eye on what your competitors are doing and identify strategies that work well in your industry.
Out of all content types, short-form videos are taking the spotlight. Research states that 64% of shoppers ended up making a purchase after seeing branded video content on social platforms.
Example: If video content is becoming popular on social platforms, create your social media content strategy around it.
You might also consider incorporating data storytelling into your strategy. Why? More brands are moving towards storytelling in their social media posts.
This helps reach larger audiences and accomplish business goals. If you haven't thought about it, give it a thought. The early bird catches the worm.
Final Words
And there you have it — ten advanced tips to level up your social media marketing strategy.
Test the waters with new features on social channels and plan your content marketing strategy accordingly.
With consistency and some creativity, you can increase your brand awareness and establish a strong foothold in the vast sea of social media.
Are you ready to boost your social media presence and accomplish all your business goals? Here's to your success!