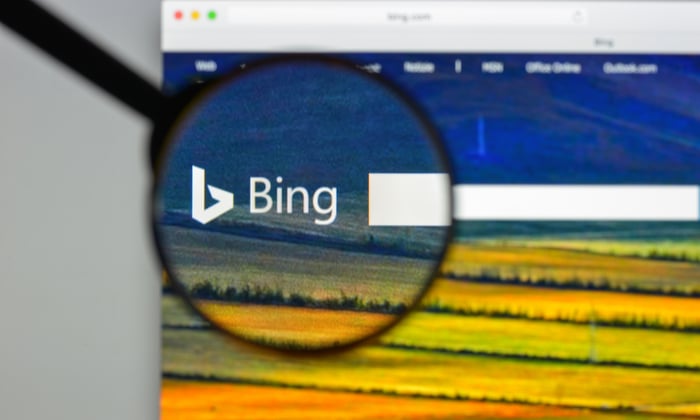 When we talk about SEO, Google comes to mind for most search engine marketers. 
It makes sense. If you can please the search giant, other search engines will follow along and send traffic to your website.
Right?
Most marketers don't consider Bing (the second most used search engine) a lucrative channel, but it can be if you've optimized your site for Bing SEO. 
The Benefits of Bing SEO
Since all marketers go after Google, Bing has lower competition and a market share of 6.79 percent for desktop searchers. While that may seem low compared to Google's 86.64 percent, Bing's desktop search market has grown by 41.03 percent since 2019. 
Bing traffic also might have a lower bounce rate. For Matthew Woodward, his Bing traffic is higher quality than Google. Bing visitors viewed more pages and clicked more affiliate links, as well.

Furthermore, most search engine optimization techniques remain the same as they are for Google (although the algorithms are different). What makes Bing unique is the search engine is more open about its ranking factors than Google, meaning you can eat the Bing pie with less effort and still reap the rewards.
Now that you're aware of the advantages of Bing SEO let's get started with putting your best foot forward on the search engine.
How to Rank Higher on Bing Search: 6 Top Tips for Bing SEO
Use these Bing SEO tips to make sure your content is optimized for the search engine and boost your chances of ranking on the first page and landing the coveted number one spot.
Build Quality Backlinks to Your Website
Bing SEO focuses on link quality over quantity. 
On the search engine's webmaster tools page, it states, "Often even just a few quality inbound links from trusted websites is enough to help boost your rankings. Just as it is with content, when it comes to links, quality matters most."
This tells us that you shouldn't invest time and energy in trying to obtain as many backlinks as possible for Bing SEO (as was previously thought). 
Instead, focus on gaining links from high authority sites Bing trusts and creating unique, engaging content people want to share.
There are these two types of backlinks that Bing favors:
Organic links from relevant and trusted websites that drive real users to your site. Particularly, .edu, .org and .gov links strike gold on Bing.
Bing favors links from old domains, as it considers age to be a sign of trust.
Like Google, Bing also wants you to stay away from reciprocal links, paid links, link schemes, links from hacked websites and the like. Otherwise, your website might get delisted from the Bing search engine index.
The best way to understand your backlink profile is to conduct a backlink audit on Ubersuggest.
Step 1: Go to the Backlink checker, enter your domain, and click on submit.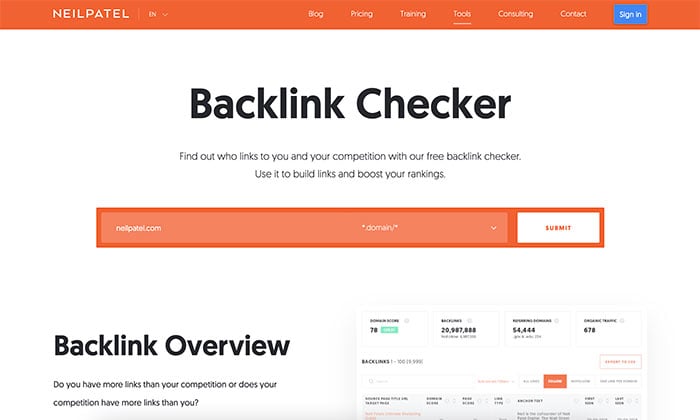 Step 2: Analyze your backlink profile.
There's a lot of valuable information here, but for the sake of this exercise, you're focused primarily on the backlinks section. This is where you'll find:
Source page title and URL: The title that shows in a Google search for the URL.
Domain score: The overall strength of the website, from 1 (low) to 100 (high).
Page score: The overall strength of the URL, from 1 (low) to 100 (high).
Link type: Whether the link is text or image-based.
Anchor text: The clickable text in the hyperlink.
First seen: The first time Ubersuggest identified the backlink.
Last seen: The last time Ubersuggest confirmed the backlink.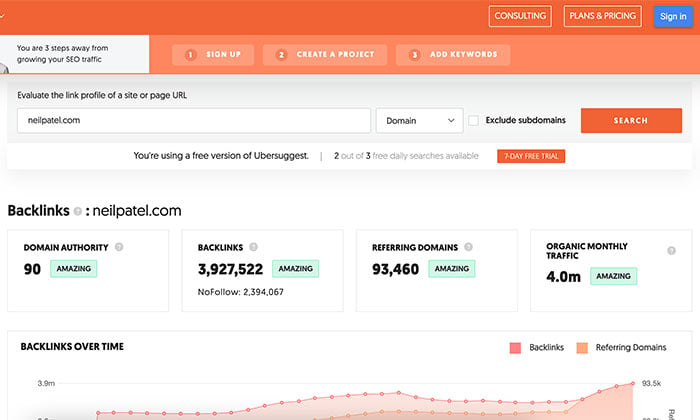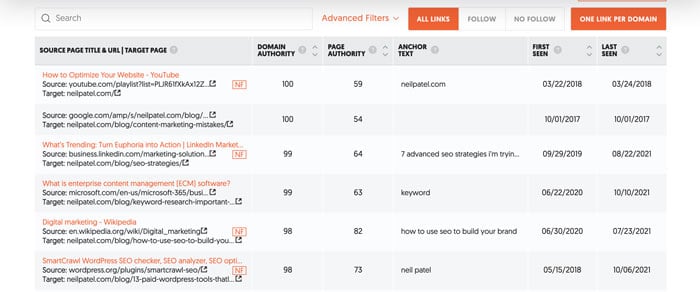 If you find spammy websites linking to your website, then first try to take them down. If the webmaster of the linking website doesn't honor your request to pull a link, you should disavow the link here.
Pay Attention to On-Page SEO
While Google has developed a pretty sophisticated search algorithm, Bing still relies on some old ranking factors. 
Here are the specific, on-page SEO aspects that matter for ranking on Bing.
Exact Match Domains
When you search for the keyword "best swiss knives" on Google, you get the following results. Besides sponsored results, you can see a knowledge graph result occupying considerable real estate at the top.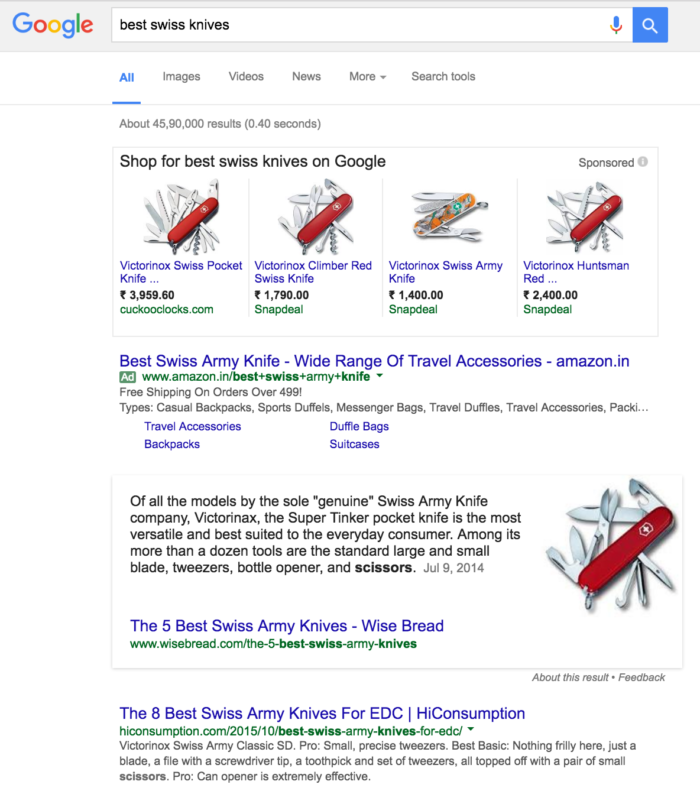 On Bing, however, the first result is from the domain "bestpocketknifetoday.com." This signals traces of exact match domain as a key ranking factor in Bing search engines. On Google, you won't find this result in the top 10.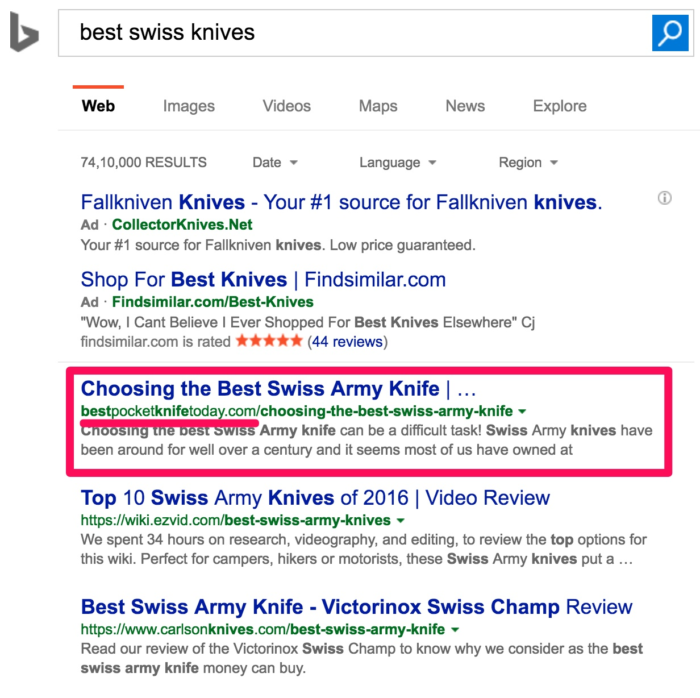 I don't recommend buying a new exact domain just for ranking in Bing and Yahoo results. It's just one of those factors to keep in mind.
Exact Keyword Usage 
Like the domain, using your exact keywords in the Heading 1 and Heading 2 tags will help you with your Bing SEO rankings. Unlike Google, Bing is about exact word usage rather than the context and semantics.
However, I would still recommend that you use keywords naturally in your content, as much as possible.
You should also sprinkle your keywords naturally in the alt tags and meta description.
While Google has dismissed meta keywords and description as a ranking factor, a compelling title and meta description can help lift your CTR and indirectly affect your Bing search engine rankings.
Write High-Quality Content
Bing loves websites that have unique and engaging content that address the queries of the reader.
As per Bing, here are the three pillars of quality content.

If we break it down, Bing wants you to:
Clearly mention the author of the content and state the source of your information.
Address the query in detail and ensure that it helps the users.
Format and present your content well, with a clear distinction between ads and your content.
Here's a content example that doesn't make the cut for Bing.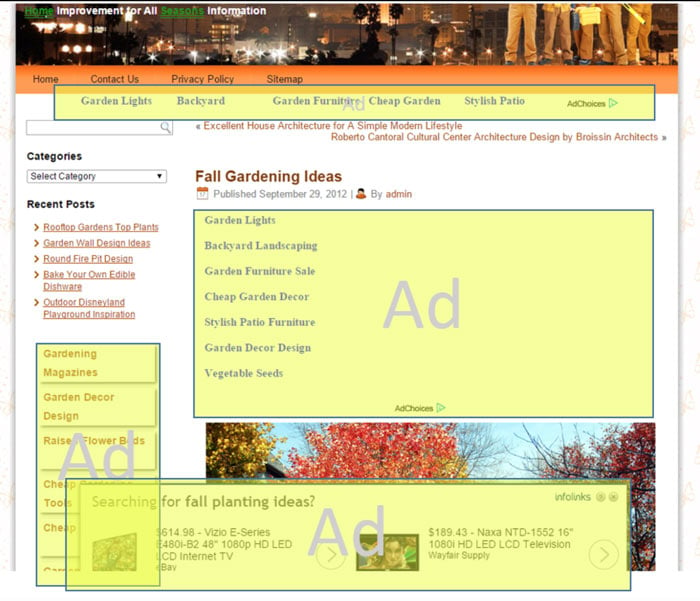 The content doesn't list an author. The page is full of ads that dominate the fold and appear even before the main content. Further, the ads can easily be confused with the main content.
Besides the three pillars, Bing loves multimedia, and it's concerned about the "aesthetic appearance or the functional ability of a website for end-users."
As you might know, Google likes it simple, with text and HTML. It's bad at reading flash content. 
I wouldn't recommend that you put in extra effort and create a Flash-based website, just for Bing. 
You can still create a richer experience for your readers by peppering images and videos in your content. 
Your brand might get an uptick in Bing image search results by adding relevant and elegant images in the content. All you need to do is add descriptive alt text to your images, and you can get additional image search traffic to your website.
Another SEO tip is to use schema markup on your website
Google, Yahoo and Microsoft announced their alliance to make search listings richer in detail through structured data. Essentially, schema markup is a way to help search engines understand your content and thus provide information-rich search results.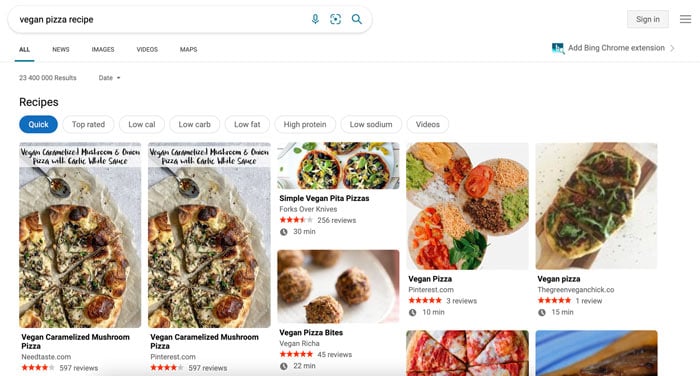 I've already written in detail about schema markup, and I highly recommend implementing it on your website. It will help in raising the CTR of your search results. 
Here's the Bing Markup Validator tool to verify the markup that you've added to your pages.
Social Media Impacts Bing SEO
Bing has officially stated that they use social shares to understand if a page is popular among users. If your content is shared widely by users, it sends positive signals to Bing. 
In the long run, your organic rankings might see an uptick due to your social influence.
Bing also advocates against shady social media tactics that allow you to gain too many (fake) followers too fast.
As a rule of thumb, for Bing search results, or any search engine for that matter, buying social media followers will not help you.
Improve Your SEO with Bing Webmaster Tools
If you haven't already, set up your site inside webmaster tools. It's a great resource to find the keywords you rank for, your indexed backlinks, spammy links to disavow and much more.
Sign up for a free Bing webmaster tool account and add your website.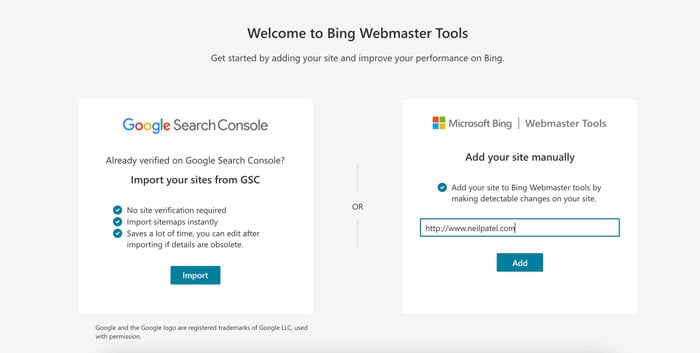 If you want, you can submit a sitemap and subscribe for alerts about your website.
You'll be asked to verify your website by:
Placing an XML file on your web server.
Copying a meta tag to your website.
Adding a CNAME record to your DNS.
Once verified, you'll see a dashboard with important details about how Bing sees your website.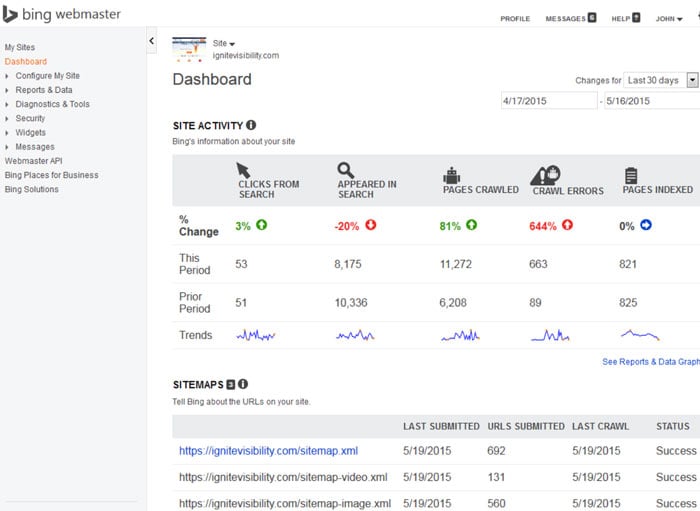 You can run your website through a suite of diagnostic tools, like the SEO Site Analyzer and Keyword Research tools. You can even ask the Bing bot not to crawl your website during peak traffic times.
Here are the results of checking the mobile-friendliness of my website. The only issue my site has is that resources on the page are blocked by robots.txt configuration.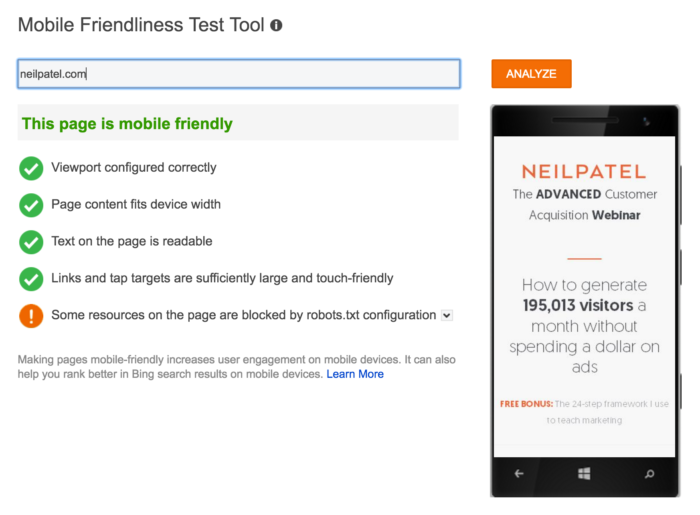 For a more thorough overview, refer to this detailed guide on Bing webmaster tools.
Focus on User Intent and Quality Content
There are a couple of more pieces that Bing uses to complete the puzzle of ranking content in search results: Context and Relevance.

Before you create content, perform keyword research and understand the intent behind the search query. 
Modify your on-page keywords and SEO for your existing content, only where it makes sense since the search engine likes keywords in the title and meta description.
Bing is also getting smarter every day at understanding queries. Here's a breakdown of how they see the query "machine learning papers by Andrew ng in nips."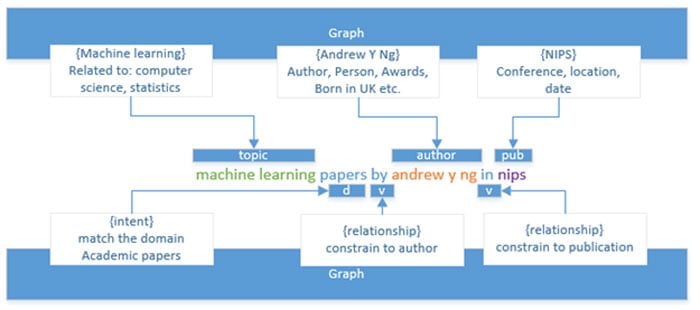 Keeping the users happy and engaged is of prime importance for all businesses. So, if your website quickly scares off your visitors with poor content, then it sends the wrong signals to Bing.
Similarly, a good design, site speed and clean navigation are also important. They will contribute towards upping your Bing rankings.
Claim Your Business on Bing Places
If a search query is local, then make sure that you get a well-optimized Binglocal business listing using Bing Places. 
Here are the search results for "Los Angeles haircut." 
If you have an optimized listing and get a few reviews, then you'll get a spot right there.
Even if you don't use Bing, the search engine most likely lists your business. To boost your placement on search results, all you have to do is claim your listing, fill in all the details, verify you're the owner and click on publish.
Bing SEO Frequently Asked Questions
Is Bing good for SEO?
Yes. Bing is the second biggest search engine in the world. By optimizing for Bing SEO, you can increase organic traffic to your website.
What does Bing check that Google doesn't when it comes to SEO?
Bing wants you to use exact keyword matches in your title tag, meta descriptions, domain name, and H1 and H2 tag. Bing SEO also uses social signals as a ranking factor. The more people are sharing your content on sites like Facebook and Twitter, the higher you'll rank in search results.
How do I get traffic on Bing?
Submit your sitemap to Bing. It will help the search engine crawl, index, and rank your website.
How do you rank on Bing?
Focus on on-page SEO, exact keyword matches, user experience, quality content, getting quality backlinks from high authority websites, and increasing social shares on social media.
Bing SEO Conclusion
SEO for Bing is not that different from Google. Both Bing and Google advocate high-quality content on their search engines. But, there are a few other specific aspects that need closer attention in Bing. One of them is the prominence of on-page SEO. I have touched upon the others as well in this article.
And, now that you know about it let's optimize your site for Bing and get you more organic traffic.
What results have you seen after focusing on optimizing your site for Bing SEO?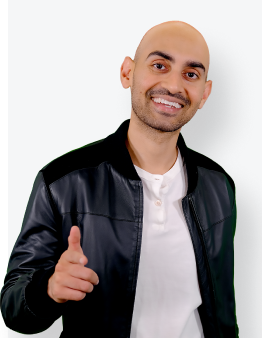 See How My Agency Can Drive Massive Amounts of Traffic to Your Website
SEO – unlock massive amounts of SEO traffic. See real results.
Content Marketing – our team creates epic content that will get shared, get links, and attract traffic.
Paid Media – effective paid strategies with clear ROI.