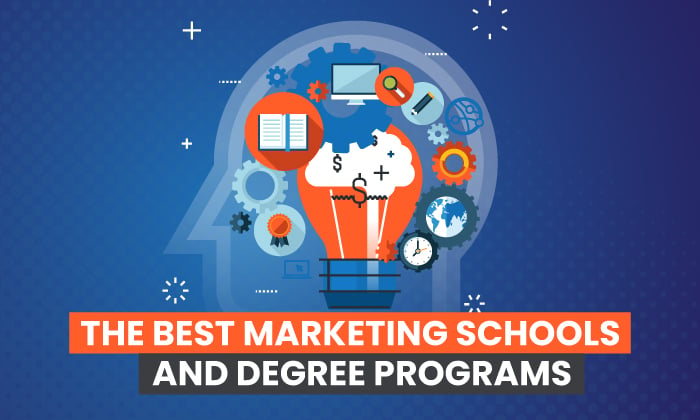 Are marketing degrees worth it?
There's not a definitive answer for everyone, as too many factors go into deciding which marketing career path you want to take, which marketing programs interest you the most, and which school experience is the best for you.
However, if this field entices you and you want to learn all you can, many opportunities exist to help you learn about the ins and outs of this industry—and how to pave a career path ahead.
Why Should You Get a Marketing Degree?
Marketing is an exciting field. As digital and technological advances evolve consumer behavior, the opportunities continue to grow.
Now is a great time to dive in, and the data backs this up. For instance, the Bureau of Labor predicts that management jobs in marketing and advertising will rise in the coming decade. Those who are interested in that management career path may want to have a degree behind them as they get started and as they grow into management.
Technology growth is a big driver for the rise of marketing jobs. Market analysts in particular are expected to grow in demand. Having a degree in this field, with technical education and experience on the numbers side of things, could pave the way for a career in marketing research and analysis.
Marketing is one of those fields that combines a wide range of pursuits, bringing together creative, right-brained people with analytical, left-brained people. It can make for a personally fulfilling and interesting job.
What Courses Are Taught in Marketing School?
Different marketing degrees may have slightly different focuses and opportunities for students, depending on the school and the professors involved. However, you can expect the same common courses in nearly all marketing schools.
These cover a lot of the basic marketing principles and help you build a foundation of knowledge.
Introduction or Overview of Marketing
This is often listed as a 101 or entry-level class and acts as a summary of the field. This is a great class to check out if you're still considering a marketing major. It also serves as an introductory class to those on the marketing degree track.
Advertising
Diving into some of the tactics and history of campaigns, this is a common course for marketing degrees. You'll look at what works, what doesn't, and why, as well as channels for advertising, such as print and digital.
Public Relations
Although often a separate degree or area of concentration, public relations is sometimes a course within the marketing degree track because the two are interrelated. You will learn more about how brands are perceived by people and how to keep up that reputation.
Quantitative Data and Research
A big part of marketing is understanding the data you can gather from your target market and the competition. Being able to collect and translate this data into meaningful information is critical to developing campaigns. In courses like this, you'll learn how to understand the data you can gain and how to use it.
Consumer Behavior
In addition to the business and data side of things, a consumer behavior course highlights how to reach a target audience and, ultimately, to drive sales. It also can explain how people respond, how and why they buy, and more. These kinds of courses empower you with that end-user information.
Communications
You need to know how to communicate well to be a good marketer. Learning about the science behind communications, as well as channels and new platforms, is an important component in a marketing degree.
Economics Principles
When it comes to marketing, having a bigger-picture view can help you position your products or services with foresight. These courses can show you how the economy works like supply and demand basics, and bigger views such as financial markets and what they mean for consumers.
Branding
Many marketing degrees provide a branding course that provides a look into the components that make up a brand. When brands become household names, we don't think about all the details that go into them there. Branding courses can break it down and help you see how powerful a brand can be.
In addition, you may also take classes that dig into specific areas of marketing, especially related to tactics, campaigns, or modern channels. These might include retail principles, digital marketing, graphic design, copywriting and content marketing, social media, event promotions, and more.
7 Best Marketing Schools and Degree Programs
Choosing the best school to attend and a marketing degree to pursue involves a lot of interwoven decisions.
In addition to the information provided here, you'll be considering the cost of living, location and convenience, and a myriad of other personal reasons. We could never get into all the details of every school, but below we'll provide a look at some well-known colleges and their programs.
Also note, we are discussing traditional degree tracks, with a bachelor's degree emphasis. There are also many non-traditional or certification tracks, as well as graduate-level programs.
1. University of Pennsylvania
Under the umbrella of the famed Wharton School, the University of Pennsylvania's Marketing bachelor's degree offers a track that is steeped in history and known for research and forward-thinking tactics.
They boast of having more professors who are cited or published in the field of marketing than any other school. Located in Philadelphia, this school focuses on being cutting-edge and pushing innovation. They talk of being involved in marketing before it existed formally as a field and driving the research and analytics that have brought us to where we are today.
In addition to the standard marketing track, students are also welcomed to study dual concentrations in marketing and communications or marketing and operations.
2. University of Notre Dame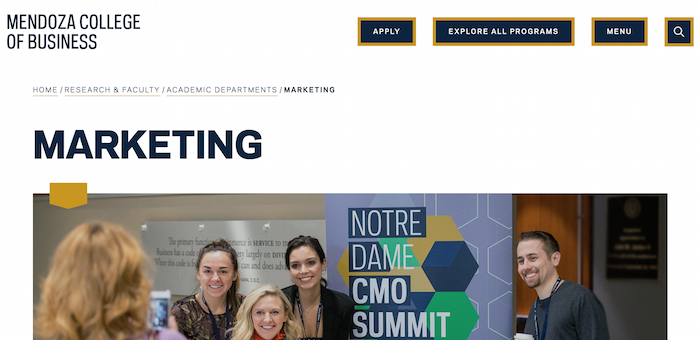 The University of Notre Dame offers a marketing major under its Mendoza College of Business, which focuses on a framework they call "5Cs/STP/4Ps."
To sum these up, the five Cs are "Company, Collaborators, Customers, Competitors, and Climate," which help to guide and frame strategic decisions in marketing. The STP refers to the "Segment, Target, and Position" of a product or service and can help to drive campaigns. Lastly, the four Ps are "Product, Placement, Price, and Promotion."
These fundamentals of marketing are seen as the starting point for all the modern and innovative conversations that happen at Notre Dame. In addition, they explain that they place a great emphasis on ethics in the marketing program.
3. University of Florida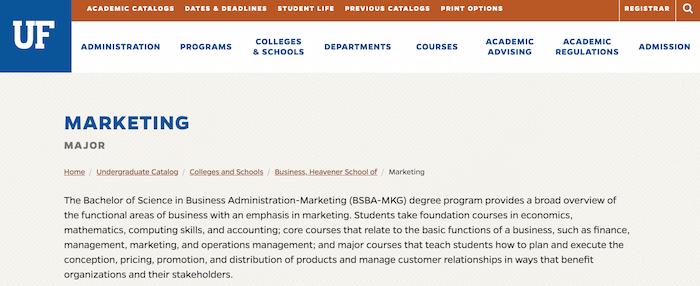 As you are exploring marketing degrees, the University of Florida Heavener School of Business may be a place to look. Located in Gainesville, Florida in the northern part of the state, the University of Florida offers a Business Administration major with an emphasis in marketing.
Students who choose this path enjoy the benefits of working with and learning from faculty renowned in the marketing field. They have a strong focus on research and the science behind marketing, including psychology and data, as well as the practical use of that information. They also are the home of the David F. Miller Retail Center, which is known for its work in the science and research behind successful retailing.
4. Missouri State University
Missouri State University offers a number of unique opportunities for those interested in marketing degrees. For their undergraduate marketing major, they provide four different track options, depending on your unique interests. These include Advertising and Promotion, Marketing Management, Marketing Research, and Professional Sales.
In addition to providing these specialization options, they also offer some unique opportunities. For instance, the Marketing Management track is available fully online, fully in-person, or a hybrid of both. They also offer an undergraduate-level certification in relationship selling and graduate certifications in marketing and marketing analytics.
5. New York University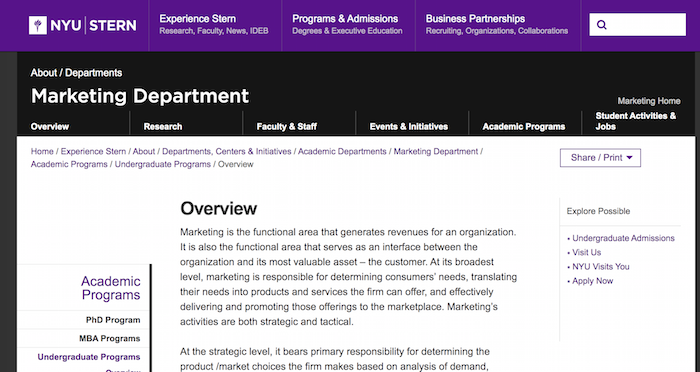 New York University, located in New York City, provides a bachelor's degree track with a marketing concentration. They empower their students to be competitive in marketing and to build relationships with target markets. They do so through courses that include consumer behavior and research for customer insights.
Additional electives range from social media to sports marketing, design to film, business on Broadway to luxury marketing, and more. As such, you may want to consider this path if you have an interest in marketing in these areas. They also encourage those interested in marketing analytics and data, in particular, to pursue a dual major with statistics.
6. Washington University in St. Louis
Washington University in St. Louis offers a marketing undergraduate major, which falls under their bachelor of science in business administration major. Designed to help students create a path reflective of their interests, this major offers core classes such as marketing research but also provides a number of electives that allow a student to customize. These include sports, luxury, and international marketing, including from London and Sydney.
Students are encouraged to consider further customization by double majoring in a correlated field such as finance. The school also offers a number of minors such as business of sports, business of entertainment, business of social impact, and international business.
7. University of Texas at Austin
At the University of Texas at Austin McCombs School of Business, students can pursue a bachelor of arts degree in marketing. According to their website, the program was ranked third in the nation by U.S. News & World Report magazine.
It has become a renowned program that focuses on a multidisciplinary overview of the field, including looking at the foundational aspects that have built the marketing field, as well as the latest findings and research. In their program, they also encourage students to get hands-on, real-world experience through internships, study abroad programs, and other opportunities in the business world.
Frequently Asked Questions About Marketing Schools
Are marketing degrees worth it? 
The field of marketing is projected to grow in the coming years, especially in data analysis and research. A degree with technical experience could be a differentiator as you pursue a career in marketing.
What do marketing schools teach? 
Courses in a marketing degree track cover everything from economics and statics to branding and communication. They cover a range of topics to help marketers position and promote products and services.
Where can I get a marketing degree?
Many schools offer marketing degrees, including the University of Pennsylvania, University of Notre Dame, University of Florida, Missouri State University, New York University, Washington University in St. Louis, and the University of Texas in Austin.
Where can I study marketing online?
Missouri State University offers an online or hybrid program for its marketing management undergraduate degree.
Conclusion: Best Marketing Schools
The field of marketing is an exciting one, with lots of potential growth in the future. Digital marketing continues to evolve as new channels emerge. In addition, everything from artificial intelligence to augmented reality is changing the way we do business. Now more than ever we need marketers who can keep up with the data and understand consumer behavior.
Marketing degrees at business schools around the U.S. are pushing to keep up with this demand, with courses that are relevant and on the cutting edge. Choose the one with an emphasis that aligns with your own goals and values and suits your needs.
Are you thinking of getting a marketing degree? What topics are you most interested in learning?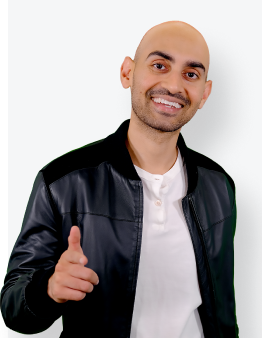 See How My Agency Can Drive Massive Amounts of Traffic to Your Website
SEO – unlock massive amounts of SEO traffic. See real results.
Content Marketing – our team creates epic content that will get shared, get links, and attract traffic.
Paid Media – effective paid strategies with clear ROI.