Trying to come up with the perfectly creative, unique, funny, or cute St. Patrick's Day Instagram caption? Thinking cap not doing it for you?
Good news for you: If you're reading this post (and not the generic "Kiss me I'm Irish" lists out there), you can rest assured you'll be able to come up with some creative captions of your own.
Jump to an Instagram caption category:
Witty Saint Patrick's Day Instagram captions
"Something special happened today. I got green lights all the way." —Aloe Blacc
It's that time of year…the month of Shamrocks, leprechauns, and radioactive-green-dyed foods.
Legend has it St. Patrick banished all the snakes from Ireland. We'll drink to that.
There are no signs of snakes in the country's fossil record. We'll drink to that.
Four-leaf clovers symbolize luck. Three-leaf clovers symbolize spring. [Business name/sale] symbolizes both.
St. Patrick's Day is the only day you can/when it's acceptable to…
St. Patrick's Day is like…

Cute St. Patrick's Day Instagram captions
Any limerick! A limerick is a humorous verse of three long and two short lines that follow the a-a-b-b-a-rhyming pattern.
There once was a runner named
Who had too many blisters to count
Then she found our shoes
And
And now she's got
Fun Irish drinking songs.
(Be sure to read all the lyrics of the songs, as some are not appropriate!). For example:
I'm looking over a four-leaf clover
I overlooked before
One leaf is sunshine, the second is rain
Third is the roses that grow in the lane
No need explaining, the one remaining
Is somebody I adore
I'm looking over a four-leaf clover
I overlooked before
Share a recipe for luck.
How to make your own luck: Mix one part preparation with two parts hustle, sprinkle in some perspective and store in fridge until opportunity arises.
Share Irish-themed greeting messages.

May your troubles be less and your blessings be more. And nothing but happiness come through your door.
Lucky, blessed, and all the rest.
Hills as green as emeralds cover the countryside. Lakes as blue as sapphires and Ireland's special pride.

Instagram Story idea: Press your luck (actually!) Tap the link to spin the wheel!
A [measurement] of [product that rhymes with luck] is worth a [bigger measurement] of luck.
A [tiny amount] of [product/offer that rhymes with old] is worth a pot of gold.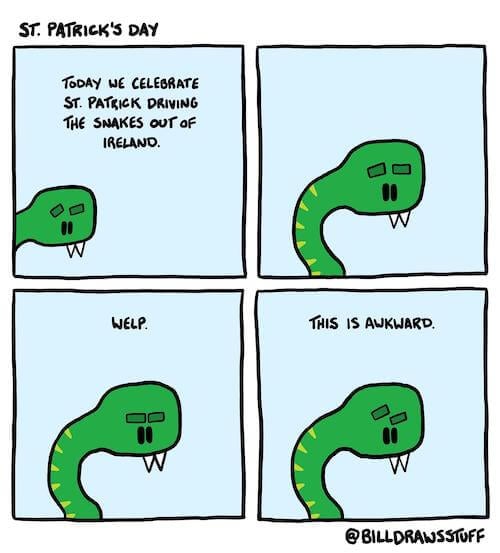 Promotional St. Patrick's Day Instagram captions
We don't believe in luck…only great deals. Link to promo code PATTY22 in bio!
Who needs a pot of gold when you've got [your product/service]?
A sweet bargain is like a four-leaf clover: Hard to find and lucky to have.
Deals to [sham]rock your socks off.
Coin flip sale! Best part: You can't lose! Heads = half off, Tails = two for one!
Save your money (and dignity) and get drunk on deals!
We're lucky to have you…and you're lucky to have THIS! >> [share product/sale details]
No shenanigans here…only cardigans.
You don't need luck. You need [premium/product name/business name].
Here, have a pint [promote your superfood beverage or something else that's not beer].
Being green? Not easy. Saving X%? A walk in the park.
Great savings are just around the clover.
TODAY ONLY: We're Dublin the rewards points!
[Photo of your naturally green product] If it needs green dye…don't trust it
Things that are green:
Item #1
Item #2
The stack of bills you'll save when you [buy/use our product/service].
Inspiring Saint Patrick's Day Instagram captions
"Luck is believing you're lucky." —Tennessee Williams
"I say luck is when an opportunity comes along and you're prepared for it." —Denzel Washington
"The amount of good luck coming your way depends on your willingness to act." — Barbara Sher
Among all the drinking humor, let's not forget the values of Irish culture this St. Patrick's day: camaraderie, tradition, humor, family, perseverance, and patriotism.
To those of you who aren't feeling lucky today or at this moment in time, just know that you're not alone and that your time will come.
You don't need luck when you have [your products/employees/customers] like these. Happy St. Patrick's Day!
To all our customers, partners, and team members: You'll never be as lucky as us because we have YOU! Have a fun and safe St. Patty's Day!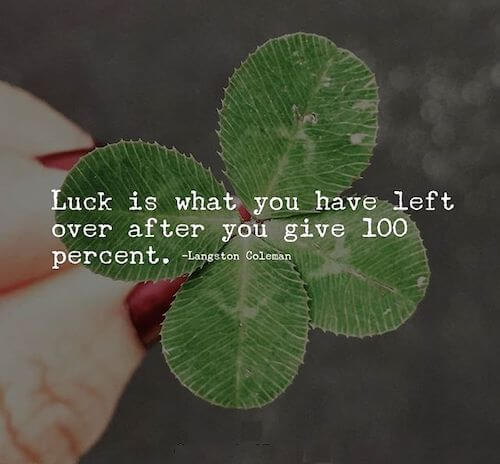 Engaging St. Patrick's Day Instagram captions
[Share a creative, funny, abstract, or emotional image related to St. Patricks Day/Ireland] Caption this photo! Winner gets $25 to [Irish pub in your community]!
St. Patty's Day poll time! Would you rather swim in a pool full of Skittles or swim in a pool full of chocolate gold coins?
Talk only in Limericks for 2 weeks or wear a "Kiss me I'm Irish" shirt for a month?
Rabbit's foot or four-leaf clover?
What's the luckiest/most unlucky thing that has ever happened to you?
Do you believe in luck?
St. Patty's Day giveaway! Try your luck!
More words to use in your St. Patty's Day Insta captions
Good luck charm
Pot of gold
Heart of gold
Pure gold
Leprechaun
Wee little hooligan
Happy go lucky
Raise a glass
Rainbow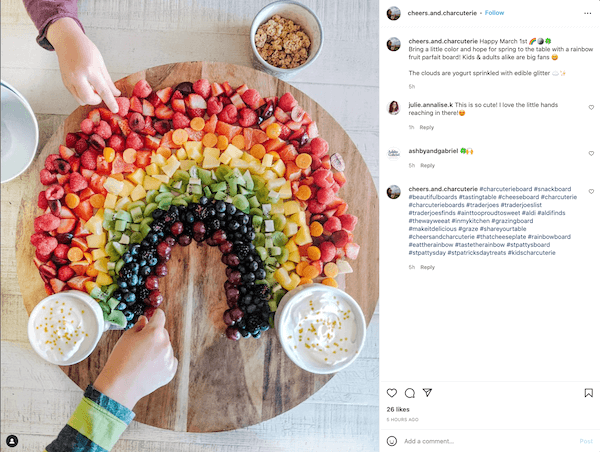 Want more Instagram caption ideas?
There's more where that came from!
The post 54 St. Patrick's Day Instagram Captions (The Cliche-Free List) appeared first on WordStream.