When you hear the word SEO, I bet the first thing that comes to your mind is better rankings on search engine results. But did you know that you can also use SEO on social media?
Yep, you read that right. Those SEO strategies you've been using to get more traffic on your site aren't only applicable to search engines. They can help you gain more visibility on social media platforms too!
So, if you're struggling to gain a following on your socials or hitting your engagement goals, SEO could be the answer to your woes.
No worries. In this post, I'll teach you how to take advantage of SEO tricks and techniques to boost your social media presence.
But first, you need to understand why SEO strategies can work on social media too.
Why Should You Do SEO on Social Media?
At this point, you're probably thinking: does SEO really work on social media? I mean, from the name itself, SEO is geared toward search engines. So why should you use it on social media?
To answer your questions, you need to understand the link between SEO and social media. These two have a pretty complicated relationship, but I'll try my best to lay it down on simple terms.
In a nutshell, social media and search engine algorithms are similar in the sense that they aim to give you exactly what you want to see. For instance, if you search for something on Google, it churns out the most relevant results almost all of the time.
The same thing happens when you browse your newsfeed. The algorithm curates your feed to make sure that you'll only see contents you'll be interested in.
Both algorithms also use your previous browsing data along with other factors like your location and language to provide content that's most relevant to you.
Because of their similar algorithms, the techniques and strategies that you use to optimize your site for search engines can also work for social media.
For instance, if you Google the keyword "how to make your hair grow faster," you'll get results enumerating ways on how you can have long hair in no time (see screenshot).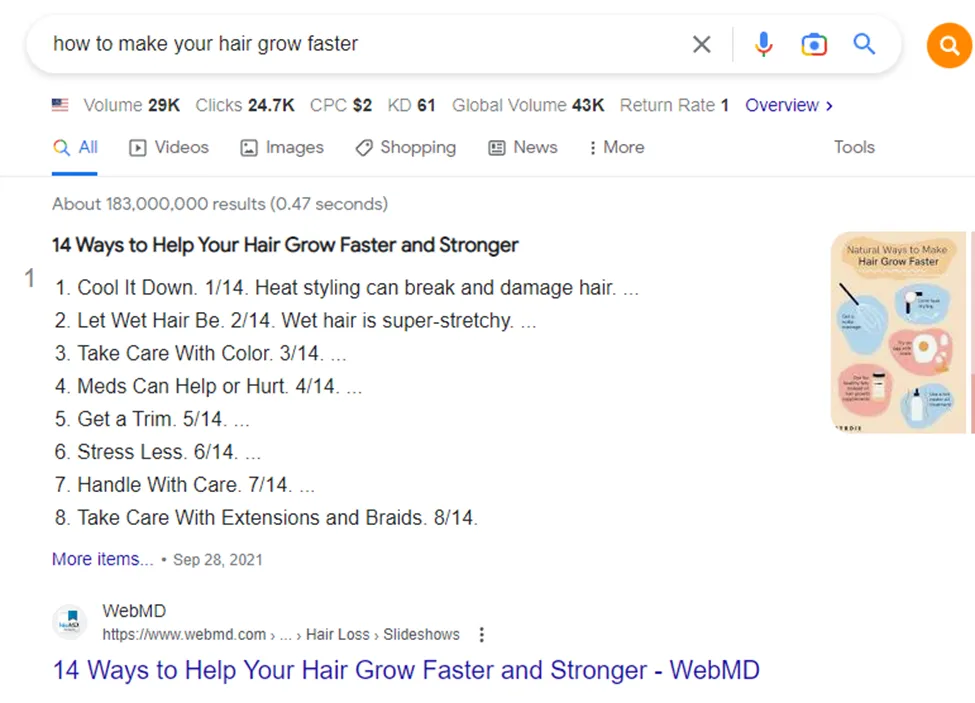 If you search the same keywords on Youtube, you'll get this: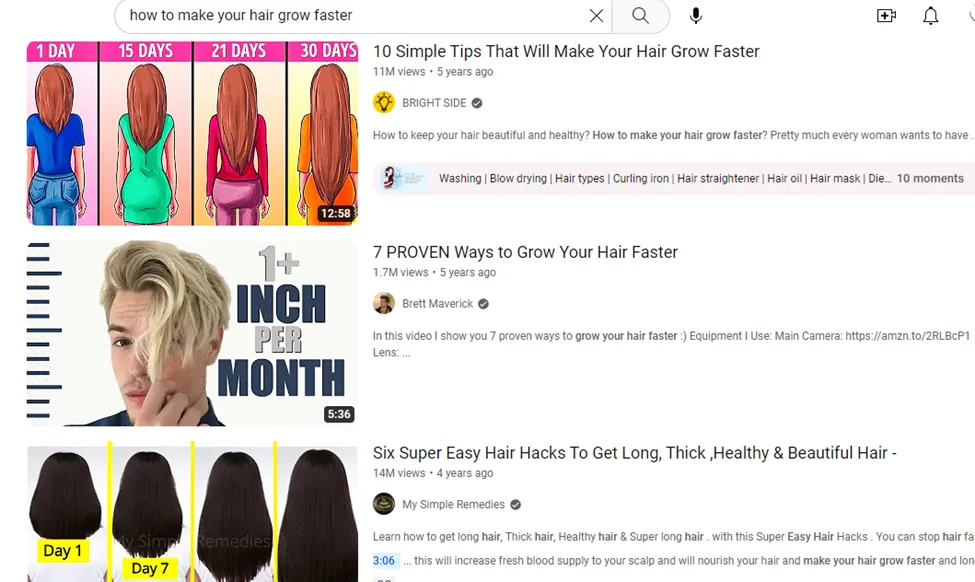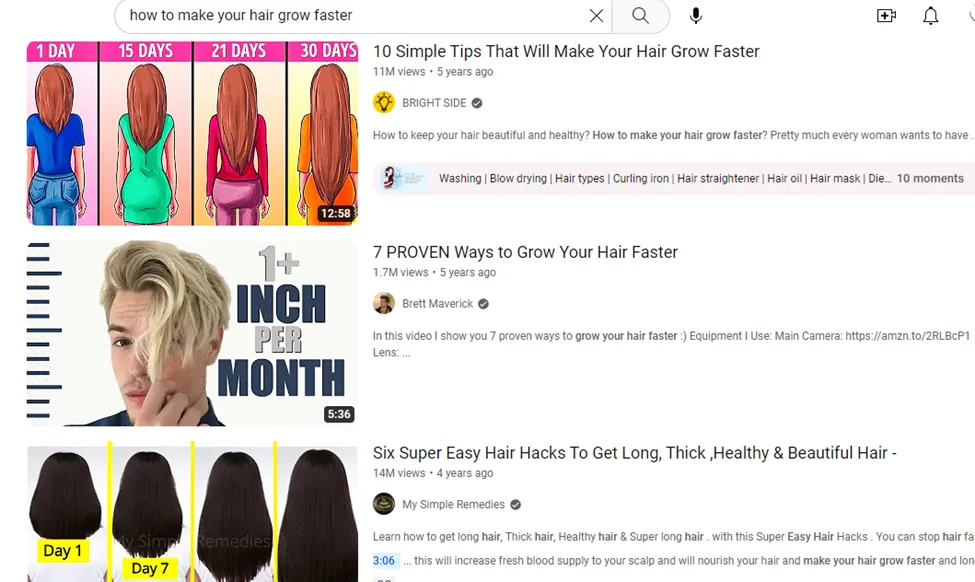 If you notice, both of these results use the primary keyword in their titles or in their descriptions – a basic SEO technique. Also, most of the results are listings which means these blogs and Youtube videos are hitting the user's search intent, another important factor in SEO.
Let's take a look at another example.
Have you noticed that when you enter a search query on Google, most of the results are from large, authoritative sites? That's because these sites have already established themselves as authorities in their niches. So, Google tends to trust them more.
Try searching for the sample keyword above, and you'll see that the top three results are from sites that have published many blogs and articles about hair and beauty. They're not blogs that were only created last week.
In a similar vein, if you look at the Youtube results again, you'll notice that the top results are from verified accounts. Meaning they've already put out a lot of content, as opposed to channels started by bored teens and abandoned after a few days.
Social Media as the New Search Engines
With more and more people turning to social media for product information, instructions, and reviews, digital marketers are now dubbing social media as the new search engine.
In fact, according to Google's own internal data, about 40% of Gen Z prefer using Tiktok and Instagram over Google search engines. While Facebook is already seeing more than 2 billion searches per day from its users, about a quarter of average Google daily searches.
Social media platforms are also optimizing their algorithms for user searches. And most of their algorithm updates seem to mirror the parameters used by search engines for ranking content.
For instance, in 2020, Facebook updated its algorithm to prioritize content from original and credible news sources. That move mirrored Google's parameters for ranking news articles in search engine results.
Instagram also published guidelines on how they rank search results. In it, they enumerated the "signals" that they use to rank content. This includes:
the keywords a user enters in the search bar
the user's activity
the popularity of the content
These signals are the very same ones that Google uses to rank content on search engines.
There are a lot of other ways that social media algorithms mirror that of search engines, but you get the picture.
How to Use SEO to Boost Your Social Media
To use SEO to boost your social media, you need to make sure that your content is optimized for both search engines and social media platforms. Here are a few tips to help you do that:
1. Take Advantage of Keywords
Using the right keywords is one of the most basic SEO strategies. In fact, most SEO campaigns begin with keyword research. By targeting the right keywords, you can provide the most relevant content to your audience. The same also applies to social media.
Using the right keywords on social media also helps you give your audience the content they want to see. It tells the social media algorithm what your content is about, and from there, it can identify who will most likely be interested in that content.
How to Use Keywords on Social Media
To use the right keywords, you first need to find them. For this, you can use keyword research tools such as Google AdWords Keyword Planner, Ahrefs, or SEMrush. Look for keywords with high search volume and relevance to your niche.
You can also do keyword research right on the social media platform itself. On Facebook, for instance, just type a keyword onto the search bar at the top of your feed. Then, the platform will churn out relevant posts. From there, you can see what kind of content gets more engagement for that particular keyword.
For instance, I typed "chocolate cake" on my Facebook search bar, and it gave me this: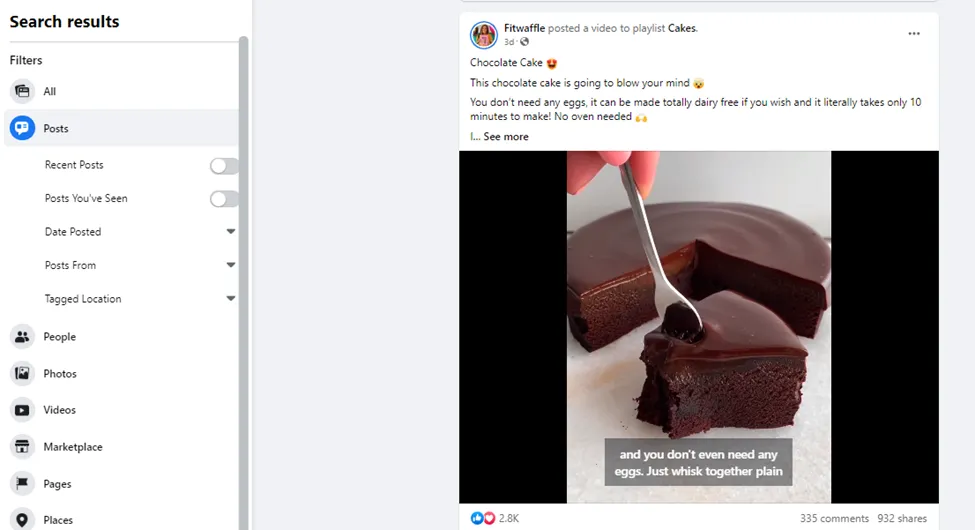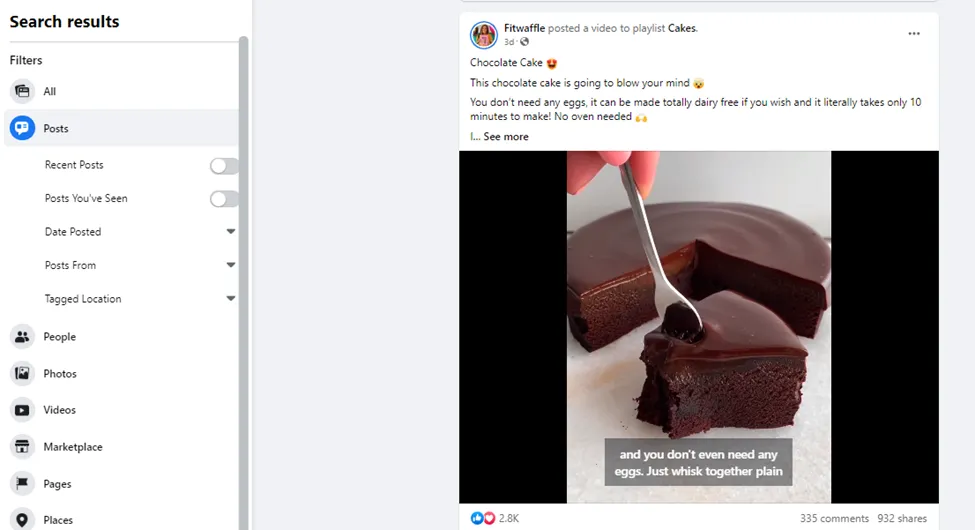 If you're a content creator that makes food videos, this tells you that "chocolate cake" is a great keyword to use for your next content. But if you're into food reviews, this might not be the keyword for you since people searching for this particular keyword are mostly looking for recipes and not food reviews.
Once you have a list of keywords, incorporate them into your social media posts.
On Facebook or Instagram, you can add them to your caption or use them as a hashtag, like this one: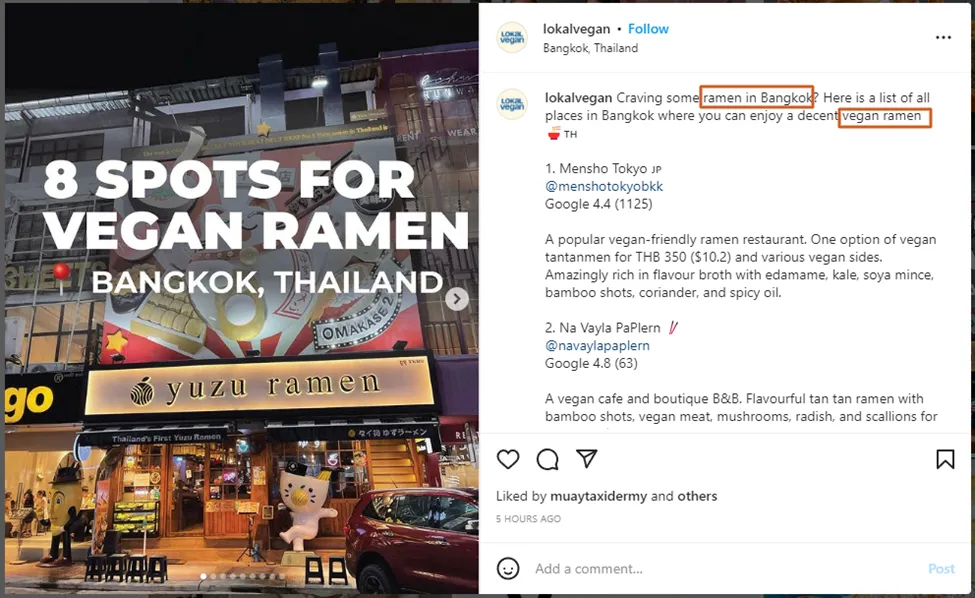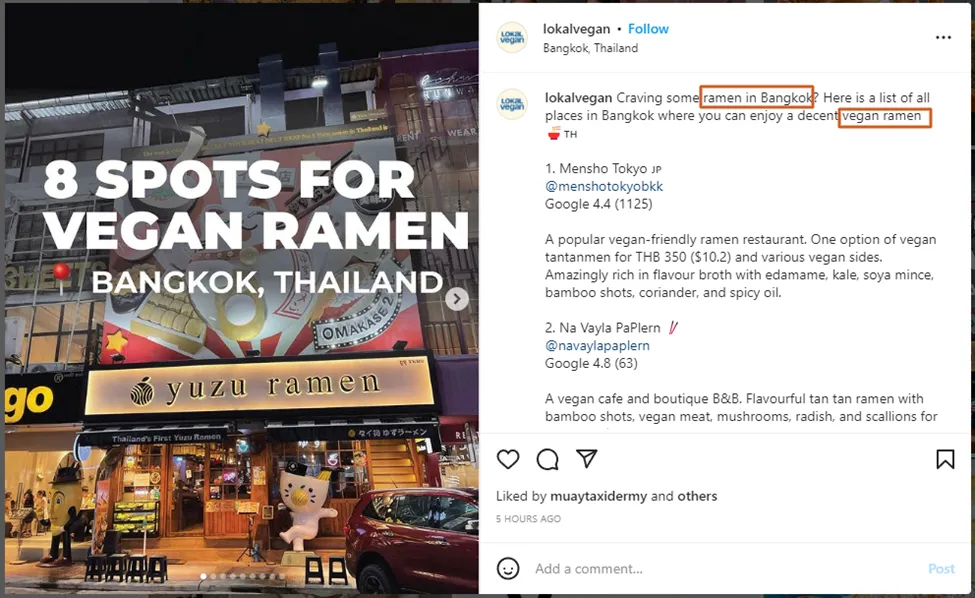 On Youtube, you can add keywords in your video description and alt text. You can also search for famous hashtags of that keyword and use them on your video.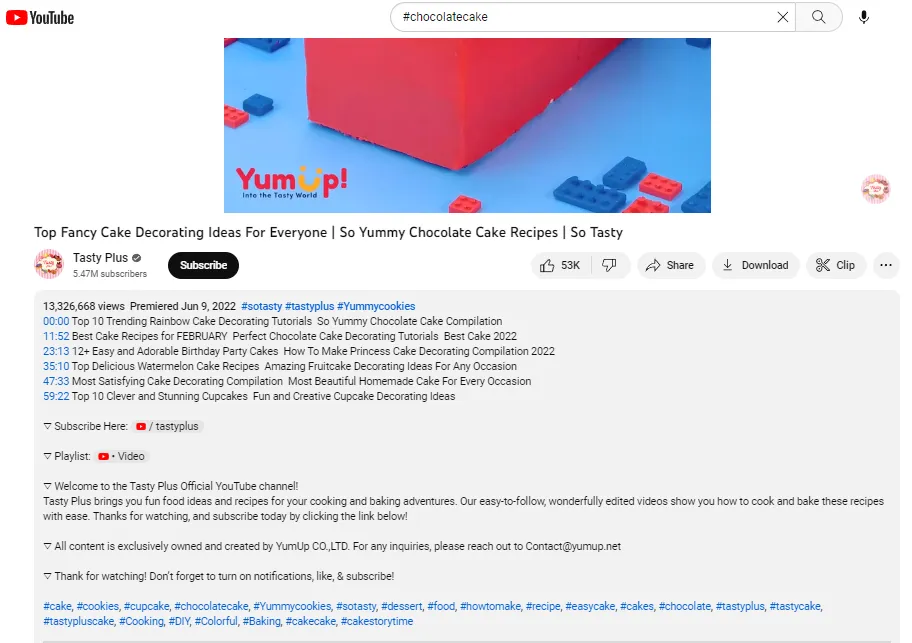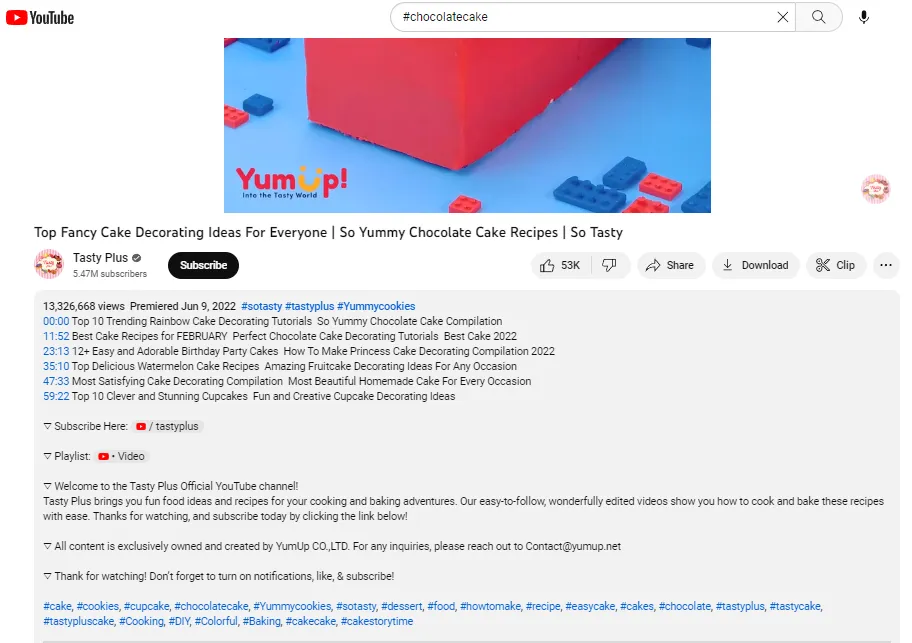 2. Make Use of User-Generated Content (UGC)
User-generated content (UGC) is any content created by users, such as reviews, comments, and ratings. For example, a delighted user may share a testimonial or talk about your brand on social media and online platforms. Any such post falls under the UGC umbrella.
UGC on social media works just like reviews on Google SERPs. The more positive reviews you have, the higher you rank on the search results. Reviews not only lend you credibility in Google's eyes but also entices users to visit your site.
On social media, using UGC creates social proof. When real people post about you, it tells others that you're doing legit business and that they're not dealing with scammers. According to surveys, users are 2.4 times more likely to view user-generated content as authentic as opposed to brand-centric content that often appears as too "salesy."
Because of this, UGC not only helps you gain people's trust. It can also help you generate more social media buzz leading to more shares and engagement.
How to Use UGC in Your Social Media Posts
Here are some examples of how brands have used UGC in their social media posts:
3. Optimize Your Social Media Profile
Just like an optimized website, an optimized social media profile is more likely to show up in search results. It also makes it easier for your target audience and potential customers to find you on social media. All these, in turn, can boost your reach and engagement.
How to Optimize Your Social Media Profile
To optimize your social media profile, you can follow these tips:
Use keywords in your profile name.
Add a keyword-rich bio to your profile.
Include keywords in your profile URL.
Add relevant hashtags to your profile.
Your social media profile should also include a link to your website. It will help improve the visibility of your website and drive more traffic to it.
Take a look at how Au Bon Pain optimized its Facebook and Twitter profiles. They used the words "homemade bread", "Fresh-baked", and "bakery cafe" to target audiences looking for baked products.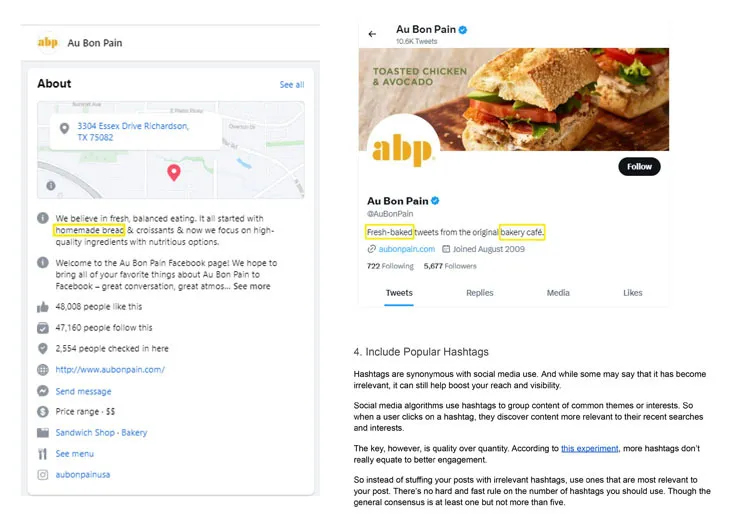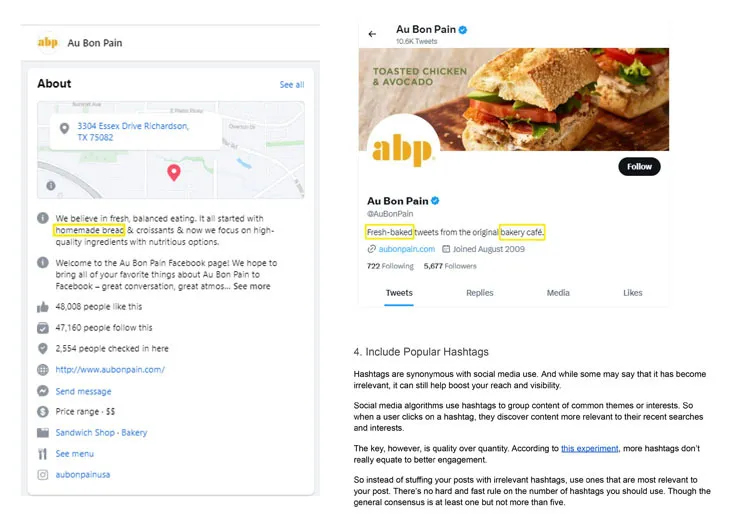 4. Include Popular Hashtags
Hashtags are synonymous with social media use. And while some may say that it has become irrelevant, it can still help boost your reach and visibility.
Social media algorithms use hashtags to group content of common themes or interests. So when a user clicks on a hashtag, they discover content more relevant to their recent searches and interests.
The key, however, is quality over quantity. According to this experiment, more hashtags don't really equate to better engagement.
So instead of stuffing your posts with irrelevant hashtags, use ones that are most relevant to your post. There's no hard and fast rule on the number of hashtags you should use. However, the general consensus is at least one, but not more than five.
Try to include various types of hashtags instead of variations of a single hashtag. Depending on your post, you can include product or service hashtags, branded, niche-relevant, campaign-related, user-generated, or community hashtags.
Check out how the LA Lakers optimized their profile and posts with popular branded hashtags: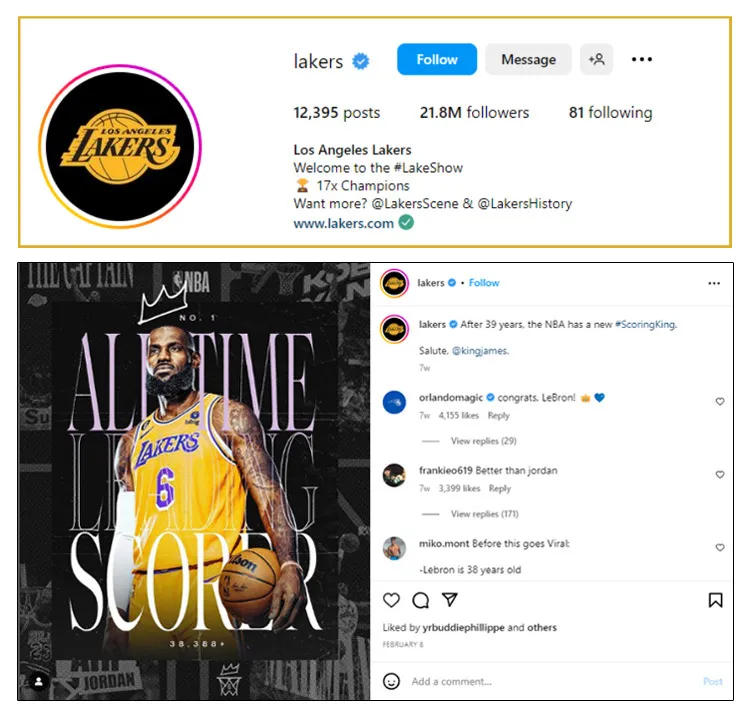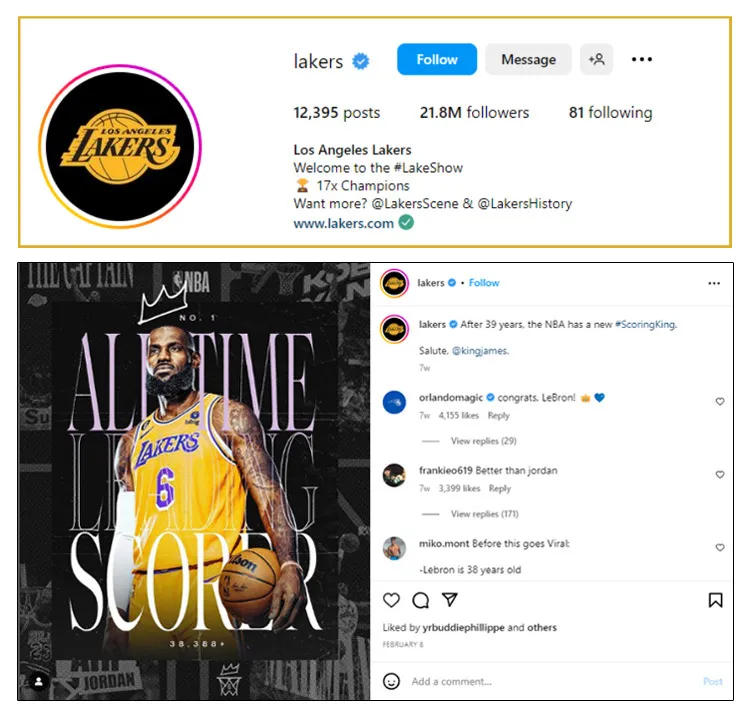 How to Find Popular Hashtags
To find popular hashtags, you can use hashtag research tools such as hashtagsforLikes, kiksta, and inflact. You can also search for relevant hashtags right on the platform itself.
Just type the hashtag symbol (#) followed by keywords relevant to your post, and you'll see a list of popular hashtags you can use.
5. Write Engaging Captions
Captions are the social media equivalent of meta descriptions. They capture people's interest and provide contexts of what your content is about. And just like on the search results, you'll have to compete with hundreds (or even thousands) of other social media content creators that also vie for your audience's attention at that very moment.
Because of this, social media captions need not only to be keyword-rich. They need to be engaging, too.
Compelling and engaging captions can increase your engagement. This, in turn, tells social media algorithms that people like your content. As a result, they'll be more likely to show it on more people's feeds, boosting your reach.
How to Write Engaging Captions on Social Media
To write engaging captions on social media, you need to focus on two things: length and content.
The ideal social media caption is long enough to get your audience's attention but not too long for it looks like a wall of text. This ideal caption length, however, can vary from platform to platform. But in general, it depends on your content, the message you're trying to convey, and the platform you're posting it to.
To write captions that pack a punch and boost your reach and visibility, you can follow these tips:
Use strong verbs and adjectives.
Make use of emojis.
Ask questions.
Use call-to-action (CTA)
Disney provides us with a good example of an engaging caption with this post: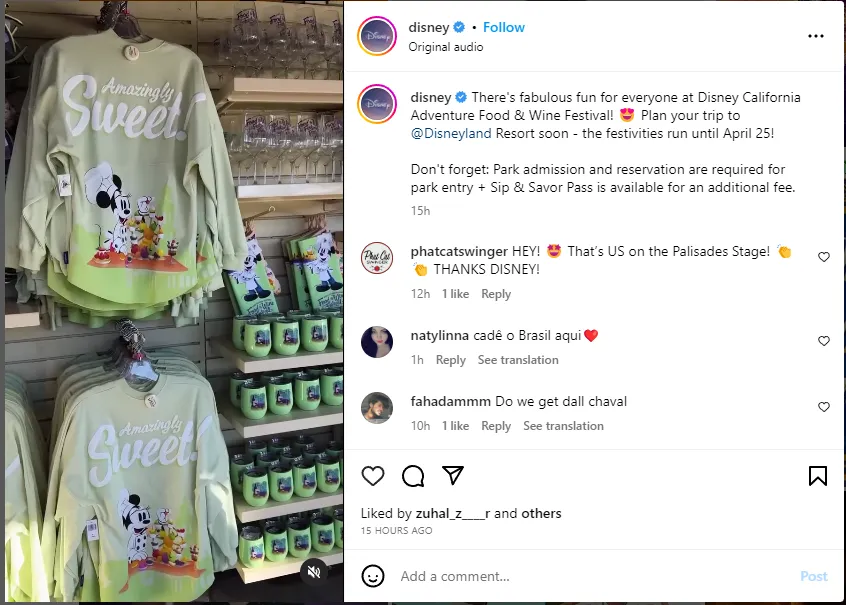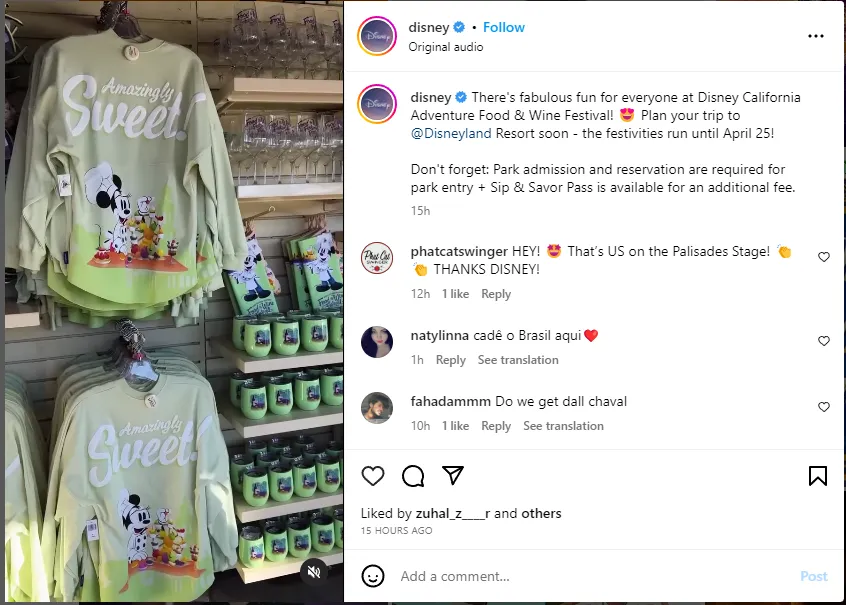 6. Curate Your Content
In SEO, content syndication is a cost-effective way to boost your site's performance. By republishing other people's content on your site, you can increase your brand exposure and your domain authority.
On social media, you can also syndicate content through content curation. Curating content is a great way to fill your social media feed with fresh and relevant content. It can also help you save time (and money) as you don't have to create new content all the time.
How to Curate Your Social Media Content
The key to successful content curation on social media is finding and repurposing content that your audience will find useful. Here are some tips on how you can curate your social media content:
Share blog posts from your website.
Share content from high-authority websites.
Post infographics, images, and videos.
Repost content from influencers.
7. Tag Influencers in Your Niche
Just as how guest posting can boost your SEO, tagging influencers can also boost your social media presence by increasing your brand's exposure.
When you tag influencers on social media, your content will show up on their follower's feeds too. This not only improves your reach, but it can also help you get better engagement too. You may even gain new followers in the process.
How to Find Influencers?
There are a lot of ways to find influencers in your niche, such as:
Use influencer marketing tools. There are lots of free and paid tools you can use to search for relevant influencers in your niche.
Search for relevant hashtags. Influencers in your niche will most likely use the most popular hashtags in your niche. So search for relevant hashtags and see who is using them. One of them is bound to be an influencer.
Look through your own list of followers. If you're constantly posting content relevant to your niche, influencers will typically follow you. So take a look at your own followers and see which of them have a high follower count.
Check your competitors. The quickest way to find relevant influencers is to check who your competitors are tagging.
Search on Google. If you don't have the time to sift through your follower list or money to pay for influencer marketing tools, then just search for them on Google.
Once you have found the right influencers, tag them in your social media posts just like what Conde Nast did with this post: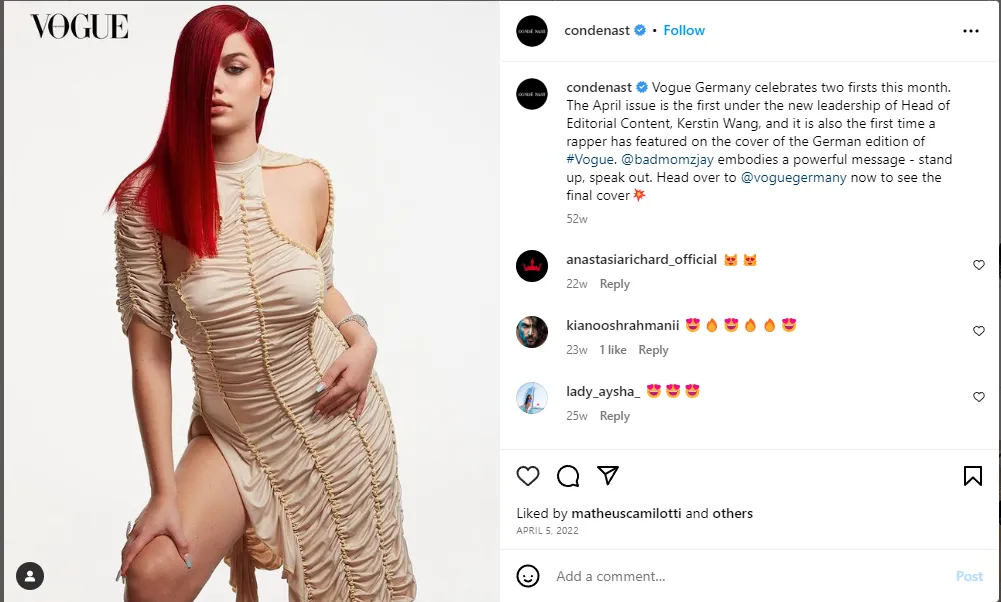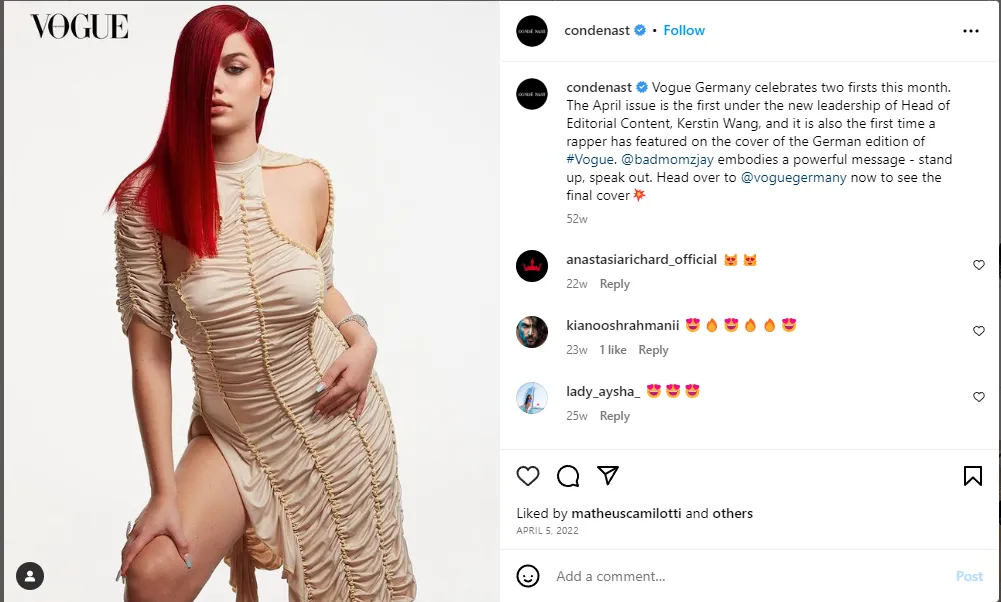 Are you finding it increasingly challenging to handle image tagging for multiple client accounts?
Use SocialPilot to tag numerous public profiles on Instagram within your scheduled image posts. There's no need to constantly switch back and forth between SocialPilot and Instagram. With SocialPilot, you can conveniently tag profiles directly on the image during the scheduling process, enabling you to create Instagram-ready posts seamlessly.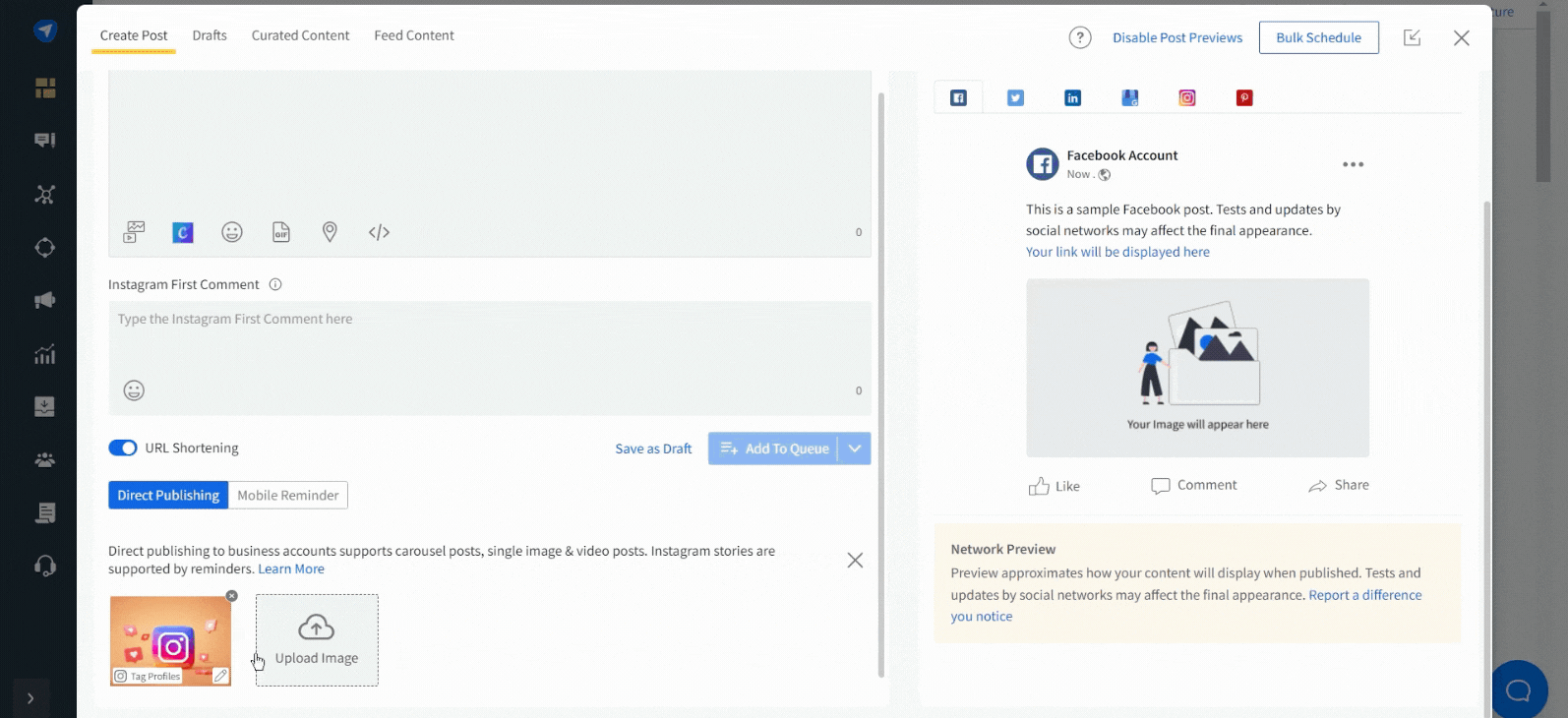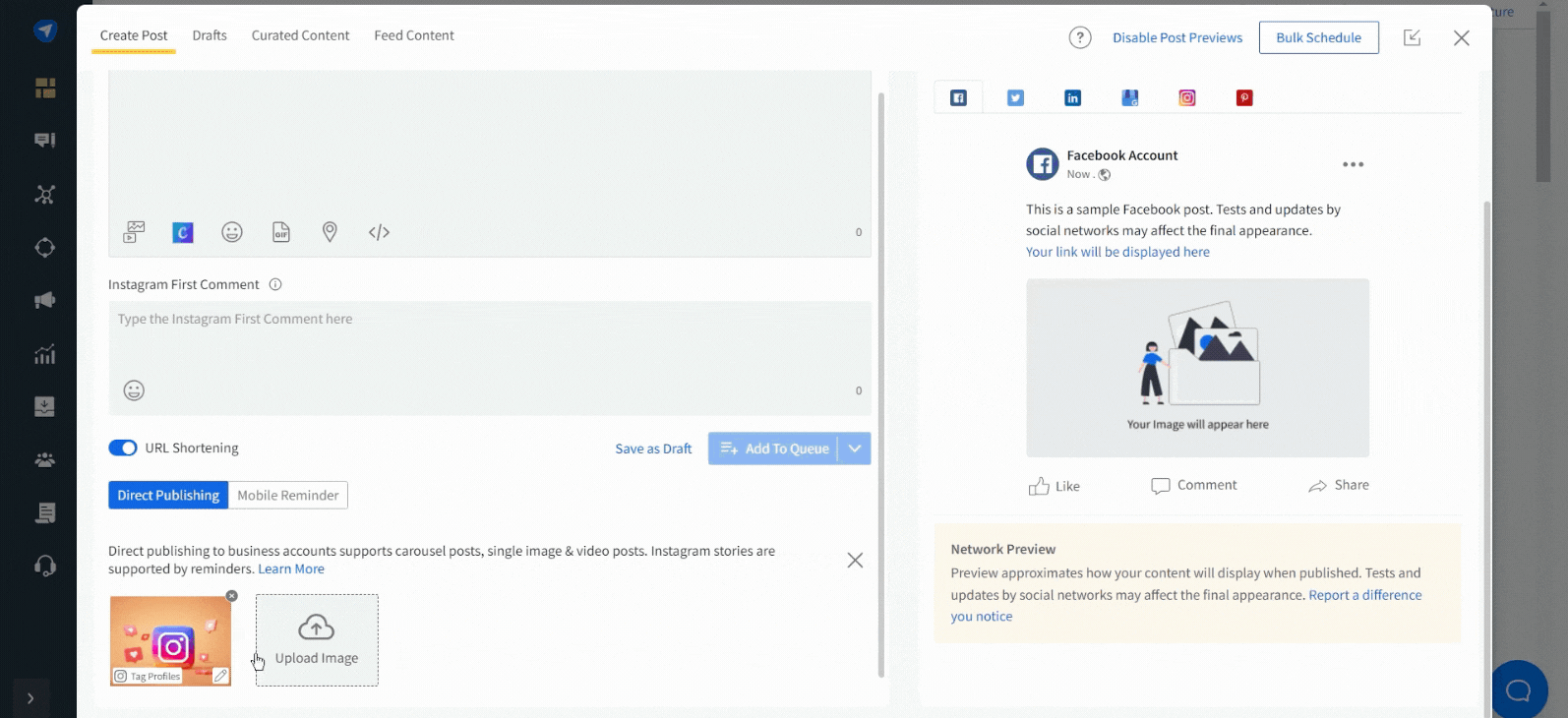 The Benefits of Boosting Your Social Media Presence
When you work on the SEO of your social media, it eventually benefits you in several ways. Here are some of them:
1. Increased Brand Awareness
Having a better social media presence can increase your brand awareness. People who see your content on social media will start to recognize your brand. And as they see your content more often, they will become more familiar with your brand. This way, you can increase your audience reach and build a better relationship with your target audience.
2. Better Search Engine Rankings
Having better search engine rankings is not easy, but it is possible if you focus on improving your social media presence. As I mentioned earlier, social media can help you drive more traffic to your website. And the more traffic you have, the better your search engine rankings will be. So yes, social media may not have a direct impact on rankings, but it can help in increasing traffic.
3. Higher Inbound Traffic
Getting more inbound traffic is one of the main goals of SEO. And social media can help you achieve that goal. When you have a solid social media presence, you will get more social media shares. And as people share your content on social media, you will get more inbound traffic. All these can help you increase your website traffic and improve your SEO.
4. Improved Customer Service
Around 67% of people say they have used social media for customer service. So, if you want to improve your customer service, you need to focus on your social media presence. With a strong social media presence, you will be able to respond quickly to customer questions and complaints.
5. Cost-effective Lead Generation
Whether you run a new business or an old one, you need to generate leads to grow your business. And social media can help you generate leads at a lower cost. When you have a strong social media presence, you will be able to connect quickly with your potential customers. As such, you won't have to hire a lead generation company and spend a lot of money.
6. Better Sales
It's undeniable that in the digital age, our purchasing decision is heavily influenced by social media. In fact, nearly 71% of people say that they have used social media to research and buy products. It means you can send more traffic to your site if you focus on your social media presence. And as you get more traffic, you will be able to improve your sales.
Ready to Boost Your SEO and Social Media?
There you go!
The above SEO hacks will help you boost your social media without making any huge investments. Start optimizing your social media SEO with these tips today and see the difference in your visibility and engagements.