As an experienced insurance agent with a wealth of experience, you're likely aware that gaining customers' trust isn't easy, especially in the highly competitive insurance industry.
To stand out, it's crucial to implement effective strategies; this is where social media marketing comes into the picture.
Social media has completely revolutionized how businesses connect with their audience, and insurance agents (or insurance agencies) are no exception.
With the evolution of social media marketing, you now have the opportunity to reach a vast audience, build relationships with them, and gain more customers.
While conventional methods of lead generation, such as networking events and direct mails, are still effective for insurance agencies, social media platforms can significantly expand your reach.
In this guide, we'll provide tips, ideas, and best practices on using social media for insurance agents so that you can gain more business and accelerate growth.
So, without further ado, let's dive in.
6 Reasons Why Insurance Agents Should Embrace Social Media
Before we move on to the main subject, let's explore in depth why insurance agents should establish a solid presence on major social media platforms:
Establishing trust and credibility: Regularly posting valuable content on social media allows insurance agents to showcase their expertise and establish themselves as authoritative voices in their field. By sharing informative and helpful content that educates and addresses the pain points of their target audience, agents can build trust and credibility among their followers.
Harnessing customer insights: Regular interaction with your audience on social media through relevant content can provide a wealth of insight into their preferences and thoughts. This deep understanding of your customer's needs and expectations enables you to devise better marketing strategies and tailor your offerings accordingly.
Tip: Actively listen to conversations, monitor relevant hashtags, and follow the latest industry trends to gain an in-depth understanding of your audience.
Enhancing customer experience: Social media is also a popular channel for customer service interactions. Therefore, another compelling reason for insurance agents to use social media is to provide personalized, prompt support to their clients. Social media helps you deliver excellent customer service by helping you answer inquiries, address policy-related questions, and resolve complaints.
Monitoring competitors: Social media allows insurance agents to track their competitors' activities, including their content, strategies, and customer engagement techniques. And why observe your rivals? It can inspire you to try new ideas and help you identify any market gaps.
Building a strong professional brand: Social media presents a unique opportunity for insurance agents to build a personal brand and establish themselves as thought leaders in the industry. But how can you develop a distinctive brand identity? Sharing your expertise, success stories, and insights can help build a unique brand identity. Ensure you maintain a professional voice while doing so.
Cost-effective advertising: Insurance agents can cost-effectively reach their target audience using precise targeting options on platforms like Facebook, Instagram, and LinkedIn. These options allow agents to target specific demographics, interests, and locations, offering a more affordable alternative to traditional advertising methods like print or television.
Now that we've explored the benefits of social media for insurance agents, let's discuss the best social media platforms for them.
Let's get started.
Best Social Media Networks for Insurance Agents
Take a look at the key social media networks for insurance agents to establish an active presence on:
1. Facebook for Insurance Agents
Given its demographics, Facebook is one of the most effective platforms for insurance agents to find clients.
Why is this so?
Facebook is home to a diverse audience, many of whom are at the peak of their insurance needs, whether life and property or pet medical insurance.
With this in mind, insurance agents can leverage Facebook to reach more people. They can also run targeted ad campaigns and even build a community through Facebook Groups to gain more customers.
Tip: Regularly posting informative posts, client testimonials, and industry updates can help establish credibility and trust among your target audience on Facebook.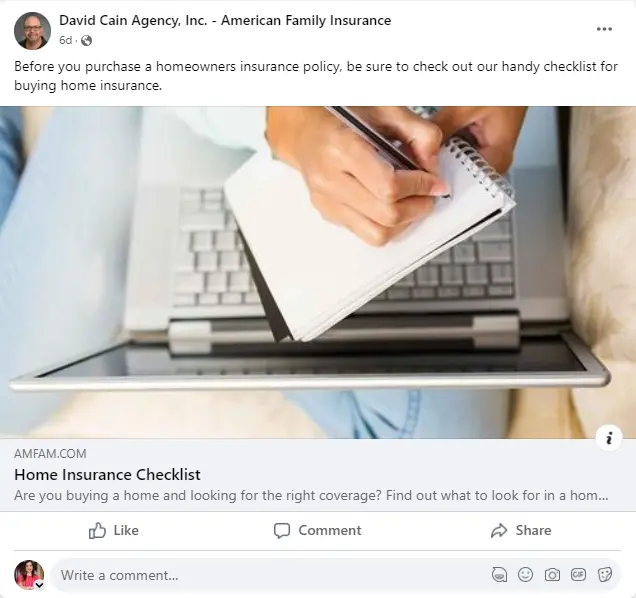 Look at how this insurance agent has shared a helpful home insurance checklist with their audience on Facebook | Source.
2. Twitter for Insurance Agents
Twitter is another platform that insurance agents can use to engage with their target audience.
The platform's concise, to-the-point conversation style lets users connect effectively with their followers.
Now, how can you use Twitter as an insurance agent?
Twitter is an effective platform for sharing industry news, posting important updates, answering customer queries, and showcasing your expertise.
Moreover, Twitter is a great tool for social listening, which can help you understand your audience better and close sales more quickly!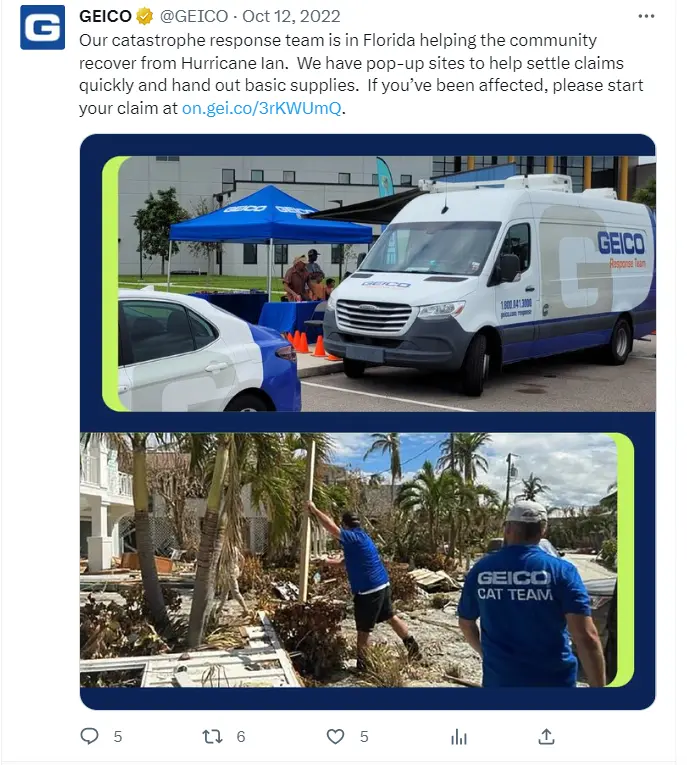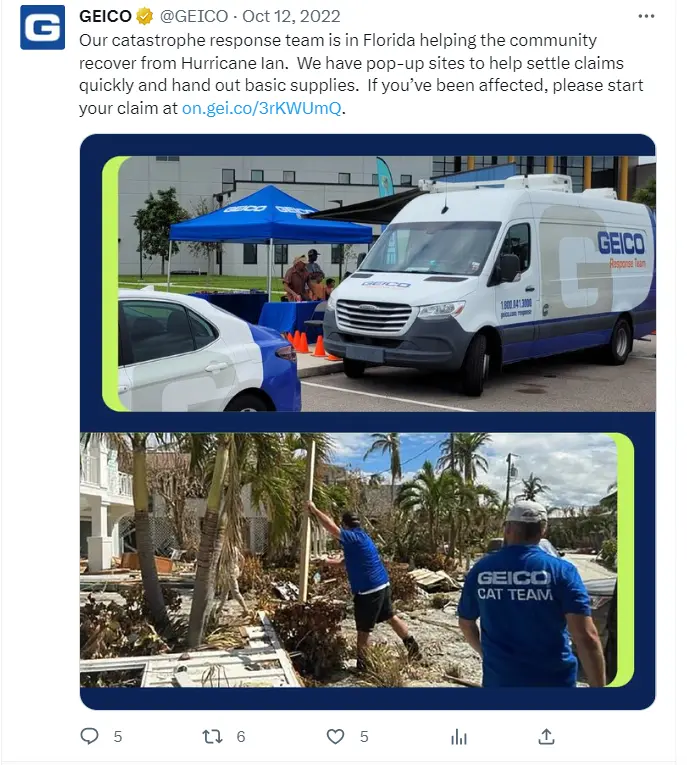 Check how GEICO shared an important update on Twitter stating how their response team is helping a community recover from Hurricane Ian and how they have put in place pop-up sites to help settle claims quickly | Source
3. YouTube for Insurance Agents
YouTube is a platform where businesses can consistently share engaging video content. Some social media content ideas for insurance agents for YouTube include topics that simplify policies or tips for choosing the right coverage.
In all, insurance agents can position themselves as trusted advisors on YouTube and attract potential clients searching for insurance-related information.
4. Instagram for Insurance Agents
Instagram is a highly visual platform where you can easily build your position as a subject matter expert. However, ensure you're finding the right balance. Don't only post visually appealing content; offer actual value to your followers.
Some effective social media content ideas for insurance agents for Instagram include:
Showcasing your company culture, community involvement, behind-the-scenes glimpses, and client success stories.
What's more?
Instagram is an excellent platform for leveraging influencer collaborations and utilizing relevant hashtags to expand reach and engagement. So, consider incorporating these strategies into your business plan.
5. TikTok for Insurance Agents
TikTok is yet another social media platform for insurance agents to consider.
This highly popular social platform, with 15.54 million daily active users, is known for its short and entertaining videos. If your goal is to educate and engage a younger demographic, TikTok is where you should be. The platform comes integrated with video-editing tools, and you don't need to be a tech guru to use the platform.
What kinds of content should you share on TikTok?
Some examples include: videos that simplify insurance concepts, debunk common misconceptions, and provide tips for saving money on policies.
6. Alignable for Insurance Agents
Alignable is a social media platform specifically designed for local businesses and professionals to connect and collaborate.
Insurance agents are turning to Alignable because it provides an online space to meet and connect with the business owners that fit their client base.
Alignable allows insurance agents to showcase their expertise, participate in community discussions, and gain local visibility.
Therefore, insurance agents should consider using Alignable to attract more clients.
Social Media Tips for Insurance Agents
Looking for a bunch of highly effective social media marketing tips for insurance agents to maximize their social media efforts?
Take a look at the image below: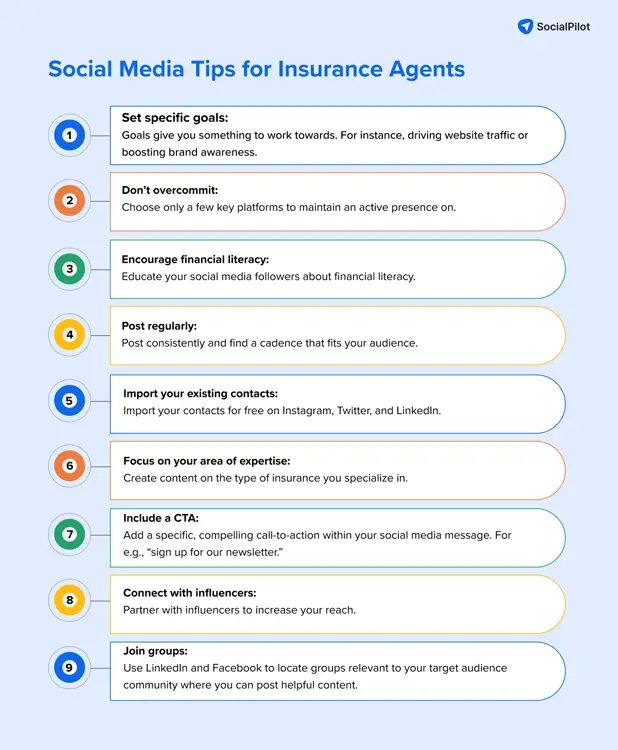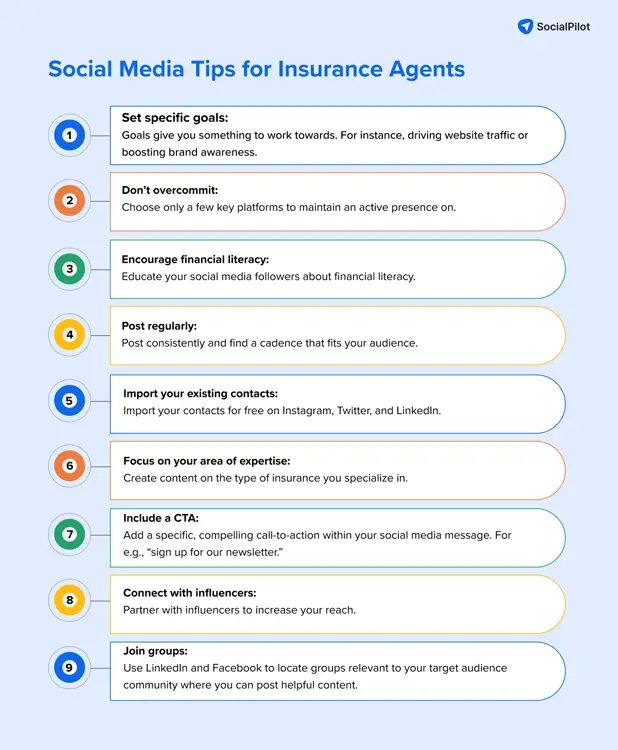 Let's put these social media marketing tips for insurance agents to good use by discussing the various social media post ideas.
Keep reading.
5 Social Media Post Ideas for Insurance Agents
Here are some great social media post ideas for insurance agents that you can use to engage your social audience successfully:
1. Create Video Content
In this digital age, video content is king. As per the latest statistics, an estimated 3.37 billion internet users watched video content in 2022. It's a known fact that videos can convey messages more impactfully than images. As an insurance agent, you can create informational videos on topics relevant to your niche.
For instance, you can talk about relevant industry news, share money-saving tips on a particular insurance policy, or simply highlight the benefits of a specific policy. In the end, ensure you create content that solves the problems and questions of your audience in an engaging, impactful way.
You can even use the live streaming functions of a social platform to engage with your target audience as well.
2. Share Customer Testimonials
One of the most effective social media marketing strategies for insurance agents is sharing customer testimonials.
Testimonials serve as free advertising for your business and are a perfect form of social proof that encourages potential clients to work with you. When you share testimonials on social media, your customers feel heard and appreciated, strengthening your relationship with them.
Tip: Frame your testimonials according to the platform you are posting on. Create a visually appealing graphic featuring a positive user rating if it's an image-centric platform. If it's a text-centric platform, post the testimonial text and share it with your followers.
3. Engage With Infographics
Chances are, you may have shared FAQs in your website blog. Now, see if you can turn some of your answers into engaging infographics for your social media audience.
But, why infographics?
Infographics are charts, illustrations, diagrams, and other graphics that help put important information forward with the least amount of words. Owing to their simple, colorful, and informative nature, they hook attention instantly.


So, while searching for social media content ideas for insurance agents, ensure you share some valuable infographics with your audience.
Apart from taking information from your FAQs, you can also share infographics that explain processes, statistics, lists, comparisons, and timelines engagingly.
Some topic ideas that insurance agents can explain through infographics include:
How whole and term life insurance are different
The claims payment process
The payment process to a beneficiary
Do's and don'ts if you are in an accident
What steps to follow to save up on house insurance costs
Tip: Tools such as Canva, Visme, and Venngage allow you to make appealing infographics.
4. Share Office Updates
Did a new employee join you? Are you offering a new policy or partnering with a new carrier? Share all the latest news on your social media channels!
Why?
Sharing important updates about your business helps your business come off as authentic, instilling trust and confidence in the minds of your potential clients. For instance, check out this post of an insurance agent who shared an important office update stating that they will remain closed on Memorial Day.
5. Share Personal Content
Social media is, after all, a social forum. While it's completely fine that you share posts about your business, ensure you post Reels, Tweets, photos, and Stories about your personal life as well (if you are an independent insurance agent).
Think about it…
People prefer to do business with people they know rather than with strangers. Hence, you must share personal content with your followers every now and then.
While it's important to know social media marketing ideas for insurance agents, we also need to talk about some significant challenges that insurance agents face and how to overcome them.
Keep reading to know more.
Overcoming Social Media Marketing Challenges for Insurance Agents
Here are some common challenges and strategies to overcome them:
Increasing lead generation: One of the significant challenges in the insurance sector is lead generation. Key social media platforms can be instrumental in overcoming this hurdle. Insurance agents facing the hurdle of acquiring leads can turn to social networks such as Facebook, Twitter, TikTok, and Instagram and use targeted ads or interactive content polls or quizzes to generate leads.
Even by consistently posting helpful and engaging content, you increase your chances of gaining leads.
Bridging the gap between customers and insurance providers: Often, there's a communication gap or lack of understanding between insurers and their clients. Social media can help bridge this gap by fostering two-way communication, providing educational content, and answering real-time client queries.
Building trust in the insurance industry: Trust has always been a concern in the insurance industry. Thanks to social media, insurance agents can now build trust among their clients by posting relevant content such as testimonials and behind-the-scenes insights. Showcasing their expertise and commitment to client service on social media channels can instill confidence in clients when purchasing insurance offerings.
Responding to economic fluctuations: Economic downturns can significantly impact the insurance industry. During such times, insurance agents can use social media to share informative content with their customers on how to manage their insurance effectively.
5 Social Media Management Tools for Insurance Agents
Are you aware that there are tools available to assist you in managing the social media presence of your business?
A social media management tool helps businesses streamline their social media activities. These tools help plan, schedule, post, and monitor content across various social media platforms.
Take a look at some of the top social media management tools:
1. SocialPilot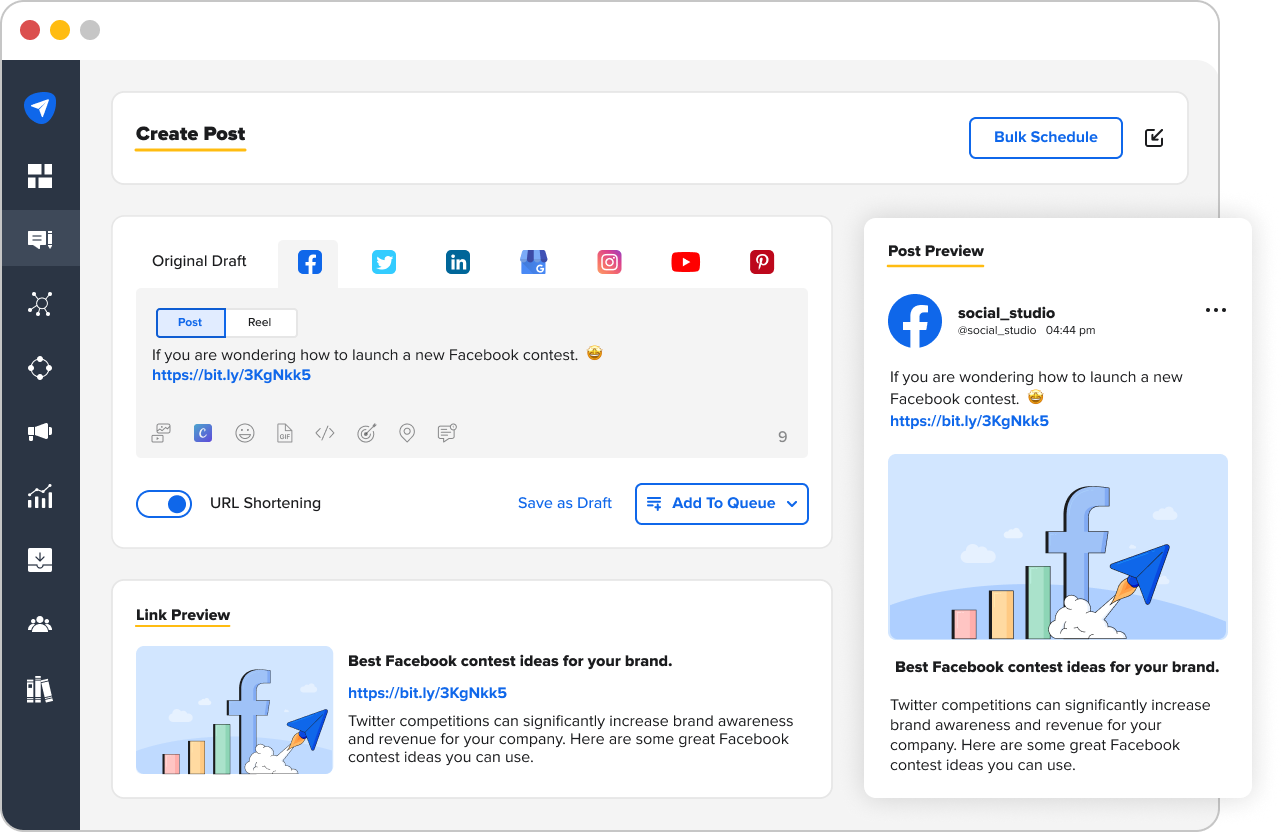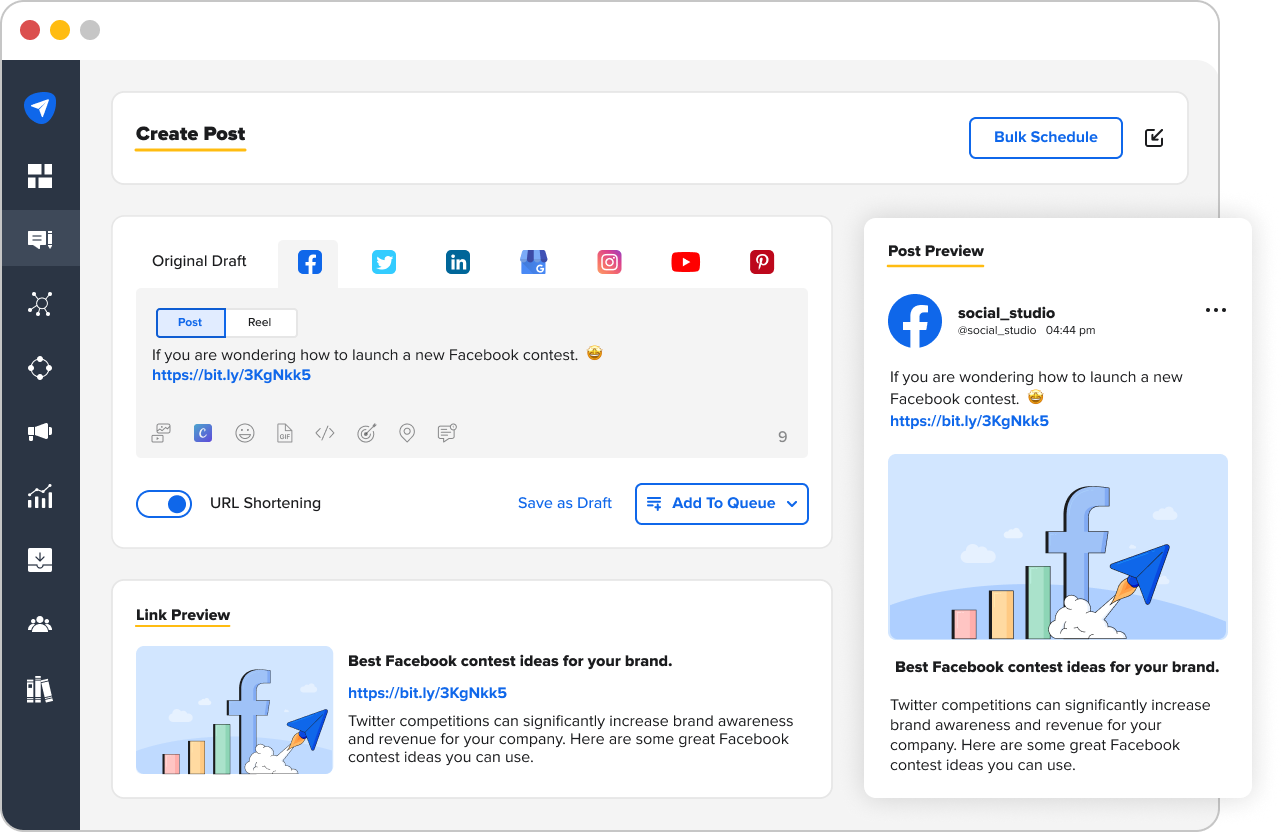 SocialPilot is the go-to tool for effective social media management for insurance agents and marketing agencies handling multiple insurance agency accounts.
Here are some of the features you can expect from this tool:
Scheduling and publishing: SocialPilot allows effective scheduling and publishing of your social media content across various platforms. This means you get to expand your business's reach and attract potential customers quickly and efficiently. You can personalize your posts in the tool by incorporating videos, images, emojis, GIFs, mentions, and hashtags.
Analytics: SocialPilot gives you insights into the performance of your social media accounts. How does this help you? This information assists you in analyzing the results and making any necessary adjustments.
Social Inbox: This tool includes a straightforward and effective Social Inbox, facilitating real-time engagement with your social media audience.
Collaboration: SocialPilot enhances your team's efficiency by enabling you to invite team members and clients to collaborate on specific accounts.
2. Hootsuite
Hootsuite is a robust social media management tool allowing insurance agents to post consistently with the help of its scheduling feature. The tool also offers monitoring capabilities, which help track mentions, industry trends, and keywords.
With the help of Hootsuite's team collaboration feature, you can assign tasks, manage approvals, and maintain a unified social media strategy. The platform also offers detailed analytics and reporting features to track the performance of social media campaigns, measure engagement, and understand audience behavior.
3. Buffer
Buffer is a reliable social media management tool for scheduling posts in advance. With this tool, you can create tailored posting schedules based on your audience's behavior and engagement patterns.
Buffer also provides a content library to organize and store images, videos, and other media assets for easy access and reuse. Apart from this, the tool offers detailed analytics to measure the performance of posts and track engagement.
4. Sprout Social
Sprout Social boasts many useful features that can benefit insurance agents. Features like scheduling, content calendars, and collaborative planning help streamline the content creation and publishing process.
The tool also has a unified social inbox that combines messages and comments from multiple social media platforms making it easier to streamline communication and ensure timely responses.
Apart from this, if you decide to use the tool, you can monitor brand mentions, industry trends, and competitor activity. Lastly, the platform provides comprehensive analytics and reporting to track performance, measure campaign success, and generate custom reports.
5. Later
Later specializes in visual platforms like Instagram, allowing insurance agents to plan and schedule posts with images and videos. The dedicated media library makes storing and organizing visual assets easy, simplifying content creation and curation.
When you talk of Instagram specifically, Later offers hashtag suggestions, analytics for Stories, and the ability to preview the visual grid before publishing.
Conclusion
In conclusion, social media serves as a powerful tool for insurance agents aiming to broaden their reach, engage more effectively with their audience, and grow their businesses. By harnessing the potential of platforms like Facebook, Twitter, YouTube, Instagram, Alignable, and TikTok, insurance agents can access a vast pool of potential clients and solidify their position as trusted authorities in the insurance industry.
Remember, the key to successful social media marketing lies in understanding your audience, delivering valuable content, and fostering genuine connections. By implementing the tips, ideas, and best practices outlined in this comprehensive guide, you're not just setting yourself up for success in social media marketing but also paving the way for a thriving insurance business in the digital age.
Embrace the power of social media today, and watch your insurance business flourish.