Why should your business have a documented social media content strategy? Because social media is the future of e-commerce.
According to 80% of social media marketers, consumers purchase products directly within social media apps more often than on brand websites.
However, without content, all this is impossible to achieve.
To leverage social media for business growth, you have to know what to post, at what time, who to target, what social media channels to use, etc.
A well-researched and documented social media content strategy is a blueprint that guides all the tasks you undertake on social media from creating social media posts to publishing them and tracking results.
Read on to learn how to create a goal-crushing social media content strategy.
How to Create a Winning Social Media Content Strategy
Follow these simple steps. To generate even better results, combine social media and other digital marketing strategies like email marketing for small businesses. Additionally, sprinkling your content with inspiring growth mindset quotes can motivate your audience and foster a positive community.
1. Determine Your Target Audience
More than half (58.4%) of global internet users are on social media.
However, you can't target everyone. Identify the exact group of people that's most likely to be interested in your product or service.
Why?
Determining your target audience helps you:
Create content that resonates with your audience.
Understand the content formats they prefer to read on their preferred social media channels.
Understand when your audience is active on social media.
Here are a few questions to ask yourself when determining your target audience:
What's their age range?
What are their interests?
What language do they speak?
What challenges do they have that your product can solve?
Where do they visit social media from—their location and time zone?
What information are they looking for?
Tools like Google Analytics can help you in identifying your target audience on social media.
2. Choose Your Target Platforms
Research the social media platforms your target audience uses the most and prioritize posting on these platforms.
For instance, if your target audience is B2B marketers, you will most likely want to target them on LinkedIn.
If you want to target Gen Z, you'll most likely want to focus on TikTok, Snapchat, Instagram, and Facebook.
3. Identify and Set Goals That Align With Your Brand
To develop an effective social media content strategy, determine what you want to achieve with it.
Establishing social media goals helps you understand the type of content to create, where to promote it, etc.
What's more?
Goal-setting improves your focus and guides your strategy so that you don't waste time and resources on things that don't add value to your marketing efforts.
According to a SocialInsider study report, social media marketers' primary goals are to:
Increase brand awareness (85.4%)
Grow the brand audience (74.6%)
Connect with the audience (61%)
Increase community engagement (59.5%)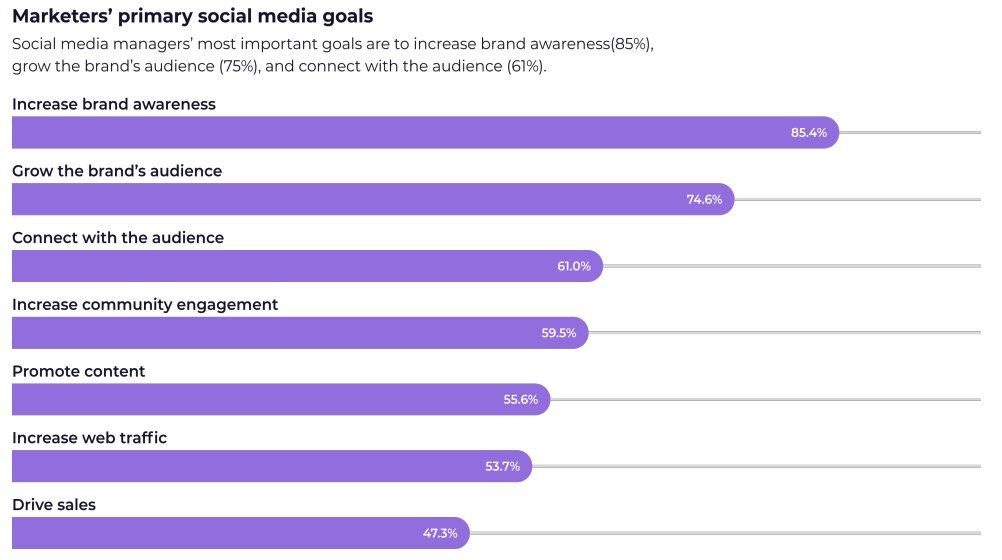 Determine the key metrics to track for each of your goals so that you can measure success at the end of your social media marketing campaigns.
4. Perform a Social Media Competitor Analysis
The good thing about creating a successful social media content strategy is that you don't have to reinvent the wheel.
You can take what others are doing and amplify it or take advantage of the weaknesses in their strategies.
Analyze the type of content your top competitors are posting on social media.
If you aren't sure who your competitors are, head over to Google and search for a keyword that describes what you do.
Use keyword research tools like Semrush. Read this in-depth Semrush review by Attrock to learn how the tool works.
Repeat the same on your target social media platforms.
Create a list of the competitors you want to study and focus on the following areas:
What content they are publishing.
How they are engaging with their audience.
Whether they are using influencer marketing or partnering with industry experts to promote their brands.
Use the insights you gather to document a social media content strategy that helps you improve what your top competitors are doing.
5. Determine The Resources You'll Need to Create High-Quality Content
Your social media content helps to spread the word about what your brand does. You need to prioritize quality over quantity.
Besides, your content should reflect the personality of your brand.
Given that modern consumers are attracted by visual content, you need to create stunning videos, images, and crisp copies that align with your brand voice.
For this, you need to ensure you have the right resources.
Investing in AI text-to-video-generators can be helpful in creating product or service videos.
You may also want to try free tools and platforms like Unsplash or Pexels to find high-quality images and videos to include in your social media content strategy.
6. Create a Content Publishing Calendar
A social media content calendar is another important part of a social media content strategy.
Your social media calendar may look like this.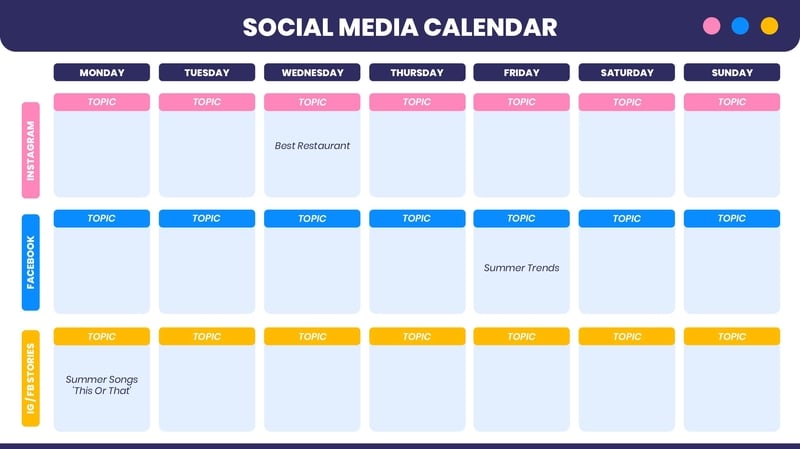 A content calendar will help you:
Lay out your ideas and organize them accordingly
Establish a consistent content publishing schedule
Determine the best time to post on each platform
You can use Google Sheets, Ms. Excel Spreadsheet, or a project management tool like Trello to create your content calendar.
Be sure to promote and distribute your content, measure the results of your social media content strategy, and improve where necessary.
Conclusion
Social media is a powerful platform for brands looking to increase their reach, create brand awareness, drive more sales, and generate more revenue.
However, without a well-thought-out social media content strategy, social media can be overwhelming for brands.
We hope this guide will help you create your social media content strategy.