As the number of social media users worldwide is expected to rise close to five billion, it has opened up a plethora of opportunities for brands to engage with their audiences.
Social media marketing has become one of the most critical marketing channels. Around $116 billion were spent on social media advertising in 2021. Per projections, that number is likely to soar to over $262 billion by 2028.
If you are part of a social media team, you know the increasing demand for high-quality content, indicating the sheer need for a social media asset library.
The amount of content we put out there for our audiences is unprecedented and overwhelming. However, the impact brands can achieve through social media content depends on several factors.
Some of these factors, such as algorithms, cannot be controlled. But there are other factors that social media marketers have been striving to improve upon over the years.
So, let's shed some light on why a social media asset could be a boon to your marketing strategies.
What Are Social Media Asset Libraries?
Social media asset management involves labeling and organizing content in asset libraries.
The library items can include the most shared content types, such as written pieces, recordings, infographics, polls, photos, and videos for Instagram, LinkedIn, Facebook, and other social outlets.
It is as simple as that.
With a social media asset library, you can…
Avoid issues that present hurdles in content creation and management by managing creative assets. With an asset library, you and your social marketing team can easily store, retrieve, and distribute branded assets.
Maintain a database of your brand's images takes time and effort. Marketers need a system for collecting, cataloging and preserving a brand's visual assets. There are a few solutions available to help keep up with the expanding volume of assets that need to be stored and accessed quickly and easily.
Social media assets can be managed in various ways, including using a content calendar, tracking spreadsheets, cloud storage, and, ideally, using dedicated software.
No matter the method, using an asset library to organize social media assets allows social media teams to think more carefully about the content they create and share.
Why Do You Need a Social Media Asset Library?
As every social media platform has specific requirements, you need to either repurpose or create content to suit the unique content formats for each platform.
For instance, there will be a difference between the videos you post on LinkedIn, Twitter, and TikTok. Another case in point is branded hashtags, which are different for Twitter as compared to Instagram.
In short, don't be surprised if you find yourself swimming in a sea of content and expending time and resources sorting through it. You are likely grappling with issues like locating, storing and wondering if you posted the wrong image by mistake.
That is why you need an asset library — to organize your social media assets systemically.
Benefits of Asset Libraries to Help Manage Social Media Assets
With the increasing popularity of visual content in social media, marketing teams have to manage vast volumes of images and videos daily.
These social media assets will only see more traction and, consequently, be in constant demand. An asset library empowers you to create a well-structured repository of these assets and easily collaborate and communicate across functions.
Let's look at its benefits.
Easy Collaboration
Multiple team members may need to collaborate on a single account, depending on the company's organizational structure and size.
Using templates in an asset library allows you to keep up with the rapid pace of content consumption and posting.
Collaborating and ensuring a unified aesthetic is easier with templates. Examples include templates of brochures, company documents, Facebook ads, display ads, e-books, and flyers.
Assets Are Easily Accessible
Ease of access is essential, given the pace of content creation. Even today, many people spend hours locating assets due to wide-ranging requirements.
When all files are stored in one central location in the asset library, it is much easier for anyone on the team to access them. Also, it encourages and facilitates repurposing existing content rather than creating new content each time. You can quickly sort through multiple files at once.
Enhanced Searchability
Labeling everything you add to the asset library can help tremendously improve their searchability.
Labeling and adding metadata to files not only help with organizing but locating specific images or videos at any point in time becomes much easier.
Convenience
Asset libraries offer multiple options to organize your assets. You can create folders based on a topic, date, campaign type, or asset type. You can save videos in one place or images based on the theme in one folder. Create client folders to save content relevant to a particular brand in one place.
Adding and Editing Creative Assets
Once you have organized existing content in the asset library, you are ready to add new creatives in a more organized manner from the get-go. Some asset libraries also allow you to edit images via an in-built editor by integrating relevant apps.
How Asset Libraries Power Social Media Management and Strategy
Within marketing, social media management tends to demand a creative approach and is perceived as more complex due to its dependence on real-time human interaction.
Including an asset library as part of your, social media management strategy increases efficiency to a great extent. Because of the time and energy you've saved, you'll be able to focus more on innovative pursuits and less on tedious ones.
Modern organizations rely heavily on their asset libraries, making it essential for marketers to have the ability to organize and manage assets effectively. This streamlines the process of locating and retrieving any files needed to complete a project.
Everyone in the team can get documents whenever they like making asset libraries more beneficial if the teams are in different places and want the same resources.
By keeping a project's most up-to-date files in one central location, asset libraries ensure that everyone is working from the most recent, accurate version of a given file. Team members won't need to send files to one another repeatedly.
Also, a centralized digital asset management system reduces the likelihood of delivering the wrong file to the wrong person. This is a significant benefit. Employees will benefit from the assured consistency and reduced chances of errors.
A well-implemented asset management system drastically improves a company's efficiency and productivity. It facilitates seamless collaboration and reduces the time wasted waiting for colleagues to provide the required creatives.
With all of this content saved in your social media asset library, when, where, and how do you use it appropriately and with ease for your social media?
That's where SocialPilot can be of great help.
SocialPilot's scheduling tool can bulk schedule posts. You can effortlessly schedule up to 500 posts in advance to make sure that you never miss posting on the times that your audience is most active.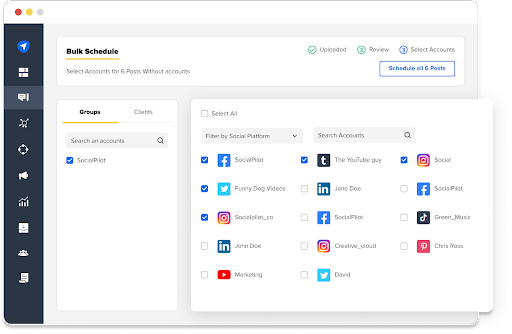 Conclusion
Every social media marketing effort should be built on the foundation of social media asset management.
In other words, the more time and energy teams put into it, the more scaling will occur.
Of paramount (and obvious) importance is the fact that you may achieve that through the efficient management of your social assets with the help of an asset library.
Teams work better together when they have branded asset management systems that streamline the entire content creation, storage, and organization process.
So, ensure you're making this an important part of your social media strategy.