If you want more traffic to your website from search engines, you need to rank higher for keywords that people are searching for.
Below are a few simple SEO tips to help you do that. 
Many things affect ranking difficulty. But if you see pages from similar caliber sites in the top five with few backlinks, that's usually a sign of a keyword that's easy to rank for.
Here's how to find these keywords:
Go to Ahrefs' Keywords Explorer
Enter a broad topic
Go to the Matching terms report
Set the Keyword Difficulty (KD) filter to ≤10
Set the "Lowest DR" filter (top 5) to your site's DR (you can check this in Site Explorer)
For example, the top-ranking page for "ski helmet headphones" has one website linking to it and lives on a DR 19 website:

Internal links can pass PageRank, which can help boost a page's rankings.
Here's how to find internal linking opportunities for free using Ahrefs Webmaster Tools (AWT):
Crawl your site with Site Audit
Go to the Link opportunities report
Search for the URL of the page you want to boost
Choose "Target page" from the dropdown

You'll see a list of contextual internal linking opportunities. 
For example, here's a suggestion to link from our list of content marketing tools to our post about building a content marketing strategy with "content marketing strategy" as the anchor text.

FAQ sections answer popular questions about a topic. Adding them to your page can help you rank higher for long-tail keywords. 
For example, our guide to H1 tags answers how long they should be in the FAQ section.
As a result, it ranks high for a related long-tail search: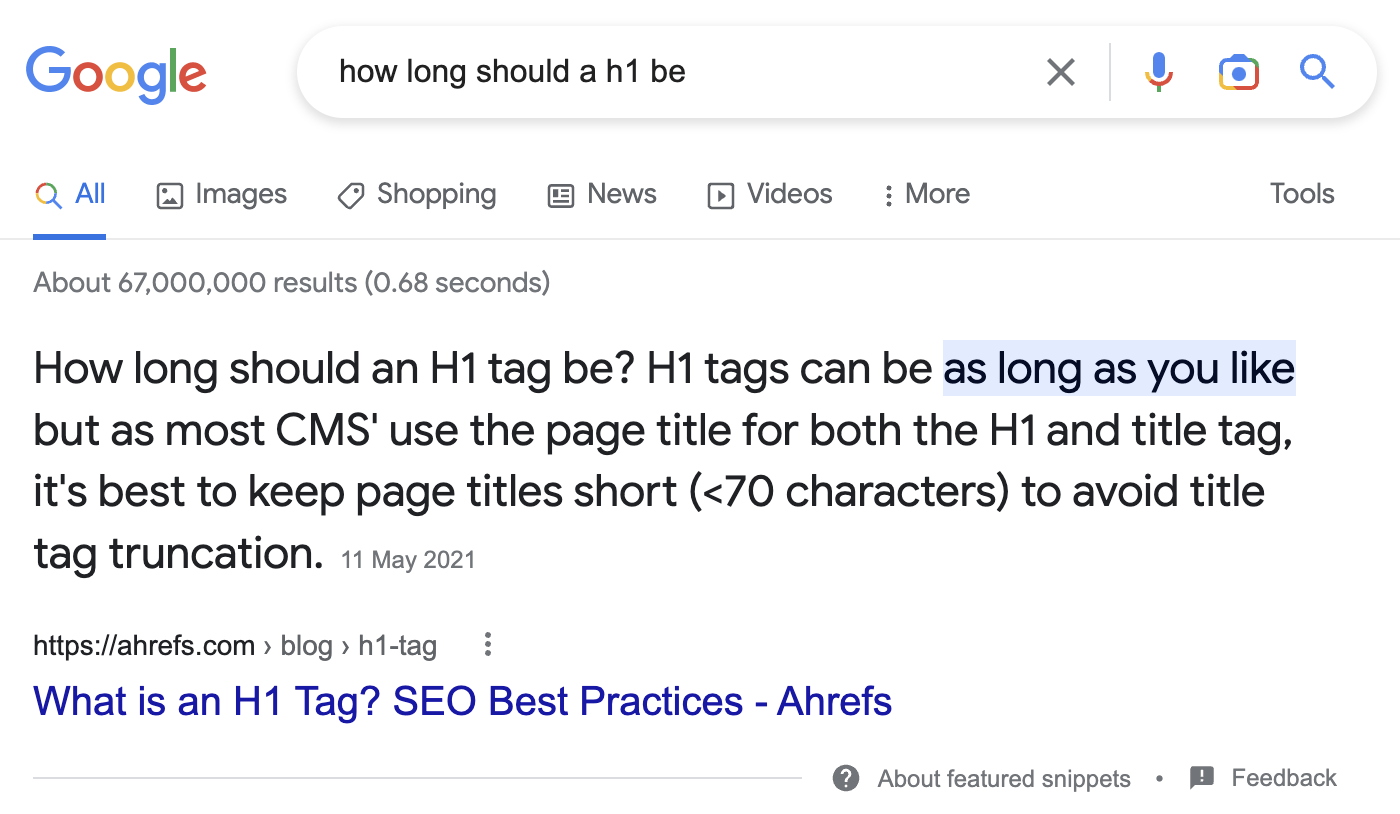 Here's how to find frequently asked questions to answer:
Go to Keywords Explorer
Enter your topic
Go to the Matching terms report
Toggle to "Questions"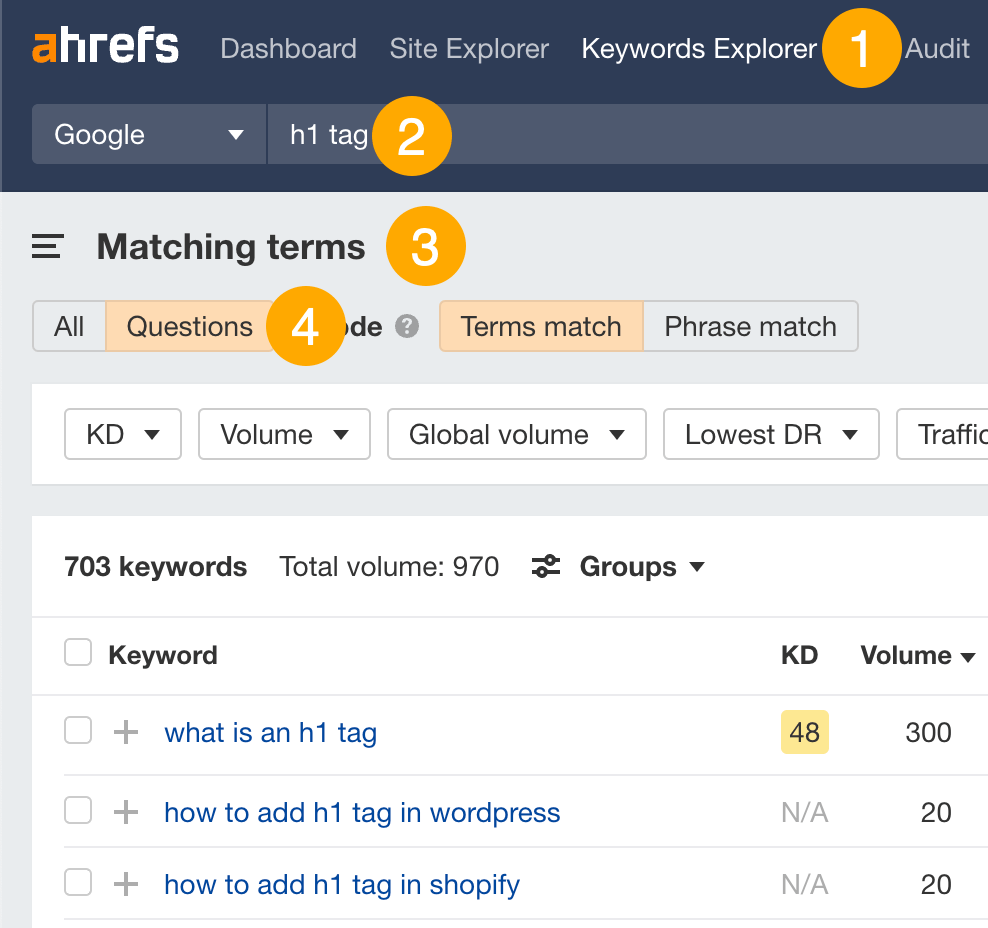 Featured snippets are quick answers in search results that Google pulls from a page ranking in the top 10. You can often "shortcut" your way to the top of Google by winning them.
Here's how to find the easiest opportunities: 
Go to Ahrefs' Site Explorer
Enter your domain
Go to the Organic keywords report
Filter for keywords in positions #1–5
Filter for keywords that trigger featured snippets "where target doesn't rank" 
Look for keywords where your page is missing the answer, then add it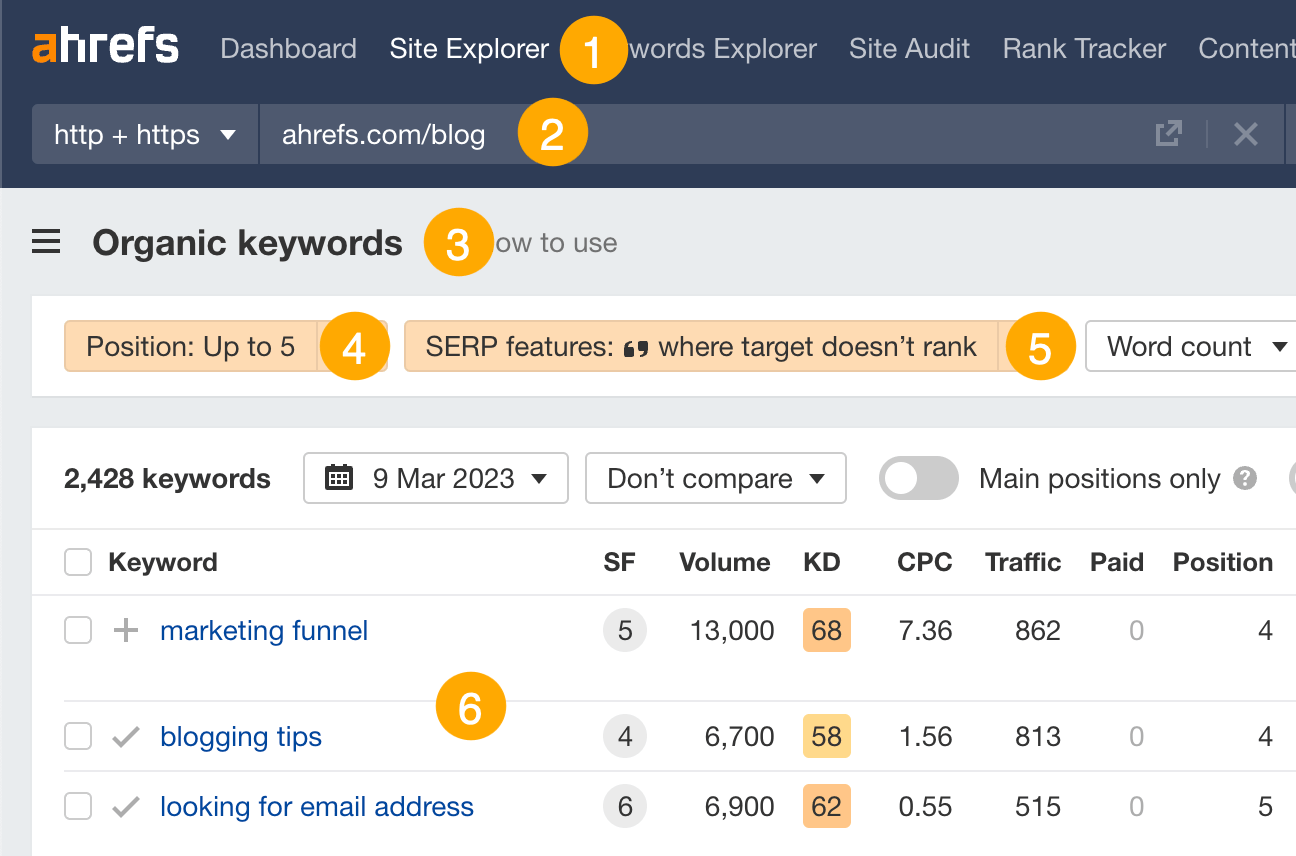 For example, the snippet for "google operators" is a definition: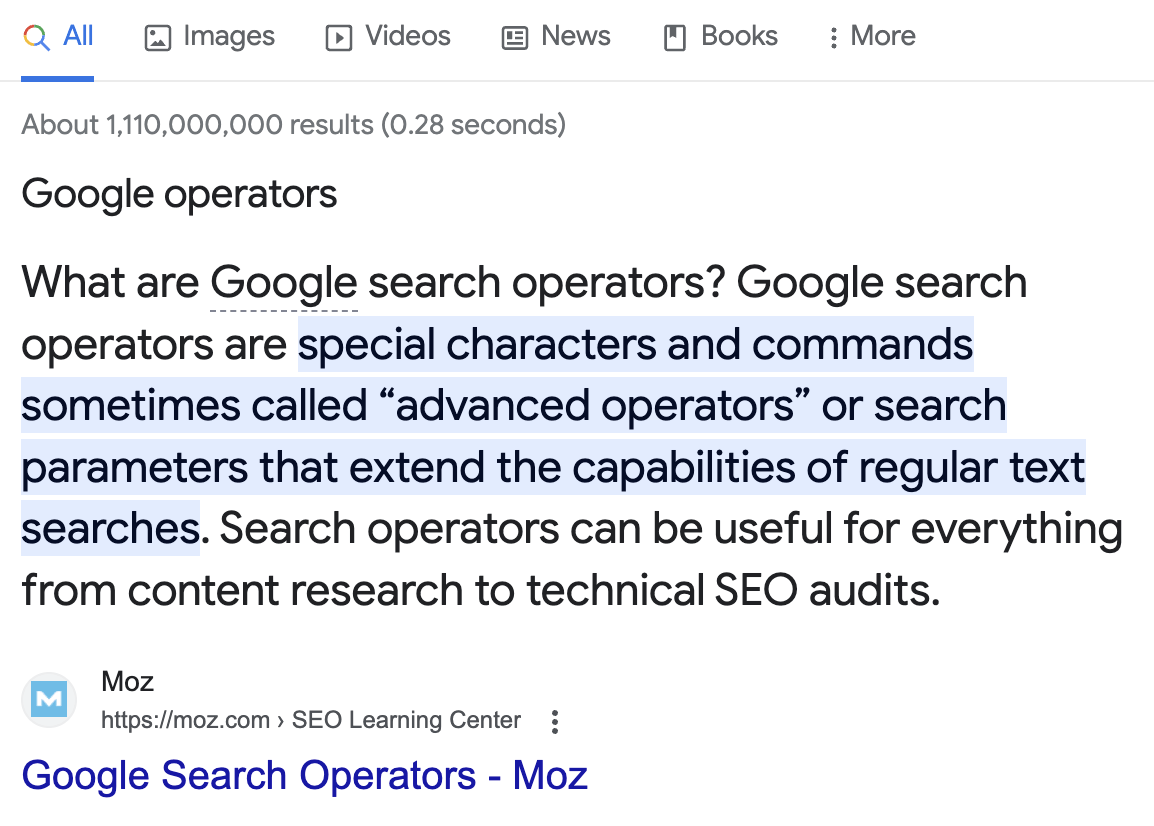 To stand a chance at winning the snippet, we'll need to define the term on our page.
Backlinks can only help you rank higher if they point to working pages.
Here's how to find dead pages with backlinks:
Enter your site into Ahrefs' Site Explorer
Go to the Best by links report
Filter for pages with the HTTP code "404 not found"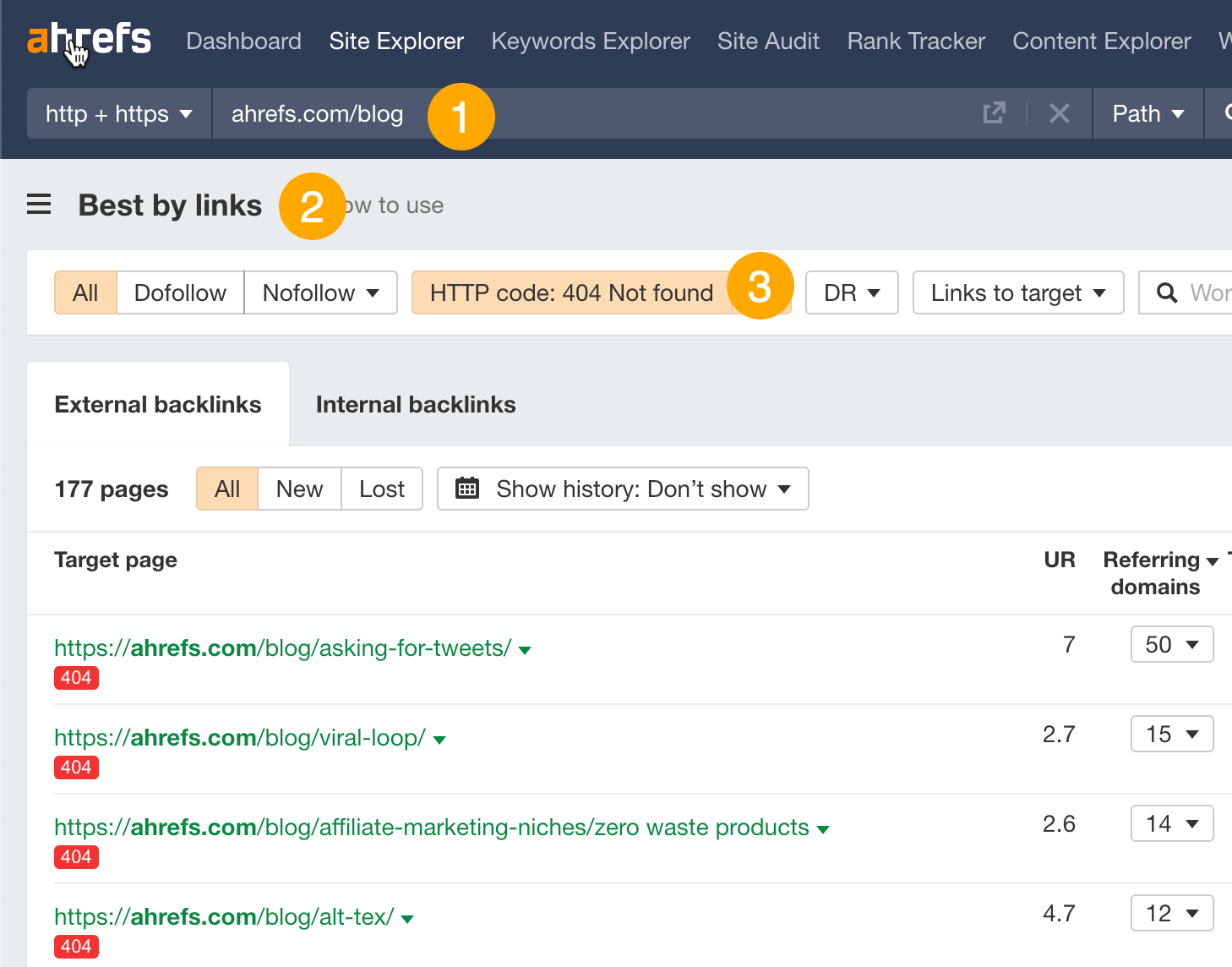 Here's how to fix them: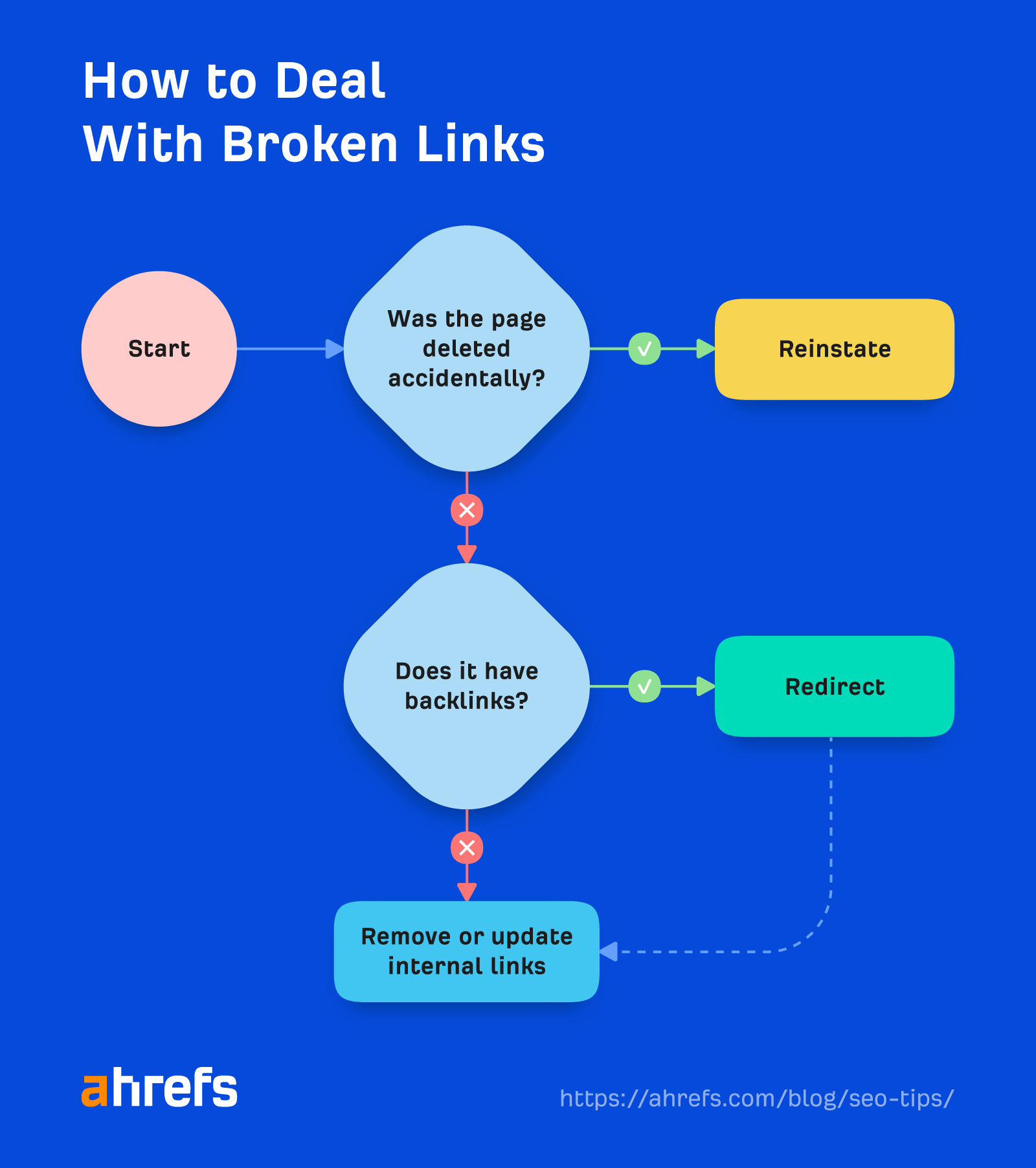 People are usually looking for one of these types of content when they search Google:
Blog post
Interactive tool
Video
Category page
Product page
To stand the best chance of ranking, you should align your content with search intent. 
You can find this out by looking at the top-ranking pages.
For example, interactive tools dominate the first page for "days between dates." But videos dominate the first page for "excel for beginners":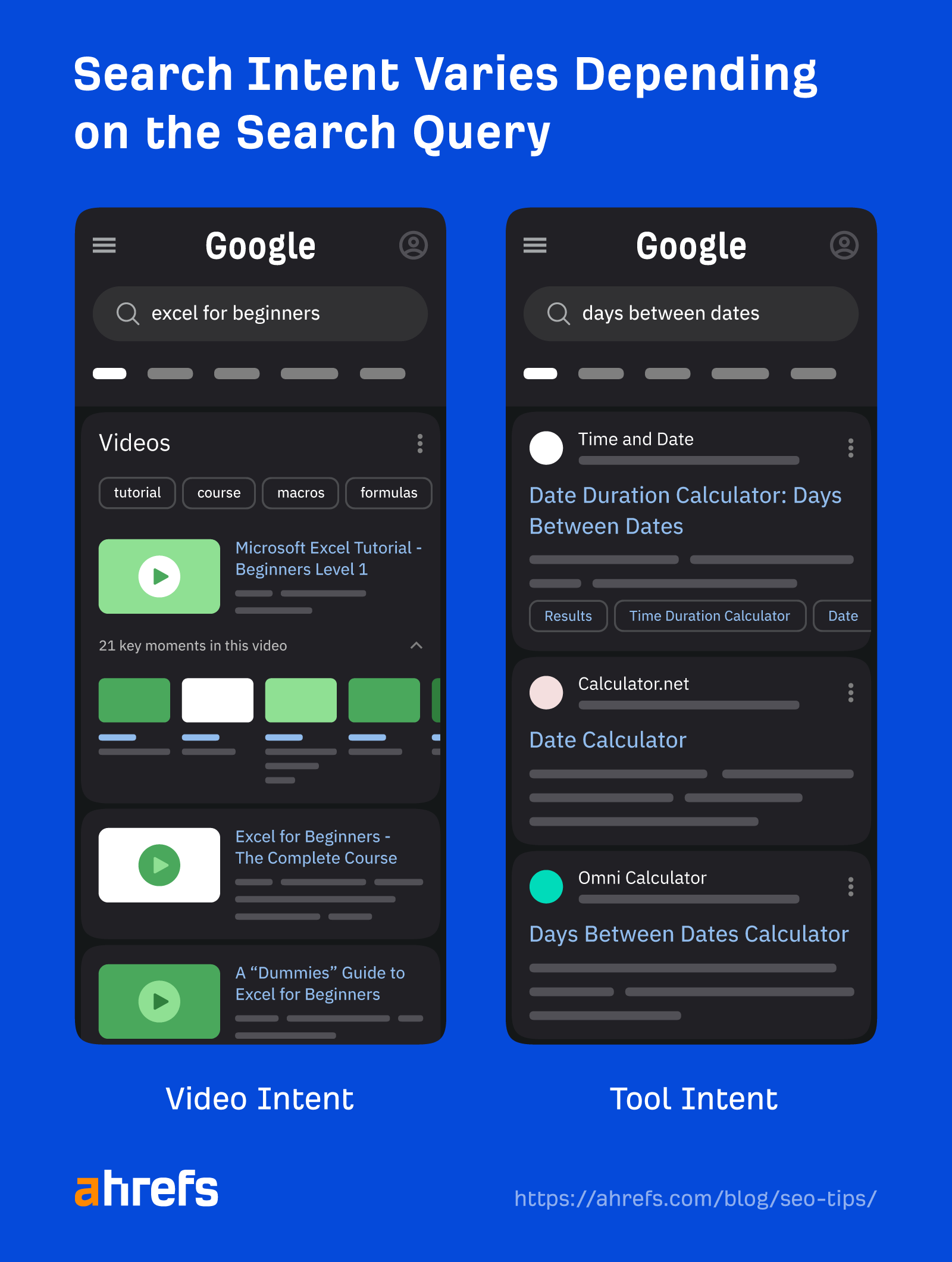 Title tags are a small but confirmed ranking factor, and Google often uses them for search snippets in the results.

Here's our advice for writing a compelling one:
Keep it short – Ideally under 70 characters.
Match search intent – Show that you have what searchers want.
Be descriptive – Give them what they want.
Don't clickbait – Focus on overdelivering.
Include your keyword – Or a close variation. 
Rankings rarely last forever, so you need to refresh content periodically to maintain them. 
Here's how to find declining content with Google Search Console:
Go to the Search results report
Click the "Date" filter and select "Compare" mode
Choose "Compare last 6 months to previous period"
Hit Apply
Click the "Pages" tab in the table
Sort the results by "Clicks Difference" from low to high

From there, look for pages where searchers would expect fresh information and update them. 
For example, take our list of the top Google searches. This page's rankings almost certainly declined because searchers want an up-to-date list.
HARO is a service that connects journalists and sources. 
Sign up as a source, and you'll get daily emails with questions from journalists at various publications. Answer these, and you can earn mentions and backlinks that may help you rank higher in Google.
For example, here's a journalist from Apartment Therapy (DR 87) requesting insights from landlords: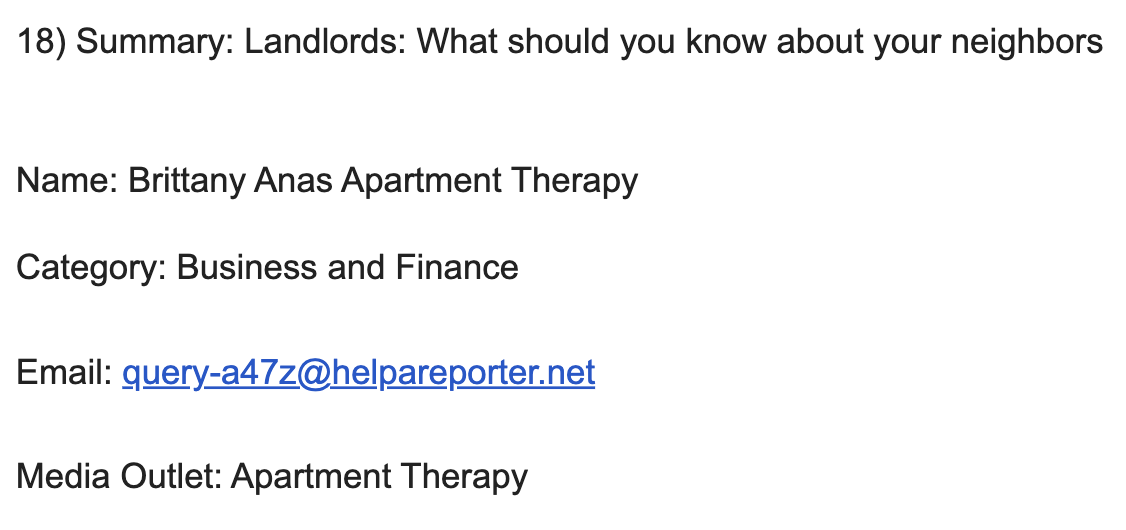 Here's the link a landlord earned by replying to this request: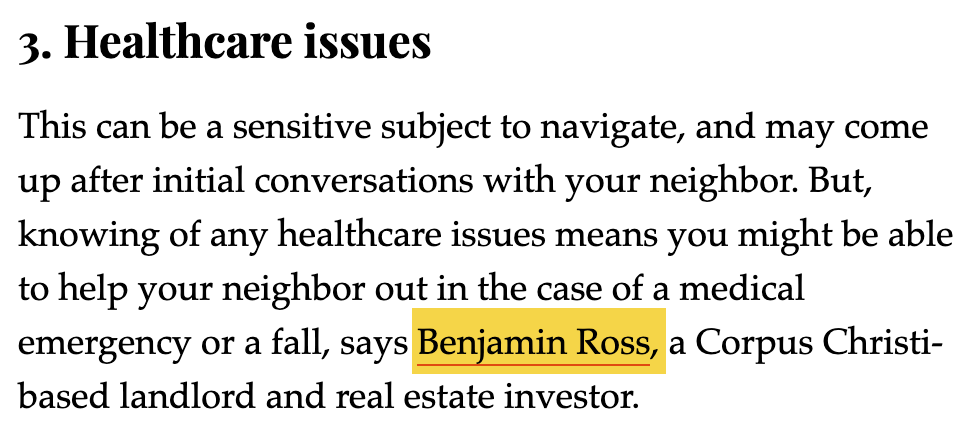 Core Web Vitals are speed metrics Google uses to measure user experience as part of its Page Experience signals.
They're not a super strong ranking factor, but they can still impact rankings.
To check if your Core Web Vitals need work, use the Core Web Vitals report in Google Search Console or the Performance report in Ahrefs' Site Audit.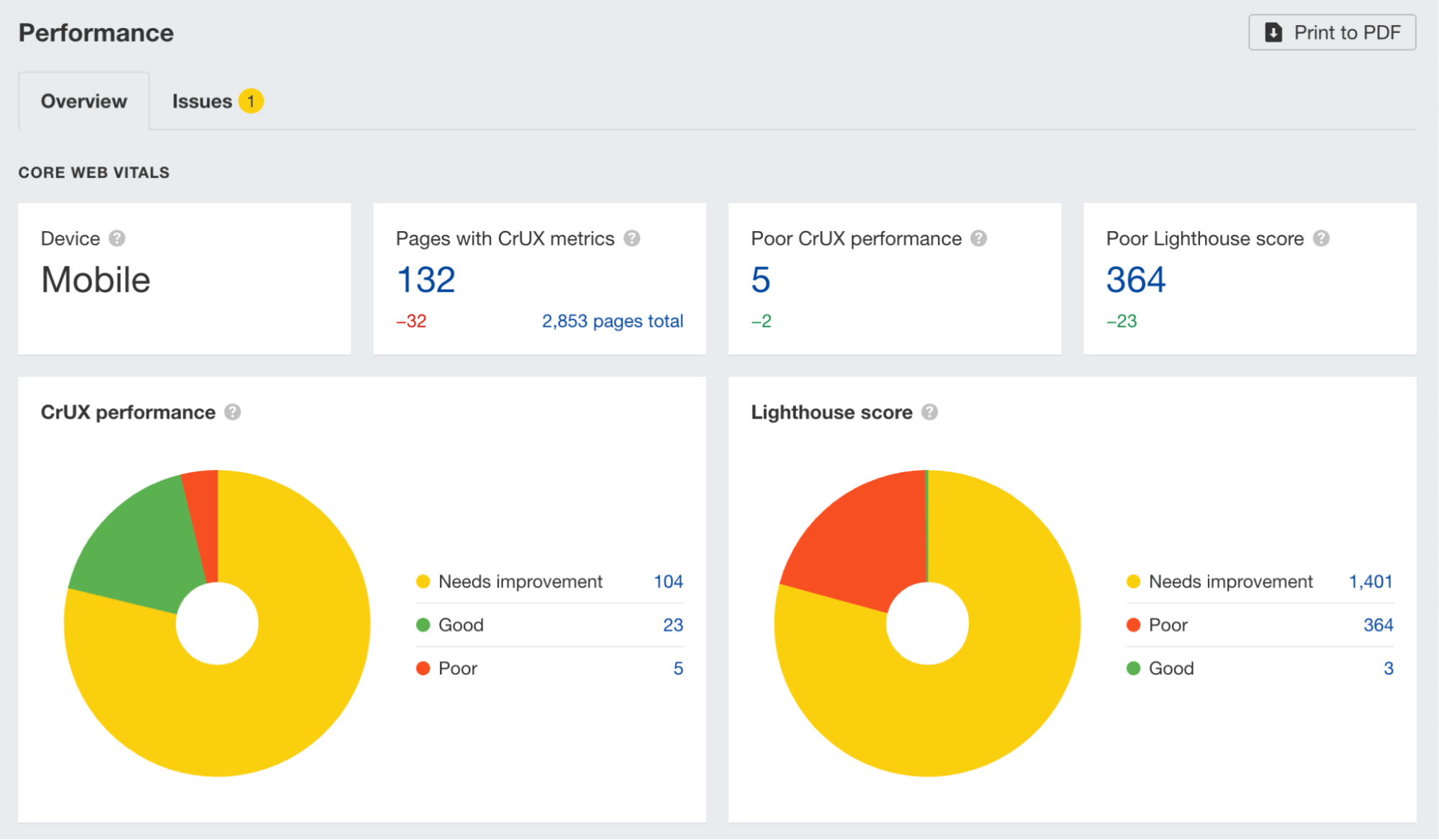 Backlinks are a ranking factor, so it makes sense to combine very similar pages to consolidate authority and create a page with more "ranking power."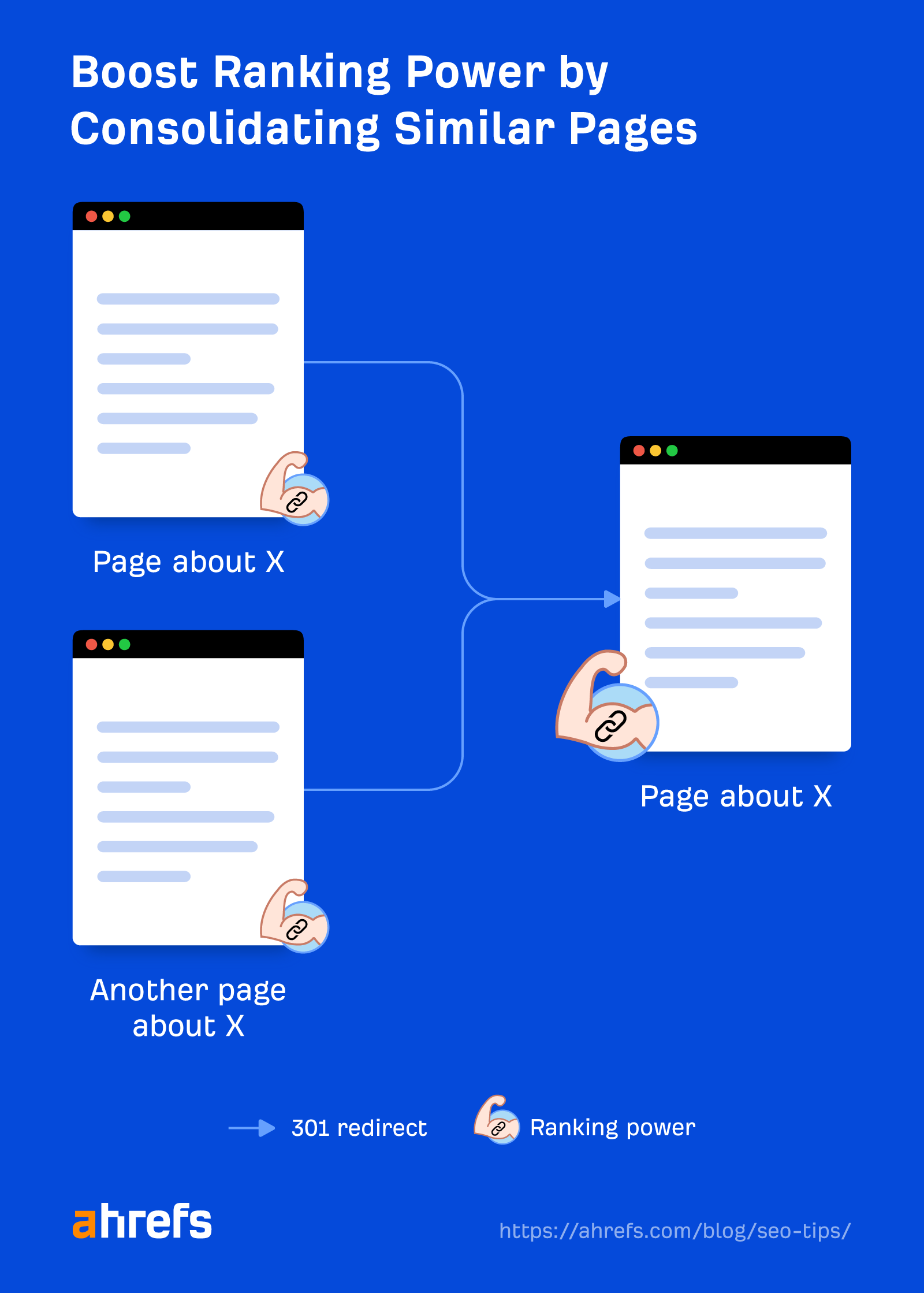 For example, in 2017, we had two similar guides to broken link building that ranked in positions #5 and #6: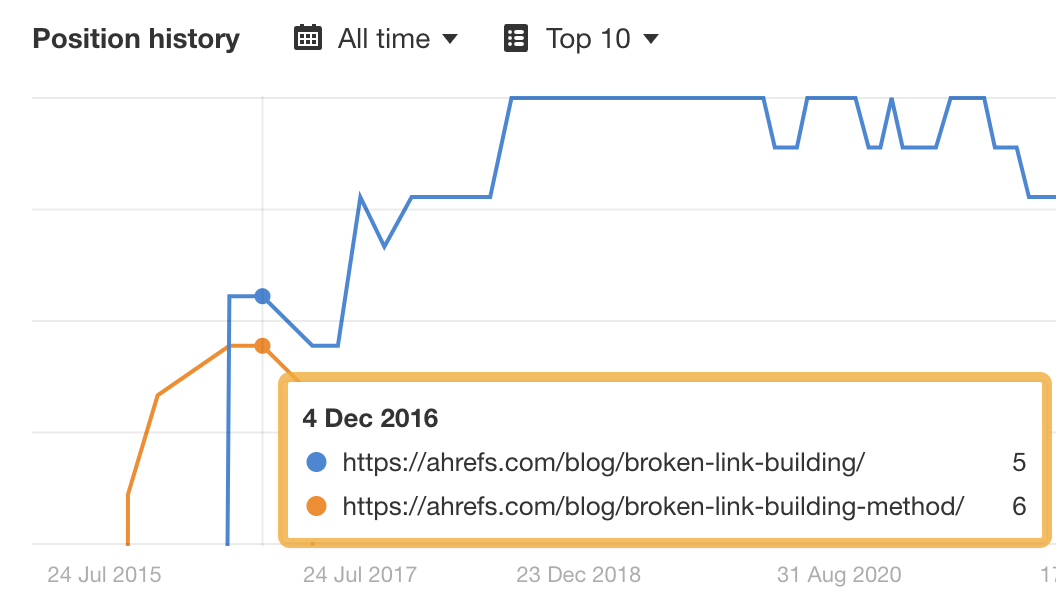 Here's what we did:
Updated the first guide with knowledge from both guides
Redirected the second guide there with a 301 redirect
The page shot to position #1 almost immediately, and it's been in the top three ever since.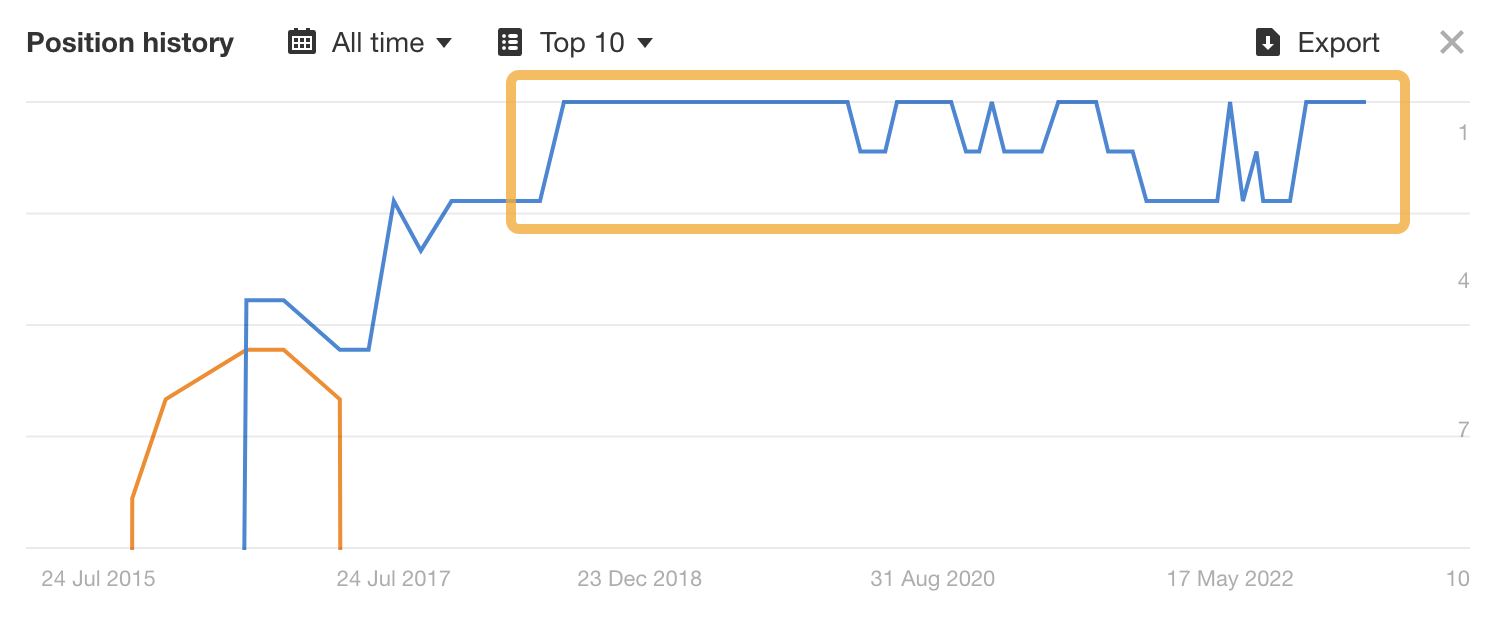 If your content covers more relevant subtopics, it'll likely rank for more keywords and get more traffic.
Here's how to find the best subtopics to cover:
Put your main keyword into Keywords Explorer
Scroll to the SERP overview and select a few top-ranking pages
Click the "Open in" dropdown and select "Content gap"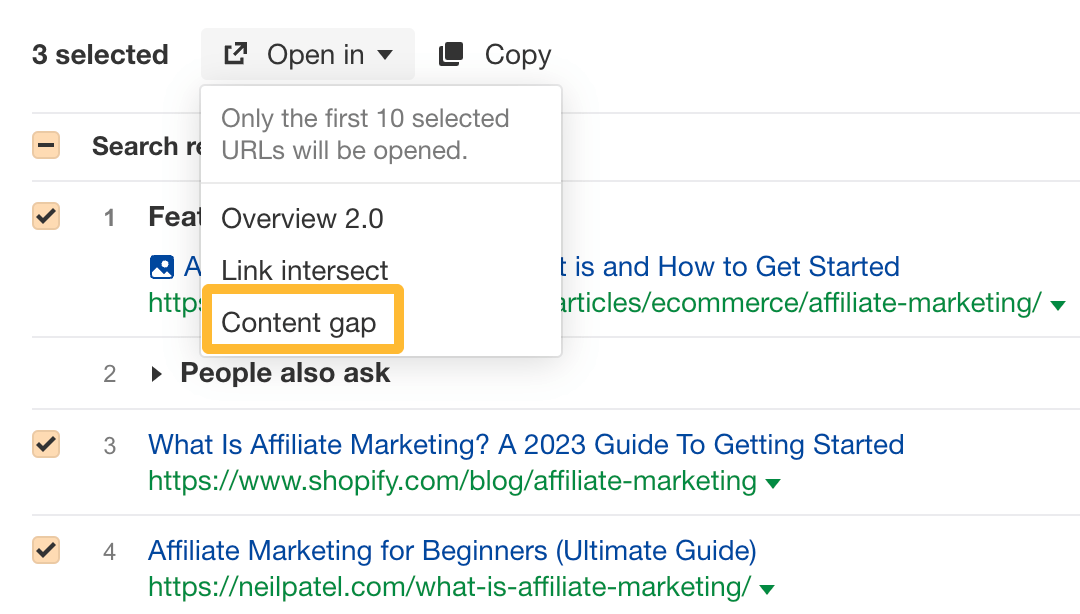 If we do this for the keyword "affiliate marketing," we can see that the top-ranking pages also rank in the top 10 for these:
what is affiliate marketing
how to become an affiliate marketer
how to do affiliate marketing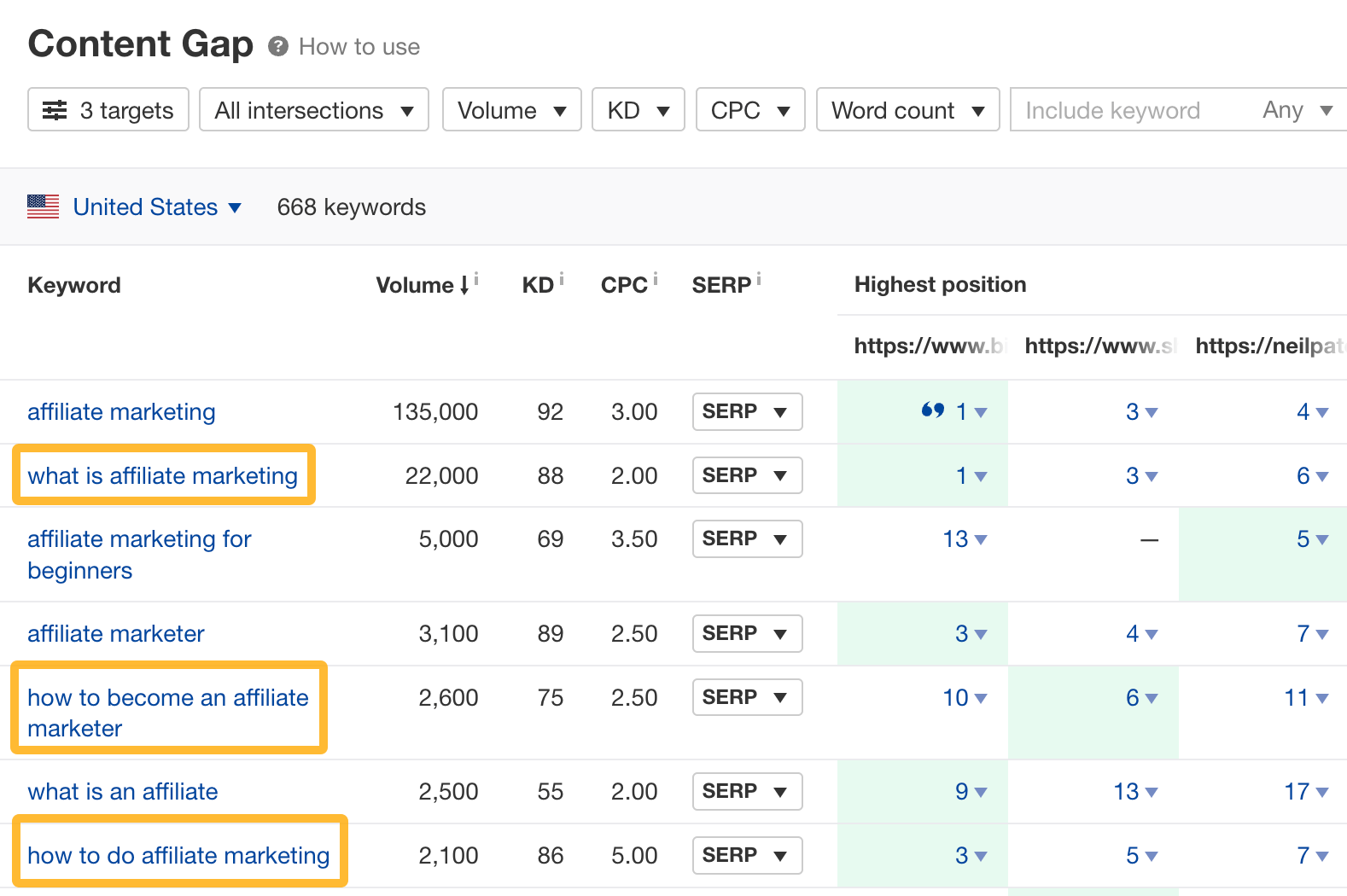 By covering these subtopics in a piece about "affiliate marketing," we can potentially rank for them and get more traffic.
Bloggers and journalists often quote statistics in their content. If you can be the source of these statistics, you can earn backlinks to your website.
Here's how to find statistics keywords to target:
Enter a few broad topics into Keywords Explorer
Go to the Matching terms report 
Add "statistics" to the "Include" filter
For example, there are an estimated 600 monthly searches in the U.S. for "seo statistics":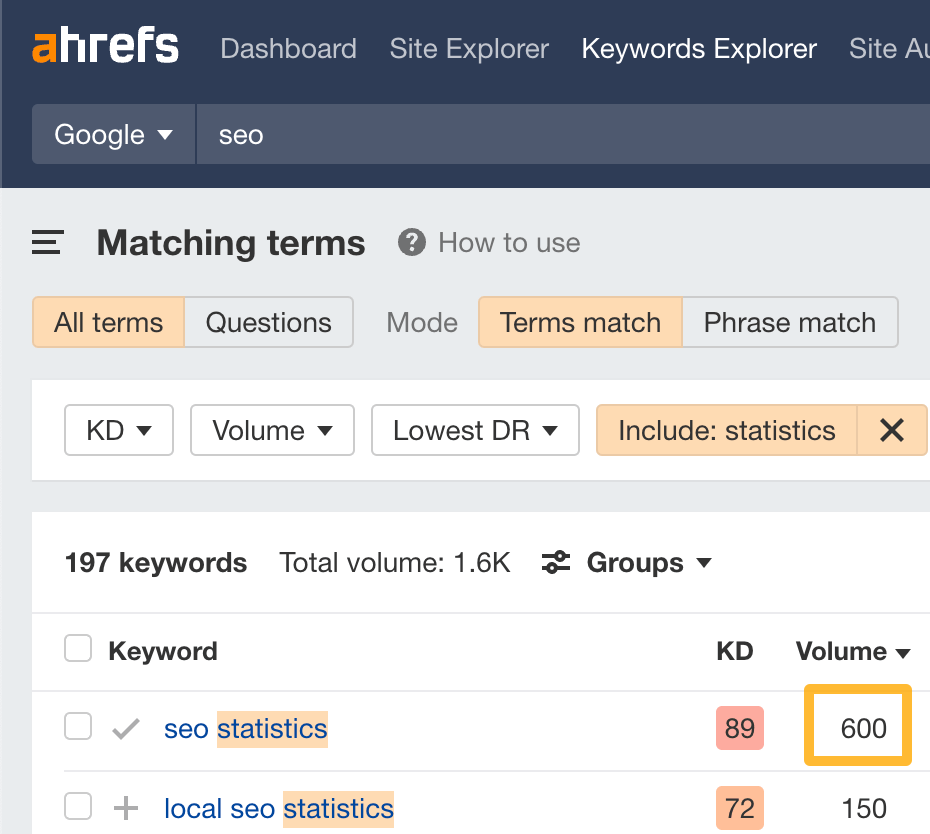 If you were to curate and publish some SEO statistics on a page and rank for this term, chances are that bloggers and journalists would find your page when searching for statistics. They'd also be likely to link to your page as the source.
This is what we did back in 2020. Our page now has backlinks from 1,900 websites.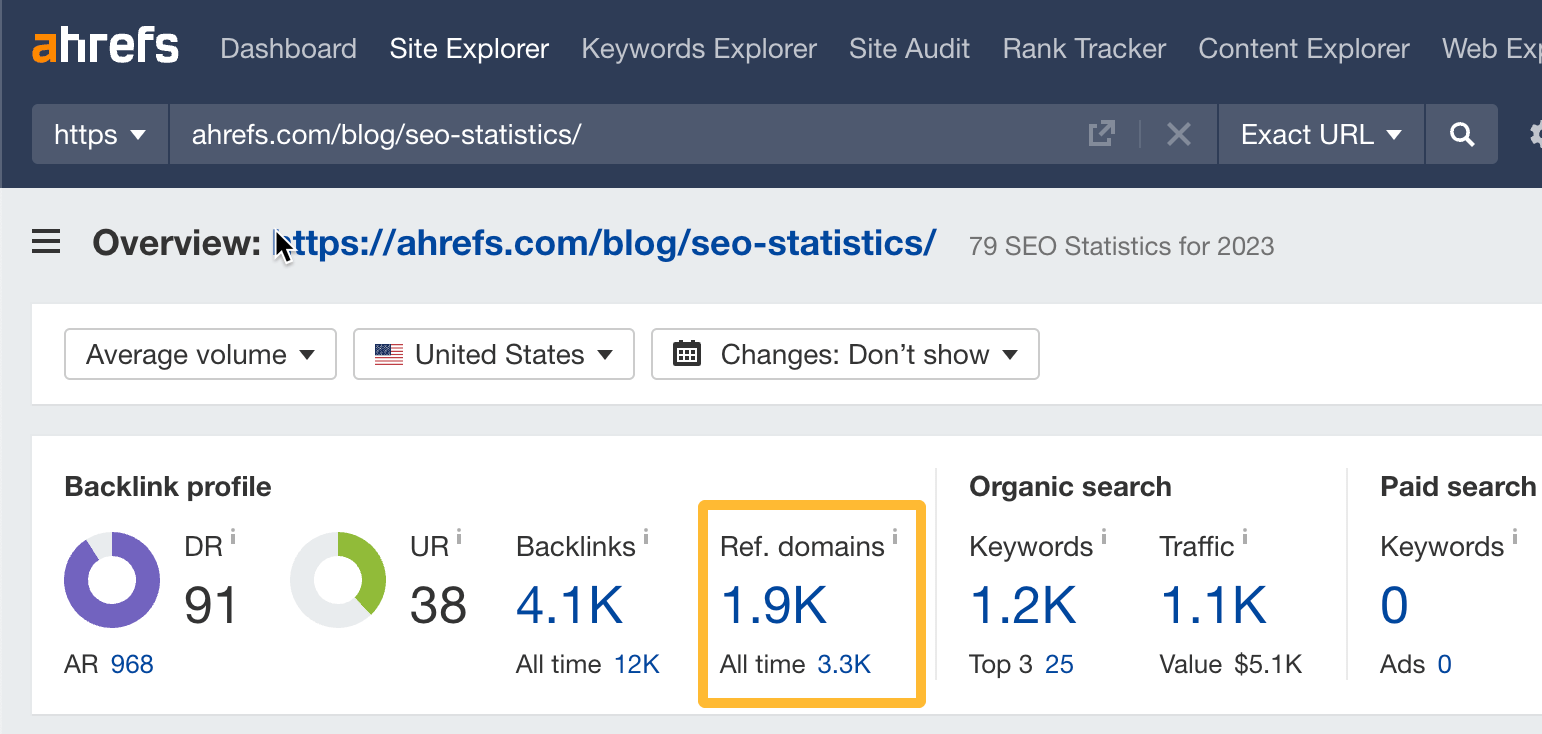 E-E-A-T stands for experience, expertise, authority, and trust. 
It's not a direct ranking factor, but Google says it uses "a variety of signals as a proxy to tell if content seems to match E-E-A-T." 
Backlinks are one of these signals, and including expert quotes may help you get more of them.
For example, here's a backlink we earned to our hreflang tags guide, thanks to quoting John Mueller: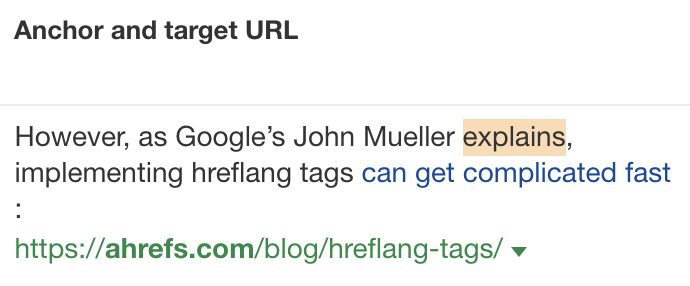 Google says to use words that are relevant to your site's content in your URL. The easiest way to do this is to set the URL slug as your target keyword.
For example, our main keyword for this post is "seo tips," so that's our URL slug:

If your URLs have subfolders, use common sense to keep them short and relevant. 
For example, the target keyword for our backlinks definition is "what are backlinks." But as we already have /seo/glossary/ in the URL, we just used /backlinks/ as the slug because it's clear from the rest of the URL that it's a definition. 

Get more SEO tips
Watch the video below or take our free SEO course for beginners to learn more tips and ideas for ranking higher.