Startups are regarded as some of the best workplaces to work at.
Why?
Small (but incredibly close) teams, working tirelessly to make your idea a reality—the whole shebang. Even the smallest victory makes you feel like a Fortune 500 firm, bringing you one step closer to "making it".
While this may be a somewhat romanticized version of how you got started, here's a reality check:
There's no denying that establishing a business is a one-of-a-kind experience but you've to identify and plan for when it's time to expand.
Scaling your business in the right direction can help prevent the doomsday often observed by small businesses.
Everything in your business must expand for it to thrive. Scaling your sales and marketing will be important if your organization intends to handle an increased and developing load.
This article will take you through actions to better equip the people who drive your company's scalability. So, gear up for some basic yet effective marketing plan for small businesses.
How to Create a Marketing Plan for Your Small Business
1. Perform Thorough Market Research
Most small businesses perform market research before launching their company to identify the scope of their venture. However very few continue the process fervently once the business takes off.
Thorough market research acts as the baseline to make informed decisions about the marketing plans, operations and potential target audience.
When you gather data about the consumer and other companies systematically, you can better understand what that group of potential consumers needs through quick analysis.
Ongoing research can keep you up to date about the industry shifts, latest legislative trends, and ever-changing consumer preferences. This turns out to be a scalable operation as you can shape the efforts and resources whenever the focus needs to be in the present scenario.
Thorough market research can help businesses run more efficiently and market more effectively through two types of data.
Primary: This is the first-hand information you collect yourself. Primary data can also be collected with the help of a market research firm.
Secondary: You can find secondary data through pre-existing information. For example, keeping a tab on relevant data shared in government or industry reports.
2. Allocate Marketing Budget
Ahead of allocating a marketing budget, etch out the total finances available for spending. This will be a critical component in determining the size of your marketing budget. Assigning a proper budget is the initial component of your research for developing a scalable marketing strategy.
Marketing often accounts for 7-10% of a company's total income. If you're a new company or want to focus on rapid expansion, you can invest a higher amount—up to 20%.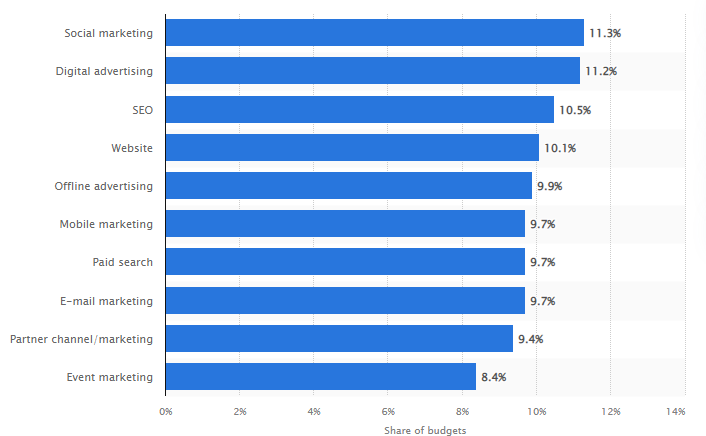 This information can be obtained through a variety of methods, including one-on-one interviews, in-app micro surveys, email questionnaires, customer success teams, and others as observed in the next segment.
3. Carve the User Persona
As you can never completely understand what the customers exactly want, these personas help understand them a little better by building on your research data and passing on that information reliably.
A buyer persona proves to be an ideal way to answer several marketing questions. A few examples include:
What makes your target audience tick?
What is their usual thought process and mindset?
How do they express their opinions?
The result will help you create relatable content that will draw your potential customer's attention and expand the product vertical or services as per their specific needs.
Another advantage of etching out buyer persona is that you can communicate uniform insights to partners, employees and everyone involved in the process. Here's how it makes scalable marketing possible for small businesses.
Your small business is most probably outsourcing tasks such as content creation, and web development. Such external partners need the necessary information to bring forth a goal-oriented and customer-centric asset.
The way you collect data from real customers differs from the big companies as your resources are limited.
Your company's relationship with the customers is more intimate and intricate than large corporations.
4. Identify User Journey Touchpoints
Once you have identified your user's needs and traits through market research and buyer persona, it is only fit to figure out their journey with your small business.
While identifying their journey, look out for essential customer touchpoints. These are your brand's opportunities for customer contact from start to finish of the journey.
In case you are worried about missing touchpoints, try placing yourself in the customer's shoes while strategizing. An omnichannel strategy will help recognise a plethora of ways for the customers to experience your brand.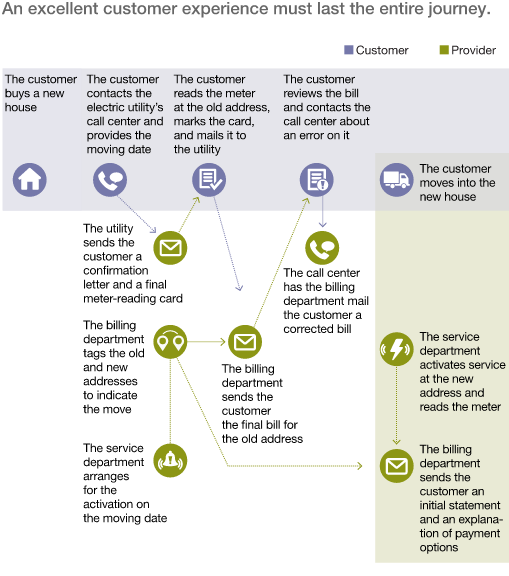 Small businesses with effective omnichannel presence tend to impact major touchpoints resulting in 10% year-over-year growth, a 10% rise in average order value, and a 25% increase in close rates.
5. Optimize the Content Marketing Funnel
A content marketing funnel is a method that converts as many leads as possible into actual consumers who pay for your products or services by guiding them via a step-by-step content flow.
Consider the wide top of a funnel. This is where a huge number of individuals may learn about your products or services. All of these individuals are leads or potential customers.
Many will drop off as they pass through your funnel into the much-tapered neck. Finally, only a small percentage of leads will make it to the bottom of the funnel and become customers.
A scalable content marketing funnel isn't about making a single purchase. An efficient funnel takes your finest clients to replenish the funnel's top. It's a cyclical method that generates goodwill and confidence through time, rather than in linear progression.

6. Build Repeatable Marketing Workflows
Efficiency is the key to scalability. Your firm becomes more lucrative and can uncover new areas for possible expansion and diversification. This leads to meeting greater demand with the same or fewer resources.
Efficiencies, on the other hand, do not appear on their own.
You and your team must construct them using wiser techniques and useful technologies. When done correctly, you may create repeatable marketing workflows to aid in the acquisition, nurturing, qualification, and sales.
Obtaining Leads: Manage all inbound and outbound marketing activities from a single platform to attract and acquire new leads. Marketing automation helps you to boost SEO to attract high-intent visitors, create and optimize landing pages and conversions, and also manage all of your social media efforts.
Nurturing Leads: You can better identify each contact's place in the buying journey and automatically segment them into relevant campaigns with personalized messages. You can continue to track their involvement and easily change your strategy as needed.
Sales Enablement and Lead Qualification: Marketers can use a good scoring system to automate the lead qualification process, improving existing nurturing and providing your sales team with transparent and complete data into contract-specific journeys.
Ready to Scale?
One of the best aspects of creating a scalable marketing plan for your small business is that there is always room for growth. Although your campaigns are automated, you can make regular changes to them.
The magic elixir in this case is testing.
Everything from email subject lines to paid search headlines should be A/B tested and the results should be continuously monitored.
Marketing automation's precise insights into performance can help you understand what's working, what isn't, and how and where you can improve.
Speaking of automation, do include SocialPilot in your marketing mix—a handy tool that will take care of your social media marketing. Use its scheduling posts in advance feature to scheduled reports to save on your time.
Try it for free now!