I think we can all agree that ice cream is great, but it's even better with the right toppings. When it comes to promoting your small business, your marketing plan is the ice cream and your chosen channels are the toppings. Your foundation is great, but you need those layers on top to maximize results.
With the right channels, your marketing plan can look this good!
We'll show you how building your strategy with the right marketing channels is like building the perfect ice cream sundae—trying some of each kind will bring in the sweetest success! Here is how we'll break it down:
Use this post to make picking your marketing channels easier than choosing toppings for a sundae.
What are marketing channels?
Marketing channels are the various places you promote your business and/or communicate with your target audience—both online and offline.
For example, a potential customer could see a print ad and navigate online to learn more. From there, they might search for your business on Google, see a video about your brand on YouTube, or find your business on social media.
That's all part of a multichannel marketing strategy that ensures you catch every potential customer within your sales funnel.
Types of marketing channels
Typically, there are two types of marketing channels most businesses use:
Traditional marketing channels: any channel that's done offline, like TV, radio, and print.
Non-traditional marketing channels: any digital channel that's done online, like search ads, email marketing, and more.
However, these labels can be a bit outdated. They don't accurately reflect the ever-changing marketing space as many channels could now fit into either of these categories. How you choose to organize your different types of marketing channels will depend on what makes the most sense for your business. That said, knowing the difference between these two types of marketing channels can help you ensure you're promoting your business both online and offline.
What is the best marketing channel for your business?
Like with anything in marketing, there is no right or wrong answer when it comes to which channels you choose for your business. The best marketing channels for your business might be different from the channels your competitor is using. Ideally, you'll use as many marketing channels as possible to maximize your chances of interacting with potential buyers throughout their customer journey. Be ready to test various marketing channels and benchmark your progress to find out what mix of channels is right for you.
The top free marketing channels: 
As you plan out your campaigns, these are the marketing channels that should make up the foundation of your strategy since they require little to no marketing budget:
1. Local SEO
This past year, 46% of Google searches had local intent. Plus, searches for "near me" or "close by" have grown by over 900% since 2018. This means that in 2023 and beyond, local SEO will continue to be a game-changer for small businesses.
SEO stands for search engine optimization. In other words, you're working to get your business to show up on search platforms like Google or Microsoft's Bing. Local SEO takes things a step further by optimizing your onsite and offsite content specifically for local searches.
The best part about this marketing channel is that it's completely free. No cost means no reason to not have local SEO as a part of your marketing plan!
Quick tips for local SEO:
Optimize your website. Page load time factors into your SEO ranking. You can check your site's speed by running page speed tests. Plus, 55% of people use a mobile device to search for local businesses, so you'll want to cater to your local mobile audience by making your website easy to navigate on a small screen.
Prioritize the user experience. Understanding what your local audience will want once they arrive to your website will help you stay one step ahead of any deterrents.
Identify the right local keywords to focus on. Finding out how local customers are searching is a key step to local SEO success. If you're struggling to know which keywords to use, our resources on keyword research can help!
An example of finding keywords to fold into your SEO strategy.
2. Local listings and online reputation management
Today, 93% of people read online reviews before making a purchasing decision. What's even better is that people are now willing to pay 22% more for a product or service if the company has a good online reputation.
Achieving that stellar online reputation in 2023 all comes down to managing your local listings. Your local listings not only show up on the specific listings' sites—like Yelp, Google Maps, and CitySearch—but they can also help you to show up in search engines.
Plus, listings like the Google Business Profile allow customers to find vital information about your business. For example, your business description, contact hours, or address can all be found in one spot.
What's even better is that local listings are a completely free way to promote your brand.
Tips to elevate your local listings: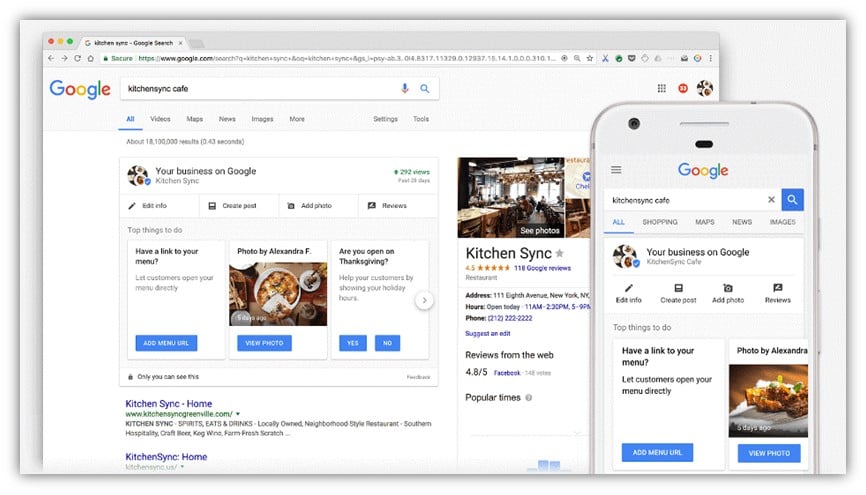 3. Organic social media marketing
This year, social media marketing is a must-have marketing channel. That's because there are now 3.7 billion active monthly social media users worldwide, and the average US adult currently spends over two hours per day on social media.
Some examples of popular social media platforms you can promote your brand on are:
Within the social media channel, you have two options: organic, or unpaid, social media marketing and social media advertising.
Your organic social media marketing strategy relies on engaging your audience and building a community. Plus, with those numbers and options to choose from, you're sure to catch your ideal audience on social media this year. To do so, establish social media marketing goals.
Preplan what you'll post (plus where you'll post it) and how you'll track success. Using a social media scheduling tool or leveraging a marketing partner can help you with this.
Tips for your organic social posts:
Use engaging media. Consumers prefer digesting videos and images over just plain text.
Leverage your followers for content. To drive engagement, call out your followers by running contests to have their posts featured on your page.
Try hashtags. Hashtags help your organic posts get found and add creative flair.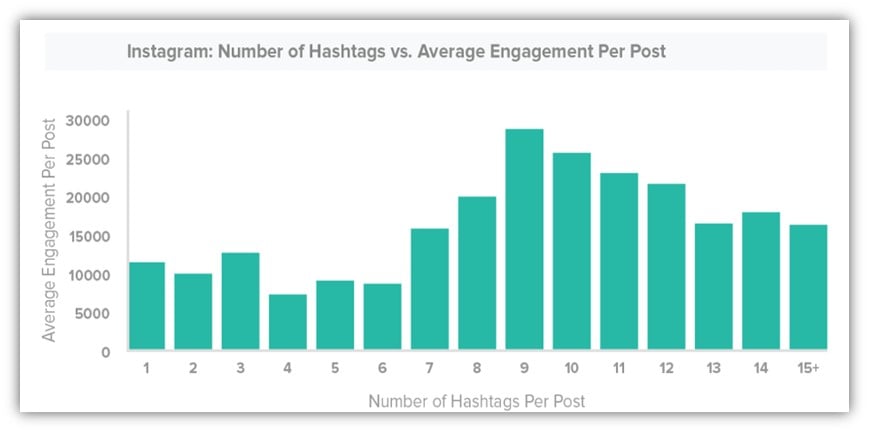 4. Word-of-mouth marketing
Word-of-mouth marketing can be just as effective as other free marketing channels, like online reviews and local listings, since 84% of people weigh online reviews the same as they would a word-of-mouth recommendation from friends or family. This means that word-of-mouth marketing is a highly trusted channel for customers to learn more about your business.
Word-of-mouth marketing tips:
Run a referral program. A referral program motivates your loyal customers to spread the word about your business.
Prioritize customer service. Ensure that every customer has a smooth, seamless experience with your business. When you offer a good quality customer service experience, your customers will be 38% more likely to recommend your business to others. Additionally, 72% of customers will share a positive experience with six or more people. Focusing on your customer service will maximize your chances of gaining more word-of-mouth marketing.
5. Networking and partnerships
The connections you build throughout your career can turn into mutually beneficial partnerships. When you network with other small businesses and local organizations, you're opening up opportunities for people to learn more about you and your business. This could lead to partnerships with other business owners or organizations where you could cross-promote one another's offerings. Networking also allows you to share marketing ideas and source inspiration for new campaigns based on what your connections are doing.
Networking tips:
Keep an open mind. If a business unrelated to your industry is interested in connecting with you, don't immediately turn down the opportunity to network. Instead, see how your offerings could complement one another. You might uncover more opportunities to reach one another's customer base.
Practice active outreach. Try to keep a running list of potential businesses or contacts you'd like to connect with. That way, you can draft tailored networking emails, call scripts, or direct messages to increase your chances of building a meaningful relationship with them.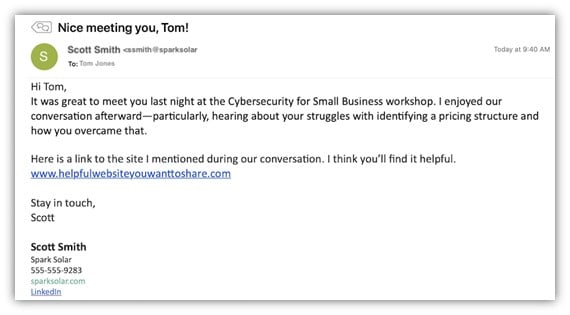 6. Event marketing
Whether you're running your own events, or joining in on community and industry events, event marketing provides countless ways to grow your business with any budget. Both in-person and virtual events can help you get more leads. In fact, 79% of U.S. businesses use event marketing as a lead-generation tactic.
Event marketing tips:
Promote your events on social media. Social media is a great place to raise awareness and attendance for any events you host or participate in. Some platforms, like Facebook, even give you the option to create an event page or event countdown that you can invite users to opt into. Start your social media promotions ahead of the event to create buzz, then take lots of photos and videos during the event to share out after.
Try participating in varying capacities. Different approaches to event marketing will bring you different results. For example, you could try sponsoring or volunteering at a community event, and measure that against hosting your own event.
Track everything you can. Hosting or participating in events can be a whirlwind, so tracking can easily get pushed to the back burner. However, it's crucial to have a way to measure the success of your event. Be sure you're able to track how many people registered or attended your event, and how many may have interacted with your business. Look out for any increases in leads during or after the event, too.
The top paid marketing channels
Although the following marketing channels will require you to spend a bit of your budget, the marketing ROI can be well worth it for your business!
7. Social media advertising
The beauty of social media is that you can market your business for free or decide to put a bit of budget towards paid social ads.
Paid social ads help you to show up in your follower's feeds more efficiently, and even reach folks who may not be following you yet.
You don't need a monster budget to get started with social advertising. For example, you can start by putting a few dollars behind an organic post you already created—which will "boost" or "promote" it.
Tips for your paid social content:
Have a clear and unique call to action. With so many social ads getting thrown at your viewers, being clear on what you want them to do when they see your ad will help you stand out.
Be sparing with your text. You're putting money towards a post that's working with limited space in social feeds. Don't let your text get cut off by keeping your points clear and concise.
Refresh ads often. Social media is now a quite saturated space, give your audience something fresh to look out for every once in a while by swapping out your images and ad copy.
An example of a small business's paid social ad on LinkedIn. 
8. Search advertising
Today, 97% of consumers search online for local businesses, and a local PPC strategy is a great way to guarantee your business will show high in search results when they do.
PPC, or pay per click, ads (also known as search engine marketing, SEM, paid search, and more) show up above organic results on the search engine results page for searches related to your business—making local PPC the perfect marketing channel to complement your local SEO efforts.
Quick PPC tips:
Find a reporting method that works for you. With so many PPC metrics that can clue you on performance, finding a tool to understand your account's data is crucial. There are plenty of free, online options like Google Analytics or Google Data Studio.
Leverage automation when you can. Automation has been on the rise in PPC platforms, you can use this to create smart ads or smart campaigns that do a lot of the build-out and optimization work for you.
Be patient! The hardest part of running ads is being patient. All ads go through a "learning period" as platforms test them out to different queries. This can last up to two weeks, or even a whole month, at minimum. However, if you treat PPC as a time investment, you'll be sure to see stellar results by the end of 2023.
An example of search ads on the search results page
9. Display ads
Along with paid search, one of the other main forms of PPC ads is display ads. Display ads are images or videos that show to your audience passively as they browse websites. Display's outlook for 2023 and beyond looks very promising, as it has grown to take up over 21% of global advertising in 2022.
To start, you can place an image ad on a relevant website that your audience may frequent, or have your video ad play alongside content on YouTube. This helps you tap into your audience even when they might not necessarily be searching for you.
In fact, running display and search ads together works like a charm. Your display ads can spark awareness—triggering your audience to look for your search ads on the SERP later. You can even measure the effectiveness of display and search together through a metric called view-through conversions. (Find out more marketing metrics you need to know and track here!)
Tips for display ad:
Get creative with your targeting. Display ads have a plethora of audience targeting options, like remarketing to your website viewers or showing to folks of certain interests or lifestyles. You can have fun by imagining what your ideal customer's daily life is like and choosing your targeting based on that.
Leverage unique placements. With display, you can show across apps, selected websites, and more. Be sure to choose a variety of placements across devices to maximize your results.
Start small, then go big! Display historically has a cheaper cost-per-click than other channels. This gives you the chance to start off with a small budget while you test what works, then build up from there.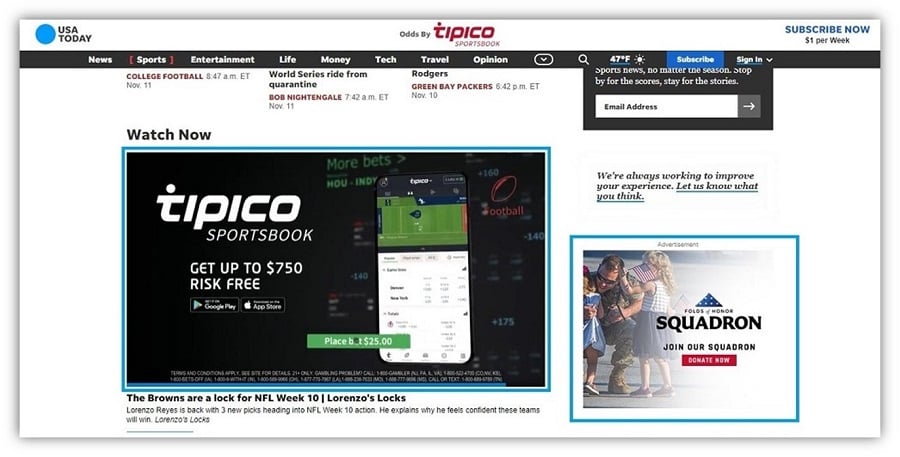 An example of display ads shown on a news site.
10. OTT ads
This hot marketing channel is sure to be a hit in 2023 since OTT (over-the-top) streaming has increased by 115% in 2021 compared to previous years. In contrast to display and search ads, OTT ads use different pathways to show paid video ads.
With OTT your video ads could appear on apps like Hulu, Google Play, and more.
OTT ads instill brand awareness and spark searches for your business later which can result in conversions. Plus, OTT helps you reach beyond the SERP or social media to find people you may have otherwise missed.
OTT tips:
Know your audience. Identify the personas you're trying to target with your video ads and be sure to focus your ads on what would appeal to them.
Market with emotion. Think about what your target audience might react to best—whether that be a funny skit, a heartfelt moment, or a suspenseful action scene.
Run tests. Frequently testing your video ads to see what your viewers are the most receptive to is your best bet for finding your OTT "secret sauce."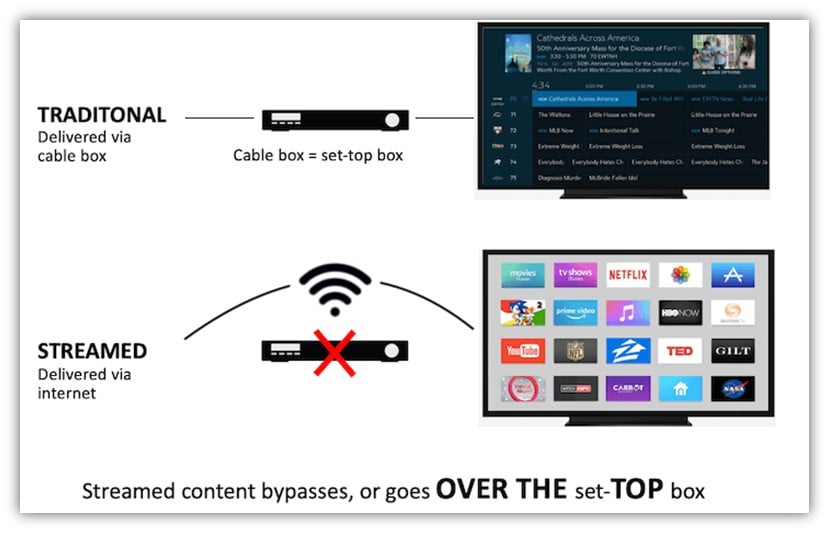 11. Affiliate marketing
With affiliate marketing, you're letting someone else do the hard work of selling your product or offering. Essentially, you offer a financial incentive for a third-party seller to promote your business for you. For example, if a customer purchases your product or service through an affiliate link, that affiliate would earn a commission. This can be an especially powerful marketing channel for businesses that don't yet have a lot of reach or brand awareness. Instead, you're leveraging the credibility and resources your affiliate has to help grow your business.
Affiliate marketing tips: 
Run a SWOT analysis. A SWOT analysis requires you to evaluate your business's strengths, weaknesses, opportunities, and threats. With this exercise, you can find out where your business may be lacking, and find an affiliate that fills that gap.
Create a checklist to quickly vet potential affiliates. A strong affiliate has a clear online presence that matches or complements your brand. For example, you may want to consider the following factors when choosing an affiliate:

Do they already have a platform, such as a blog or a website, with

 

quality content?
Are they authentic when

 

communicating

 

with audience members online?
Is their

 

online presence

 

professional, and does it align with your brand position?
Do they have a large or

 

engaged social media following?
Is the affiliate ranking high for keywords connected to your products or services?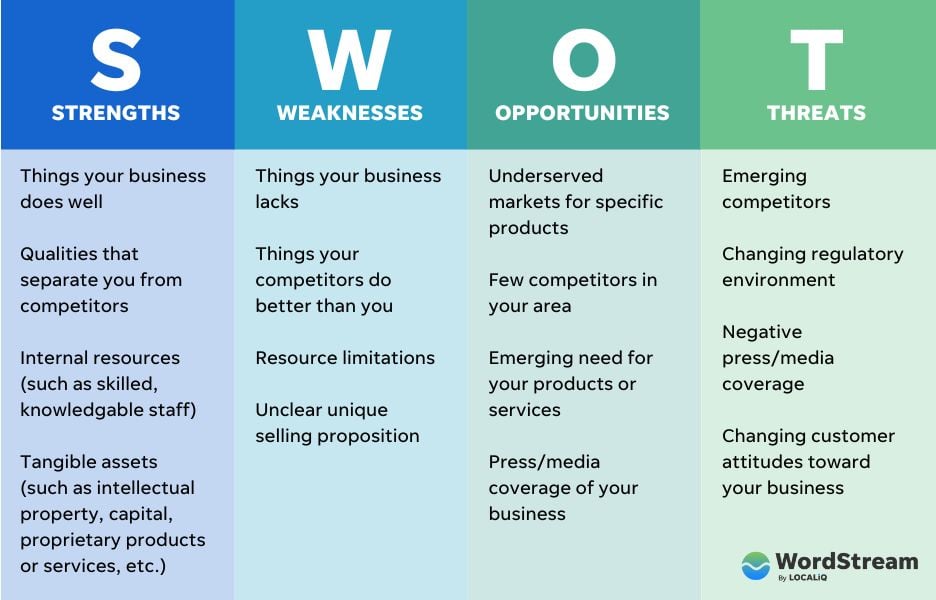 12. Influencer marketing
Although influencer marketing has been around for a couple of years now, it won't be going away any time soon. In fact, 49% of consumers depend on influencer recommendations from social media.
When you leverage influencer marketing, you're tapping into someone's larger following by having them recommend you on their social pages or blog sites.
Most businesses tend to shy away from influencer marketing because they picture a celebrity with millions of followers charging them hundreds of thousands of dollars per post. On the contrary, using micro-influencers that have a lower price per post and a niche following can bring just as effective, if not better, results.
Influencer marketing tips:
Scout out an array of potential micro-influencers. You may need to reach out to a few accounts before you score a solid partnership. To start, find micro-influencers that fall in line with your industry and have like-minded customers within your target audience following them.
Draft your pitches ahead of time. To save time, draft up a few different pitches for when you direct message or email micro-influencers. If one pitch doesn't work, you'll have another on hand to try instead.
Brainstorm content ideas. Your micro-influencers will be relieved to know you already have a caption, image, or video script in mind. That way, you can control the quality of their shoutout while also saving them time.
Even more marketing channels to try
Think of these next few marketing channels as a "choose your own adventure challenge." You could try any of these channels with little to no budget, or put more money towards them depending on your business's unique needs.
13. Email marketing
In 2023 and beyond, email as a marketing channel will continue to be a major revenue driver for small businesses. That's because, back in 2021, there were over 4 billion daily email users, and 64% of small businesses already use email marketing to reach customers. Those numbers have only continued to climb since then. So you won't want to miss out on the benefits email marketing can bring to your business in the coming year.
Email marketing tips:
Keep your email subject lines concise. When crafting your email copy, be sure to keep your subject lines short and eye-catching.
Remember the purpose of each email. You'll also want to have a goal in mind for each email you send to make it clear to your recipients you want them to complete a specific action.
Automate when you can. If you don't have the time to collect emails and send them out manually, you can use online tools to help you pre-plan your email marketing campaigns. That way, you can set up your email marketing to run consistently on the back burner while you focus on other marketing channels.
14. Mobile marketing
Mobile marketing is a must-have marketing channel for any business because of the sheer numbers behind mobile usage. Check out these mobile marketing statistics:
By 2023, the number of smartphone users worldwide is projected to reach 4.3 billion.
Clicks coming from mobile devices cost 24% less than those coming from desktop experience.
70% of smartphone users have made a purchase after using their phone to discover information.
To try out mobile marketing, you'll first want to ensure you have an easy-to-navigate, responsive website that is mobile-friendly. From there, the mobile world is your oyster as you connect with your audience in a trendy new way!
Mobile marketing tips:
Try geofencing. Geofencing allows you to target mobile-specific ads to people within a selected location—ensuring you only spend when it counts.
Make sure your website copy is concise. Aside from checking your website's technical compatibility with mobile devices, you'll also want to remember your audience is working with a smaller screen when writing your web content.
Run SMS campaigns. 64% of consumers think companies who text value their time, are progressive, and would recommend them. Encourage your customers to sign up for texts to get exclusive information from your business.
15. Audio and podcast marketing
Nearly 60% of people agree audio is more engaging than other forms of content. Don't just get eyes on your content, get ears on them too. The emergence of audio across marketing channels in recent years has brought to light the endless audio capabilities businesses now have.
For example, 55% of the U.S. population aged 12 and above listen to podcasts. There is a podcast for just about every niche market out there, so see if you can place an ad for your business on a popular, fitting podcast. Or, start your own podcast to build your brand's community!
Another way audio has crept into the marketing world is through social media. Many platforms now offer ways to foster communities through virtual chat rooms with designated speakers and listeners. For example, Twitter introduced Twitter Spaces as well as voice tweets. With Twitter Spaces, folks can listen and chat with others about hot topics. Voice tweets are audio clips followers can playback.
By using these platforms, you can discuss your brand while also connecting with your audience.
Audio marketing tips:
Write scripts. There's nothing wrong with preplanning what you will say in your audio content. Writing a script or even loose notes ahead of time can save you from slip-ups if your audio content is being recorded live.
Promote your audio clips on other marketing channels. What's audio content without listeners? Be sure to draw attention to your audio marketing so people know to keep an ear out for it.
Practice makes perfect. If your audio efforts don't take off right away, don't give up! Keep practicing and putting out audio content, as it will take time to build up a loyal listener base.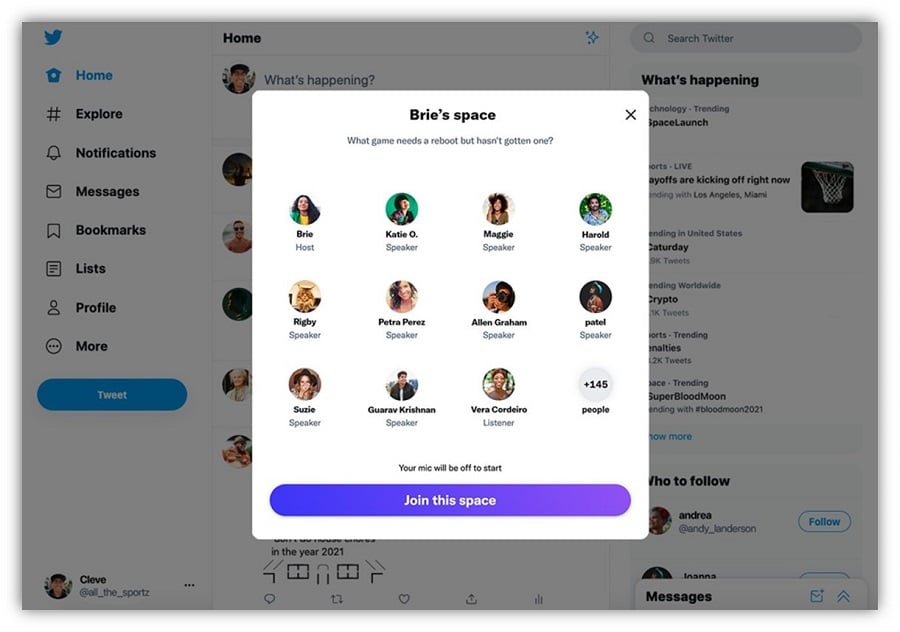 16. Artificial Intelligence
The forecasted AI growth rate between 2020 and 2027 is 33.2%. Talk about a trendy marketing channel!
A plethora of AI marketing capabilities has become accessible to all businesses just this past year. AI (artificial intelligence) in marketing uses machine learning based on large sets of data to do tasks for us like:
Content creation and curation
Product or search recommendations
Ad targeting
Website chatbots
Marketing automation
And much more!
Trying AI marketing in 2023 could help your business stand out by conveniently connecting with your customers from the comfort of their own homes (or wherever they may be in the world).
AI marketing tips:
Try rolling out VR experiences. For example, you can use AI to create VR (virtual reality) ads that might let them try on clothing items, view a venue, or take a test drive completely virtually.
Use AI as a time-saving tool. Using AI for tactics like data collection and analysis will take tasks off your plate.
Proceed with caution. AI is constantly changing. To avoid any glitches, don't implement any strategies you haven't yet tested or gotten comfortable with first.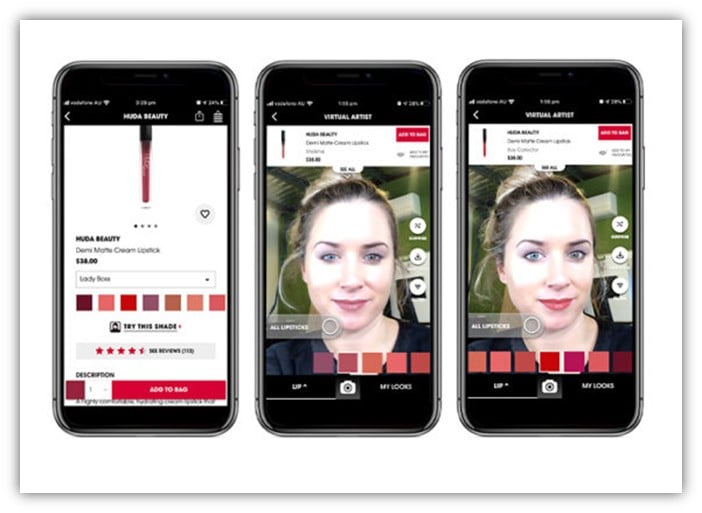 17. Marketing with website chat
92% of customers feel satisfied with their experience after using live chat, so don't miss out on this easy website win this year! Adding live chat can work as a bonus marketing channel because it can make suggestions to customers. For example, your chatbot could promote a new product or offer users an exclusive deal.
Live chat tips:
Provide options. Be sure your prompts not only include marketing mentions but also have plenty of options for the various needs your web visitors may have.
Personalize your bot. Adding a bit of personality to your live chat experience will make your customers' chat more enjoyable.
Run quality checks early on. Be sure to run tests and check that all of your chat's responses make sense before a customer gets caught up in a nonsensical chat.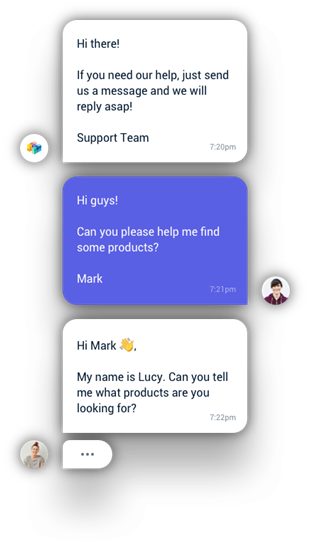 18. Print advertising
Although print advertising is a bit more of an "old-school" marketing channel, it's still a lucrative strategy for many businesses. Print advertising includes tactics like direct mail, advertisements in publications such as newspapers or magazines, flyers, and more.
Print advertising tips:
Solidify your creative strategy. Print advertising is all about the visuals you create to pop on your viewer's page. Plus, your print ad may end up in various different placements, so you'll need imagery that can flex to many different sizes.
Source print advertising inspiration from your competitors. Print advertising may feel a bit different from the digital marketing channels you may be used to doing. To get a feel for what's going on in your print advertising market, check out some print ad examples to see what strategies might be most effective for your business.
19. TV and radio
We can't do a marketing channels roundup without a nod to traditional marketing channels like TV and radio. While digital marketing channels should primarily be your focus, TV and radio can help supplement any other online and offline promotions you may be running.
Tips for TV, radio, and similar traditional marketing channels:
Use your OTT ads as material for TV ads. Since TV commercials and OTT ads are so similar, you can knock out two marketing channels at once if you use the same video ads across both platforms.
Remember the rule of seven. A common mistake with traditional marketing channels is worrying that you'll overtire your audience. It's been proven that people need to see or hear something at least seven times in order to recall it later. Try running your traditional marketing channels for a longer period of time than you might with other channels so you can ensure you're promoting your business as much as possible.
Start off on the right foot with the right marketing channels
Make this year your year to thrive. With so many easy marketing channels to choose from, there's no reason not to! To recap, here are our top recommended marketing channels for small businesses:
Local SEO
Local listings and online reputation management
Organic social media marketing
Word-of-mouth marketing
Networking and partnerships
Event marketing
Social media advertising
Search advertising
Display ads
OTT ads
Affiliate marketing
Influencer marketing
Email marketing
Mobile marketing
Audio and podcast marketing
Artificial intelligence
Marketing with website chat
Print advertising
TV and radio