We all know that link building is a crucial part of any SEO campaign. But to be successful, it is all about quality over quantity.
This is where the process of link prospecting comes in. Finding and evaluating the quality of a potential site is essential for link building success. In this article, we will look at how to do link prospecting in five easy steps. 
Link prospecting is the process of finding and evaluating potential sites to acquire links from. 
This means identifying potential sites depending on the type of link building strategy you are using, checking the quality of that site, and finding the appropriate people to reach out to as part of your outreach campaign.
Link prospecting is the essential first step to building a solid link strategy. Without it, every other aspect will likely fall to pieces. 
Link prospecting helps you identify sites to acquire links from and, more importantly, helps you identify sites to avoid. 
With Google making it a priority to "neutralize the impact of unnatural links on search results," the last thing you want is to intentionally attract any kind of link spam to your site. 
Of course, every website can naturally pick up some spam links. Coupon sites and auto-generated blogs are just some undesirable sites that can link to yours. 
However, link prospecting allows you to ensure every link you build is intentional and adds value, improving your site's relevance and authority in the eyes of search engines. 
Now we know what link prospecting is and why it is important, we need to know how to actually do it. There are five key steps to link prospecting, so let's take a look at those in more detail.
Step 1. Consider your link building strategy
The types of link prospects you need to acquire and the methods you use to find them will heavily depend on the tactics you intend to use.
The best link acquisition tactics to use include:
It's important to establish a clear strategy regarding which tactic you will use. If you are going to use multiple tactics, you will need certain prospects for each type of campaign you intend to do. 
For example, if you want to try guest blogging, you need to identify relevant sites in your niche that meet your evaluation criteria and are open to publishing content from guest authors. 
Whereas if you want to run a skyscraper campaign, this will involve analyses of your competitors. 
Step 2. Identify your evaluation criteria
You also need to establish your evaluation criteria. What makes this site a good prospect? There are certain metrics that are good for weeding out potentially poor prospects, including:
Relevance: This will depend on your business, goals, and your link building efforts. There are two types of relevance: topical and geographical.
If you want to acquire links to build perceived authority with search engines, you will need links from a site with high topical relevance. 
Whereas, if you are looking to improve your local SEO and get business from local customers, you will want to build geographically relevant links from sites like other local businesses or news outlets, for example. 
Domain Rating: The DR of a website is a good indicator of how strong its backlink profile is, as well as how much link equity can be passed to your site. 
Organic traffic: How much organic traffic a website gets each month can indicate the quality of the site and that the backlink profile has not been manipulated in any way. For example, a site might have a super high DR with zero traffic, which would be one to avoid. 
You can check these metrics of any site by plugging it into Ahrefs' Site Explorer to get a quick overview.
Step 3. Find relevant and high-quality link prospects
Now that you have a clear link building strategy and evaluation criteria, it's time to start finding relevant and high-quality link prospects. 
You can use several different methods to do this, and we will look at my four favorite ones in more detail.
Finding prospects through competitor analysis
Using competitor analysis is one of the quickest ways to find quality link prospects. 
Why? Assuming your competitors have already evaluated the quality of these sites, the qualification process is likely to be much faster. And since those sites have already linked to your competitors, there is a probability that they will link to yours too. 
Are your competitors mainly guest blogging? Using niche edits or HARO link building? These insights can help you replicate your competitors' link building efforts and even the playing field on the search engine results pages (SERPs). 
You can check out your competitors' links in a couple of different ways. 
You can start by identifying your competitors with the Organic competitors report in Site Explorer.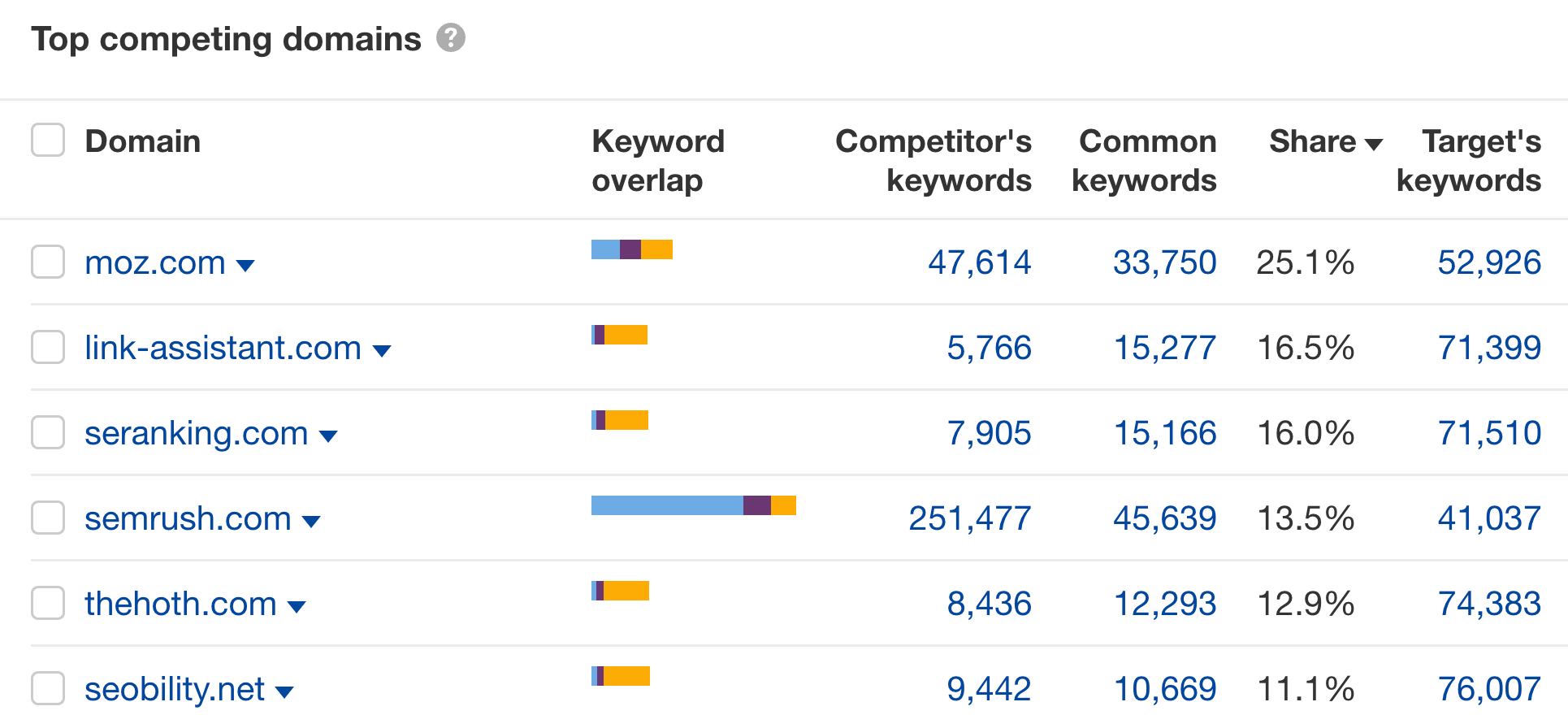 Next, select your most important competitors and use the "Open in Link Intersect" option.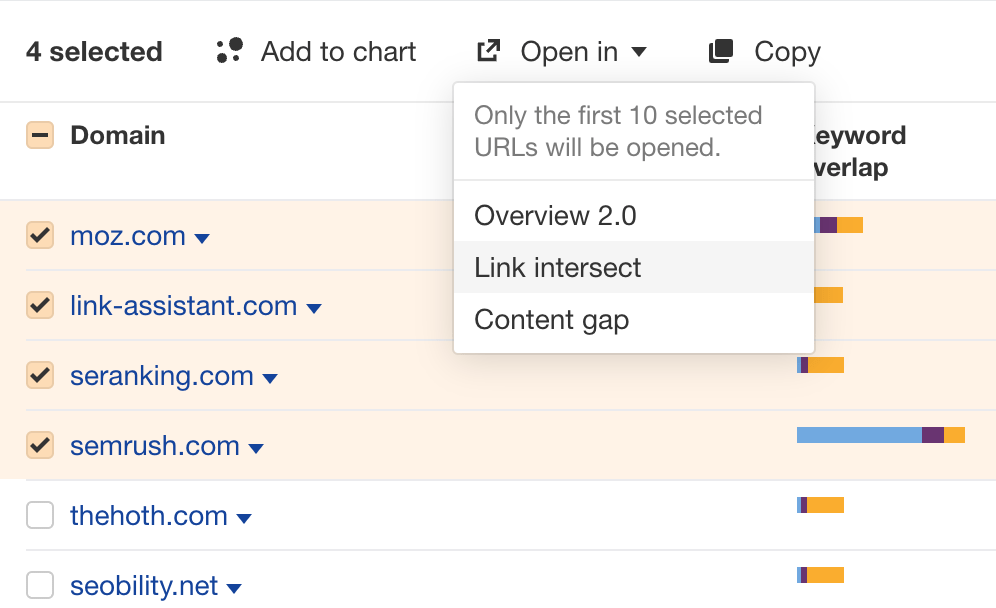 This will give you all of the referring domains your competitors have and show how many different competitors have links from those sites.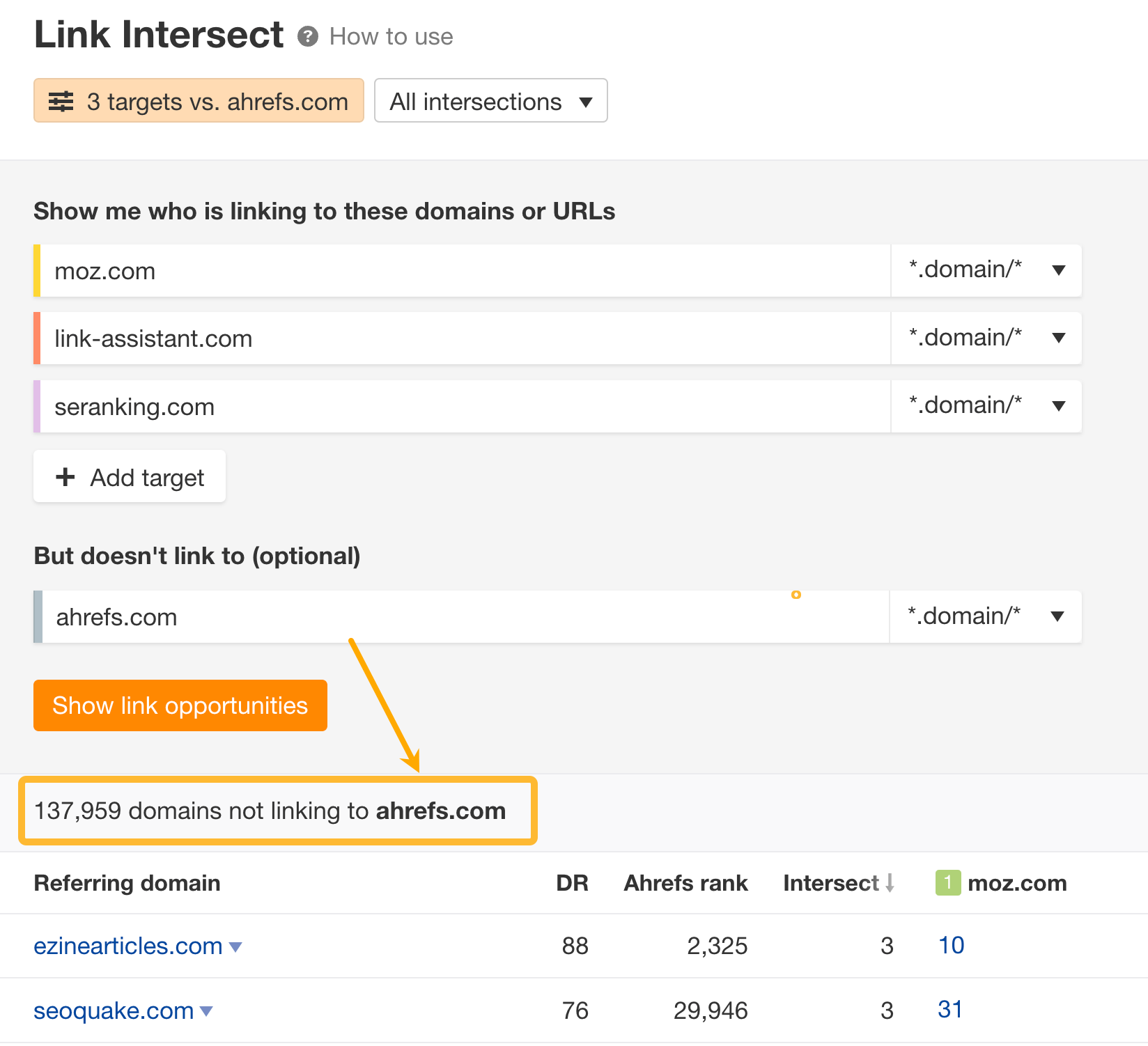 If you want to analyze the types of links your competitors are acquiring and which kind of content is being linked to, you can put a competitor's URL into Site Explorer and view the Best by links report. 
Not only can you see the content driving links to the site, but you can also see which websites are linking to those pages. This works great for building skyscrapers and linkable asset campaigns, especially if you are figuring out what type of content to build the campaign around. 
Plus, you can filter the results to meet your evaluation criteria.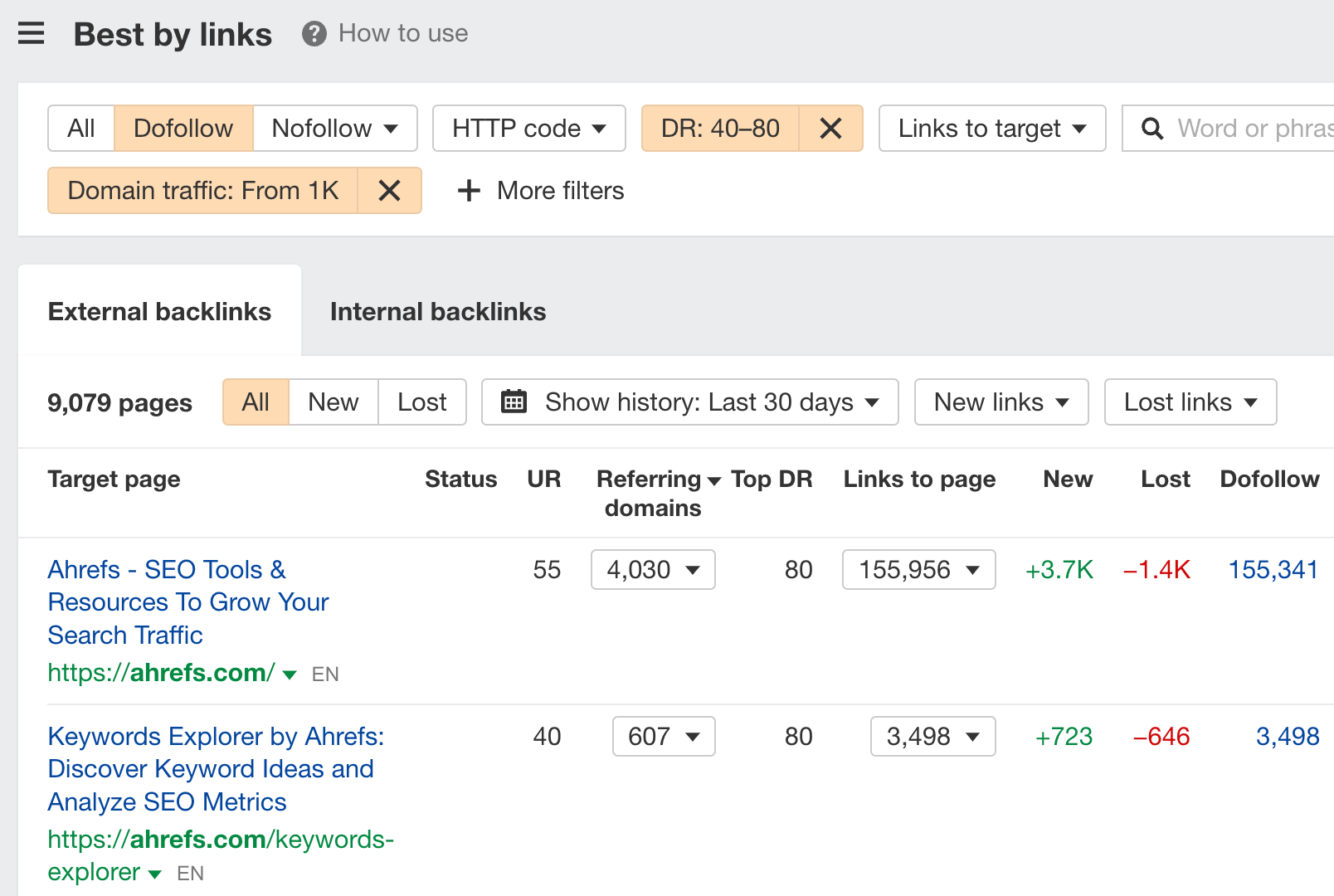 Another way to use competitor analysis (focusing on the Skyscraper Technique as an example) is to put the keyword for your intended skyscraper post into Ahrefs' Keywords Explorer. 
Using the SERP overview, you can see competing articles on the SERP, as well as the backlinks for each of those articles.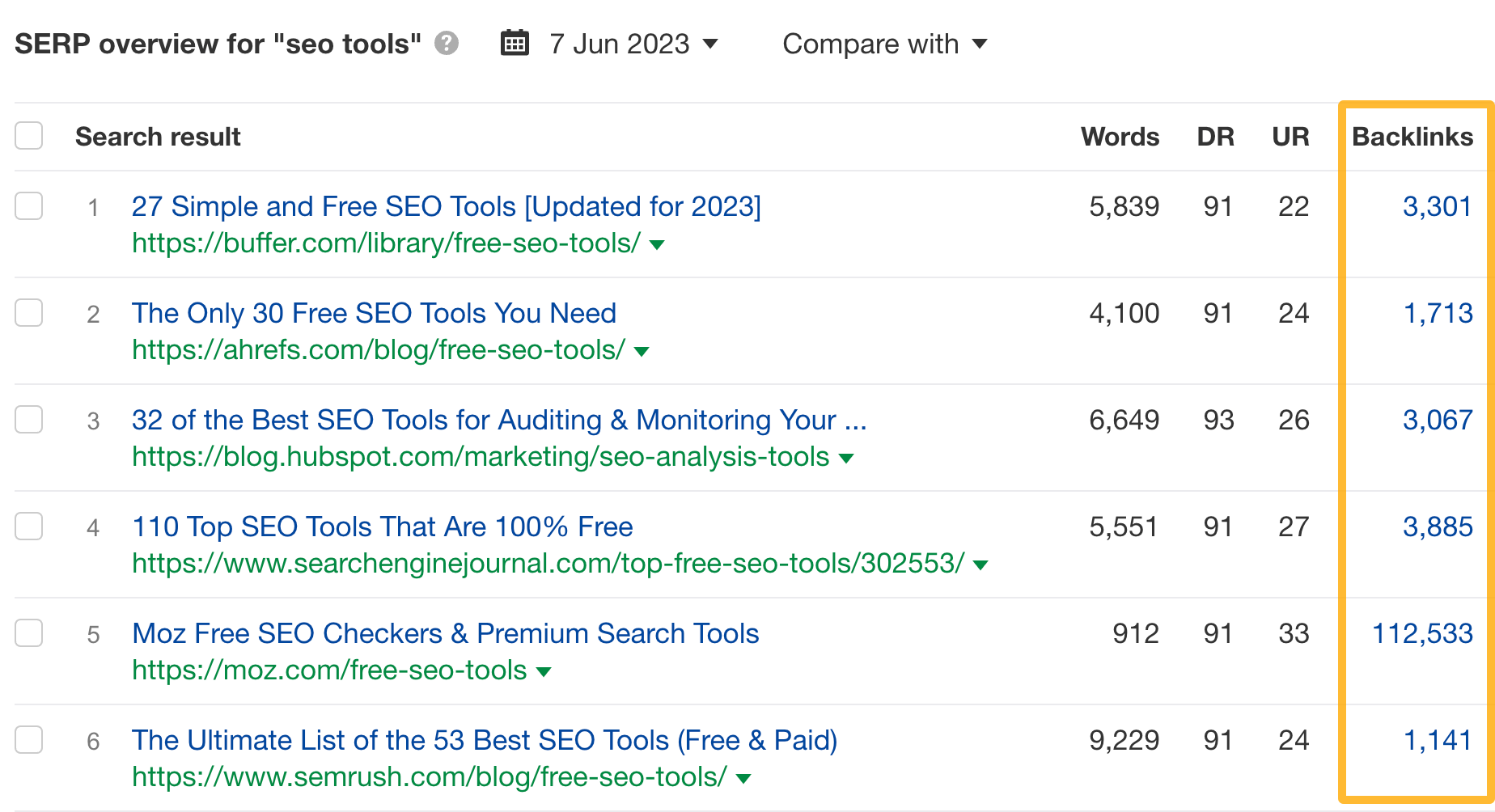 By clicking on the number of backlinks for a result, you will be taken to the Backlinks report for that page. You can filter the results to meet your evaluation criteria and simply export the list.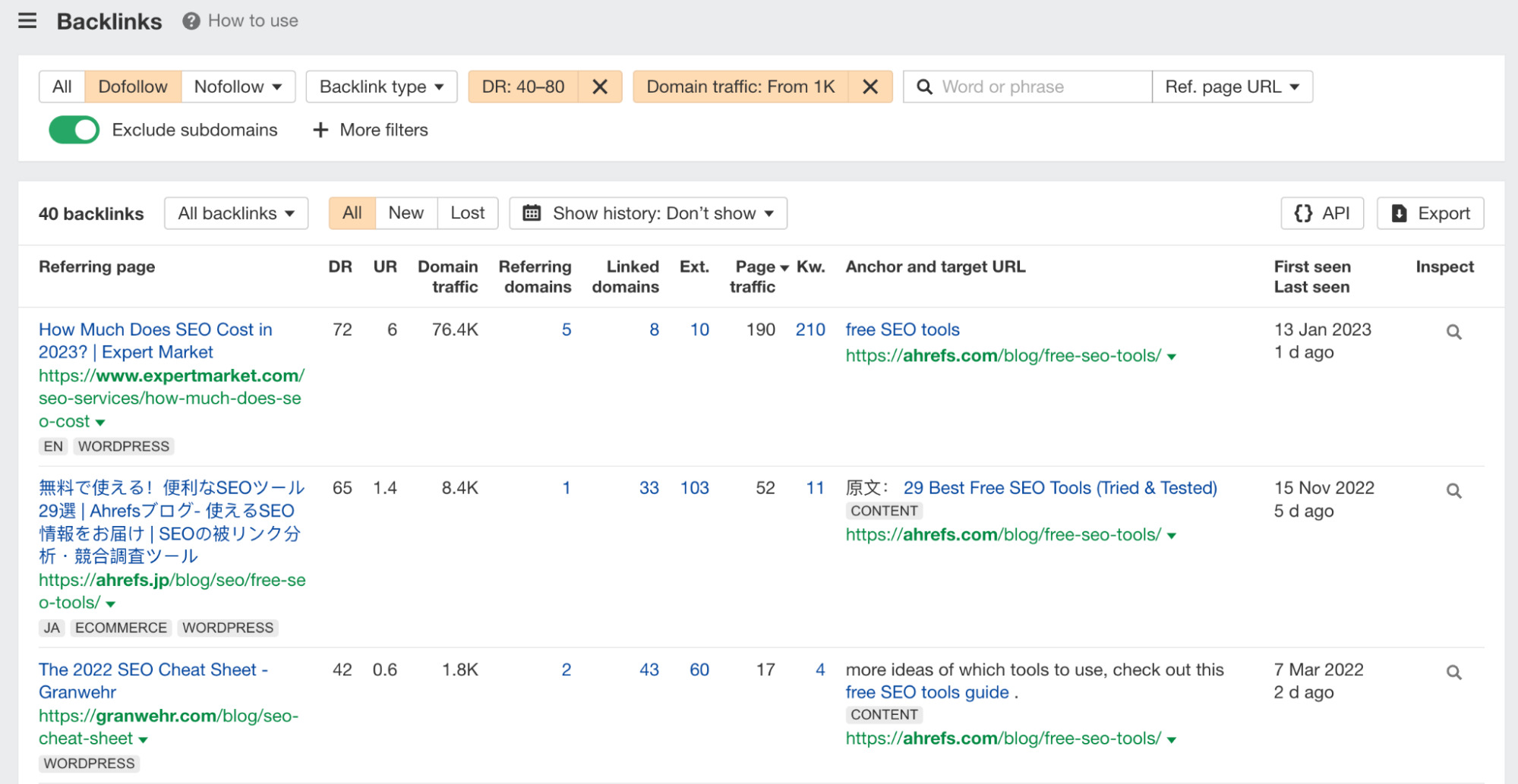 Finding prospects with Google and search operators
One of the easiest ways to find link prospects is to use Google with the help of some advanced search operators. Use terms that are relevant to your business or niche and add modifiers like "guest post" or "write for us" to narrow down the results.
Plus, if you use Ahrefs' SEO Toolbar, you can see important site metrics like DR right in the search results, helping you narrow down prospects even faster. 
There are many search operators you can use to help you build a comprehensive prospect list. As an example, let's look at some search operators you can use if you are finding prospects for guest blogging:
"Contribute"
"Guest blogging spot"
"Guest contributor"
inurl:guest*author
inurl:guest*blogger
"guest blogger" + inanchor:contact
"guest article" + inanchor:contact
Here's an example of one of these in use: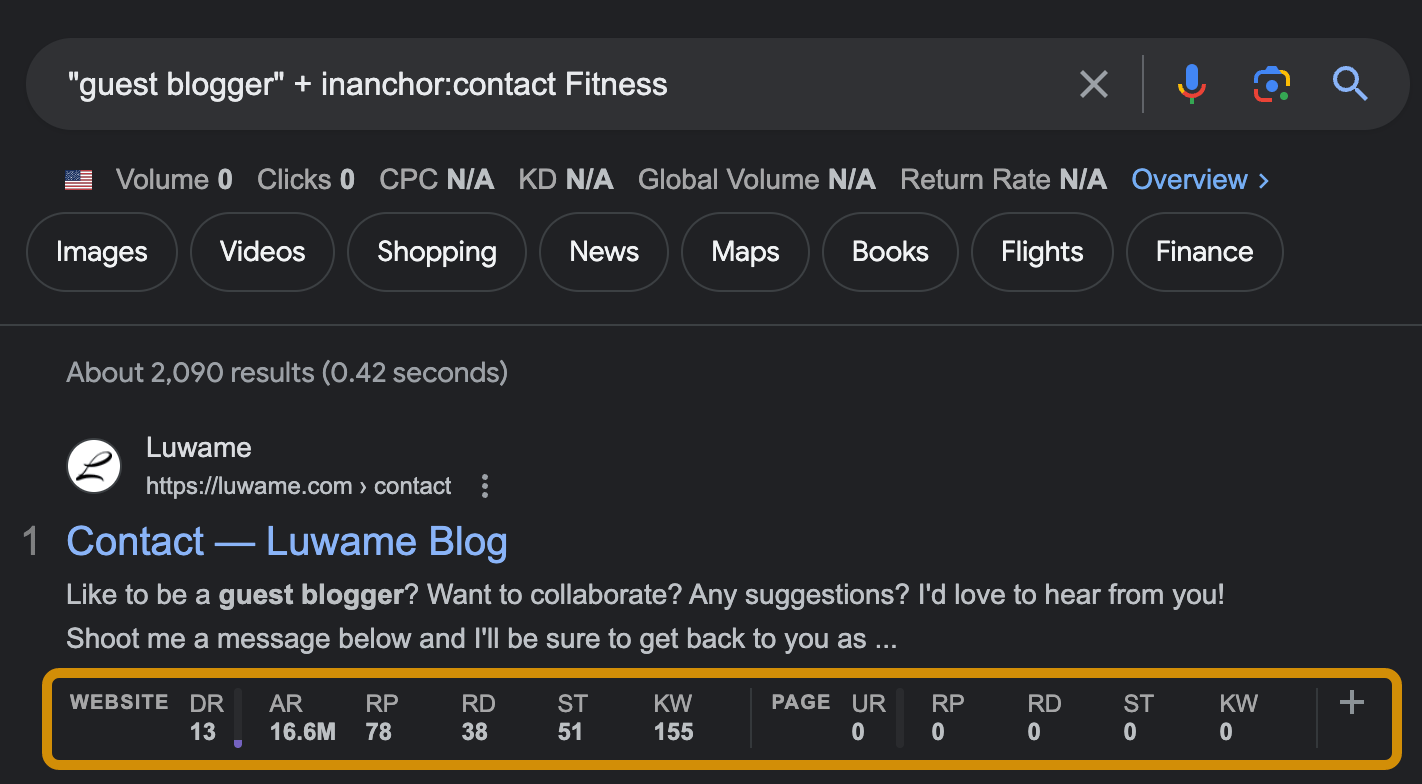 Using appropriate search operators, you can build a list of prospects into a spreadsheet. You can even automate the process with this free tool from LinkPitch.

Finding prospects with Content Explorer
Another great way of finding link prospects is by using Ahrefs' Content Explorer. It allows you to find content on relevant topics.
This particular method for finding link prospects is great because it works for a number of different link building tactics. 
First, using the "Pages" tab can help you find relevant content for potential niche edits. Also, if you visit the page and use Ahrefs' SEO Toolbar, you can easily find invalid links for broken link building.
Moreover, with the "Authors" tab, you can find relevant authors and influencers to reach out to when starting a digital PR campaign.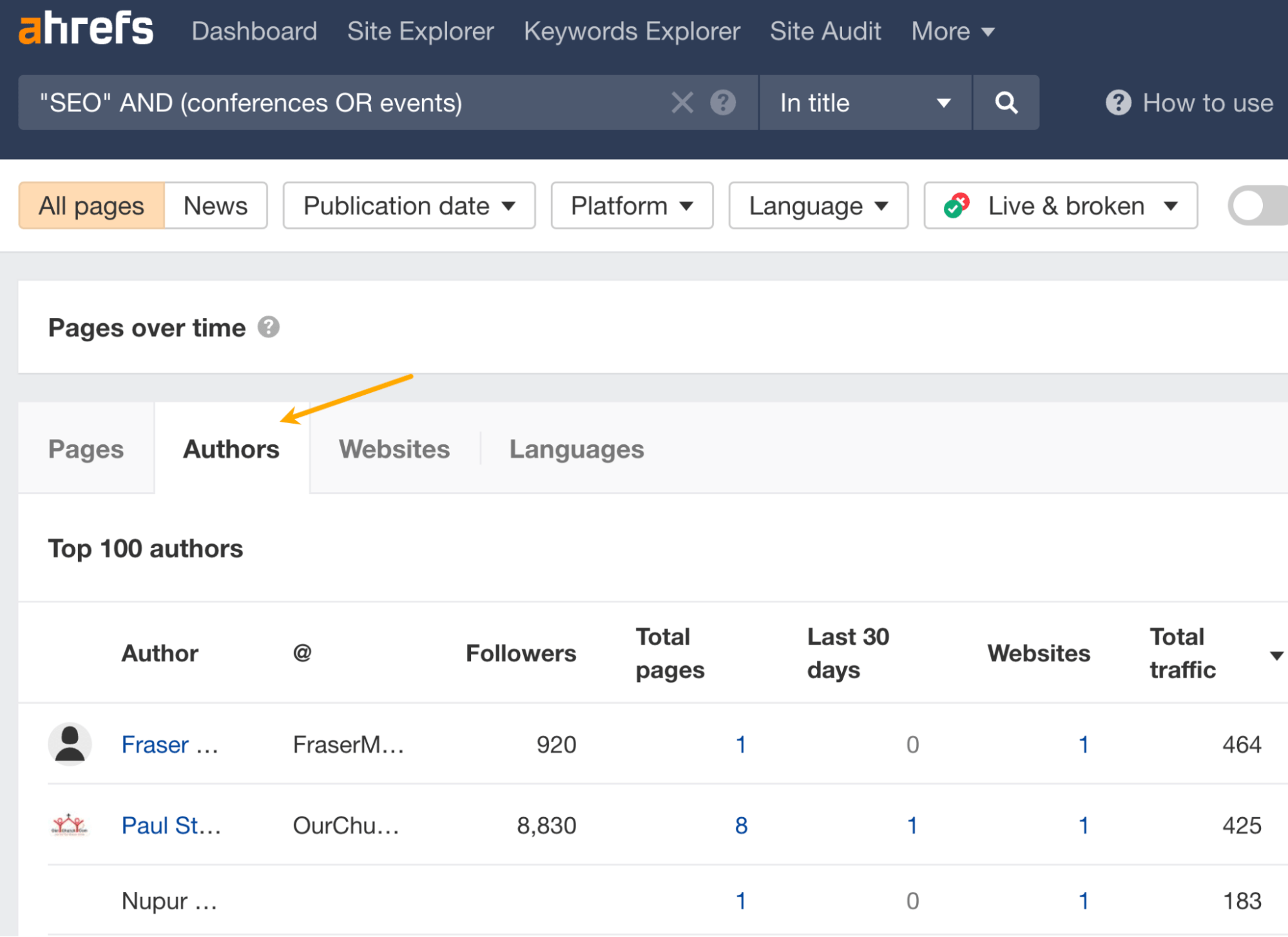 The best thing about using Content Explorer for link prospecting is that you can use advanced filters to ensure prospects meet your evaluation criteria. You can choose to show pages or websites within a certain DR range, with a specific website traffic or traffic value.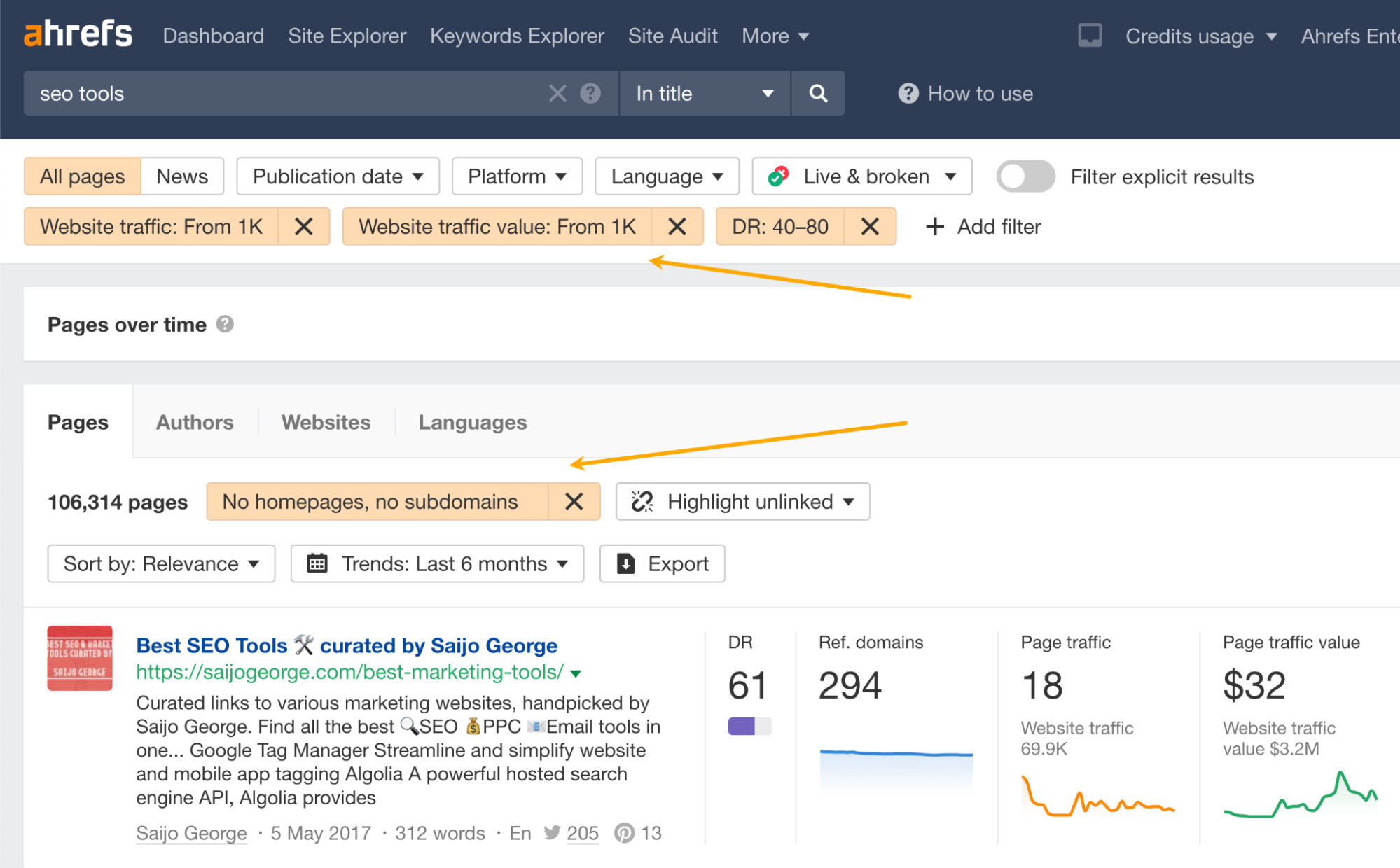 Plus, once your filters are applied, you can simply export the results into a spreadsheet. 
Finding prospects with Web Explorer
Ahrefs' new Web Explorer tool is a game changer for link building and is perfect for link prospecting. 
The tool allows you to do a number of different things that make finding link prospects quick and easy. For example, you can find pages that are getting backlinks with specific keywords in the anchor text or topic-specific blogs that accept guest posts.
My personal favorite (as someone who does a lot of digital PR) is the fact you can find pages with unlinked brand mentions. You can simply export the results and reach out to a site, requesting it to add a link because it's already mentioned your site!

Pro Tip
You can further expand your list of prospects by finding their "lookalikes." See this video tutorial for more details: 
Step 4. Analyze and evaluate link prospects for quality and relevance
Once you have gathered a list of potential link prospects, it's time to evaluate them and prioritize the best ones. If you've been following your evaluation criteria, this should be a reasonably straightforward process.
Remember that we are looking initially at the evaluation criteria of relevance, Domain Rating, organic traffic, and traffic value.
Here are the metrics I tend to aim for:
Relevance: Either niche relevant or relevant to my target audience, depending on the campaign
Domain Rating: DR 40–80
Organic traffic: 1000+ per month
Traffic value: $1000+
These are the metrics I work with initially to qualify sites in the first overview stage. 
However, it is important to note that you should be wary of metrics and not use them as your only way to determine the quality of a site. Many authority metrics can be manipulated, so it is always advisable to check each site to do your best and avoid spam.
Remember that although buying links is against Google's guidelines, it has become a common practice in our industry. Many website owners know the potential to earn money from link placements. 
For less experienced site owners who aren't as adept at spotting spammy sites, there lies a great opportunity to throw up any old site designed solely to sell links. It's in the interest of a site like this to manipulate metrics and look more authoritative than it is. 
Here are some things to look for when spotting a spammy website:
Little and/or poor-quality content
Poor website design
More display ads than content
No "about" or "author" pages
Individual posts without specific authors listed (attributed to "Editorial team," for example)
Individual posts with lots of outbound links
Here's an example of a site meeting all of the evaluation criteria we've talked about:

However, when you visit the site, you can see it is poorly designed with a mass of poor-quality content. And for the most part, there are more display ads on the screen than actual content.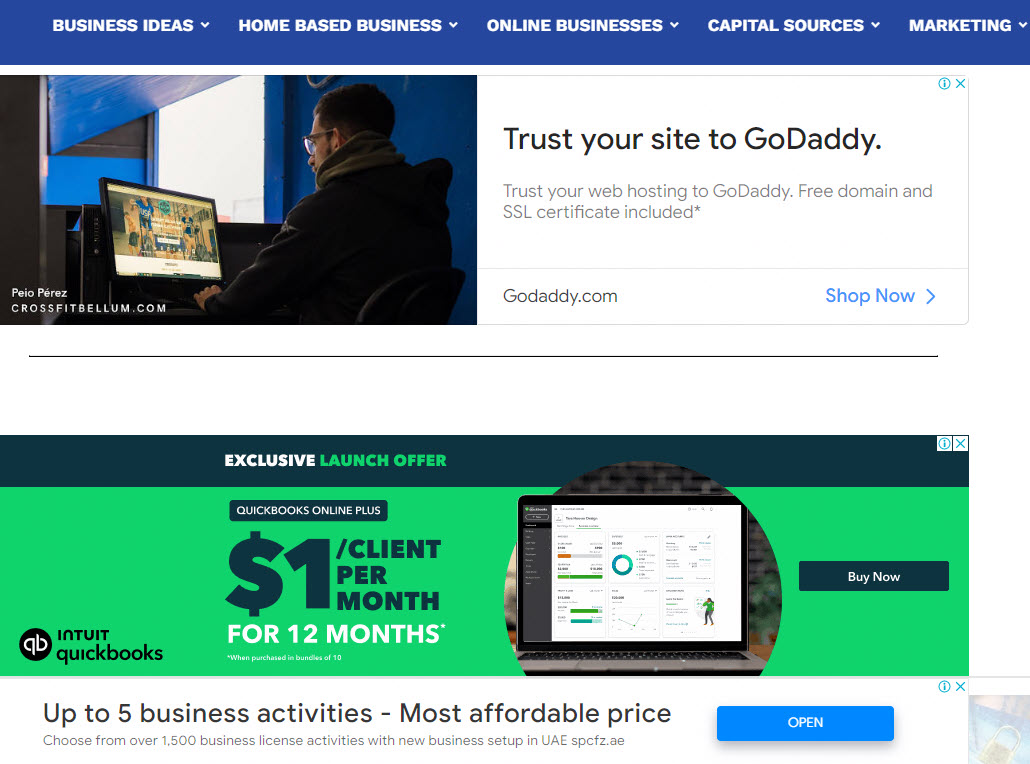 This is a prime example of why it pays to check out each site individually. Sites that don't cut the mustard need to be removed from your prospect list.
Step 5. Find contacts for your prospects
The whole point of prospecting is to find sites to approach via outreach and acquire links from them. But you need contact details as part of your prospecting to reach out to them. 
This will be the last step in narrowing down your list of prospects. Any potential sites you can't find valid contact details for can be struck off your list. 
The easiest way to do this is to use an email lookup tool like Hunter. This tool allows you to input any domain, bringing up all associated email addresses and information about the company.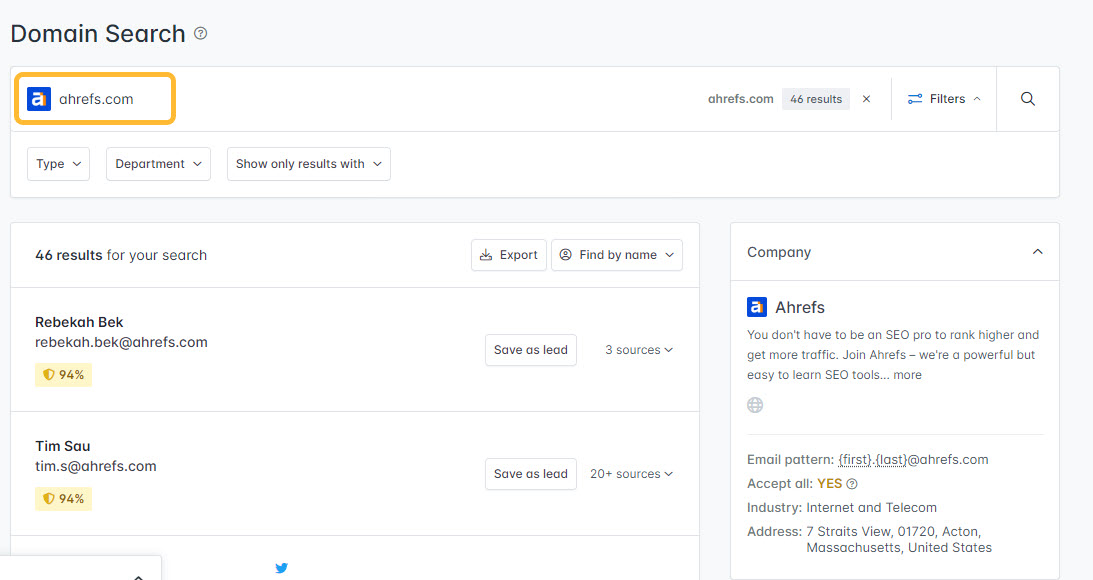 Then, once you have found relevant emails for your prospects, plug them into a tool like Pitchbox to start your outreach. 
Final thoughts  
Link prospecting is an essential part of SEO, and it's important to take the time to do your research and evaluate link prospects properly. 
Remember to always check for quality and trustworthiness. Google penalizes sites with low-quality backlinks, so make sure you don't overlook any potential signs of spammy sites.
Once you have identified a list of high-quality sites relevant to your niche or target audience, you can start the outreach process and begin acquiring some awesome links for your site.
If you want to learn more, you can check out our videos on link prospecting in our Advanced Link Building course.
Got questions? Ping me on Twitter.