Before I tell you all about the awesome ways to use marketing calendars and planners to boost your marketing strategy – how about we play a quick game?
I'll give you a 100%-real existing holiday, and you try to guess the date when it is celebrated.
If you answer correctly – consider you've had yourself a conversion. But if you couldn't get it quite right – well, I guess you'll have to keep reading!
I'm kidding, keep reading anyway 😉
Ready? No mid-read googling!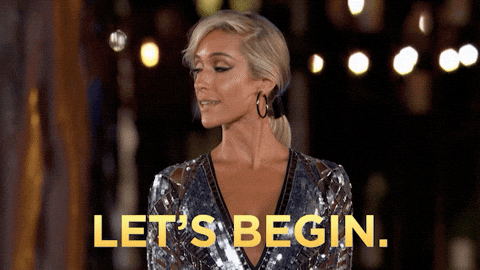 👉 Customer Service Day? ………………………………………………………………… January 17!
👉 Equal Pay Day? ………………………………………………………………………………… March 7!
👉 World Designer Day? …………………………………………………………………………. April 27!
👉 Digital Nomad Day? …………………………………………………………………………. August 8!
👉 International Caps Lock Day? ………………………………………………………… October 22!
How many did you get right?
Let me guess.
Even though you recognize the value of your customer support and design team members; even though you believe that everyone deserves to be paid equally for their qualifications; and even though you are at least partially guilty of working from a semi-remote location and writing a sentence or two in all-caps every now and then – these holidays aren't exactly on your radar.
Which is perfectly fine! I wouldn't have the slightest idea about them either unless I used a proper marketing calendar.
Table Of Contents
What is a marketing calendar?
Well, I say "marketing", but what I really mean is a year-round calendar template of all celebrations, occasions, and remembrances for you to concentrate your marketing strategy, social media posts, sales pitches, and even HR gatherings around.
Sounds pretty cool, doesn't it?
Who needs a marketing calendar
You might have heard about editorial marketing calendars, content marketing calendars, or social media marketing calendars. You might have even prepared or used one. After all, there are tons of readily-available free marketing calendar templates online!
But using multiple calendars, endless templates, and personal task lists can be overwhelming.
So what if I told you you can have all your business, employer branding, and marketing efforts in one place? With the right marketing calendar template, you can have your cake and eat it too!
Your entire marketing team can plan and schedule the most important activities deep into the future
Your social media campaigns can engage with the audience over a holiday-driven heart-to-heart
Your team building events can turn from a boring annual must-have into an exciting and memorable celebration
Your ecommerce business goals can be achieved faster because you'll know the dates people are most likely to purchase gifts
… and so much more!
GET YOUR FREE COPY OF GLOBAL MARKETER'S CALENDAR AND SEE THE FULL POTENTIAL OF A SOLID MARKETING PLAN
So yeah, it's safe to say that a detailed marketing calendar is more than just a schedule of dates to help you plan your marketing activities around.
It's a navigator that can shape the course of your strategy for the entire year across multiple channels and different teams!
A quick disclaimer: we use the terms "marketing calendar" and "marketing planner" interchangeably throughout the article to refer to the spreads with pre-filled celebrations, remembrances, and observances, as well as your own marketing projects and campaigns you could be adding to the holiday-driven layout.
Now let's take the next year as an example.
Most important dates in 2023 and 12 examples for all marketing channels
The full version of our own marketing calendar template has over 830 occasions to build your marketing initiatives around. For now, let's just focus on the most important dates to look forward to in 2023.
Author's note: You'll notice that there are examples of marketing campaigns presented after each month. But it's boring to spend too much time on well-known ideas for a holiday marketing plan like "Send a "Happy New Year!" email to your customers!"
Instead, these sections are dedicated to lesser-known out-of-the-box employer branding and marketing activities for you to get a better idea of the purpose of this marketing calendar.
January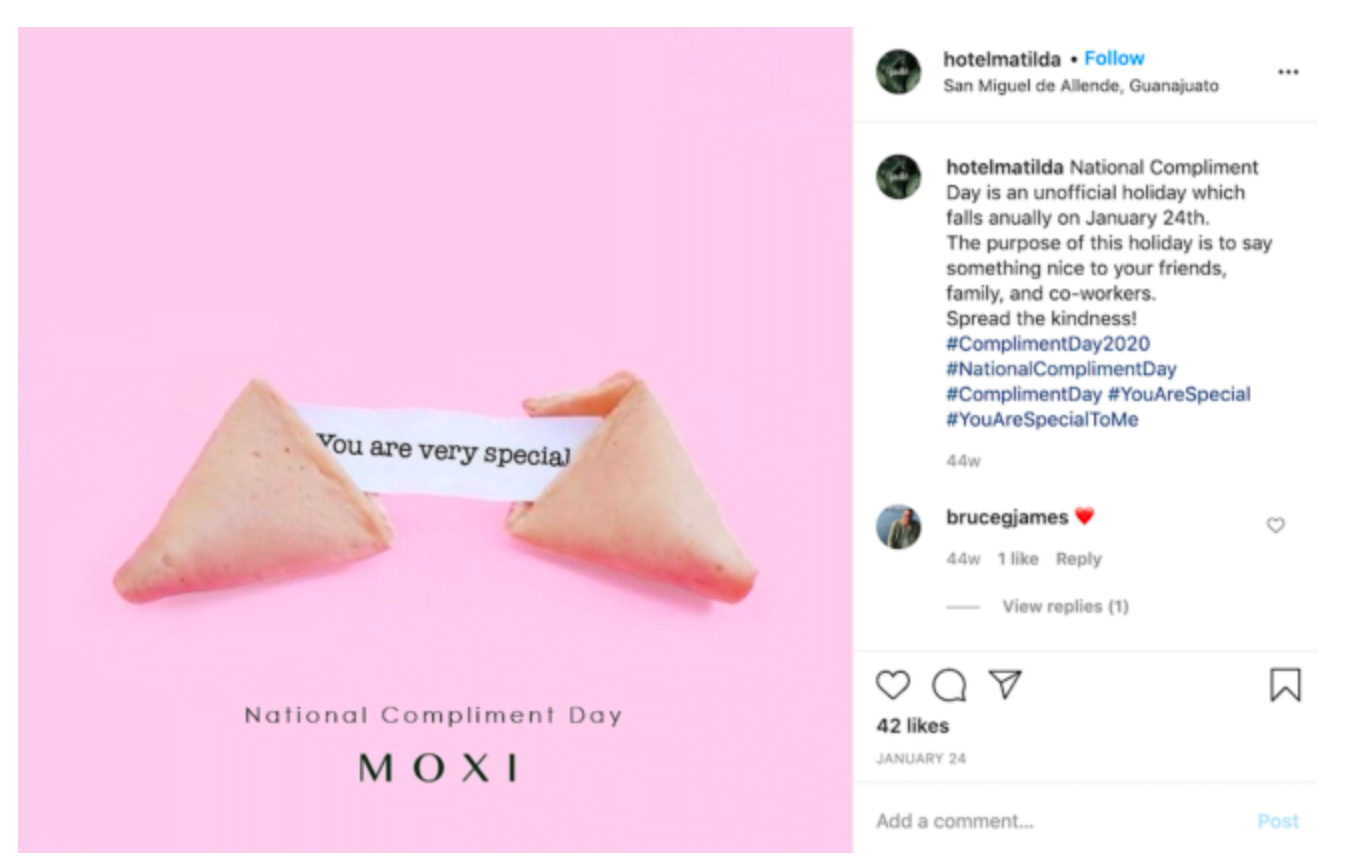 The first month of the year is a perfect time to revisit your marketing strategy and create a marketing calendar for the year.
January is the Get Organized Month, Veganuary, and Poverty Awareness Month, among other things. Make sure to reflect that in your marketing campaigns!
January 1 – New Year's Day
January 1 – Polar Bear Plunge Day
January 2 – Day After New Year's Day
January 9 – National Clean Your Desk Day
January 22 – Lunar New Year and Tet Eve in Vietnam
January 25 – Vasant Panchami in Hindu tradition
January 29 – National Puzzle Day
💡 Marketing campaign idea: During the first weeks of January, most people are just coming back to the office from holidays, sorting through the upcoming projects, and returning to extensive campaign planning. A marketing calendar makes a perfect opportunity for you to reconnect with the entire team and get on the same page as early on as January 9 over the National Clean Your Desk Day!
February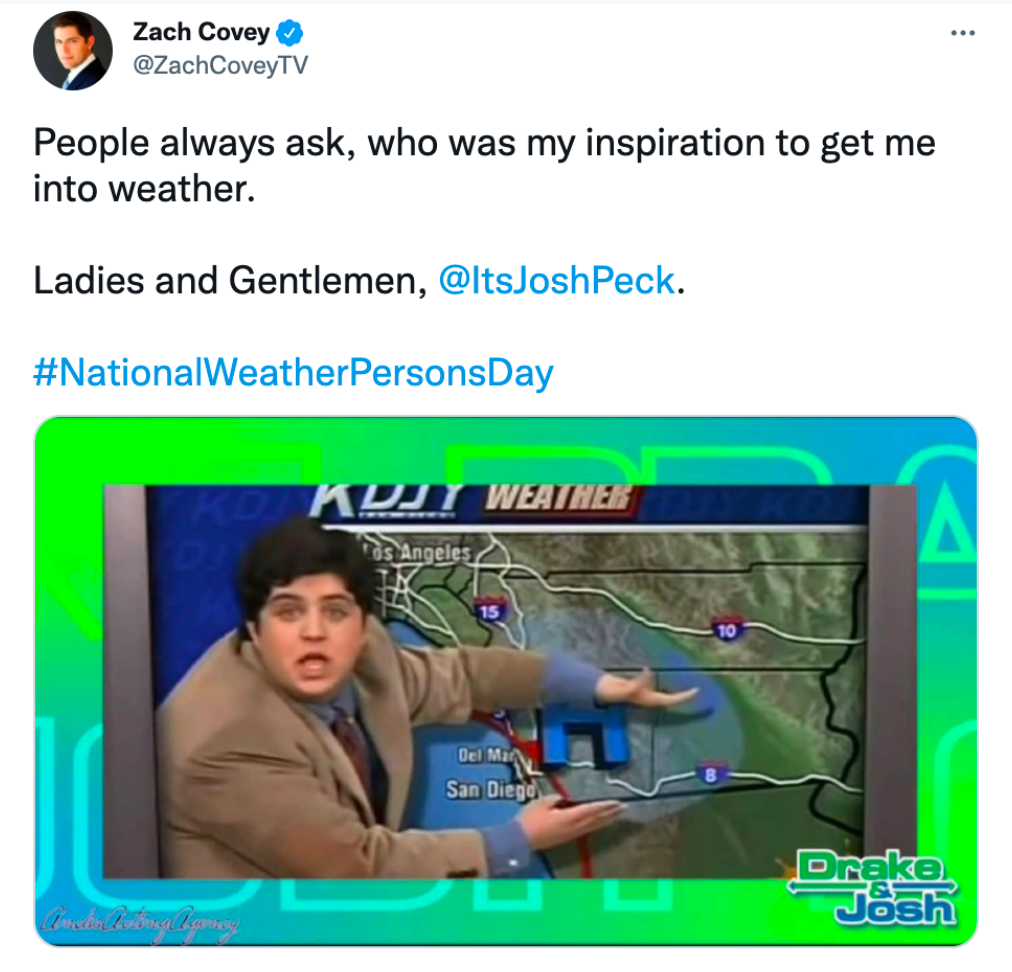 It's the middle of Q1, which means that you should have your marketing goals in place, and now is the time to use your marketing calendar to plan some campaigns!
In February, we celebrate Black History Month and Ethnic Equality Month.
February 1 – Abolition Of Slavery Day
February 2 – Groundhog Day
February 4 – World Cancer Day
February 5 – Floating Lanterns Festival in Chinese tradition
February 5 – Maghi Purnima in Hindu tradition
February 12 – Big Game Sunday (Super Bowl)
February 14 – Valentine's Day
February 17 – Rio Carnival
February 21 – Mardi Gras
February 26 – BLM Day
💡 Marketing campaign idea: February 23 is the Digital Learning Day which makes it a perfect opportunity to connect with your audience over a webinar and review some of the newest/least used features of the product or service your business is offering. Don't forget to include a Q&A session at the end of your webinar – 92% of attendants count on it!
March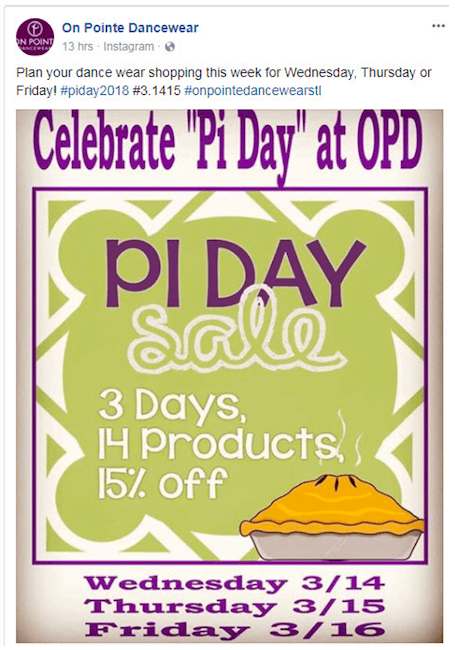 It's time to take a short break between the winter holidays and Easter and let your marketing teams catch their breath.
March is the Gender Equality Month and Employee Spirit Month.
March 1 – World Compliment Day
March 7 – Purim in Jewish tradition
March 8 – International Women's Day
March 8 – Holi in Hindu tradition
March 17 – Saint Patrick's Day
March 21 – Twitter Day
March 23 – Start of Ramadan in Muslim tradition
March 25 – Earth Hour
💡 Marketing campaign idea: March is the perfect month to let your customers know you care about them beyond profit. Daylight saving time is still very much a thing (unfortunately), so this can be a great opportunity for you to remind your newsletter subscribers they'll have an hour less to sleep, party, or work that night. In the U.S., DST falls on March 12, while in Europe, it begins on March 26 this year – don't forget to segment your contacts here!
April
I hope your marketing calendar is ready, for there are lots of opportunities for creative marketing activities this April!
April doesn't simply mark the beginning of Q2, but also, it is also Celebrate Diversity month, Earth month, and Multicultural Communication month!
Tip: If you're struggling with the latter, having an international digital marketing calendar at hand can help you avoid some embarrassing conversations 😉
April 1 – April Fool's Day
April 2 – World Autism Awareness Day
April 4 – 404 Day
April 5 – Passover in Jewish tradition
April 6 – Army Day in the United States
April 7 – Walk to Work Day
April 9 – Easter in Western Christianity
April 16 – Orthodox Easter
April 27 – World Design Day
💡 Marketing campaign idea: April 4 is the 404 day in the digital community, so it's a perfect opportunity to stand out from the crowd and jest around instead of April Fool's Day. You don't need to go super techy with this campaign – even a simple popup would do. But a small good-natured joke like this could put a smile on your website visitors' faces and improve your customer retention rates a little.
May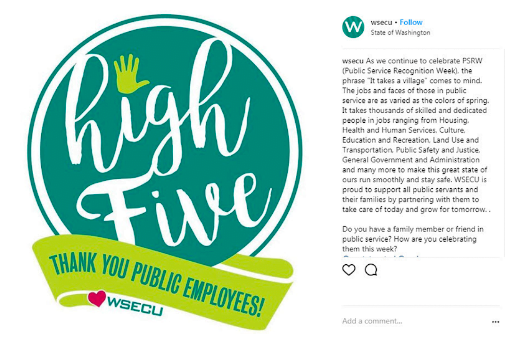 I hope your marketing plan is ready for the real spring to begin! But May is so much more than that!
In May, we celebrate Better Sleep, Kindness to Animals, Clean Air, and so much more!
May 1 – May Day
May 1 – Early May Bank Holiday in the United Kingdom
May 3 – Equal Pay Day
May 4 – Star Wars Day
May 5 –Buddha Purnima in Buddhist tradition
May 7 –World Laughter Day
May 14 – Mother's Day
May 22 – Bitcoin Pizza Day
May 29 – Memorial Day in the United States
May 29 – Spring Bank Holiday in the United Kingdom
💡 Marketing campaign idea: Show some love to your night-shift live-chat operators, customer success experts, as well as customers who may be a little too close to the graveyard shift on National Night Shift Worker's Day on May 10. After all, employee engagement and satisfaction are just as important for a successful business as ROI and direct profits!
June
June is the perfect time to revisit your content marketing calendar, take a hard look at your marketing campaigns' performance, and tweak things up a little if you're not up to speed.
June is, of course, the Pride Month, but it's also dedicated to Children's Awareness and Effective Communication, among other important causes.
June 1 – International Children's Day
June 5 – World Environment Day
June 5 – June Bank Holiday in the United Kingdom
June 8 – National Best Friends' Day
June 14 – Flag Day in the United States
June 18 – Father's Day
June 19 – Juneteenth
June 28 – Eid Al-Adha in Muslim tradition
June 30 – Social Media Day
💡 Marketing campaign idea: June 21 is International Day Of Yoga, that comes with plenty of marketing and branding opportunities! You can start by having an online or in-house practice for your team. But also, as long as your niche allows, this can be a perfect chance to offer discounts and promotions for some of your products (like scented candles, yoga mats and blocks, pilates equipment, or online classes, workshops, and certified coaching programs!)
July
Q3 may be the slowest season for some marketers, but it only means it's a perfect opportunity for you to spend a little extra time reconnecting with your target audience, getting close with your team members from different marketing departments, and refocusing on your business objectives.
July 1 – Canada Day
July 4 – Independence Day in the United States
July 7 – World Chocolate Day
July 9 – Fashion Day
July 18 – Islamic New Year
💡 Marketing campaign idea: In 2023, the Islamic New Year, also called the Arabic or Hijrī New Year will be celebrated on July 18. We'll let you decide whether congratulations are in order, but it would be a polite touch to be more mindful in your marketing communications to this group of recipients during the following month of the Muharram.
August
Try revisiting your marketing budget, analyzing valuable customer data, publishing blog posts, and investing in search engine optimization during the still-kinda-slow month of August.
August is Back to School Month and Family Fun Month.
August 6 – Cycle to Work Day
August 8 – Digital Nomad Day
August 8 – International Cat Day
August 12 – Garage Sale Day
August 26 – Women's Equality Day
August 28 – Late Summer Bank Holiday in the United Kingdom
August 30 – Ullambana in Buddhist tradition
💡 Marketing campaign idea: August 6 is American Family Day (and also a Sunday). Why not boost your engagement rates during this slow season and send some friendly communications to your subscribers via email or social media, listing all the fun things they could do this weekend (and how your product could help them enjoy their family time even more?)
September
Try to focus on social-oriented activities as well as typical marketing projects this month.
September is commonly known as the Month of Giving or the Volunteers' month, so it's the perfect time to focus on doing good together with your marketing team members.
September 4 – Labor Day in the United States
September 5 – International Day of Charity
September 6 – Global Talent Acquisition Day
September 10 – Grandparents' Day
September 13 – International Programmers' Day
September 18 – Global Company Culture Day
September 22 – World Car-Free Day
💡 Marketing campaign idea: A good company knows how important it is to stand behind a dedicated cause and give back to its community. Recycle Awareness Week begins on August 19, and it can be an excellent opportunity for you to actively join your local recycling initiatives as an organization, but also to remind your customers that they can make a difference, too! And, perhaps, now is the good time to remind them how sustainable your packaging is 😉
October
October is D-Day for marketers. The team members responsible for Black Friday and holiday sales are lining up their marketing activities for the most important quarter of the year. And there's nothing that helps you stick to your marketing plan better than an annual calendar.
In October, we commemorate LGBTQ+ History, Fair Trade, Emotional Wellness, lots of other occasions.
October 1 – International Coffee Day
October 5 – World Teacher's Day
October 6 – Inbox Zero Day
October 9 – Canadian Thanksgiving
October 15 – World Students' Day
October 22 – International Caps Lock Day
October 30 – October Bank Holiday in the United Kingdom
October 31 – Halloween
💡 Marketing campaign idea: You're likely already working on your Halloween and Thanksgiving campaigns at this point, so our advice here is to take things slow and allow yourself and your customers to unwind a little. Choose one of the holidays that won't push products but will simply make your day a little lighter, such as Global Cat Day on October 16.
November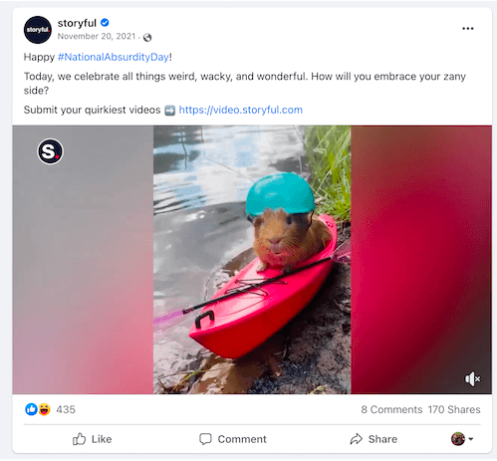 You've just finished your Halloween campaign, but your marketing content marketing calendar template looks fuller than ever? It's because November is, by far, the busiest month for marketers!
And it's not just Movember, my friends. In November, we also acknowledge all the small businesses and Indian Heritage.
November 1 – All Saints' Day
November 2 – Day of the Dead
November 5 – Zero Tasking Day
November 8 – Yi Peng Lantern Festival in Thai tradition
November 12 – Diwali in Hindu tradition
November 23 – American Thanksgiving
November 24 – Black Friday
November 27 – Cyber Monday
💡 Marketing campaign idea: November 20 is National Games & Puzzles Day and also Monday during the most important marketing week of the year. Gamify your BFCM offers, send out riddles that will lead to promo codes and secret offers, and go all in. Now is the time!
December
December is the most wonderful time of the year, the Month of Giving, and the Universal Human Rights Month.
But also, it's the time when we analyze all our marketing efforts this year and make plans for the future.
December 1 – World AIDS Day
December 7 – Start of Hanukkah in Jewish tradition
December 14 – National Free Shipping Day
December 15 – Ugly Sweater Day
December 24 – Christmas Eve
December 25 – Christmas Day
December 26 – Boxing Day
December 27 – Kwanzaa
December 31 – New Year's Eve
💡 Marketing campaign idea: Between all the typical December holidays like Ugly Sweater Day, Santa's List Day, and Gingerbread Decorating Day, it's very easy to lose the main goal of the holiday season: giving. So instead, we encourage you to focus on what matters and participate during International Volunteer Day on December 5 to make our world a little bit better – as a team, as a company, and as a brand!
830+ occasions to impress your customers and connect with your team
Now is the perfect time to get your own free copy of our brand-new marketing calendar!
How marketing calendar templates work
I hope by now you're persuaded that marketing calendars should be an essential and integral part of your marketing strategy. And, probably, you are wondering how to get the ultimate marketing calendar that would do all the work for you.
So let's talk about calendar planning a little. After all, it's not enough to have holidays laid out in front of you – it's what you choose to create around them that counts.
Well, while there are plenty of templates for you to assign all of your marketing projects to, stop for a second and ask yourself this: what do I want to achieve by creating a marketing calendar?
After all, social media marketing managers, EB specialists, and content marketers – all can benefit from having an annual overview of the most significant holidays at hand.
Then how come there isn't a single works-hundred-percent-of-a-time marketing calendar template?
And I tell you why by using one of the most dead-bit (yet nonetheless very true) marketing catchphrases of all times: because each case is different.
There are simply too many variables to track!
industry
niche
geography
traditions
religion
product
These are at the top of the demographic iceberg you'd need to conquer if you tried to create a one-size-fits-all marketing calendar. Hence, there are many different ones instead.
Types of different marketing calendars
Let's quickly review the most popular calendars you've probably browsed online already.
Annual marketing calendar template
Basic annual calendars and planners provide a solid overview of your goals and achievements for the whole year.
They are particularly popular at the start and the end of the year, but you won't really feel like coming back to your annual planner every once in a while to see whether you're on the right track or not.
Marketing managers use them to set goals for other team members and track results. But most of your work will be done elsewhere.
Content marketing calendar template
Similarly to project management marketing calendars, content templates help you map out the strategy long-term and track it along the way.
You don't have to limit yourself with a specific timeframe here, as your content marketing plan calendar can be daily, weekly, monthly, or quarterly.
This calendar template is perfect for aligning your content team with other marketing team members for dedicated campaigns or events.
Editorial calendar template
Editorial marketing calendar is a niche version of the content planner but is a little bit robust.
If the previous calendar template mainly provided the project overview and assigned roles to each task, the editorial planner explains how's and why's as well.
Creating a marketing calendar like this is often difficult and time-consuming, but it provides you with an excellent insight into the business strategy behind all your marketing activities.
Social media marketing calendar template
This is the most popular type of marketing calendars. After all, social media is the best way for a brand to connect with its target audience and use all of the occasions highlighted inside.
You can use your social media marketing calendar to track the important dates or to write down your campaigns – either way, it is an irreplaceable support in business profile management these days.
Where to get a marketing calendar template
Before I tell you to download the best free holiday marketing calendar of all time, let's see what other options you have here.
Use Apple, Mac, or Google Calendar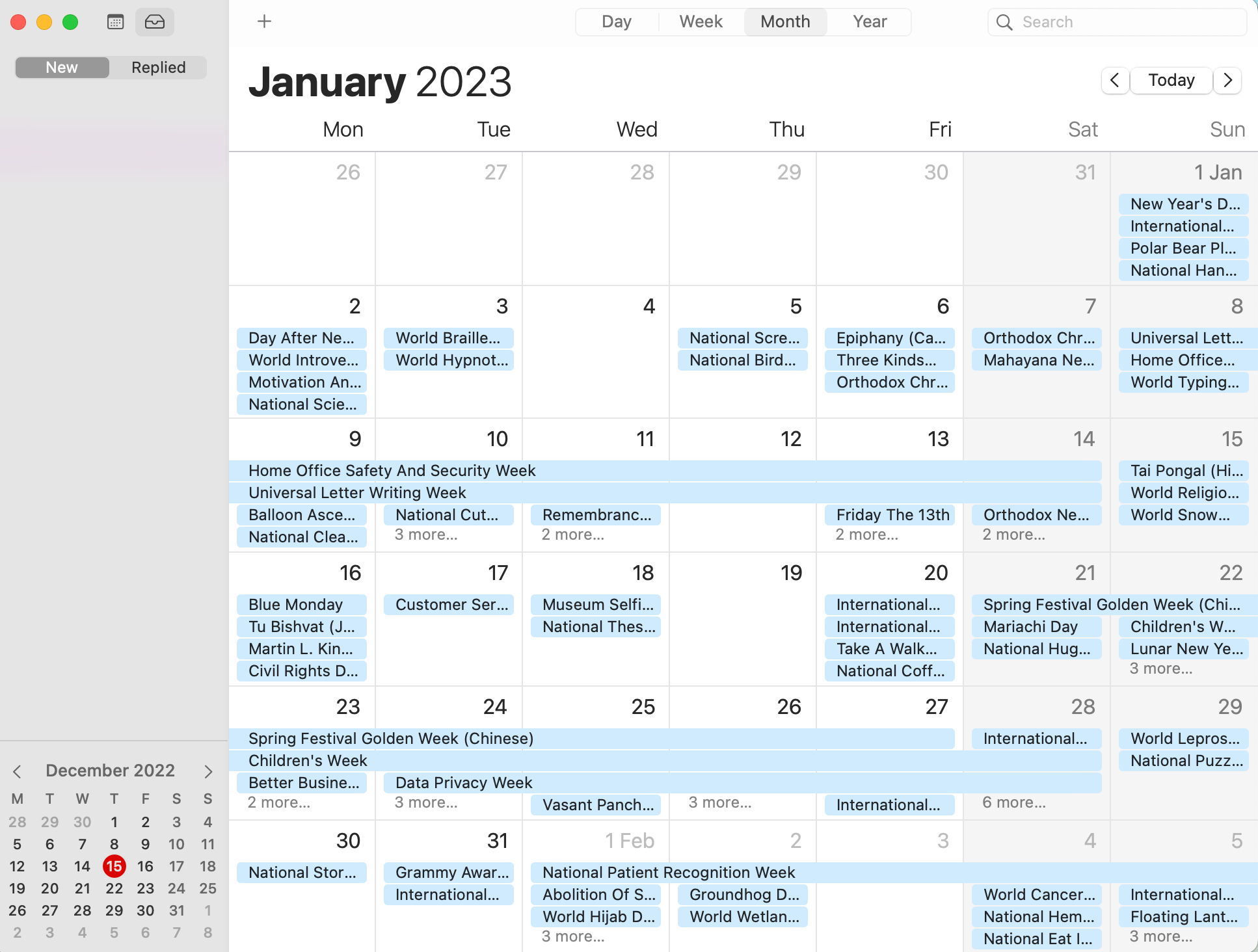 Personally, I find this form of event-tracking a little intrusive, but it does seem to work well for many people.
By adding all the holidays straight to your work calendar, you can rest assured you'll them at hand wherever you go at all times.
It's easy to set up, seamless to integrate, and you can even share it with others, so there's a social element to that as well.
By the way, you can upload our 830+ occasions for holiday marketing campaigns straight to your Google or Apple calendars by downloading this ISC file! (Just click on it once it's downloaded and it should be added automatically.)
Try the marketing calendar template available in Google Sheets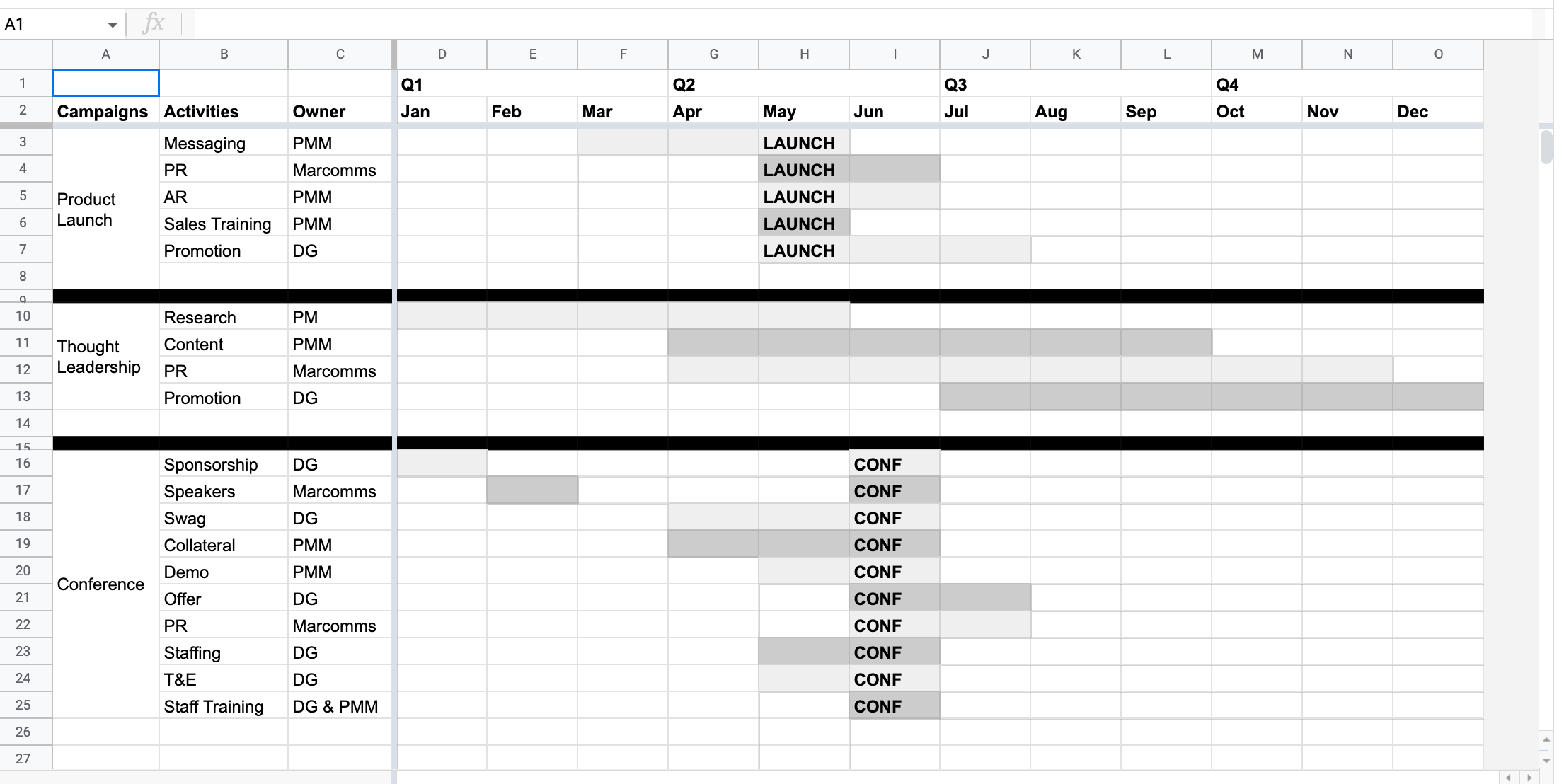 Google does a really good job when it comes to minimalist premade templates.
Of course, their marketing calendar template doesn't feature any global holidays (you might have to add those yourself if you need them).
Yet, if you're simply looking for a powerful campaign planner – this is the perfect solution!
Rely on an online marketing calendar tool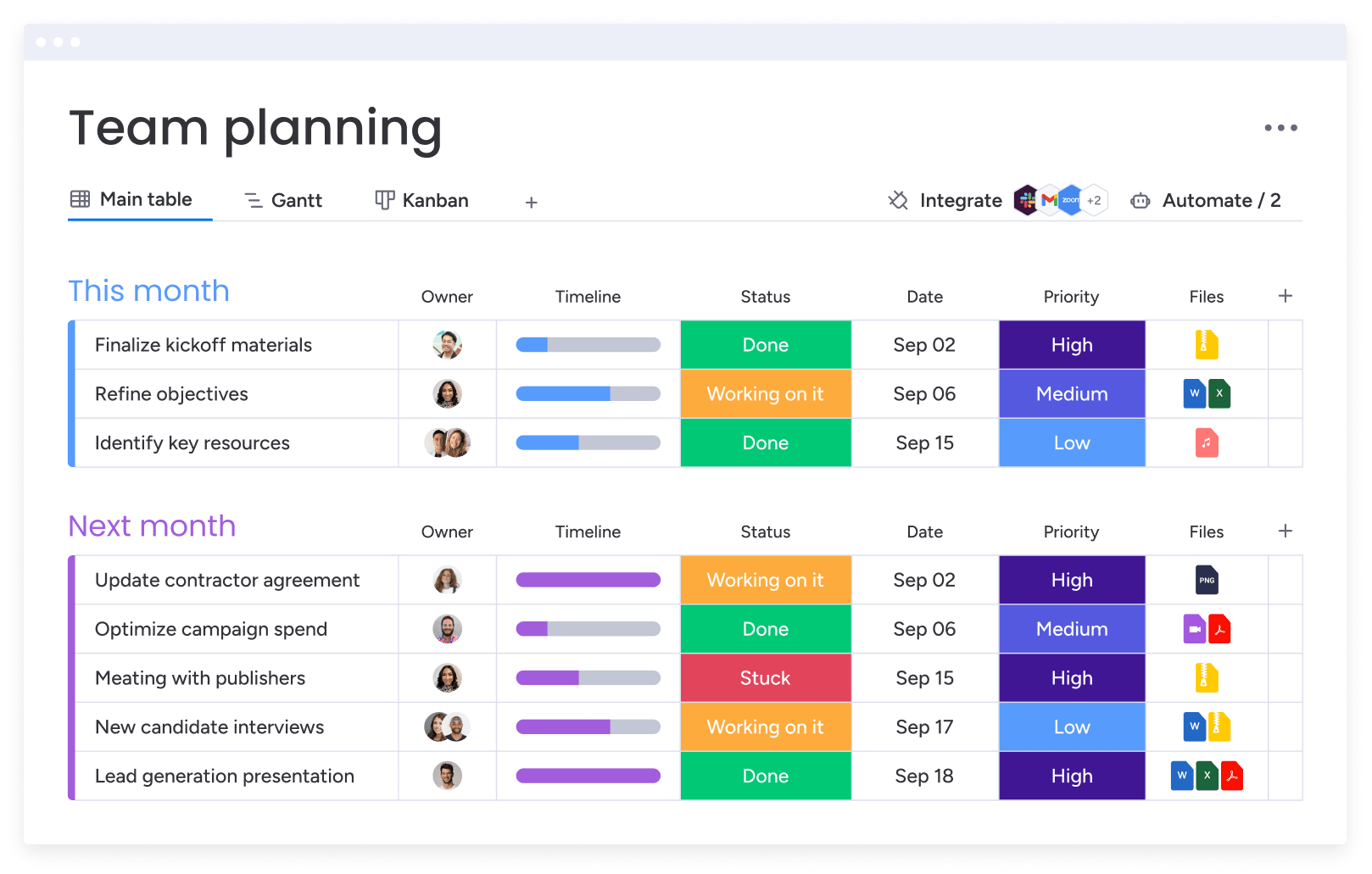 If you're a fan of all things digital, you're in luck! Because nowadays, there are tons of dedicated marketing calendar apps and templates you can edit in real time. Take this monday.com example, for instance.
It's sleek, modern, easy-to-navigate… More importantly, it lets you synchronize all your activities with your team – what's more to wish for?
Well, there is one thing. It doesn't come pre-filled. This means that you will have to manually select meaningful dates to build your campaigns and events around.
So, similarly to the Google Sheets template, it's more of a planner rather than a calendar.
Which brings us forward.
Download Global Marketer's Calendar '23
You won't find a more detailed calendar online. It's not just bragging.
Because the Global Marketer's Calendar is everything you could've dreamed of and more! I'm taking:
830+ global and diverse marketing opportunities
pre-filled monthly and quarterly spreads with campaign examples
expert tips and advice on how to excel at marketing in 2023
and ISC file to connect the holidays directly with your work calendar
semi pre-filled marketing campaign planner to help you save time
the version is supported both in PDF and print formats, so you can go between digital and analog as your heart pleases
With this marketing calendar tool at your service – you'll be unstoppable this year!
So, what are you waiting for?