You have set up your site after going through hundreds of articles on search engine optimization. You feel excited about the status of your website, so you launch it.
At this stage, all you have to do is wait for indexing and then see how it ranks. But why is it is not ranking in Google?
Or perhaps it is has been weeks or even months, and you still cannot get past the fourth page. What is it that you are not doing right? There is a demoralizing and an encouraging answer to this question.
The encouraging response is that your current ranking is due to a problem that can be fixed easily.
And the discouraging one? You will have to give it more time to see if it can rank well. That notwithstanding, here are some common reasons why your website is not ranking and how to solve them;
1. You are Not Indexed
This is pretty straightforward. Your site is not yet indexed, meaning there is no way it will appear in search results. Here are three major reasons why this happens:
2. You mistakenly de-indexed your site
This sounds silly, right? Well, it happens to many people. So to be sure to check your settings and ensure you are not obliviously blocking Google from indexing your site.
 3. Google is yet to crawl on your website
This is relatively common with new sites, especially those without a consistent posting schedule. It takes quite a while before search engine bots come to your website and index your blogs, so this should not be a problem.
However, if you want to fasten the process, try submitting your map through Google Webmaster tools or sharing your posts across different social media platforms.
4. You unintentionally developed your website on a de-indexed expired or penalized domain
If it is a must you use an expired domain to build your new site, make sure you analyze its history thoroughly before purchasing? This is to ensure it was not de-indexed or penalized before.
5. Your website is not mobile-friendly
Over 60 percent of website traffic is generated via mobile devices. As such, website designers today must make sure that every site they create make is usable in several browsers across different devices. In other words, the site should be responsive.
This means your site should be able to adapt to any format that is user-friendly for various mobile devices. Any website that doesn't keep that in mind will quickly get ignored during mobile searches. Google values sites that give users great user experiences.
To check if your site is mobile-friendly, you can use this Mobile-friendly test tool. The tool will show you if your website is user-friendly and notify you of any problems (pages partially or slowly loading) so that you know what to fine-tune.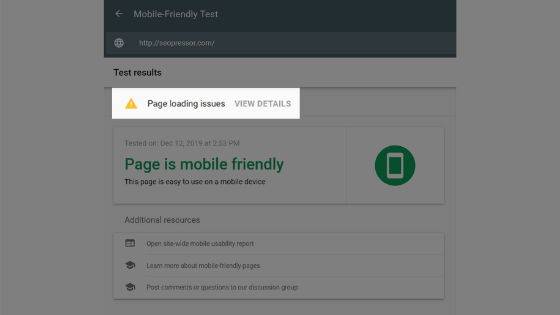 6. You are using extremely competitive keywords
This is not uncommon among new website developers. While there is absolutely nothing wrong with targeting these types of keywords, you are better off choosing your battle carefully.
This means choosing keywords and phrases that you can nobly rank for with your domain authority as well as resources, I.e. skillset, time and money.
For instance, if you are new in the game with almost zero experience and no money, then it will be unpractical to target the most competitive phrases.
Instead, start small and pick less competitive keywords as you grow. After a while, you can gradually expand and try to rank for competitive keywords as you assert your authority.
For instance, if you are opening a credit card company and want to rank for the keyword 'credit card' a simple search with Moz shows 5 big sites including CreditCards.com that has over 2 million links from over 4000 domains. This indicates that it is a trusted and powerful site.
So if you are launching a new site targeting the word "credit cards" you might want to reconsider that; how long will it take you to get over a million links?
The tough competition associated with the keyword means it is almost impossible to get results without a multi-million SEO and PR budget.
To be safe, analyze your target keyword using software like LSIGraph, Ahrefs, Majestic or Moz to understand your competition before you start building links and creating content.
7. Your site has few or no backlinks
If your website is new, your content will not rank immediately. It doesn't matter if every page on your site is appropriately optimized. To rank well; your site must have links to and from other websites. To get backlinks, reach out to other websites.
Do some link building or PR. Request them to mention your website or talk about a product that you offer and link to your site. Similarly, you can also use social media to tell the world that you are around.
8. Poor Web Content
Besides a poor SEO strategy and a traditional web design, poor content is another factor that can affect your site's ranking in Google.
Now, if you go to Google's approach to SEO, two main words stand out; reliable and relevant. If the content on your website content is not synonymous with these words, the search engine will not view your site as viable.
Here are some tips for better and relevant content;
Regularly update your pages with meaningful and useful content that not only relate to your niche but also solve your visitor's problems.
Always keep the content on your pages above 300 words
Don't over splash keywords on your pages to rank. On the contrary, this may work against your efforts to rank higher.
Content is a very vital part of ranking in search engines, as such, always remember to make it a priority.
If you are not sure of what to write or post, you can outsource, that way you will not only focus on other essential factors of your business but also allow experts to handle your content needs.
9. The content on your site is not optimized
While writing for human beings is the main objective of Search Engine Optimization marketing, it doesn't necessarily mean that keywords are not essential.
On-page optimization is one of the most effective ways of enhancing your search ranking. There are hundreds of things you can work on to enhance your rank including;
Title and Meta descriptions; this is the preview text/headline that usually appears on SERPs (Search Engine Results Pages). Keep your titles short (50-60 characters) and descriptions less than sixty characters in length to ensure they do not get cut off.
URL structure; Your URLs should be simple such that users can understand your website and know what to expect when they open your page.
Image alt text; Crawlers can comprehend your text, but cannot comprehend images unless you show them what the image is all about. So use alt text to tell them what is in the image to better index your site.
Include beneficial keywords; Keep, it straightforward and simple. Don't stuff keywords and make your posts hard to read (Google will not take it lightly). Make sure that you are regularly utilizing phrases and keywords that relate to your niche.
10. Your strategy doesn't target longtail keywords;
As mentioned earlier, if you are targeting broad match keywords that are highly competitive, it is almost impossible to rank higher unless your site has a considerable following and old enough.
In the above example, the words in bold give more predictions and ideas of what internet users search for. They are referred to as longtail keywords.
If you target the primary phrase "top action," there might be thousands of similar posts with the same keyword. So instead of that, focus on something like" top action series in 2020," it will be easier to rank on Google as the competition will be considerably lower.
What's more, when a person is searching for a long-tail keyword, they are more likely to buy from you if yours pops up. That said, it is a fact that longtail keywords work magic, especially for new sites on search engines. As your competition is filtered, you will rank easily.
The Takeaway
If your site is ranking poorly or is not ranking at all, then most probably is because of one or more of these reasons. This is normal, so don't worry. It can be fixed!
You can easily move up or bounce back with the solutions mentioned above. They are tried and real techniques that will help you claim or reclaim your appropriate spot in SERPs. Give them a try; you will be glad you did!
Updated: 3 January 2022