If you've been in digital advertising for long, you're more than aware that the ad channels are constantly iterating on their offerings. It's critical to stay on top of these changes and make sure you're keeping up with trends to get the best performance from your accounts.
However, Google has posted over thirty announcements and updates for Google Ads so far in 2023 alone (on top of Google Marketing Live) and Meta has also released multiple changes this year to Facebook and Instagram ads. Staying on top of the latest and greatest Google and Facebook advertising news can be a daunting task. Plus, weeding through for the platform updates that matter most to your business can take time. All these bits of news can start to add up quickly and probably leave you feeling like this:
So, if you feel a little underwater this year, I'm here to help. Below are the biggest announcements from Google and Meta so far this year.
The biggest Google Ads news, announcements, and updates this year
I'm kicking off our list with eight need-to-know Google Ads announcements.
1. Launch of Google Ads Transparency Center
One of Google's first announcements this year was the launch of the Transparency Center, which was designed to help users quickly and easily understand more about the ads they see around the Google ecosystem. Privacy and transparency have been a big change over the last half a decade. Similar to the TikTok Ads library or Facebook Ads library, this tool gives users the ability to see more ads from the same advertiser/brand as well as who the ad was published by.
Aside from being a good resource for consumers, this can be a great option for advertisers to check out all the ads their competition is running. Or to get ideas for new creatives from major brands.
📊 Want more insight on competition in your industry outside of the Ads Transparency Center? Check out our latest Google Ads industry benchmarks report!
2. Google Ads deprecating most attribution models
In 2020 and 2021, Google made a very large push to get advertisers to adopt data-driven attribution. It was one of the key components my Google reps were pushing. Hard. All other attribution models were described as less than optimal.
Now, a short time later, Google has announced they're retiring all models except last click and data-driven. They're reasoning is that very few advertisers are using the other models anyway. Makes sense.
In short, as of September 2023, if you have any conversion actions that are still using first click, linear, position-based, or time decay attribution, they will automatically be migrated into the Data-Driven model.
3. Brand restrictions for Search and Performance Max 
Brand advertising is an important component to many companies. If nothing else, every company wants to make sure their ads are showing for their business specifically, and not someone else's who has a similar name. To help with these brand controls, Google announced brand restrictions for Search and brand lists for Performance Max.
For Performance Max, this tool is designed to help you avoid bidding on brand terms if you choose, so you can focus this campaign on expanding your reach to new customers.
For Search, brand lists help ads stay focused on a specific brand rather than query options that are similar or related. If you're doing either Search advertising on your brand keywords or Performance Max, I highly recommend you check these new features out.

4. Automatically created assets
Google continues to roll out more and more automation options for advertisers. In this Google Ads announcement, it seems as if they've channeled their ad writing for Dynamic Search Ads and the Recommendations tab, but created a new feature that allows Google to create headlines and descriptions for your existing Responsive Search Ads.
Luckily, this setting is opt-in (rather than opt-out) and allows you to turn it on at the campaign level. If you see good text suggestions from Google in other portions of your account, maybe give these a whirl and see how they pan out.
5. Bid for new customers only
In an effort to help advertisers focus on driving new business, Google released a new campaign acquisition goal. This feature is driven by smart bidding strategies and your own customer data to help find new users either by avoiding known users or by simply bidding more aggressively for new customers, thereby winning more auctions and having a larger share of voice. If your goal is to focus on new business, this is definitely a tool to check out.
💸 Is your current bidding strategy potentially wasting your Google Ads spend? Find out with our free Google Ads Grader.
6. Discovery campaigns are rolling into Demand Gen
It's not very often that we see a campaign type go away completely in Google Ads, but that's exactly what's happening to Discovery campaigns. Although it's still early and I don't personally have any clients in Demand Gen just yet, it does appear these ads will be far more powerful than Discovery.
There are added creative formats as well as expanded reach with new audiences beyond the existing options within Discovery campaigns. In August and September of 2023, advertisers can request into the beta for Demand Gen campaigns, and in October all existing Discovery Ads campaigns will start to be automatically migrated.
7. Performance Max updates
Google Ads continues to show a high investment level in its new Performance Max (PMax) campaigns. The good news for advertisers is that nearly all of the updates to PMax recently have expanded advertiser control. In the latest slew of updates, Google gave options for better video creation, the ability to run experiments to test PMax viability, page feeds, and more. If you have been running Performance Max, or if you held off due to lack of control, it might be time to check out some of these updates and take advantage of your newfound power. 
8. Developments on ad prices from Google's antitrust trial
In order to meet its ad revenue targets, Google reluctantly announced that they "frequently" increased the cost of some search ad queries without necessarily alerting advertisers. In fact, ad costs were raised by as much as 5% and up to 10% for the average advertiser. This announcement came out during the Google trial, where the tech giant is under fire for allegedly using unfair tactics to monopolize the search engine market. WordStream's Google Ads benchmarks have shown that cost per click increased almost universally year over year, and many account managers have also seen a marked increase in costs–leading many to wonder if this is the real cause. Read more from Search Engine Land.
While that can be discouraging to hear, use this as inspiration to beat Google at its own game when you're considering your Google Ads optimization strategy. Instead of jumping to add budget to campaigns, try to consider other ways to keep your ads competitive despite rising costs.
For example, focusing on ad copy testing to increase relevancy to searchers and drive better engagement and conversion performance. With these changes, you should see improvements in your ad scores as well as resulting revenue for your business. Although Google ultimately wants to drive revenue, it's more important than ever for the platform to also provide quality results to searchers.
Here are the top seven Meta advertising updates every business should be aware of going into the last part of 2023 and into 2024.
1. Meta Certified Company Program
Many organizations attempt to show their expertise through different routes: case studies, client testimonials, etc. Meta is now taking a page out of Google's book (from years back) and has launched the Certified Company Program, where organizations can prove their knowledge of the Meta platform and be recognized for it.
These certifications are gained by meeting a threshold of individuals passing the Meta Blueprint courses. If you're looking to show off your expertise or even evaluate the expertise of your individual team members, this could be a great option for you. 
2. Facebook announces the "performance 5"
Unlike many of the other updates in this post, this announcement is more directionally informative rather than functionally. This isn't a new tool or program or an announcement that something is going away. Instead, this post outlines five strategies that Facebook would like for advertisers to adopt.
They call these their "actionable best practices" and although they're specifically mentioned in relation to growth during the holiday season, I find it informative to know what the platform would prefer you do, as their guidance and offerings will likely funnel you into those types of strategies in the coming months and years. 
🎶 Is your account performance hitting all the high notes? Find out using our free Facebook Ads Grader.
3. Lead generation form updates
Lead generation forms have been a staple in many accounts for quite a while now, and while they have been a very powerful tool, they got even better early in 2023. Lead Gen Forms now offer conditional logic in questions, meaning the questions change based on the answers someone provided to a previous question.
This is an awesome solution for companies trying to improve lead quality and avoid sending lower-quality leads to their sales teams, causing lost time and frustration.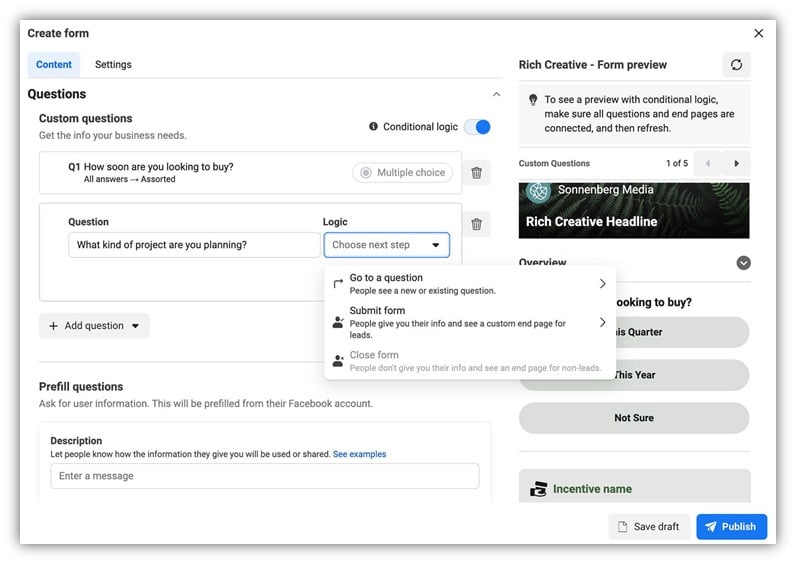 4. Updates and expansions for Reels
There are a couple of updates Facebook has made for Reels this year. First, advertisers can now reach their target audience on Instagram via Reels. Just another touch point throughout the Meta ecosystem. Second, AR ads are now available via Reels as well, giving additional formats for connecting with users. Both of these continue to show Meta's investment in Reels and should be an indicator to advertisers that this is an important placement.
5. Introducing the AI Sandbox
Creatives on Facebook can be a huge factor in how your campaigns perform. It's important to make sure you have ads that are appealing to customers to get their attention. With the launch of Facebook's AI Sandbox, you can use Meta's AI to help create ads just based on text inputs.
While this might not be an immediate game changer for every account, it's important to see where Facebook is moving when it comes to ad creation (and augmentation) because it will likely only be a bigger portion of the platform moving forward. 
6. Tailored Campaigns are rolling out
The Facebook ad platform is very complex and gives lots of control to advertisers, but not all advertisers know how to take advantage of them. To help simplify things for those users, Facebook Ads is rolling out Tailored Campaigns, which new campaigns into the most common settings for bidding strategies, placements, and a few other settings, but still gives control around audiences and creatives.
Overall, these are honestly some of the better partially automated campaign solutions we've seen across the self-serve ad platforms.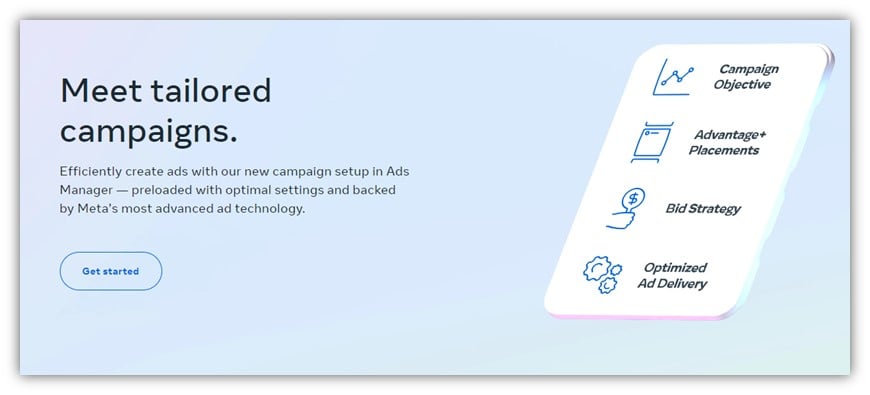 7. Brand suitability and content controls
If you're familiar with Facebook or Instagram at all from a user perspective, you're probably aware that there can be some pretty sketchy content out there. While that might be fine for you as a person to glance right over, from a brand perspective, it could be damaging to show up next to some of that unsavory content.
In 2023, Meta announced content suitability controls to help better control what types of content brands can show ads next to. If you're worried about how your brand may be perceived based on the posts that are shown directly before or after your ads, you should definitely check these out.    
What this Google and Facebook advertising news means for your business
One thing I'd like you to keep in mind is the overall trends of these changes. While one individual change might not feel like the end (or beginning) of the world, it's important to notice patterns and see where the platforms are going. We've had many years where automation was the biggest driver on the platforms and this year continues in that vein. But another is privacy. Both Google and Facebook are making changes to ensure a transparent internet for advertisers and consumers alike.
Make sure you're paying attention to the overall tradewinds so you won't get caught out in the cold if and when the platforms make a specific change that impacts your business.
To recap, here are the biggest announcements from Google Ads this year:
Launch of Google Ads Transparency Center
Google Ads deprecating most attribution models
Brand restrictions for Search and Performance Max
Automatically created assets
Bids for new customers only
Discovery campaigns rolling into Demand Gen
Performance Max updates
Developments on ad pricing from Google antitrust trial
And, here are the biggest announcements from Meta Ads this year:
Meta Certified Company Program
Facebook announces the "performance 5"
Lead generation form updates
Updates and expansions for Reels
Introducing the AI Sandbox
Tailored Campaigns are rolling out
Brand suitability and content controls