As a marketer or business owner, you want to ensure that you integrate the most effective marketing strategies to yield better results. It is no secret that there are many strategies you can try out.
But in this digital era, social media has proven to be one of the most effective marketing strategies. When it comes to social media, Facebook takes the lead because it has the most users, making it easy to reach a wider audience.
Facebook marketing is an effective social media marketing strategy. But how can you go about it?
This is where Facebook dark posts come in. The posts are a very successful marketing strategy because you can use them for retargeting efforts and prospecting.
But what are Facebook dark posts, and how can they benefit your business?
Let's find out.
What are Facebook Dark Posts?
Although the name sounds scary, the reality of Facebook's dark posts is far from anything evil! They are called dark posts because of the way they work.
Facebook dark posts or unpublished page posts are targeted ads that do not appear on the advertiser's timeline nor on the timeframe of the advertiser's followers.
Dark posts are for targeted audiences and appear on their feed. These posts are different from organic posts and appear labeled as sponsored content.
A dark post can be anything from text, videos, photos, promotional offers, or links to the company website.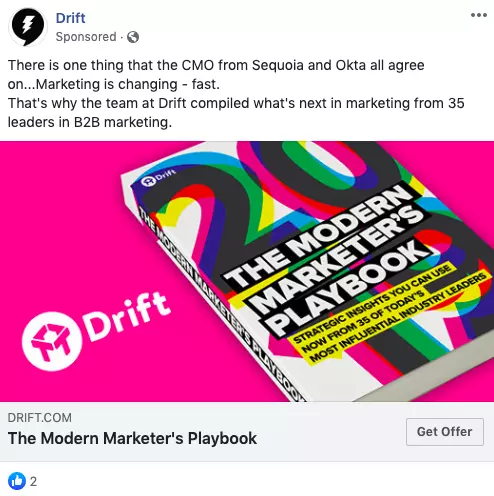 How to Create a Facebook Dark Post
Creating a Facebook dark post is similar to creating a regular ad. Below is a step-by-step process to create a dark post on Facebook.
Step 1: Head to the Ads Manager
The first step to creating a dark post is accessing the Facebook ads manager.
The ads manager is a tool that is the home for all the ads that you run on Facebook and other platforms owned by Facebook.
Here, open the drop-down menu at the top left and select the "Page Posts" option under "Create & Manage."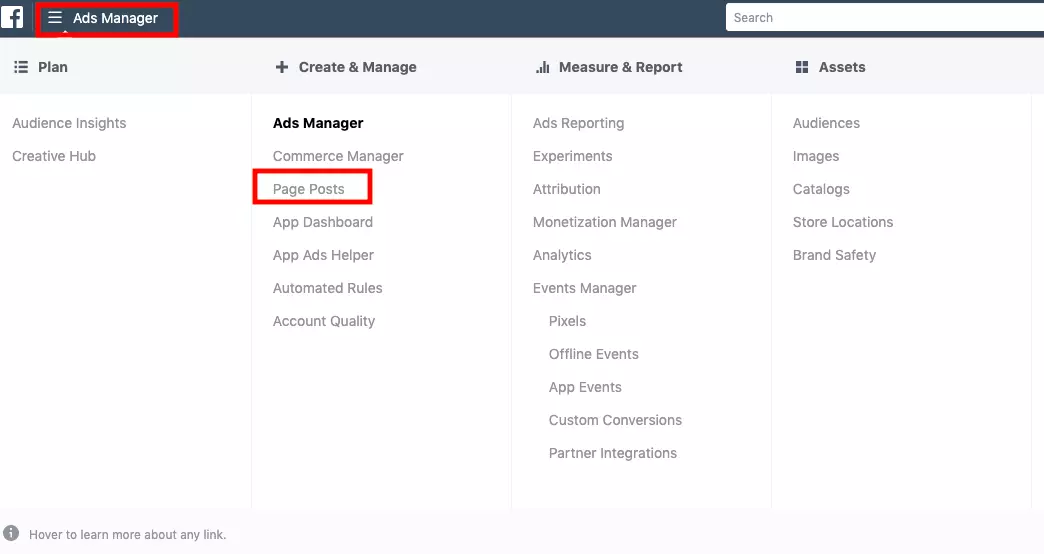 Step 2: Configure the Dark Post
You will see a "Create Unpublished Page Post" at the top. Click on that to create a new dark post.
Fill in your ad details and while selecting how to use the post, select "Only use this post for an ad." Selecting this option ensures that the post does not go public on your page.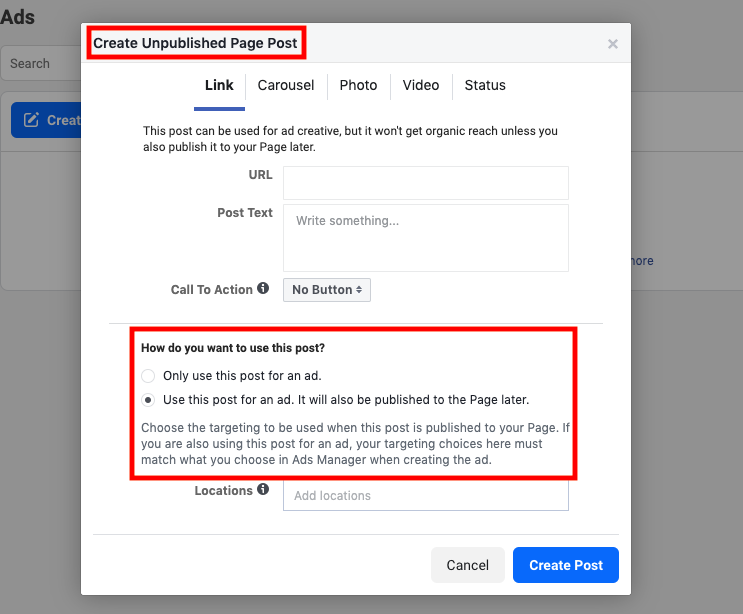 Step 3: Create or Select Audiences
You can use your already-segmented ad sets if you have previously created ads. However, you must generate audience segments when creating a new ad if you are new.
You can specify your audience's age, gender, location, languages, behavior, and interests.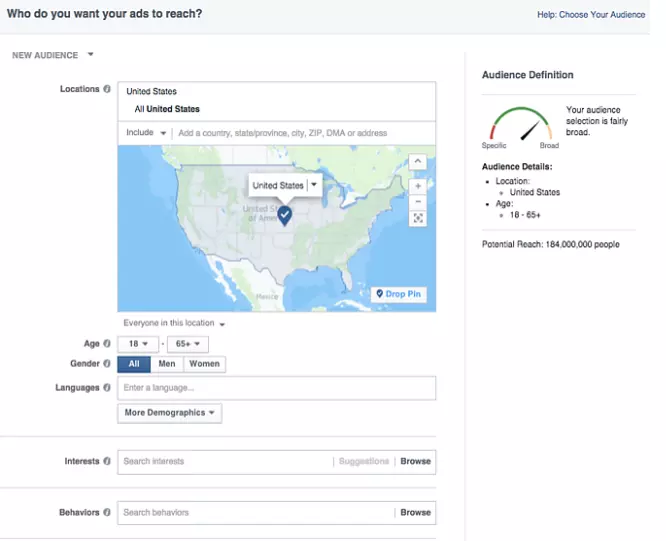 You can select audiences > create audiences > custom audiences > Facebook page. After that, you will be prompted to create and segment your audience.
Step 4: Post Optimization
Next, you can optimize your post. There are a few ways to do this.
Run a split test on your dark post, and based on those results, optimize your post accordingly.
Use SocialPilot to review your post performance and choose features that can help maximize your ROI.

You can reconfigure and resize your audiences.
Why Should You Use Facebook Dark Posts?
Advertisers who want to send ads to a specific target audience without bothering their other followers are the reason for them using Facebook dark posts.
Facebook dark posts let you create ads that you don't have to post on your timeline, but your targeted audience will still be able to see them.
Let us look at the reasons why to use dark posts.
1. Target Audience Segmentation
One of the significant benefits of a Facebook dark post is its targeting capabilities.
With a Facebook dark post, you can specify your target audiences. Instead of showing an ad to all your followers in their news feed, you can segment the audiences and appear only in their feed.
The last thing you want is to bombard your target audience with posts that aren't appealing to them.
When posting a traditional post for targeted audiences, you need to specify your audience's age, interest, and gender. Never underestimate the importance of market segmentation if you want to grow your business.
Conversely, a dark or unpublished page post allows you to add more specifications. For example, you can narrow the lists by specifying categories like town, university, job title, etc.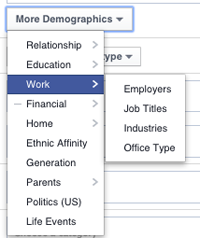 2. A/B Testing
While marketing using Facebook, determining why an advertisement did not get enough response from your audiences can be challenging. But by using Facebook dark posts, you can find the reason by performing A/B testing.
In A/B testing or split testing, there are two groups – a test group and a control group, or groups A and B.
You can create two versions of the same post while creating a Facebook dark post. Then you will divide your target audiences into test and control groups and deliver the ads.
For example, you can experiment with the headline by creating a dark post for sale promotion. Send a position with a "Year End Sale" headline to group A and a "Christmas Sale" headline to group B audiences.
By using A/B tasting, you can specify your audiences and thus collect a vast amount of data. You can use the data to optimize your social media and digital marketing strategy. With A/B testing, you can even change the call-to-action button.
Brand Example
On landing pages, large banners are usually shown at the top. An improperly positioned banner runs the danger of doing more harm than good because it takes up a lot of space.
Because of this, Humana, a healthcare insurance company, decided to experiment with its landing page banners.
Humana had been using a banner with a lot of copy, a weak CTA, and no distinct and clear message.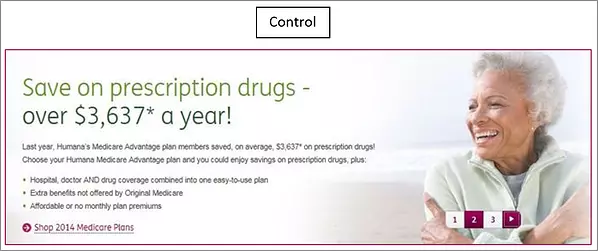 However, the business chose to make the message simpler for version B.
In the end, this variant had 433% more click-throughs than version A.
The business chose variation B once it was successful and wanted to test the CTA.
Humana changed variation C's CTA text to incorporate more aggressive language, including "Shop."
The business determined that this strategy would work well because Medicare applicants only have a little time to decide.

There was a 192% increase in clickthrough due to the language change.
3. Improved ROI
Facebook dark posts do not directly increase your return on investment compared to boosted posts.
In comparison, grown posts can see organic impressions up to seven times more impressions reach up to nine times more than dark posts.
That, however, ignores the enormous amount of data that dark posts offer to help influence future content, including boosted posts. They are, therefore, an investment that will yield better ROI in the future.
However, dark posts offer a high amount of data for future reference, which improves your ROI. These posts are more like an investment that yields better ROI at a later stage.
4. Social Media Profile Optimization
A Facebook dark post helps you collect valuable data about your targeted audiences that you can utilize on all your social media campaigns running on Facebook, Instagram, Twitter, YouTube, and LinkedIn.
However, before using the results of A/B testing on all social media platforms, you need to consider that the audiences on every platform are different.
For example, an ad that performs well on Facebook may not yield the same result on Instagram. The reason is that Instagram focuses on pictures and videos more than texts, while Facebook combines all three.
Therefore, maximize the data from A/B testing by conducting more thorough research on your audiences.
5. Keeps Your Page Clean and Organized
A Facebook page will showcase all your organic and boosted posts. An organic post that is advertised to increase reach is a promoted post.
One of the problems with boosted posts is they are visible on your page's timeline. Having too many boosted posts can make you appear untrustworthy to your followers.
This is where a dark post becomes beneficial.
How?
Creating a Facebook dark post separates it from your organic and boosted content, and also, by specifying the target audiences, you are hiding the post from some of your followers.
Also, specifying the target audience means that to those audiences, the post won't appear like an ad because it is relevant to their needs and interests.
Ready to Create a Facebook Dark Post?
Facebook dark posts are an excellent way to reach your targeted audiences and gather viable information to apply to your promoted and organic content.
You can promote your brand using dark posts without spamming your audiences or your timeline.
This is where a one-stop social media management tool such as SocialPilot becomes handy; you can create, post, and analyze your ad and its convenience.
We hope our simple guide on Facebook dark posts has given you the insight you were looking for.
So, are you ready to take advantage of Facebook's dark posts?