If you're asking investors to make a bet on your business or convincing a customer that yours is the right solution, an executive summary is a critical component of persuasion.
Why? Because many key decision-makers and gatekeepers won't get past page one of your business plan without a really good reason.
And that's where many people go astray. An executive summary isn't the boiled down CliffsNotes of your business plan. It's the sizzle reel. The movie trailer. It's there you convince a busy client or executive that your company can bring them value.
So if you plan to write any type of business plan or project proposal, you'll need to get great at writing executive summaries, too.
In this article, we'll break down the components of a winning executive summary. We'll show you plenty of tips to make your summary persuasive. And we'll give you an executive summary example you can swipe so writing your own is a breeze.
What is an executive summary?
An executive summary is a brief overview of a larger document—like a business plan—that grabs a reader's attention and familiarizes them with the main points of the larger report. The executive summary isn't just a teaser. It should be a condensed and skimmable version of everything you've provided in the full document.
You'll place the summary at the beginning of your business plan. That way, a reader can learn what they need to know upfront, without wading through the entire plan. A version of your summary may also be useful as the copy on your "About Us" page.
At a very high level, an executive summary for a business plan should do three things:
Present the problem: A quick explanation of the problem you aim to solve.
Suggest the solution and its costs: An overview of your proposed solution and value proposition.
Explain the benefits A summary of the benefits to clients and investors.
To accomplish these goals, your executive summary should follow the same structure as your business plan and cover all of the same topics. In fact, you should assume some readers will make their decision based only on your summary without ever reading the full plan.
What's the purpose of an executive summary?
Most people won't take the time to read your entire 15-page business plan. At least not at first. You need an elevator pitch they can read in about five minutes that convinces them to consider your proposal. That's what an executive summary does.
Let's break that down into the ways an executive summary helps your reader make a decision about your business.
Informs
An executive summary gives the reader all the information they need to make an educated decision. It should include the most compelling data from your business plan. It'll provide context about the current market, competitors, financials, and growth plans.
Men's grooming brand Harry's gives website visitor's plenty of detail about their company on their About Us page, which acts as an executive summary about their business.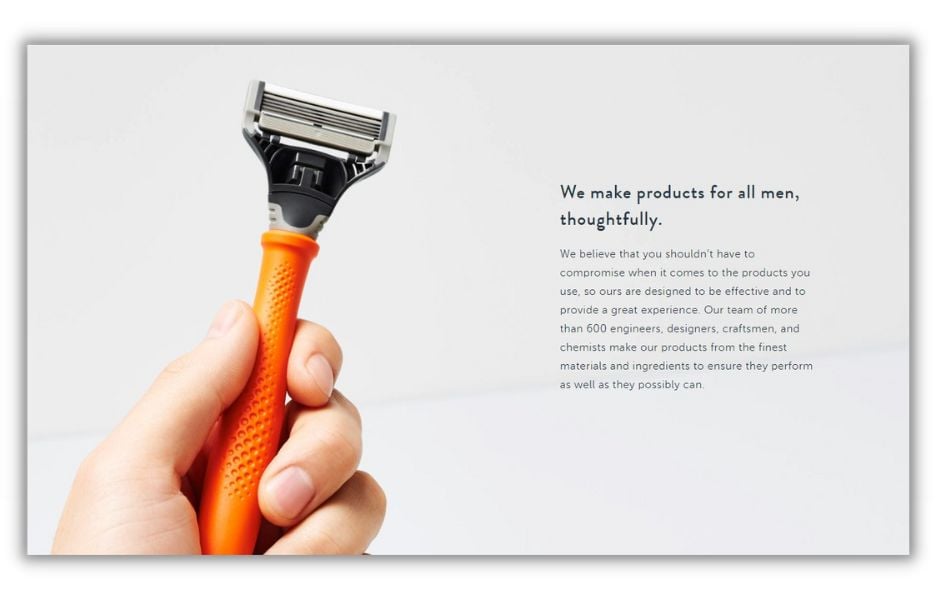 Proves
You can't just say there is a problem and that yours is the right solution. You'll need to give enough background detail to prove those statements. Your executive summary should leave the reader with confidence in the opportunity you present.
Persuades
Within a few paragraphs, your executive summary should lead the reader to believe that the logical conclusion is to work with your business. You'll use language and stats that build a case to that end.
Like Harry's, hammock maker Yellow Leaf uses their About Us page like an executive summary about their company. In their version, the brand provides a persuasive argument that doing good and relaxing aren't mutually exclusive.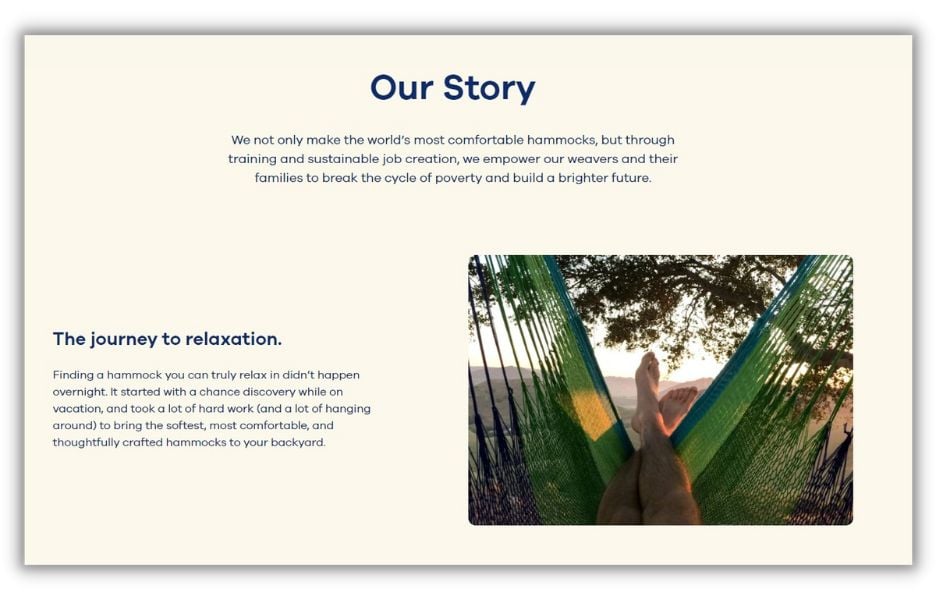 Asks
Unlike academic papers, a business plan often includes an ask for some action by the reader. It could be a request for a loan. Or it may ask a customer to choose your product or service. In any case, the call to action (the next step you want the reader to take) should be clear.
What's included in an executive summary?
No two executive summaries will be exactly alike. Your audience, goals, and type of business will all affect the final product. But there is a list of elements you'll include in most types of summaries.
A problem statement. What's the current situation? Why is it bad? What is the gap that needs to be filled?
A solution statement. What is the business or product idea that will solve the problem and fill the gap?
A business description. How did your company get started? Who are the company leaders? What successes have you had already?
A market analysis. Who are the customers for your business? How big is the market for your solution? How is this market evolving?
A competitive analysis. Which existing businesses target this market now? How is your solution differentiated? What does a competitive SWOT analysis look like?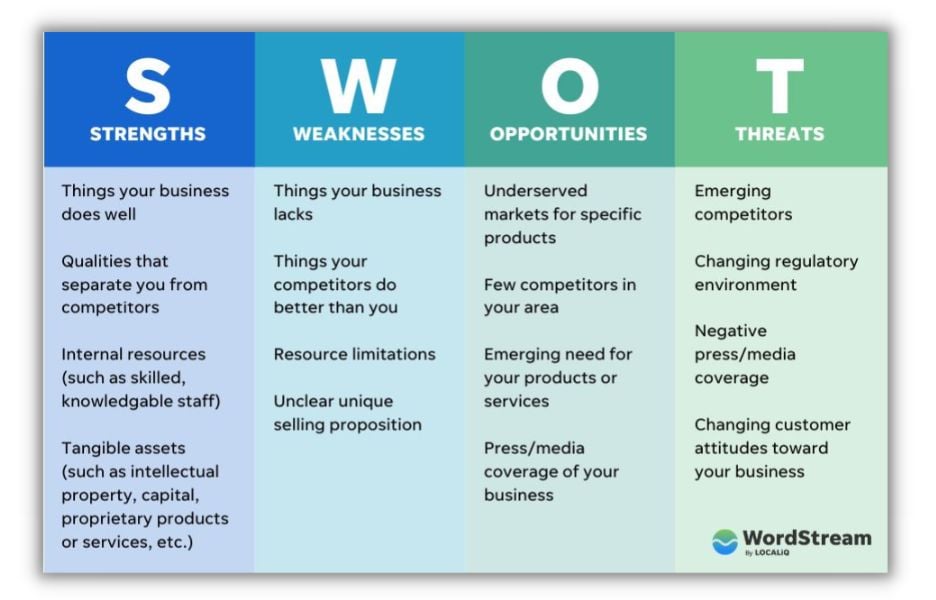 A financial statement. How much funding will you need? What are your operational expenses? How do you expect this data to change in the future?
Conclusion. What decision does the reader need to make? What are the outcomes of that decision?
How to write an executive summary
We've reviewed just how important and useful an executive summary is. But how do you go about writing one? Use these steps to craft a summary that gets people excited about your business–and drives them to take action.
1. Complete your business plan first
While a good executive summary functions as a standalone document, it is solely based on your business plan. So the first step is to complete the rest of the plan and use it to guide your summary.
2. Decide who your reader will be
You may write multiple executive summaries for the same business plan, each one targeting a different reader and purpose. If you're asking the bank for a loan, you'll probably focus more on short and long-term financials. Or if the summary is meant to convince someone to hire your company, the summary will lean heavier on social proof and capabilities.
Before you get to work, make sure you're clear on your target audience and what information they'll need to make a decision.
3. Create an outline
A structural outline of your executive summary will help you see where each piece of information fits. It'll show you the logical progression from problem to conclusion. It'll also make writing the summary much easier.
4. Write a compelling introduction
The first few sentences should hook your reader so they want to keep reading. Write an introduction that quickly explains what your business is about and why it matters to your intended reader.
When a one-woman show becomes a billion-dollar industry trailblazer, it's not hard to catch people's attention in an executive summary. Be like Spanx and lead with the uniqueness of your business.
5. Tell a story
People are more likely to understand and take action on information presented in story form. As you're writing your executive summary, make sure to include the characters (customers, business leaders), your mission statement, and an arc that explains the current and future states.
With a focus on sustainability and comfort, fashion brand Allbirds has an interesting story to tell. The company does it well in an About Us page that can be easily translated into an executive summary.
6. Write in a professional but approachable tone
An executive summary is written for an executive (it says so right in the name!). So the language and layout you choose should be professional and confident.
That said, you don't want to overcomplicate the summary. Remember, your audience is busy. The easier it is to understand your summary with a quick skim, the better your chances of getting them to say yes.
7. Get feedback
Have a few people read your executive summary in under five or 10 minutes. Then ask them questions like "what does my company do?" and "how will my business solve the problem?" The idea is to find out if your summary is easy to understand in a short amount of time.
Tips for writing a compelling executive summary
Your executive summary has a big job to do. Let's make sure it's ready to capture attention and motivate action.
Keep it short
For much the same reason, your executive summary shouldn't be very long. For most business plans, a one or two page summary should be enough. It'll almost never be longer than 10% of the entire business plan. A good rule of thumb is to make the summary as brief as possible while still being comprehensive.
Avoid useless jargon
Useless jargon like "industry-leading" and "bleeding edge" don't add any substance to your position. At best, they're extra words that slow readers down. At worst, they'll hurt your credibility.
Clearly state your differentiation
Do you offer a low-cost alternative or "white glove" service? Will you cover a service area other businesses don't? Your differentiation is important to customers, lenders, and investors, so they should know what it is after reading your executive summary.
Magic Spoon makes breakfast cereal that's tasty enough for a kid, but healthy enough for adults. They lean way into this product comparison on their About Us page.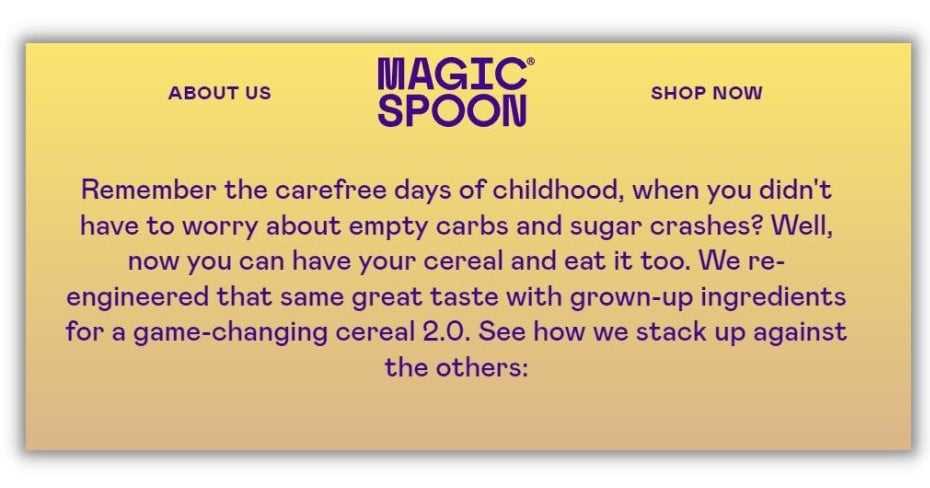 Add social proof
Social proof includes reviews, referrals, and ratings from previous customers that say how amazing your business is. If you already have it, sprinkle in this positive feedback to prove that your business is what people want.
Make it skimmable
Use graphics, bullet points, and subheaders to get your point across to people who skim the document before reading. Ideally, a reader should be able to recite the major points after a 60-second scan.
Refer directly to your business plan
An executive summary should act as a reference guide to your business plan. If there's expanded financial data in the plan that's not in the summary, call it out and say where it is. Readers can then choose to dive into specific pieces of your business plan depending on their interests.
Executive summary example
Whenever you take on a new task, it helps to see all the parts in action. Here's an executive summary I created for a fictitious business called Nirvana Studios. Swipe this template to write your next executive summary.
Nirvana Studios executive summary example
Since 2016, Nirvana Studios has provided boutique health and wellness services at accessible prices to communities around New York City.
People in these communities regularly fill waitlists for Reiki, sports massage, yoga, and nutritional support classes. And a recent survey showed that people of all generations now consider holistic wellness to be critical for long-term health.
That said, there are few opportunities for middle-income earners in New Jersey to access these important services. Existing local providers cater to high-income clients, leaving the bulk of the population unable to afford the benefits of holistic wellness.
By leveraging a proven and profitable operational model, a streamlined technology stack, and advantageous vendor relationships, Nirvana Studios can bring Reiki and the rest right to the New Jersey neighborhoods that need them most. We anticipate instant demand for these services, especially when delivered at rates the average office worker or plumber can afford.
A record of successful growth
In 2015, Nirvana Studios co-founders Imani Evans and Rosa Diaz—themselves yoga and Reiki master instructors—realized that they couldn't afford the classes they taught. To solve the problem, Diaz and Evans worked with business consultants, commercial real estate professionals, and technology experts to create a business plan to reduce the overhead of running wellness studios while maintaining fair pay for instructors.
The resulting model allows Nirvana Studio locations to offer services similar to its competitors but at a 30% discount.
The mix of experienced instructors, beautiful studios, and accessible pricing allowed Nirvana to quickly expand to 20 locations throughout the five boroughs.
Unmatched investment opportunity
Both market and company financials show that this is the right time to invest in Nirvana Studios.
For starters, there's never been more public interest in holistic health. A recent Trudential Insurance report showed that 93% of their clients wanted more access to yoga and stretching classes. Meanwhile, the mentions of preventative health on social media skyrocketed by 483% between 2021 and 2023.
Nirvana is perfectly positioned to grow in this atmosphere of heightened need. With dramatically lower operational costs, the projected net profit for the proposed New Jersey locations is over 45%. That's based on maintaining client pricing that's 25% lower than existing studios in the market.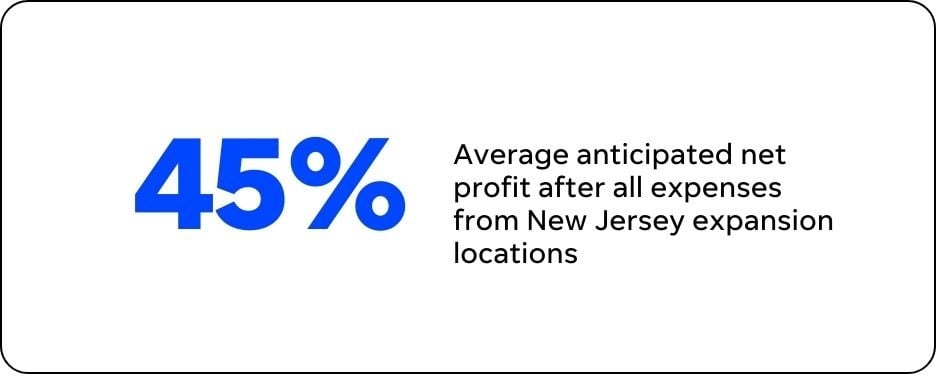 Class fees from 10 new locations are expected to generate $50 million in the first full year of operation. In addition, it's anticipated Nirvana will generate $5 million at an 80% profit margin in retail sales from branded clothing and products in the first full year of New Jersey operations.
Financial requirements for expansion
In order to maximize the opportunity for growth in the New Jersey Market, Nirvana Studios requires a $5 million dollar investment. The additional funds will be used to secure long-term leases, outfit physical locations, acquire equipment, and pay for marketing until the studios are operational.
In exchange for this investment, the investor will receive 10% ownership in Nirvana Studios NJ, LLC, a subsidiary of Nirvana Studios Inc.
The right plan at the right time 
The Nirvana Studios mission has always been to provide holistic wellness to more people through operational excellence. Your investment accelerates that mission to make needed services available to thousands more people.
Considering anticipated growth and historic company financials, Nirvana Studio's New Jersey expansion is an exciting opportunity to capitalize on an unprecedented growth trend.
Create a compelling executive summary
It takes a blend of creative enthusiasm and logical business sense to write an effective executive summary. Here are a few tips to keep in mind while you work:
Remember that an executive summary should persuade as well as inform
Follow the structure of your business plan
Avoid useless jargon but include the most important details
Keep it to one or two pages and make it easily skimmable
Write in a professional tone and make the introduction engaging