eCommerce sales are a big deal.
The consistent growth of global eCommerce sales shows no sign of slowing down and presents an excellent opportunity for businesses to drive sales and revenue.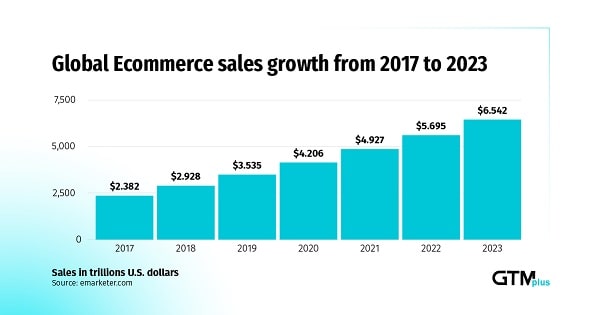 The rise of eCommerce has hastened the demise of retail stores and other walk-in businesses. With eCommerce allowing users to browse, research, and buy from the comfort of their own homes, this trend won't be changing anytime soon.
The problem is some would argue there's no replacement for having a product or service recommended or demonstrated to you in person.
Thankfully, eCommerce guided selling bridges the gap and unites online sales with a more tailored and traditional guided experience.
If eCommerce is a big deal, eCommerce guided selling is an even bigger deal. Back in 2019, a study found more than half (51%) of sales organizations had already deployed guided selling or planned to. Going into 2022, more eCommerce businesses realize its value.
So, read on for eCommerce guided selling: what it is and how to do it the right way.

What exactly is eCommerce guided selling?
In a nutshell, eCommerce guided selling guides the shopper through the buying process, much like a store assistant would in a 'brick and mortar' store.
Guided selling requires an understanding of customer needs so you can guide them towards the perfect purchasing solution for their problem or desire. Essentially, you want to make shoppers' experience smooth but alluring.
But how do you guide a potential buyer through the process if you aren't physically with them?
For example, let's say you run an online bed store. A customer who needs a new mattress for their back problem finds your eCommerce store online. If this was face-to-face in-store, you'd be able to ask the customer questions, listen to them, and let them try out different mattresses.
But in an online setting, this isn't possible.
Thanks to the digital world, we now have guided selling software solutions to set up dialogues between potential customers and your business. The resulting interactions can help guide a customer towards a happy purchase.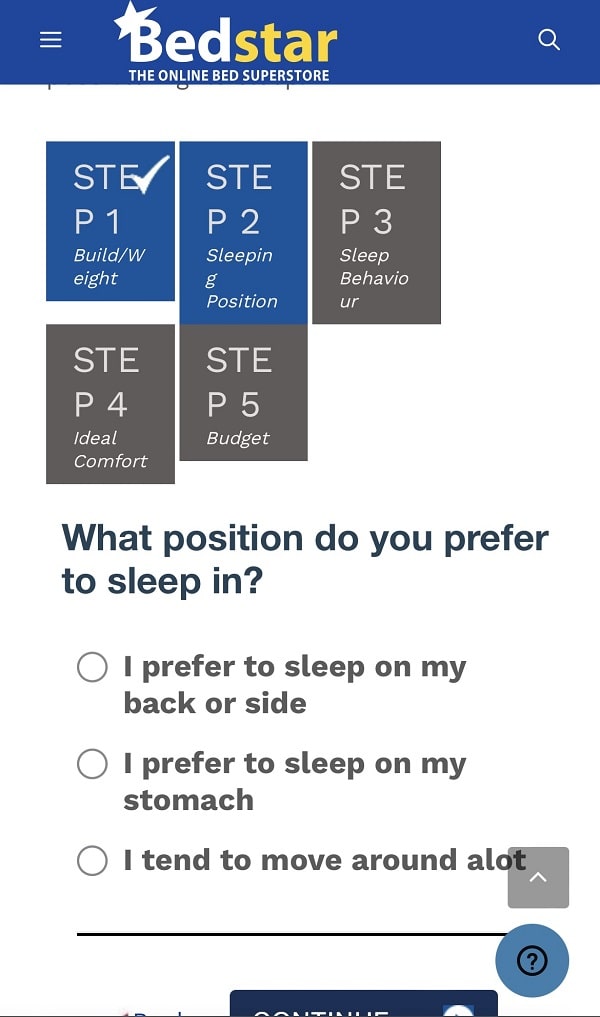 In this example, the company's website asks questions and gives multiple answer options. Upon completion, the customer will be left with the most suitable mattress for their needs.
You can also analyze the resulting data to gain customer insights for innovation and optimization.
What are the benefits of guided selling?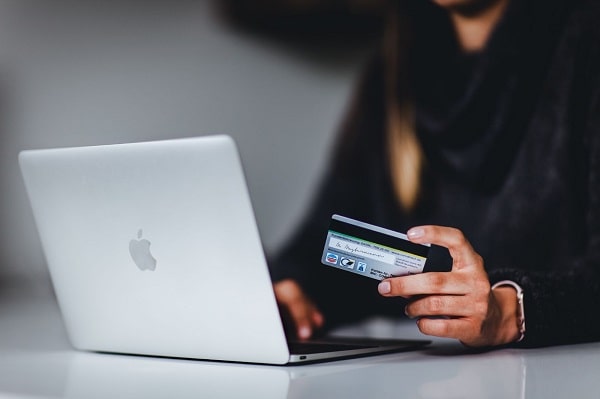 The great thing about guided selling is that it benefits both customers and businesses alike.
Guided selling is the perfect solution to the most common complaints made by digital marketers, including:
Online customers can't find the product they're after.
Customers spend most of their time browsing but ultimately can't make a decision.
Brands find it difficult engaging with customers online as they would in-store.
And in solving these issues, the customer's experience is also improved, making purchases more likely. Everyone's a winner! Your sales and reputation go up, and so too does customer satisfaction.
Remember, in the 21st century, the customer always comes first. Guided selling taps into this by making customers feel valued. The customer-centric nature of eCommerce guided selling makes it a fast-growing trend.
How do I implement eCommerce guided selling the right way?
There's one thing worse than not utilizing guided selling correctly for your eCommerce store, and that's not using it at all!
It will leave you falling behind competitors who are already using guided selling themselves. So, how exactly do you go about implementing an eCommerce guided selling strategy? Well, the first step is to undertake some research and planning.
Start a plan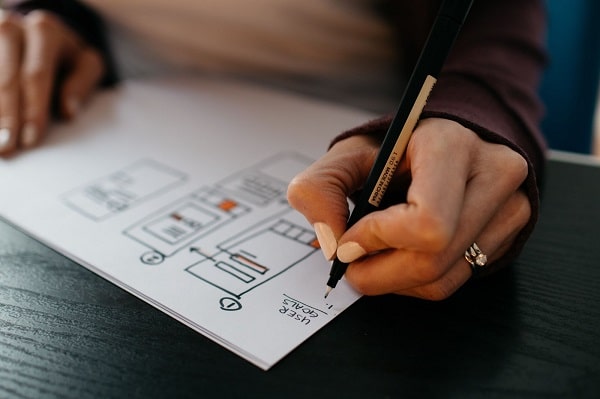 All good strategies start with a good plan. As the saying goes, fail to prepare, prepare to fail. This stage is vital, so spend some good time here.
Here are some things to consider when at the planning stage.
Your current state
The first thing to do is measure how well your eCommerce store performs right now. This lets you assess your results alongside your project.
Categories to consider include:
Number of visitors.
Pages viewed per visit.
Duration of stay.
Number of returning visitors.
Bounce rate.
Site revenue.
By exploring the current state of your eCommerce store pre-guided selling, you'll be able to track progress and success and justify the investment.
Identify key metrics
What is it specifically you're focusing on? Do you want to:
Increase the number of conversions?
Increase online store visits?
Lower cart-abandonment rates?
Tracking these online business growth metrics is vital for reaching targets.
We've all been there, you visit an online store but have no idea what to choose, 'Why should I choose that? How will it benefit me more than the other options?'
Make things simple for your customers. Reduce the complexity of the buying process by guiding them towards a satisfactory decision.
Additionally, video also plays an important role in the process. As you make videos to boost sales, you should also test them and adjust them as per customers' needs.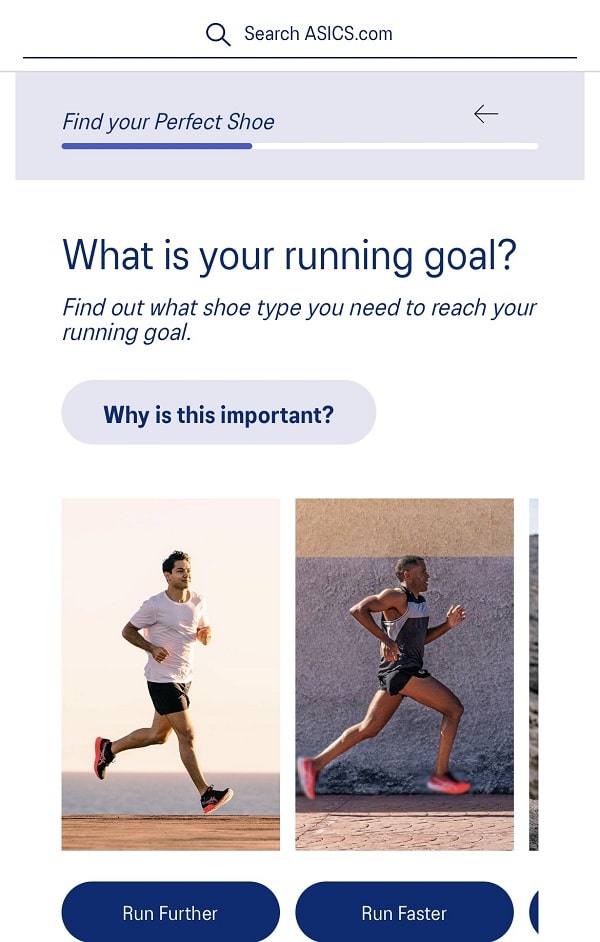 In this example, the guided selling process gets into the nitty-gritty of different running shoes to find the perfect pair for the customer.
Is there a chance to cross-sell?
Your guided selling efforts don't need to stop after a single purchase. This could be the perfect opportunity to show them related products or package deals.
For example, if a customer has purchased one of your new black-out tents for a festival, you might offer them a bundle that includes wellies, a torch, and camping chairs! Not only will this increase sales, but customers will feel satisfied they now have all of their camping covered thanks to your brand. Great!
Project a recognizable brand personality
In the absence of a friendly sales assistant, you'll need to take extra steps in creating a recognizable brand personality that customers enjoy engaging with.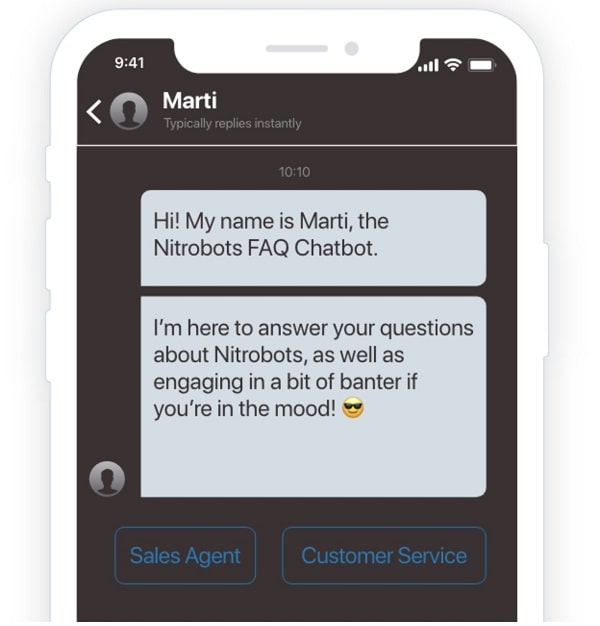 Look at the example above. Notice how a chatbot has been used to answer and interact with customers in an informal way.
We've all had that feeling of leaving a real store after a positive experience, "Wow, that guy was super helpful. I'll go there again next time."
This is what you need to recreate with your eCommerce guided selling strategy. You'll also distance yourself from rival brands that aren't offering the same level of service.
Promote new products, services, and offers
Your guided selling platform can be used to promote new products, services, and offers.
For example, perhaps a customer has left a pair of headphones in their cart without purchasing. You could show them a newer model that might excite them through teaser videos or perhaps offer 10% off the ones in their cart.
Seeing shiny new products or enticing offers could be the difference between losing and keeping customers who are 'on-the-fence' and can't make a decision. It's a great marketing technique for small businesses needing a push.
Select the best team
Now it's time to create a team that will implement and oversee your guided selling strategy.
Choose candidates you think are best suited, and be sure to encompass all the required departments such as IT, marketing, and sales.
At this stage, you could also consider outsourcing your guided selling work if a lack of design resources deem it necessary.
Once your plan is looking workable, it's time to take the next step.
Start designing
Now you're ready to design a website in 2022 worthy of success. This stage can be broken into steps.
Produce concept designs
Bring your visions to life with your conceptual design comps. At this early stage, keep things simple to account for changes you need to make.
There are a few ways to deploy guided selling, but usually, it's by integrating a tool with conversational intelligence into your eCommerce store. This allows you to engage customers with a dialogue to ask them questions. The responses collected can be analyzed as data to optimize their shopping experience.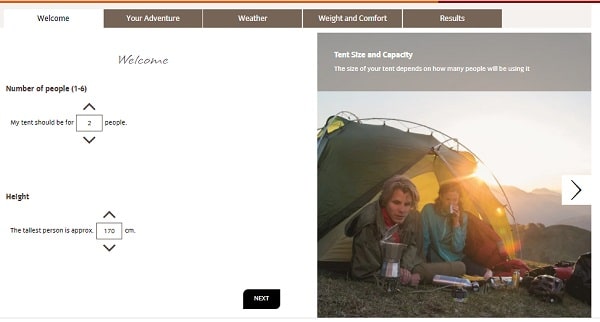 Your initial designs should be as functional as possible for testing purposes. In the example above customers are being provided with a clear and simple way to respond to questions to find their ideal tent. Also, ensure all team members are working together and are on the same page. You don't want human errors to tarnish the whole project.
Capture the feel of a real sales assistant
A sales assistant good at their job can change their recommendations immediately based on a customers response.
Your tool needs to do the same, so make sure your content educates the prospective client and gives them suitable recommendations based on their answers.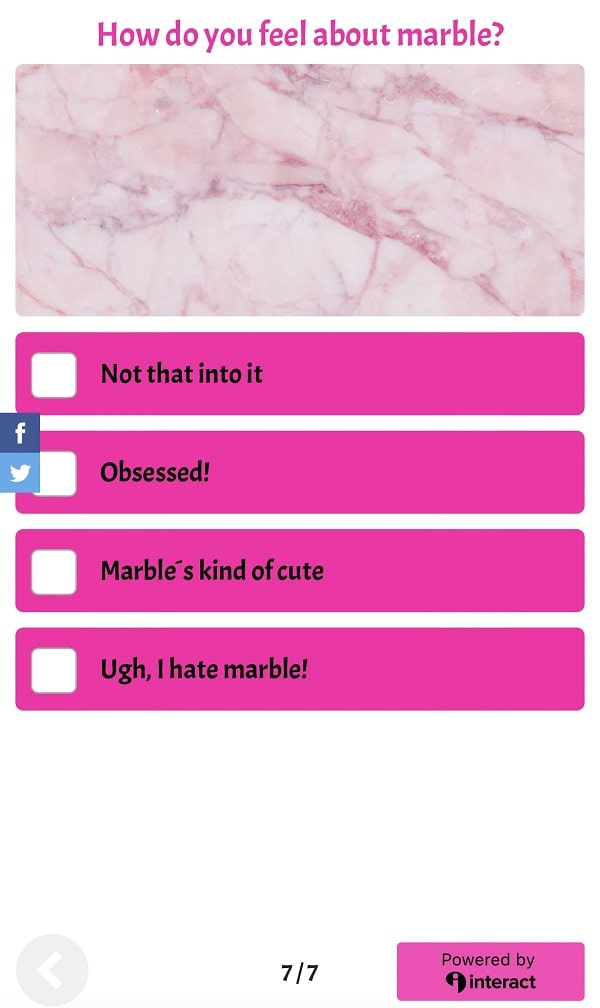 In this phone case business example, the recommended products come from the answers given. Notice the informal tone of the response options, too. They really help capture the feel of a real conversation.
Tell customers what to do next
Actions speak louder than words.
If your customer has made a decision, tell them what to do next. This could include:
Making an order.
Subscribing to a service.
Obtaining contact details for support.
An option to share their experience with friends.
Making it easy for users to take action will leave them feeling satisfied and more likely to visit again.
Select dialogue questions that will achieve insightful responses
The questions you insert into your guided selling tool need to evoke responses that are logical and don't confuse the process.
Some things to consider are:
Using a flexible flow that enables users to go back to the previous question or skip questions they can't answer. Include a progress bar to show customers where they are.
Don't spam users with market research questions.
If advising on technical products, offer options for different levels such as beginner or expert. This will prevent any wasted time or confusion.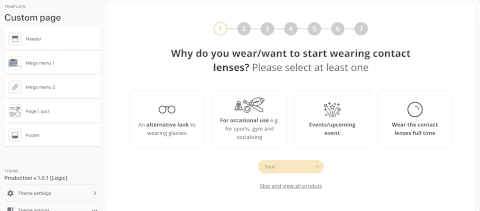 In this example, the customer is asked specifically why they want to wear contact lenses. Recommendations are then based on their responses. The customer can also see their progress at the top of the page should they need to go back a step.
Begin building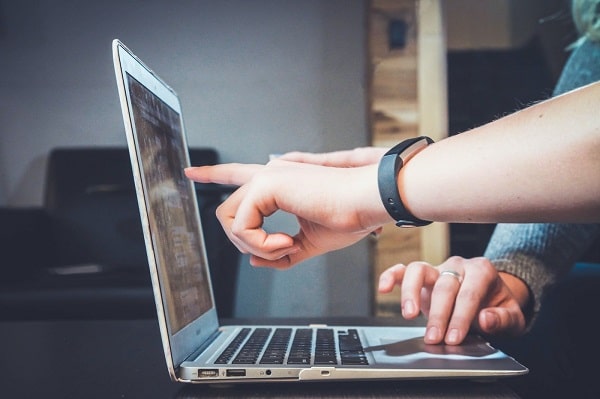 Now you've planned and designed, it's time to start building.
Begin by developing web pages based on your wireframes. If your wireframes are good, you have the best chance of a successful project. Think about your ideal form factors right away: laptops, desktops, tablets, and phones.
Ensure the guided selling tool is visible throughout your store and across all the necessary pages and buttons, including global navigation, landing pages, and product description pages. This will ensure it's visible to users throughout their whole buying journey.
Pay attention to your product information for maximum optimization. Users and guided selling tools pivot around attributes. For example, a mountain bike that is packed with pro features and costs $4000 will need to be matched with a customer who is a professional rider or serious enthusiast. Your product information is key here, so play around with different options that get you the desired results.
And last but not least, make sure to test your eCommerce guided selling experience before it goes live. Your in-house sales team should be experts on your products and are a good option for testing.
Get the most out of guided selling
Get the most out of your investment:
Create promotional strategies- show off your new features to existing customers and prospects through social media, email, blogs, etc. Remember to use SEO for maximum visibility.
Measure success metrics- whether using a chatbot or a phone solution, always perform customer service data analysis to gather insights. Compare your views, clicks, and conversions to your original figures.
Find additional uses- use your tool for things like feedback forms to collect data and inform future decisions and optimizations.

Related Content
Final Thoughts
Before launching your new eCommerce guided selling store make sure you have thought carefully about what you want to achieve and the metrics that are key for you.
Remember that a foolproof plan, an engaging website design, careful site building, and the proper use of guided selling can all help together in reinforcing your brand identity and ensuring the vitality of your business. Put yourself in your customers' shoes and develop a recognizable brand voice for them to interact with.
Think carefully about how you can offer personalization that shows customers you can attend to their needs while offering instant advice and recommendations in real-time. And, don't miss any opportunities to cross-sell and promote new products or services.
By the time you come to launch your new eCommerce guided selling store, your meticulous planning, designing, and building should stand you in good stead for success.
Your website should now be a place where visitors become long-term associates who develop a lasting relationship with your brand and its services.
---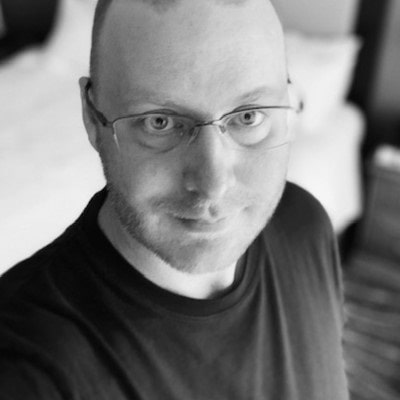 Written by our guest writer Richard Conn, the Senior Director for Demand Generation at 8×8
8×8 is a leading communication platform and virtual office phone systems with integrated contact center, voice, video, and chat functionality. Richard is an analytical & results-driven digital marketing leader with a track record of achieving major ROI improvements in fast-paced, competitive B2B environments. Check out his LinkedIn.