The power of your executives' voices has the ability to transform your company's brand credibility. However, with a handful of time-consuming responsibilities, executives are often unable to consistently craft compelling social media posts that showcase the value of their company, especially when this isn't part of their skill set. 
This is where you come in. An executive takeover is a collaborative marketing strategy where a social media or content professional ghostwrites content to be published on their executive's personal social media profiles. 
With your expertise in social media marketing, you can ensure this game-changing strategy boosts your brand credibility and ultimately builds a pipeline of high-quality leads from social media.
We've detailed the five steps you need to know in order to plan and execute a rewarding executive takeover strategy from start to finish, that's guaranteed to bring you positive results. 
Jump ahead:
Why You Need to Do an Executive Takeover 
Mastering Executive Takeovers: A 5-Step Guide for Success
With the opportunity to enhance brand credibility, attract more leads from social media, and build brand awareness, executive takeovers have a multitude of benefits you don't want to miss out on. Here's a 5-step guide on how you can build out a successful campaign: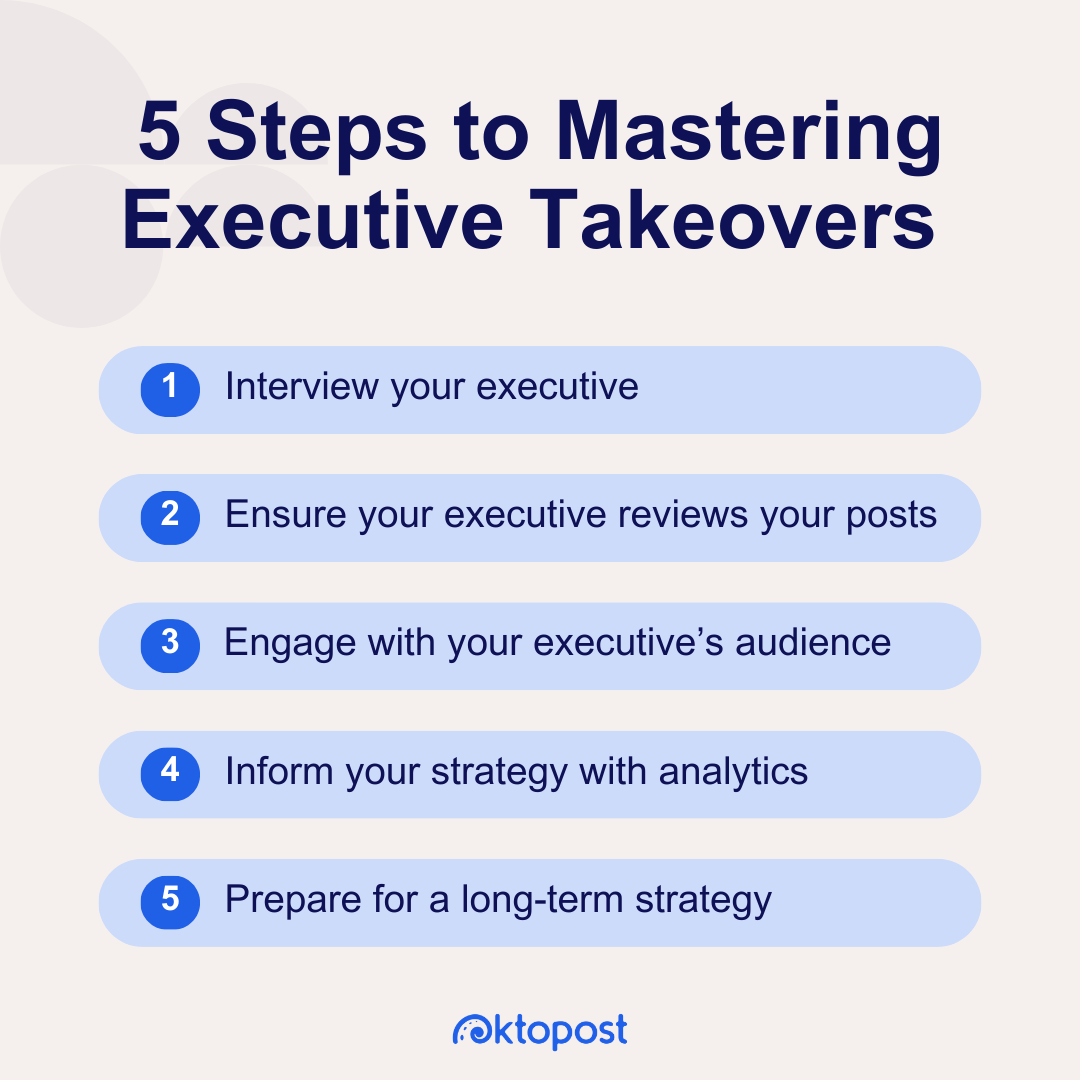 Step 1: Interview your executive
To master an executive takeover, you have to start with the basics. As with any marketing project, planning your strategy is the foundation for all your efforts. By jumping in with no game plan, you run the risk of falling at the first hurdle before you've even started the race. 
The first and most important step is interviewing the executive you're ghostwriting for to create a detailed content strategy and establish the objectives of your project.
It's essential to capture their authentic voice, perspective, and unique insights. Ghostwriting aims to help your executives convey their ideas and expertise effectively while preserving their identity and credibility. For this to be possible, this must be a collaborative effort. 
These are some of the questions you should be asking your executive: 
What is their desired voice and tone? 

Do they want to sound sophisticated, resourceful, and authoritative, or informal, conversational, and encouraging? Or a mix between the two? 

What have they focused on posting in the past?

What topics have worked well for them? What topics are they trying to amplify or avoid? 

What's their writing style?

Are emojis a deal breaker? Are they a lover or hater of exclamation points? Do they like long thought-provoking posts or short, straight-to-the-point posts?

What type of content do they want to share?

This could include a mix of or solely: thought leadership, company achievements, product updates, employee-focused materials, company value, or their take on running a company.

What do

they

want to be known for?

Do they want to be presented as a thought leader and industry expert, or a leader of an innovative product? Do they want to be known as someone who celebrates their employees' achievements? Or maybe they want their content to include an emphasis on their family life and how they handle their career/life balance. 
These questions are just the tip of the iceberg, and the more granular you get with scoping out the details, the more impactful your executive takeover strategy will be. 
Once you finish gathering all the information you need, create a rulebook for each executive to uncover all the nuances you need to understand to in order to set yourself up for success. 
Step 2: Ensure your executive fine-tunes your posts
As the first step highlighted, this needs to be a collaborative effort. Whilst you're freeing your executives time to manage their multiple responsibilities, it's still important to get the final approval on the content you create.
The main goal is to make your ghostwriting as authentic as possible. In order to achieve this, your executive needs to review your content and make edits and corrections where it's necessary. This way, you'll be able to ensure your content represents your executives' expectations and accurately reflects the persona they want to present.
By actively involving them in this process, you'll ensure that your takeovers represent their personality and goals, and allow them to maintain an authentic personal connection with their audience. 
Oktopost's approval workflows can streamline and expedite the approval process, saving valuable time. You can create an approval workflow where you can draft your content, schedule it, and send it for your executive's approval. They can then edit, provide notes, and approve the content – all within Oktopost. Once approved, it will automatically be scheduled for publishing at the designated time. With Oktopost, you can also post on behalf of your executive instead of sending them content to post manually. Since their profile will be connected within the Oktopost platform, you can continue to seamlessly manage the process from start to finish, avoiding hurdles on the way.
Step 3: Engage with your executive's audience
You can't be a thought leader without engaging with your audience; skipping this step will make your executive appear unapproachable, defeating the purpose of this strategy.
Chances are you'll also take on this responsibility to help your executive. By responding to comments and engaging in meaningful conversations, you will humanize your executive and foster relationships, drawing an active and engaged audience to follow their content. 
Utilizing Oktopost's inbox feature avoids hurdles in accessing your executive's personal accounts, eliminating the need for direct access (which most executives may be uncomfortable with). It collects all comments in one inbox, allowing you to respond and engage without direct access and ensuring you never miss a comment. You can also tag your executive within the platform to preview and approve responses, avoiding uncertainties.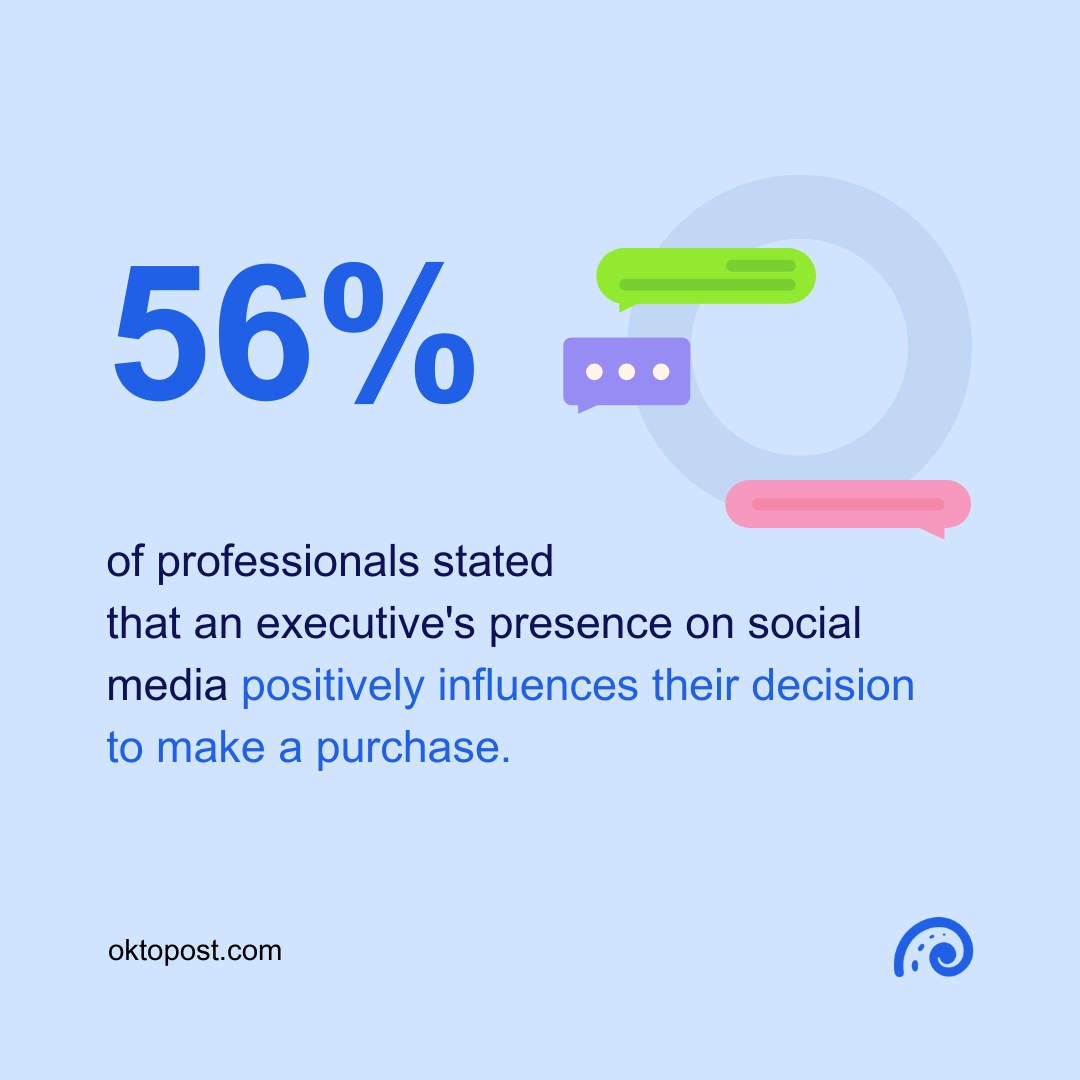 Source: LinkedIn
Step 4: Inform your strategy with analytics
Social media provides you with a goldmine of data that you can leverage to maximize the results of your executive takeover. 
By analyzing relevant social media metrics, you can inform and shape your strategy to maximize your results. Tracking different engagement types (such as likes, comments, clicks, shares, new followers, and link clicks) offers valuable insights into audience engagement. 
It's important to analyze who is following you and who is engaging with your content. Opening LinkedIn to hundreds of engagements could be exciting, but if it's not the right audience then your content strategy isn't working – it's all about quality, not quantity. You want to attract high-quality leads likely to convert to customers, so if this isn't the pool of people you're attracting, you need to pivot your content and try something else.
With these insights, you can experiment with various topics or content types, using social engagement data to assess effectiveness. Monitoring metrics will reveal which posts gain the most traction and offer valuable insights into audience interaction. Once you identify your top-performing content, look for patterns between them – are they long or short text-based posts? Do they include visual content such as videos, images, polls, or infographics? What topics are they focused on?
Real-time, accurate, and actionable insights from your results will help you gauge strategy effectiveness and identify high-engagement topics. From this data, you can adjust and plan your content accordingly for continued impact.
To consolidate this data in one place, you can create custom dashboards to track the social media engagement data and results for each executive's takeover within Oktopost. The platform will pull all the metrics you want to track all in one place, hassle-free. You can also handle multiple projects at once – for example, if you're simultaneously running three executive takeovers, you can easily compare the metrics to reveal which topics are resonating with specific audiences. This will allow you to visualize a clear overview of your strategy's performance. 
Step 5: Prepare for a long-term strategy
An executive takeover enhances brand awareness, audience perception, and lead generation. However, expecting quick results is unrealistic. 
You need to invest in a long-term strategy of consistently sharing quality content – we recommend planning a strategy for at least a year. If you let your efforts fizzle out after a quarter you're not giving it a real chance, and your efforts will go to waste.
Here are a few ways you can keep your maximize your strategy for the long term: 
Interview your executives quarterly to create new content initiatives based on industry changes, internal marketing projects, and company initiatives. 

Analyze engagement metrics to identify your successful and underperforming content. Use this data to guide the next round of content for maximum impact.

Conduct competitor analysis to highlight your unique selling points and tailor your content accordingly. 

Consult sales and customer success teams for first-hand insights into your prospects' and customers' pain points and desires, and create relevant content based on this information. 

Overcome writer's block and maintain content flow with

AI tools

.
By implementing these strategies along the way, you can bolster your executive takeover with accurate insights, fresh ideas, and relevant content for your target audience.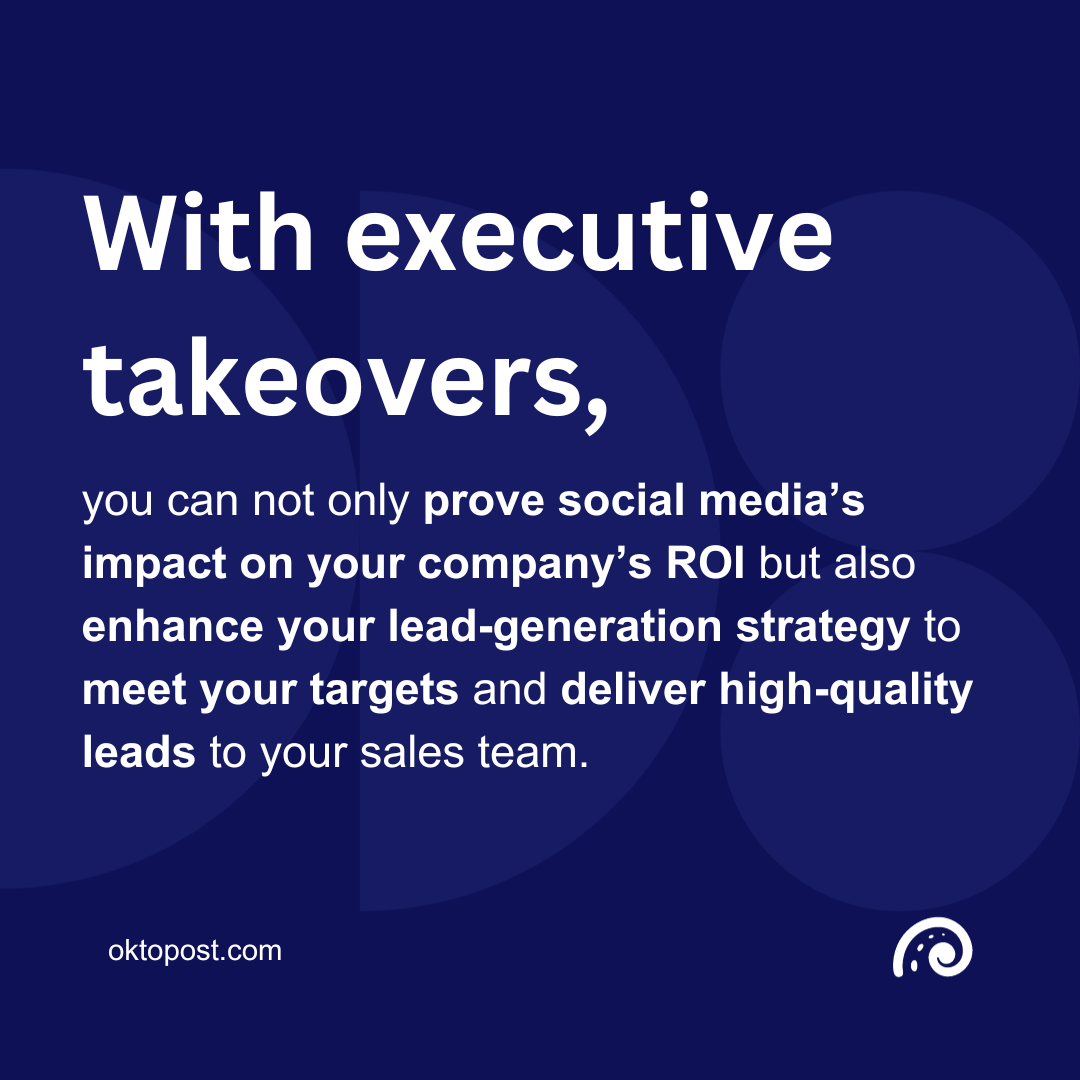 Maximize Your Executive Takeover Strategy With Oktopost
Executive takeovers are a powerful brand-building tool for credibility and awareness. Following the steps we listed out will help you take your executive takeovers to the next level and leave a lasting impact on your social media strategy.
While it humanizes your executives and portrays them as thought leaders, it's also a powerful method for you to expand the impact of your social media marketing strategy, increase brand awareness, and attract high-quality leads.
With the right social media publishing tool, you can seamlessly streamline your executive takeovers from initial drafts to publishing, utilize a calendar overview of your scheduled posts, and measure the impact of your efforts. Contact us today to learn more about how you can effortlessly launch your executive takeovers with Oktopost.