Eight months ago, ChatGPT's launch rocked our world. Today, you can't escape the online buzz, news stories, and how-to videos focused on artificial intelligence and how AI is transforming every industry and changing career paths. We even developed a series of blog articles to share our insights on AI.
Last week, Weidert Group continued our AI journey by attending the fourth annual Marketing AI Conference, or MAICON. To give you a feel for AI's recent influence, attendance last year was 200; this year over 700 people attended.
As the agency's Creative Director of Content and lover of rock music, I was thrilled to join other marketing practitioners in Cleveland, Ohio, home of the Rock & Roll Hall of Fame. Not only did I learn more about how to use AI to give our clients a competitive advantage (and boost the efficiency of our Weidert Group crew), I enjoyed the chance to scratch my rock 'n' roll itch.
"More Intelligent. More Human."
The theme that the conference created years ago turned out to be incredibly fitting for 2023's event: "More intelligent. More human."
Yes, the event featured conference staples — keynote speakers, breakout sessions, and networking opportunities — but what stood out were the human connections that happened even as participants discussed the incredible power of AI.
"Authentic human contact will take on far greater value for individuals and brands as AI-generated content floods the market," said Paul Roetzer, CEO of the Marketing AI Institute, who kicked off MAICON. "People will cherish human creativity more."
The Speakers Rocked, The Messages Resonate
Each session's speaker selected a rock song for their walk-up music (what would be your song?), which set the tone for their 45-minute talk. Incredibly, without prior planning, the songs and message for a majority of the presentations mirrored the conference's theme. Here are some highlights:
Tara DeZao, the director of product marketing at Pega and an expert in customer experience, discussed how marketers may want to carefully consider how they target customers. "The responsible use of AI is a cultural issue within any organization. AI can target customers incredibly well, but will that make your customer relationship healthy? It's about ethics," she said. "Customer journeys need to be more relevant and more empathetic. People want to know that brands care."
Christopher S. Penn, co-founder and chief data scientist at TrustInsights.ai, discussed the power and pitfalls of artificial intelligence. "AI isn't the end of marketing, it's the end of marketing as we know it," he said. "You must have subject matter experts (SMEs) quality assuring what large language models (LLMs) create."
During "The Value of Storytelling," Brian Fanzo, digital futurist at iSocialFanz, shared his experiences of creating harmony between technology and humanity. "Storytelling has never been more important. Relatability is the future of marketing in an AI world," he said.
According to futurist and artist Brian Fanzo, "Our individual perspectives cannot be replaced by AI."
Amanda Todorovich, executive director of digital marketing at the Cleveland Clinic, offered the perspective of introducing AI within an enterprise organization. During a group forum, "Inside the C-Suite," she recommended that an organization start its AI journey with small steps, scale up gradually, and make piloting AI tools a regular business practice. "AI's about enhancement; taking away tedious tasks," she said. "Remember, empathetic writing goes deeper than AI can, and it connects more."
Meghan Keaney Anderson, head of marketing at Jasper, discussed "Evolving Strategy with AI" and how change is already here. When it comes to technology, "We typically rush to the easiest way, not the best way. Faster is good. Better is better. That requires humans," she said. "AI-assisted content strategy should put a premium on idea development. AI is not great at finding new territory. Humans are."
Cassie Kozyrkov, chief decision scientist at Google, is often asked, "When will AI be better than humans?" and she pushes back. "AI is a tool. A convenient tool that makes humans do things better," she said. "Do I trust AI? No. I don't trust humans, either, so I test everything."
I was introduced to a job title I had never heard before: AI Ethicist. This is where technological innovation meets the application of ethics. Olivia Gambelin, founder of Ethical Intelligence, advises various organizations in utilizing ethics as a decision-making tool. "When it comes to AI, an organization already has values established (what's already followed day-to-day). Now apply those to AI. Does AI align with the goals of your company?" she asks. "You can't have trust without ethics, and you can't have customers without trust."
Finding The Rhythm To Meet Clients' Marketing Needs
One benefit of inbound marketing is the ability to establish a rhythm that creates bottomline results. It's music to our clients' ears. As a marketing thought leader, Weidert Group also brings new technologies that wisely execute marketing plans, so AI is right up our alley.
Even though the world of AI changes daily, its benefits are here… now. AI marketing opportunities go beyond large language models to data processing, SEO development, task automation, personalized customer experiences, predictive analytics, and more, pushing the ways we approach marketing strategies and results evaluation.
Gaining insights from different professionals' perspectives was another highlight of MAICON. Hearing firsthand what has worked and what hasn't helps narrow down the thousands of AI tools now available.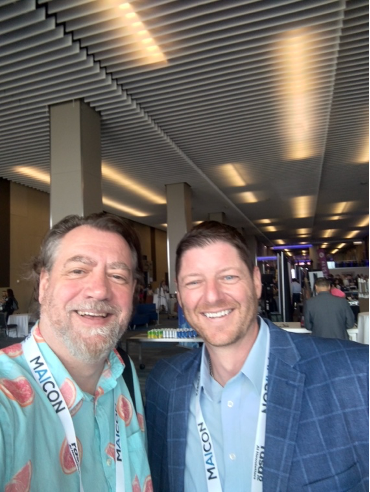 Paul Roetzer, right, CEO of the Marketing AI Institute and the author
According to Paul Roetzer, "As marketers, we can redefine what's possible for our businesses and our clients," he said. "And, no matter how advanced the tools or models are today' as of this moment, this is the least capable AI you will ever use."
That let that sink in for a second.
As the machines get smarter, we marketers need to, as well. Yet, after hearing from the industry's top minds and participating in interactive sessions, it's clear that the most human businesses will win.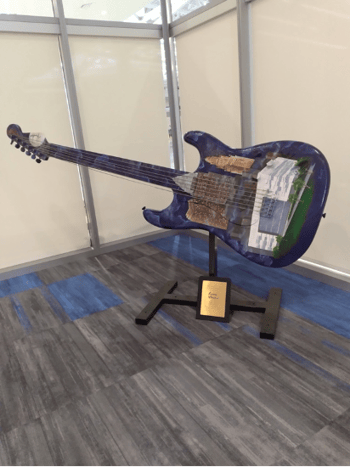 GuitarMania, a city-wide fundraiser, features 10-foot, custom-designed replicas of Fender® Stratocasters® to support the United Way of Greater Cleveland
Of course, I gladly took a break from AI talk and had lively discussions about rock music with some fellow participants. Better singer/songwriter: Billy Joel or Tom Waits? It's obvious to me, but let me know what you think!
MAICON is obviously the premier event for groundbreaking AI tools in the world of marketing. The spike in attendance this year is proof of that, as is the quality of the presentations. Kudos to the Marketing AI Institute.
Want to learn more about pushing the ways to approach marketing using AI? Or, just want to discuss my theory of "rock band diminishing returns"? Connect with me! 
You can also join our community of industrial business development professionals by joining  our Databox Benchmark Group, GA4 Sales & Marketing Benchmarks for Industrial & Manufacturing Companies to see how your website and lead gen performance compares (free Databox account required). Bonus: take our inaugural State of Industrial Sales and Marketing survey, conducted in partnership with our friends at Databox, to instantly see how your peers are aligning their teams, using AI in their tech stack, and more.