OpenAI, an artificial intelligence (AI) research laboratory, changed everything on November 30, 2022, when it released ChatGPT, a dynamic, new chatbot.
"Everything" may sound a bit extreme, but numbers don't lie: ChatGPT experienced 1,000,000 users … in just 5 days. The chatbot is basically a conversation with a robot; questions are answered (nothing new), but it also revises its answers based on the followup it receives from the human. And, it's pretty slick. This language model has become so popular that OpenAI has had to develop creative ways to turn people away:
The popularity of ChatGPT has thrust the topic of AI into everyday discussions.
Nearly instantly, the world's eyes have been opened to the possibilities of AI, most of all: how easy it is to use. That combination of power, user experience, and popularity inspired Microsoft to announce an $10 billion investment in OpenAI last week. We'll likely soon see ChatGPT integrated into Bing, Microsoft 365 (PowerPoint, Word, Excel, Outlook), and numerous other products.
How Impressive is ChatGPT?
Although AI is nothing new, why is this particular AI language model so hot right now? Well, ChatGPT answers prompts in a straightforward way, and its instant replies are based on your feedback, so it really feels like an ongoing conversation.
This GPT-3 AI language can produce paragraphs of well-written copy (whitepapers, videos scripts, checklists, etc.) and adapt that writing to different styles.
Want to sound like Arnold Schwarzenegger in The Terminator? No problemo! Plus, it's open for everyone to use and experience, inspiring the Harvard Business Review to call ChatGPT a "tipping point for AI."
Not all reviews are glowing. Mashable calls ChatGPT "amazing, creative, and totally wrong," saying that it's great creatively but lousy factually. ChatGPT seems to accept that criticism, with a prompt page telling users that the chatbot "may occasionally generate incorrect information."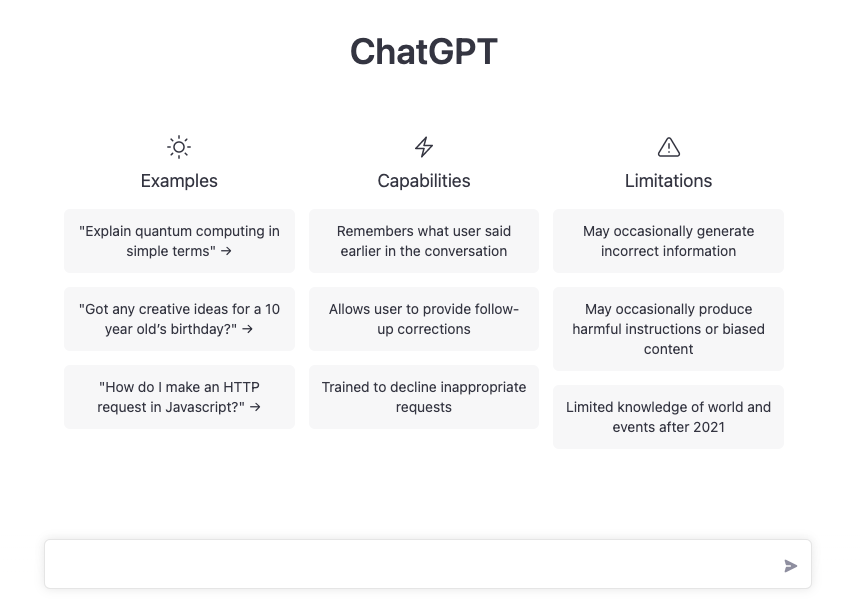 ChatGPT, while free to use now (and often too popular to access), could quickly become a paid service. But, don't worry. It's just one of many, with numerous AI language generation options available right now. Most are incredibly affordable (less than $20/month is a bargain if it provides professional marketers with significant efficiencies). The challenge is finding the right one for you.
Undoubtedly, numerous tech giants are developing their own versions of ChatGPT. Imagine the AI systems (that likely go beyond what ChatGPT can do) that are in development at Google, Meta, Amazon, etc. They all know that businesses that act first on this change are at a considerable advantage.
We Don't Have All the Answers (and Neither Does ChatGPT)
First, one thing needs to be said: no one knows it all. That's especially true of AI. Every week there are announcements, developments, improvements, and uncertainty about how AI will affect all aspects of our lives.
One thing we can state with confidence is that marketing will never be the same. At Weidert Group, we're fine with that; we've always adapted our marketing expertise to leverage the latest technologies to improve efficiency and help our clients thrive.
When it comes to AI, writing content (the most obvious benefit of ChatGPT) is just one aspect of marketing in which AI's power can be utilized. There are many other disciplines that can benefit from the proper integration of AI.
Weidert Group's knowledge of B2B inbound marketing for complex industries is matched by few others, and we see AI as a tool in an ever-expanding toolbox. It definitely is an impressive, hard-to-comprehend tool at times, but it still needs to be used properly and be checked for accuracy, brand voice, intent, and more.
How Can You Get Up to Speed?
With AI moving at lightspeed, is it even possible to get caught up? Well, not entirely (we're only human, after all) but all marketers need to better understand AI ASAP.
The tempting efficiencies that now seem to be within a click must be balanced by big-picture thinking and an uncompromising standard of accuracy and truth. Because AI isn't perfect, it's perfectly acceptable to lean on authorities that you can trust.
Weidert Group is fast-tracking our learning, knowing that AI is here already, and it's only going to have more influence in our lives and on our clients' growth potential.
Internally, we've created an "AI Summit" to explore the possibilities, challenges, and scope of AI in our world:
What disciplines can benefit immediately?
What areas require more research?
How will our gains affect our clients' strategies, roadmaps and, ultimately, results?
Not having all the answers is a comfortable place for us to be, and we hope it is for you, too.
One resource we found to be incredibly helpful for marketers is the Marketing AI Institute, founded by inbound agency veteran Paul Roetzer, who has been studying AI for nearly two decades.
Buckle In! ChatGPT Has Sparked a Revolution
Paul predicts that 2023 will be remembered as the beginning of the "Golden Age of AI," and who are we to argue? Infusing affordable AI tools into existing B2B inbound marketing strategies feels like an inevitability at this point. We just need to properly assess the opportunities and threats, and determine the best tools to build value for our clients.
As Weidert Group continues to explore AI in B2B marketing, expect this blog article to be the first in an ongoing series. This topic is too important to leave our readers hanging. 
If you're not already subscribed to our blog, you can do so here.
One last thing: Beware of the people who claim to know everything about AI for marketing. It's an ever-changing entity that we're all learning about day by day with few guide rails and no regulations. There are trusted, experienced AI authorities, but it can also feel like the wild west. Giddy up, ya'll!
Another movement that speaks to efficiency and expanding your company's growth potential is "Revenue Operations" or RevOps. Learn what your go-to-market teams need to know now more than ever by downloading our eBook: RevOps For Complex B2B Industrials & Manufacturers.