Marketing activities are actions an individual or organization undertakes to achieve specific marketing outcomes.
There are probably as many marketing activities as there are marketing goals. It's hard to evaluate these activities "as they are" because their effectiveness depends on how they're applied and to which market.
Yet there are some activities that seem to stand out from the rest by bringing great results for many companies and standing the test of time.
In this article, I'll show you five such marketing activities and five companies that tested them in real-life conditions. Since each of those activities can be an article on its own (or a book), I'll be focusing on explaining why they are worth your time.
Here they are:
Finding product-market fit (PMF) means making sure a product can satisfy an existing demand in a market with high potential. Basically, a telltale sign of achieving PMF is when people are willing to buy your product, actively use it, and recommend it to others.
Some may think that PMF is outside of marketing's scope or that it's irrelevant to marketing performance. But that cannot be further from the truth. There are two reasons:
Without market research, it's unlikely a company can build a great product that answers consumers' needs and wants.
Without such a product, no marketing tactics can generate sufficient demand to support the company.
It's quite obvious if you look at it from the customer's point of view. A company tries to sell a new type of hydrogen car, but there are no hydrogen stations nearby. If that's the case, what kind of marketing can convince a customer to buy that car? That product just won't fit the market.
That is why achieving PMF matters the most. Without it, you can't build sustainable growth, and scaling anything simply won't make sense. You'll just waste your time and money.
In other words, a PMF is to a business what foundations are to a house. 
There are essentially five steps to achieving PMF. The core element of that five-step process is building a minimum viable product (MVP).
An MVP is a "product development" phase in which you test whether the core functionality of your product can satisfy the market demand by interacting with real users.
That's how Spotify started—a business valued at $54 billion today.
Instead of going for a "big bang" launch with a perfect product that has all the features people dream of, Spotify creators decided to build an MVP and test it similar to how a scientist tests a hypothesis.
This is also how this metaphorical drawing came to life, capturing the lesson from that process.
So here's how to build an MVP: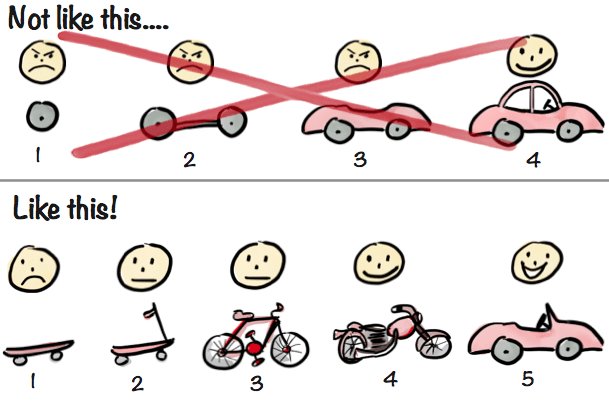 Translation: An MVP (or the "earliest testable/usable/lovable product," as the illustrator of this picture prefers to call it) is about offering the earliest version of a product that can satisfy users' needs and iteratively working your way up to something great.
This is opposed to delivering something great one piece at a time.
In Spotify's case, here's how the metaphorical skateboard looked like: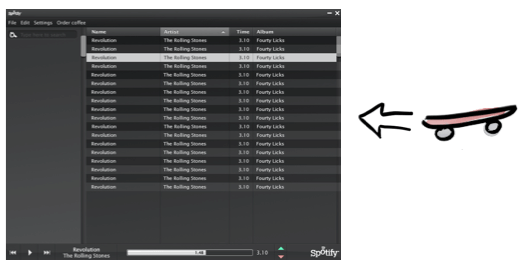 This MVP was designed to test the idea of streaming music and its performance with consumer technology.
The team didn't even run complex market research to test those aspects. Initially, team members just needed some feedback from family and friends. Afterward, they took that MVP to record labels and convinced them to put music on the platform.
Takeaway
Find the product market before scaling any other operations. And that includes marketing. The market always wins, and you can save yourself a lot of time and money learning what it "wants" as soon as possible—just as Spotify did.
Inspiring word of mouth refers to word-of-mouth marketing (WOMM), i.e., the process of influencing and encouraging natural discussions about a product, service, or company. To put it simply, influencing word of mouth is about giving people a reason to talk.
Just so we're on the same page, word of mouth is not some old-fashioned marketing theory. We're talking about recent studies proving the effect recommendations from friends and family have on consumer behavior.
Also, let's not forget that the digital era has given us new, measurable forms of word of mouth:
Conversations and shares on social media
User reviews on sites like G2, Capterra, etc
User-generated content about brands and their products (e.g., photos on Instagram with a branded hashtag)
Word of mouth is a powerful marketing channel that may be elusive. Yet it's not entirely out of control. Because while marketers can't control what people say about their brands, they can inspire brand-related conversations and even recommendations.
It boils down to delighting users with the product and spreading positive experiences.
And it's worth it. Many companies have used that channel to grow and sustain their business: Tesla, Github, Evernote, Uber, etc. There are too many to mention. In fact, positive word of mouth is one of the signs of achieving PMF, as discussed in the section above.
Fortunately, we can speak from our own experience here. Ahrefs is an eight-figure ARR company, and word of mouth is one of our top three customer acquisition channels.
So how do we influence word of mouth? The most important component is the product. For many people, Ahrefs is the go-to toolset for SEO. Some like it enough to say things such as:

That's why we never stop improving Ahrefs. People see that and appreciate our effort enough to recommend our tools to others:
You better calm down with these 🔥 updates or I'm gonna have to recommend you more than I already do

— Patrick Herbert (@PatrickHerbert0) December 1, 2021
And if you've got a complex product like ours, you also need to put a lot of effort into educating your audience. And that's what we do with articles and videos on this blog, on our YouTube channel, and in our Academy. These types of content are also a tried-and-tested way to inspire some word of mouth:
I'm making a Resources page for my site and need suggestions for others' content on inbound marketing!

I'm including links to: @annhandley's fantastic newsletter@ahrefs' incredible blog and free tools
The @Hubspot Inbound Marketing/Sales courses

What else should I include?

— Ashley Ashbee (@ashley_ashbee) November 8, 2021
This brings us to creating positive experiences via marketing. They captivate your customers and followers and help ensure those experiences will be shared.
One example of this is handing people free swag:
Hey @ahrefs @maysoonhere & @timsoulo! Thanks for optimizing my Friday, my t‑shirt collection and my coffee. Incredible packaging. It arrived in the cold north. Worn with pride! pic.twitter.com/Cs3QSzbZzV

— Massive Kontent (@MassiveKontent) March 22, 2019
Gestures like this can later be noticed by important blogs in a particular niche and mentioned in social media conversations:
@ahrefs t‑shirts. They just say tshirt on the front, but anyone who knows ahrefs will recognize it. They only way to get one is to win it, usually by being knowledgeable about their subject (SEO). Having one reps their brand *subtly* but also marks you as experienced. Brilliant. pic.twitter.com/ybMso3CV7b

— Kris Roadruck (@KrisRoadruck) January 24, 2021
Also, doing something important or highly regarded by the target audience can spread quite fast:
We'll be reallocating our paid traffic budget (~$200k💰) for December away from the Google/Facebook—and into sponsoring the industry's best creators and thought leaders.

— Ahrefs (@ahrefs) November 24, 2021
Takeaway
Word of mouth has been the key to success for many companies. And it's not a coincidence. Recommendations from customers have their weight in gold, and the only "costs" are improving your product, educating your audience about it, and leaving a trace of positive experiences.
All marketers face the same challenge: how to attract people and convert them to customers. Of course, there is no silver bullet for that. But if there's one type of marketing that comes close, it's content marketing.
This is because content marketing can do these three things, among others:
Drive the entire marketing funnel
Bring compounding results
Reinforce itself
Let's break it down using Ahrefs' content marketing machine as an example.
By driving the entire marketing funnel, we find that our content, in the form of blog posts, videos, cheat sheets, etc., can serve many different purposes when it comes to communicating with a target audience.
For example, a blog article can generate awareness by pulling people from a SERP to Ahrefs' blog.
Another piece of content, e.g., a video, may show a step-by-step process of solving an SEO problem, thus making people more interested in Ahrefs' product and eventually willing to try it.
And it gets even better. Often, a single piece of content can serve different stages of the funnel: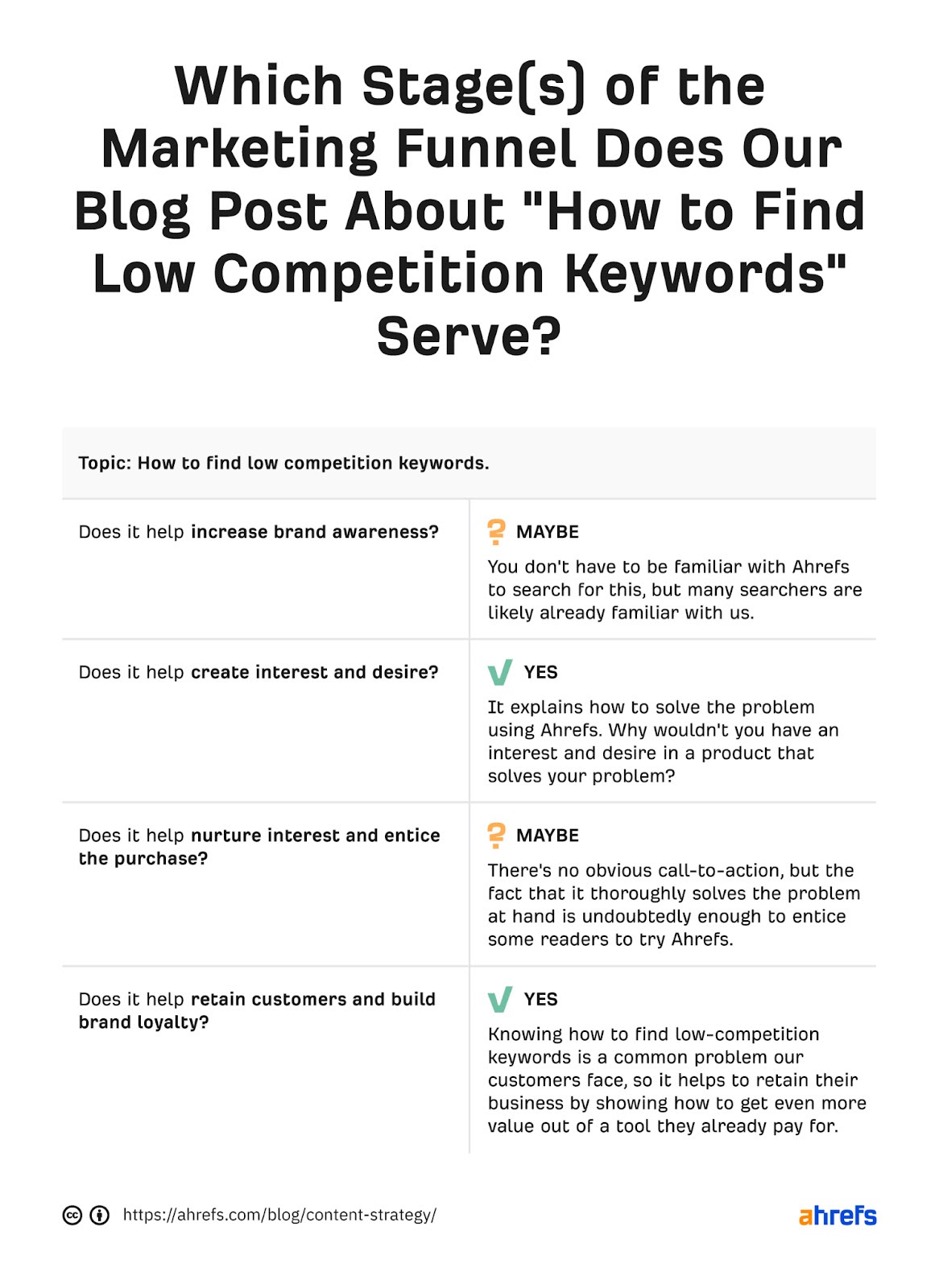 Arguably, the most powerful thing about such content is its potential to pull people from search engines like Google. This can translate into huge amounts of organic traffic and, of course, considerable business potential.
Since organic search is a crucial marketing channel for us and for many other businesses, let's see how it works for Ahrefs in a nutshell:
Someone searches for a solution to an SEO or marketing problem via a search engine like Google.
If our content ranks high enough, they read/watch our content that shows how to solve the problem through our product.
If the content is convincing, it may make them want to try our product.
Search demand and business value mentioned in the first point are absolutely vital to the success of the whole operation. Without them, not enough people will find our brand through content, and we won't be able to feature our product adequately.
This brings us to results, or rather, the compounding results of content marketing. Through the systematic publishing of content, our blog articles generate an estimated 326.7K visits per month—and that's from organic search alone.
Every new article we publish adds to that result. And so, an article posted two weeks ago will bring new traffic, adding to the traffic generated by a blog post we published years ago.
For example, this article about top Google searches was published in 2017 and still generates traffic.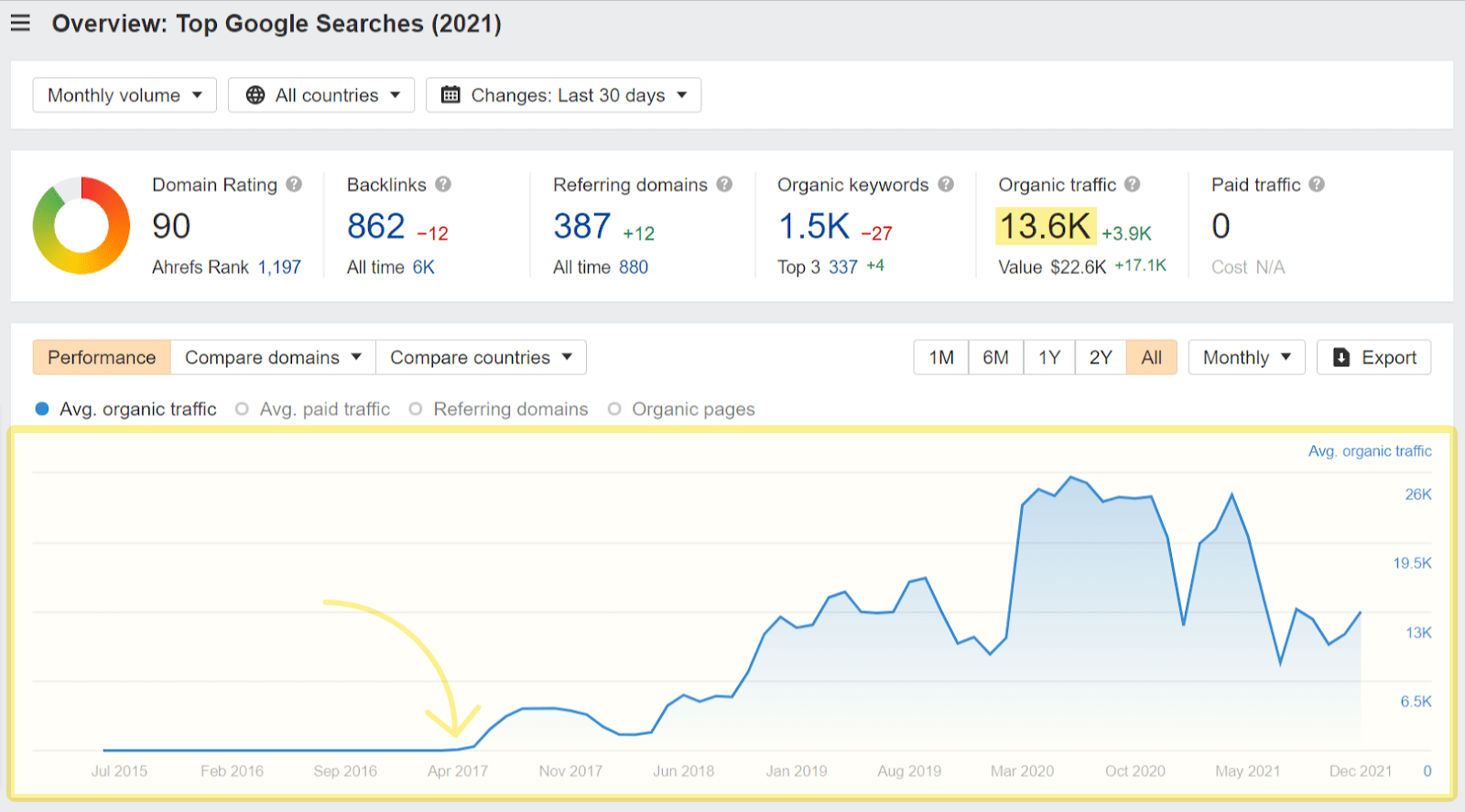 The third special benefit of content marketing is it has the ability to reinforce itself. Meaning, it is easier to get results the more you do it because every additional action you take adds to the momentum.
Marketers call it the flywheel effect. The first push is the hardest. But as the "wheel" builds momentum, that same push will make the wheel spin a lot faster (i.e., think about how a salad spinner works).
To illustrate, this is what happens when you invest in long-term content marketing:
If your content is good, people will recommend it, bringing in more readers. Chances are, the same people will come back to your blog to read your next article.
Now your readership is growing. Each new post has a greater potential audience than the previous one because it borrows from the readership of past articles and pulls new readers from SERPs.
A new thing happens. Someone links to your content on their website. Now you're getting backlinks, which are, arguably, the principal ranking factor. As a result, your content ranks higher on SERPs, thus bringing more visitors and building your authority on the topic (another important ranking factor).
As content gains links and ranks higher, it gets even more links, as more people are willing to link to a page with a higher ranking.
Now you can link from your old content to your new content, passing on link equity. Your content then ranks higher and gets more readers. Those readers will bring new readers and new links. The cycle continues, and the flywheel gains momentum. Let's not forget. New visitors mean new potential customers.
Of course, it's easier said than done. But this is how content marketing contributed to making Ahrefs what it is today. If you want to learn more about building a content marketing machine like ours, check out these guides:
Takeaway
Content marketing is powerful. It can even function as a standalone, self-sufficient marketing tactic. Content allows you to attract new customers, nurture your leads, and educate your customers—sometimes even with the same piece of content. And it works best when you do it with organic search in mind.
If you ever wondered how much a community built around a brand and its products could be worth to a business, Adobe answered that in 2012 by acquiring Behance for about $150 million.
That is how much Adobe, the creator of Photoshop, paid to "transplant" a platform that had gathered 1 million active users and generated 90 million project views monthly.
So what kind of benefits could a community like Behance possibly offer to this software giant?
Number one: activating and retaining users. Let's give the floor to Heidi Voltmer, Adobe's then product marketing director, to explain why the company was in need of a solution like Behance:
We have tools, we have services, and if you've got all those things, you also need inspiration, you need to get that spark. … By bringing in Behance, we're rounding out our offering and making this a one-stop destination for creative professionals.
Inspiring people to use a product (i.e., activating and then retaining users) is a common problem relating to productivity tools, and Adobe's products were no exception.
Adobe had the best graphic design tools in class but still lacked something that would make people use those tools more frequently and effectively.
A user community is a great solution for that. Each new project uploaded to the platform can inspire multiple people to use Adobe's products and encourage them to upload their own work. This, in turn, enriches the platform with more user-generated content and potentially inspires another group of people.
And we're talking here about an endless stream of user-generated content: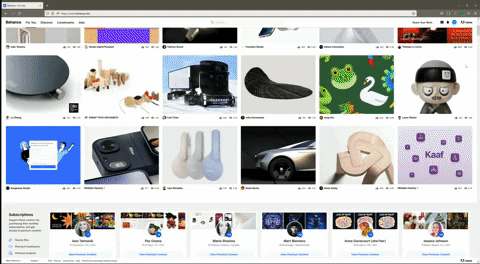 Number two: branding. Since Adobe now owns the platform, it can insert its logo and pitch its products in strategic places. Here are a few examples, starting from the welcome email: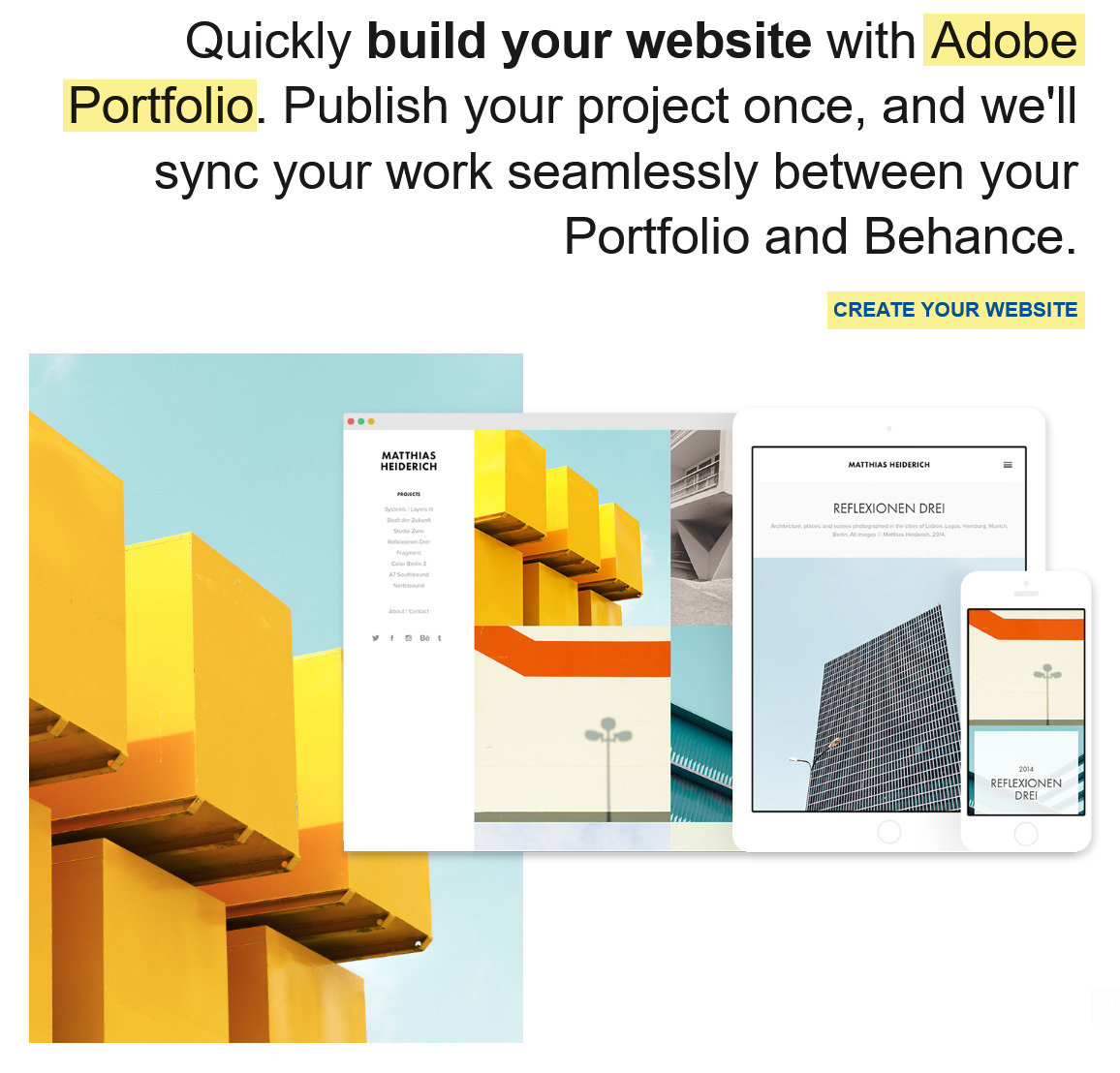 While creating an account on Behance is free, Adobe tries to put users on a conversion path ASAP. By clicking on the link in the image above, users are directed to a landing page where they can create a portfolio page that comes free with Adobe's Creative Cloud paid solution: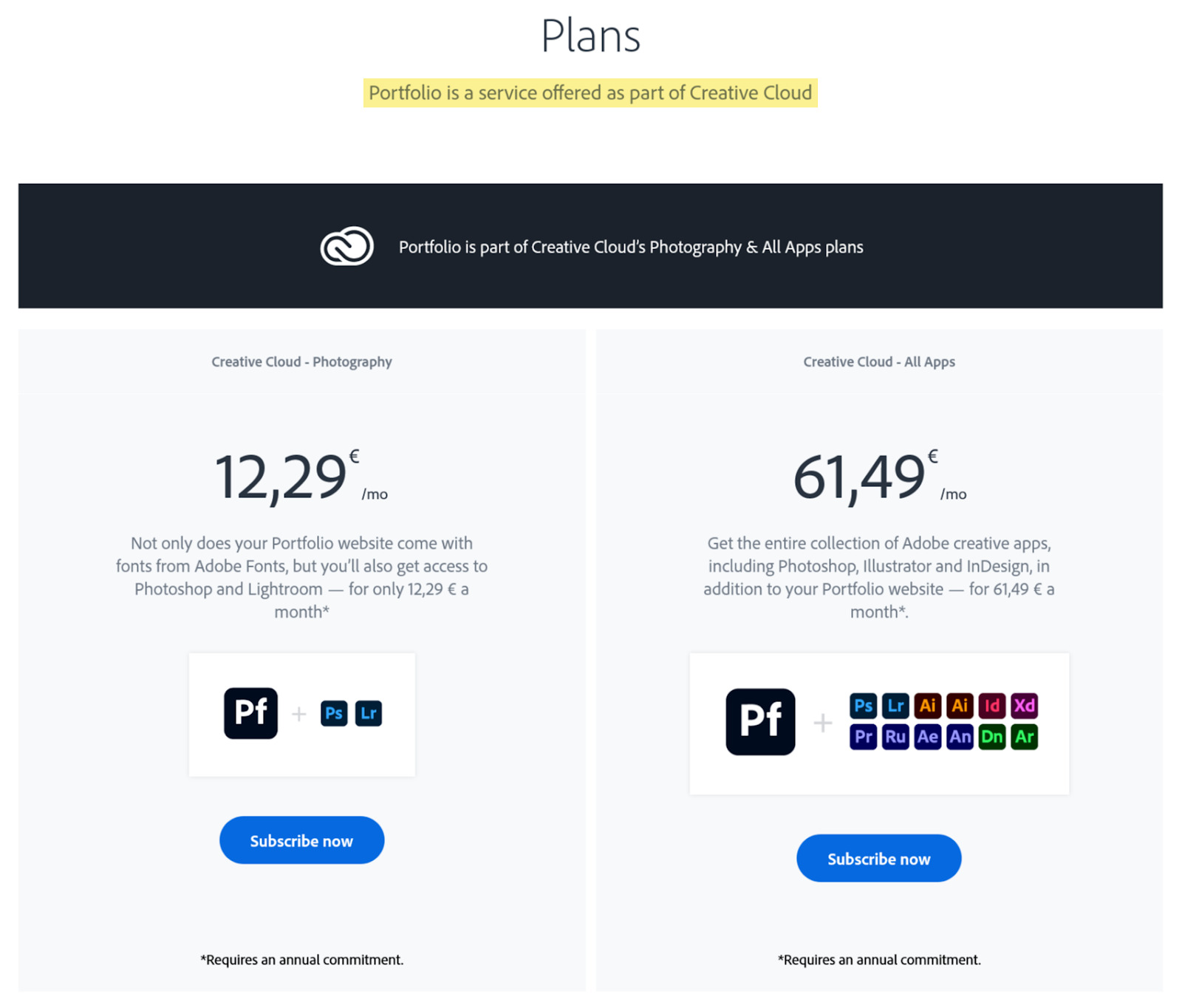 Then, on the Behance platform itself, there's a whole lot of Adobe's branding:

When we put it together with just the organic traffic this platform currently gets, we suspect that Behance is worth even more than what Adobe paid for it.
If you look at other branded communities, you will find other benefits of building them. Behance is an example of a community focused on showcasing work. But when a community is focused on conversations and sharing ideas about a product, this allows the brand to:
Get quality feedback on new products and features.
Gain an additional marketing channel. Brands can connect with users directly on these platforms, and the messages can go beyond the platform to spark word of mouth elsewhere (social media, forums, workplaces, etc.).
Offer added value to the product or service. For example, if a user has a problem, a request, or an idea, they can get feedback from other users in the community. 
Takeaway
For Adobe, a community connected to its brand was worth $150 million. And it's not the only company that has invested heavily in this marketing asset. A branded community can be a source of many benefits. These include giving a company the ability to monetize traffic, get valuable feedback, and gain a new, direct marketing channel.
Market research is the process of gathering, analyzing, and interpreting information about a given market. This is how marketers source crucial data for their marketing strategy, e.g., insights about potential customers, the competition, and the industry trends.
The importance of market research is hard to overestimate. Data is power, and it's no different when it comes to marketing.
In fact, I'll put it this way: Data should be the starting point of any decision-making. And if you don't have enough data to make a move, your next move should be to get data.
Here are some popular methods to achieve that:
Interviews – Conduct face-to-face discussions with your users, potential customers, and other people with insight into your market (e.g., distributors).
Surveys – One of the most popular and cost-effective market research methods often done online. Surveys involve polling on things like feature desirability and user satisfaction.
Competitive analysis – By analyzing your competitors, you can quickly find out what works in your market and what doesn't. Also, competitors make a great benchmark.
Commercial data – Think market reports and industry insights. You can learn things like the size of your market, market trends, and insights from people involved in your industry.
We go into further detail about the above and the tools/resources you can use in our guide on market research.
When it comes to companies that owe their success to market research, LEGO is a truly noteworthy example. In one of its research studies, the company found that only 9% of its users are female. LEGO understood that it had addressed that market segment wrong for decades.
But since a problem is an opportunity in disguise, LEGO set out to discover how it could approach that underserved market better.
It rolled out a massive study involving 3,500 girls and their mothers to understand the girls' playing habits. It took LEGO four years to complete the study.
It found out that girls appreciate a different kind of playing experience. Namely, different kinds of scenarios (e.g., hair salons instead of police stations), more vibrant colors, and more expressive figurines than the LEGO classics. And so LEGO Friends was born in 2012.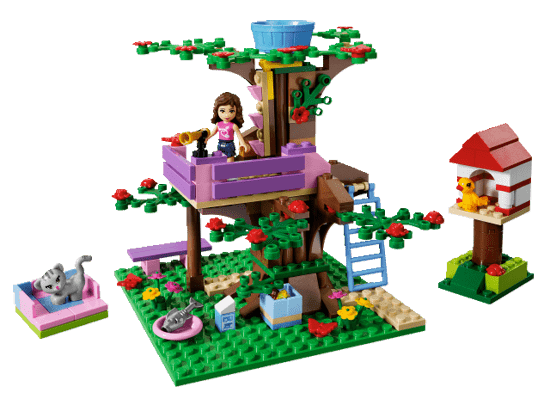 Despite some criticism for the alleged reinforcing of gender stereotypes, the new product line became an instant hit. Today, LEGO Friends remains one of the biggest LEGO successes to date.
In the year the set launched, the company's net profit rose 35%. And in the following years, Friends became one of the top five selling LEGO themes. 
Takeaway
Whether you're trying to fix a problem in your marketing or looking for new opportunities in the market, chances are your answers are already out there. But you won't find them until you reach for market research methods—a lesson we can learn from LEGO.
It's worth noting that market research doesn't have to be a huge, expensive project. It can also be done in a cost-effective, agile way.
Recommended reading: Market Research: What It Is and How to Do It
Final thoughts
I hope these five short examples inspired you to refine your marketing strategy. Seeing so many companies investing in these activities with great results, I think marketers should either try them at some point or have a really well-argued case for not doing them.
Naturally, these are not the only effective marketing activities out there. Here are a few more resources that feature other marketing ideas and tactics you can draw inspiration from: