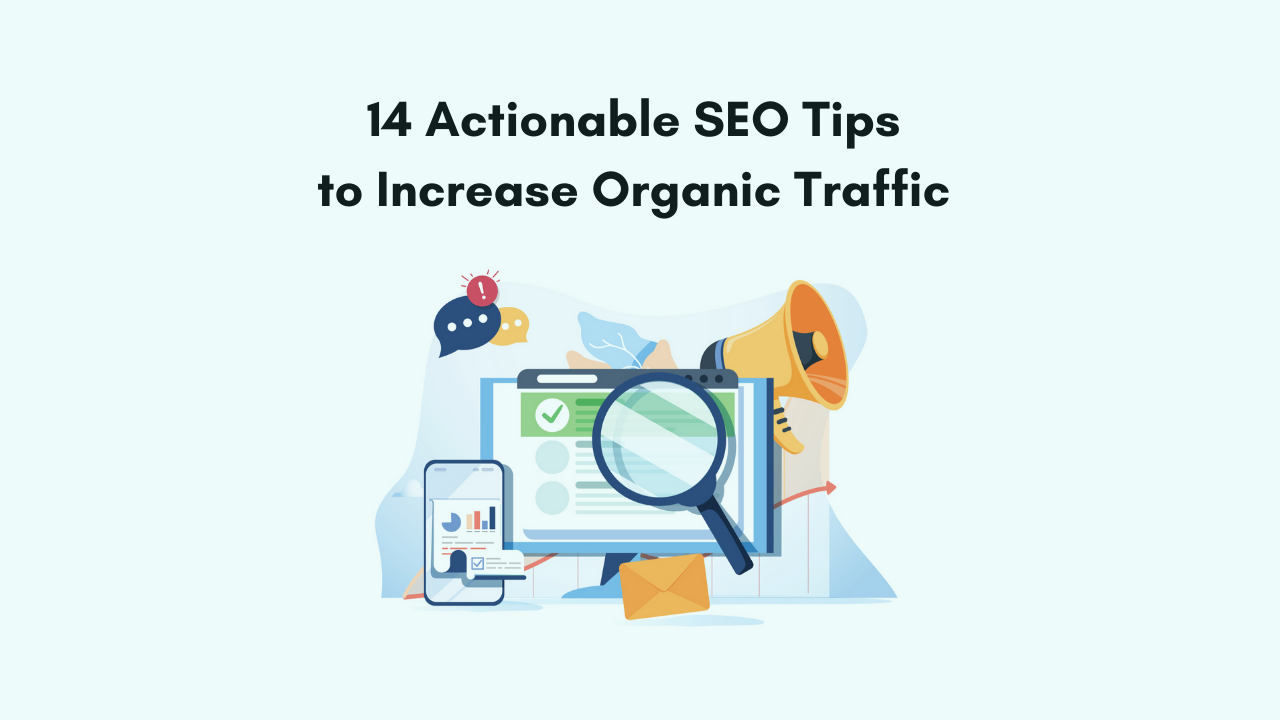 If you run any sort of website or blog, you probably think about traffic a lot.
You might even be obsessively checking your daily organic traffic, looking to see how many new visitors came to your site.  At least that's what I used to do, every time I published a new blog post.
However, increasing your website organic traffic is not as simple. 
The blogosphere is crowded, and these days just publishing engaging, useful information is not enough. There needs to be an ongoing marketing strategy to drive more organic traffic to your website. 
Here are 14 actionable SEO tips on how you can increase your organic traffic to your website.
1. Set up a Content Marketing Strategy and Calendar
Creating content is an integral part of SEO, although it requires time and resources.
You can provide more in-depth information on a blog to build authority in your niche. Regular posts will create an extensive catalog of content that is optimized for your readers. 
Google also loves fresh content, and they rank consistent bloggers highly. Besides, readers will spend a lot of time on your blog since there is always new content to consume. A longer average visit time for every visitor will translate to a good search engine ranking. 
It takes time to build authority sites, and you may even find that content that you wrote months ago is driving most of your current organic traffic. Once readers trust your influence in a particular segment, they will visit your website if they have queries. 
For a business blog, you can also work out all the events and holidays coming up in the year and work out how you can align these with the business. 
2. Advanced Keyword Research and Target Long-Tail Keywords
Established websites can get away with using highly competitive search terms and those with a high keyword search volume. The case is different for new sites, however, as they need a lot of organic traffic to build their brand. 
Long-tail keywords are intent-driven, and they typically have low competition and low search volume, but high conversion rates. 
To discover new long-tail keywords that you can use, type different seed keywords into Google, and take note of the auto-suggestions. When you type these suggestions, write down the related ideas on the bottom page. You can then curate long-tail keywords around what users are searching for. 
Target low hanging fruit
Use LSI keywords
3. Content Pillar and Supporting Pages
4. Optimize for Both Readers and Search Engines
Your content should speak to the intentions of your audience and also rank well in search engines. 
For Readers
You get carried away with trying to rank well in search engines that you forget about your audience. Your readers represent the traffic, and search engines only direct them to your site. 
Write for your buyer persona – address to your readers
Use platforms like Quora and Facebook to understand what your readers want, and then address these needs. You can enable comments if you would like two-way communication with your readers. While comments will build a community, you may have to moderate them and implement anti-spam measures. 
Sprinkle videos, links, and attention-grabbing images in your posts to break the monotony of text. You want your readers to enjoy browsing through your blog. Infographics are other fresh ways you can use to present information. 
Blog posts should be mobile-friendly so that your readers can consume them wherever they are. By incorporating social media sharing, your readers can share your content with other readers, which will increase organic traffic to your website. 
For Search Engines
Once you have created high-quality and persona-optimized content, it is time to set it up for SEO success. Spice up your posts with the appropriate keywords, but ensure you use them organically. Tools like Google Keyword Planner will help you predict how the keywords will perform. 
The title tags to your content should be relevant since it is the first thing that consumers see when going through result searches. Title tags also include meta descriptions, which are summaries of your content. A reader will quickly skim through the meta description to determine if the post has the kind of information that they are interested in. 
Your readers should take away something actionable from your post. Do-it-yourself tips are one way to empower your audience and drive more organic traffic. You can also identify and use authoritative sites as references so that search engines view your posts as accurate and relevant. 
5. Be Active on the Blogosphere and Social Media
Once your blog is up and running, it is time to build industry relationships with other players. Start by looking for authority publications in your niche to write for. Such publications have a large reader base that you can tap into for a consistent flow of backlinks. 
You can also leverage on different social media platforms to promote your brand. You will need to identify the platforms that are popular with your audience. Sites like Facebook and Twitter bring together diverse demographics and interests, but they are niche social media sites as well. 
Optimize your content for the site you are using to boost your organic traffic. Hashtags are, for example, useful tools on Instagram. You can build your authority on Quora as readers seek answers to industry-related questions. When answering queries, aim to be specific and passionate, and give your readers some useful takeaways. 
6. Dominate Features Snippets
Google's featured snippets have become coveted SERP real estate since their introduction in 2016. The snippet gives information on a particular topic and cites a website. It ranks above the first result, which is the best position you can hope for your blog. If you provide content for Google's featured snippet, you can expect your click-through rate to increase.
The primary types of featured snippets are paragraphs, lists, tables, and YouTube. Adding 'How-To" sections in your posts is one way to optimize your content for snippets. 
Featured snippets are not only a reserve for well-ranking websites as Google also pulls content from lower-ranking SERPs. Utilize tools like SEMrush and Ahrefs to discover the snippets that a particular site ranks for. 
To optimize your content for featured snippets, perform keyword research, and do a competitor analysis. You want to improve on what is already available by making it more valuable to consumers. Add a hook to your snippet to get organic traffic, and ensure that the blog post gives readers more than they came for. 
7. Use Data and Metrics to Optimize Your Results
Data and metrics will help you determine the effectiveness of the SEO strategies you have put in place. 
Google Analytics has many tools that will indicate the performance of your website and give you more information on your readers. This tool will analyze how you get your traffic, which can be through referrals, organic search, social media platforms, or other links. 
You will see the volume of sessions and the bounce rate of the traffic. Your social media traffic will tell you where your brand is performing best so that you know where to invest the most effort. You will also determine the rate of conversions that your campaigns are recording. 
Google Analytics includes behavior reports that will tell you how your readers navigate through your site. You can use the information to finetune your content and attract more organic traffic. 
8. Internal Linking
You should establish an internal linking structure that signposts related pages. This strategy will keep readers on your website for longer. 
9. Guest Blogging/ UGC
Guest blogging is another way to broaden your audience, and it starts by reaching out to industry influencers. Write compelling content and include backlinks to your site in your guest posts. 
10. Optimize your Meta Title
So the challenge now for any business or blog is to make sure that when people look for a product or service like yours, they find you and not your competitor. 
The meta title, URL, and description are important for an optimized web page or blog post. 
Keep your URL short and sweet, and make sure your meta title and description is intriguing and answer the search intent of the keyword you are targeting.  It's simple but effective
13. Incorporate Video into Your Content Strategy
14. Make Sure You're Offering Value 
Most importantly, always make sure you're offering value.
If you're writing a blog post, what is it people are going to take away after reading your post?  If you're selling products or services, why would they buy from you rather than your competition? 
People will visit your site on a regular basis if you give them a reason to. That's why it is important to always provide new, engaging, and thoughtful information on a regular basis. 
Conclusion
Blogging has become a high-stakes pursuit, and you have to learn SEO to have a fighting chance. At the base of any great SEO strategy is high-quality content, as this is what keeps your users on your site once they get there. Driving this traffic to your website is the more difficult part, but doing keyword research, analyzing your competitors, and optimizing your content for search engines and consumers is your best bet. 
Updated: 24 December 2021