Want to give your small business a marketing boost? Try one of the ideas below.
They're inexpensive, and they work.
Here's the list:
Google Business Profile (formerly Google My Business) is a free tool from Google that allows you to create, manage, and optimize your Google Business Profile.
Basically, doing this will improve your rankings in local search queries and Google Maps.
Setting it up and optimizing it only take 30 minutes—a low-hanging fruit. If you've not done it yet, I'll recommend you do it now.
Recommended reading: How to Optimize Google My Business in 30 Minutes
"Best of" lists exist for almost anything in almost any city. You can find the best spas in Singapore: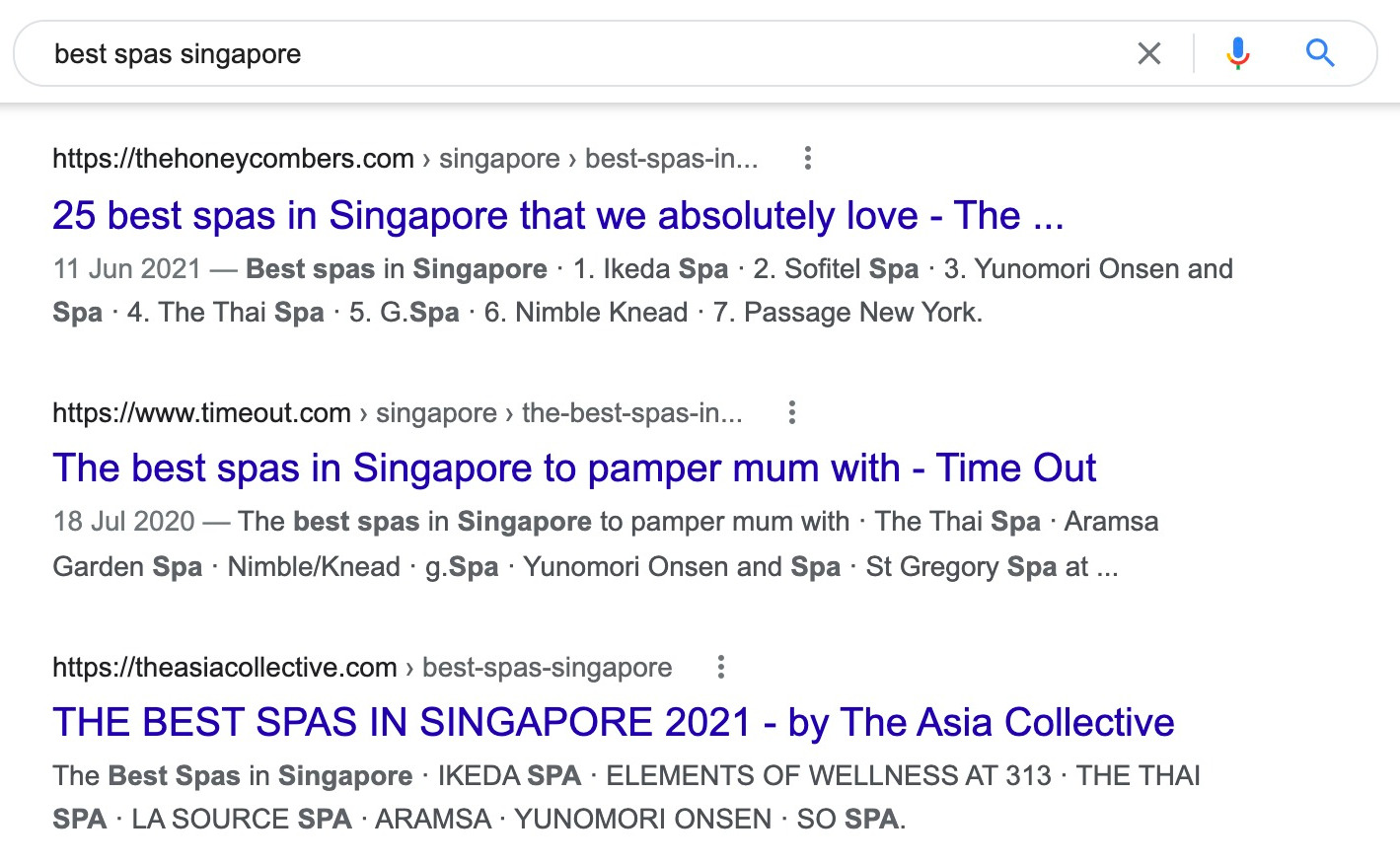 Or the best spin studios in London: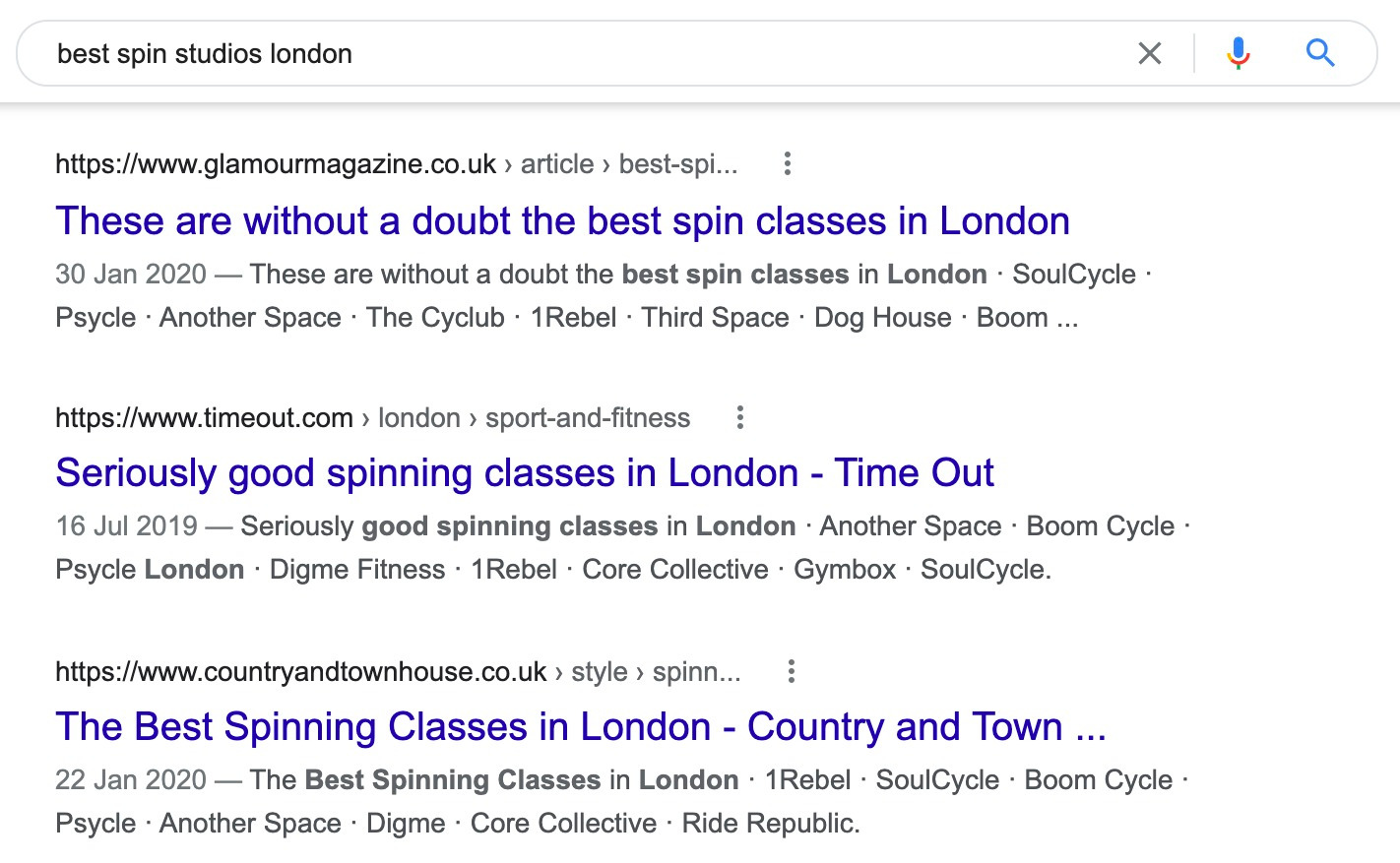 These pages usually get a decent amount of traffic and will expose your business to readers. So your goal is to appear on these pages, which feature lists that fall under topics relevant to your business.
Here's how to find these pages to pitch:
Install Ahrefs' SEO Toolbar
Search Google for something that's likely to return relevant lists for your business
Look for blog posts with traffic
For example, if you own a ramen restaurant in Singapore, you can search for "best ramen restaurant singapore." This gives you a list of "best of" pages you can pitch to. Use the SEO Toolbar to see which of these pages get traffic: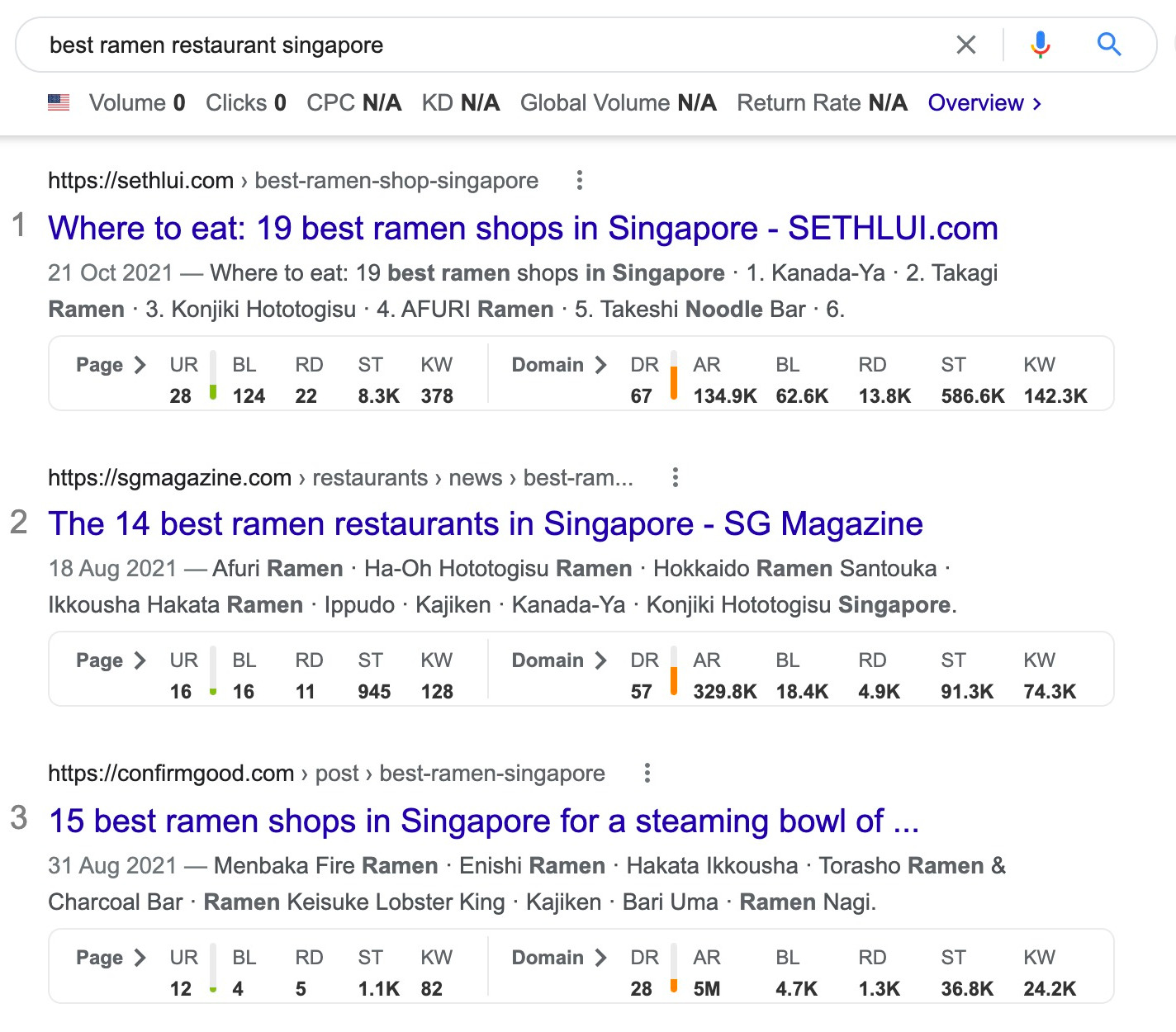 If you find that you're not featured on any of these pages, find the site owner's or editor's email address. Then give a pitch, requesting them to include your business. But don't expect to be included just like that. You'll usually have to invite them to sample your product or service.
Pro tip
Don't just search for the most obvious terms. Try thinking out of the box too. For example, if you're a glamping provider, the most obvious term may be "best glamping Singapore."
But glamping is an awesome date idea too. So why not pitch to be included in topics like "best date ideas Singapore"? There are plenty of other ideas too: best outdoor activities in Singapore, best things to do in Singapore, best things to do with kids in Singapore, and so on.
Google is only one way people find businesses online. There are other directories and marketplaces people use too. For example, they may use Yelp to find restaurants, TripAdvisor to find hotels, or Avvo to find lawyers.
Likewise, your goal is to appear in any relevant directories so that people can easily find your business. To look for suitable directories, Google "[type of business] near me." Then look for directories in the search results.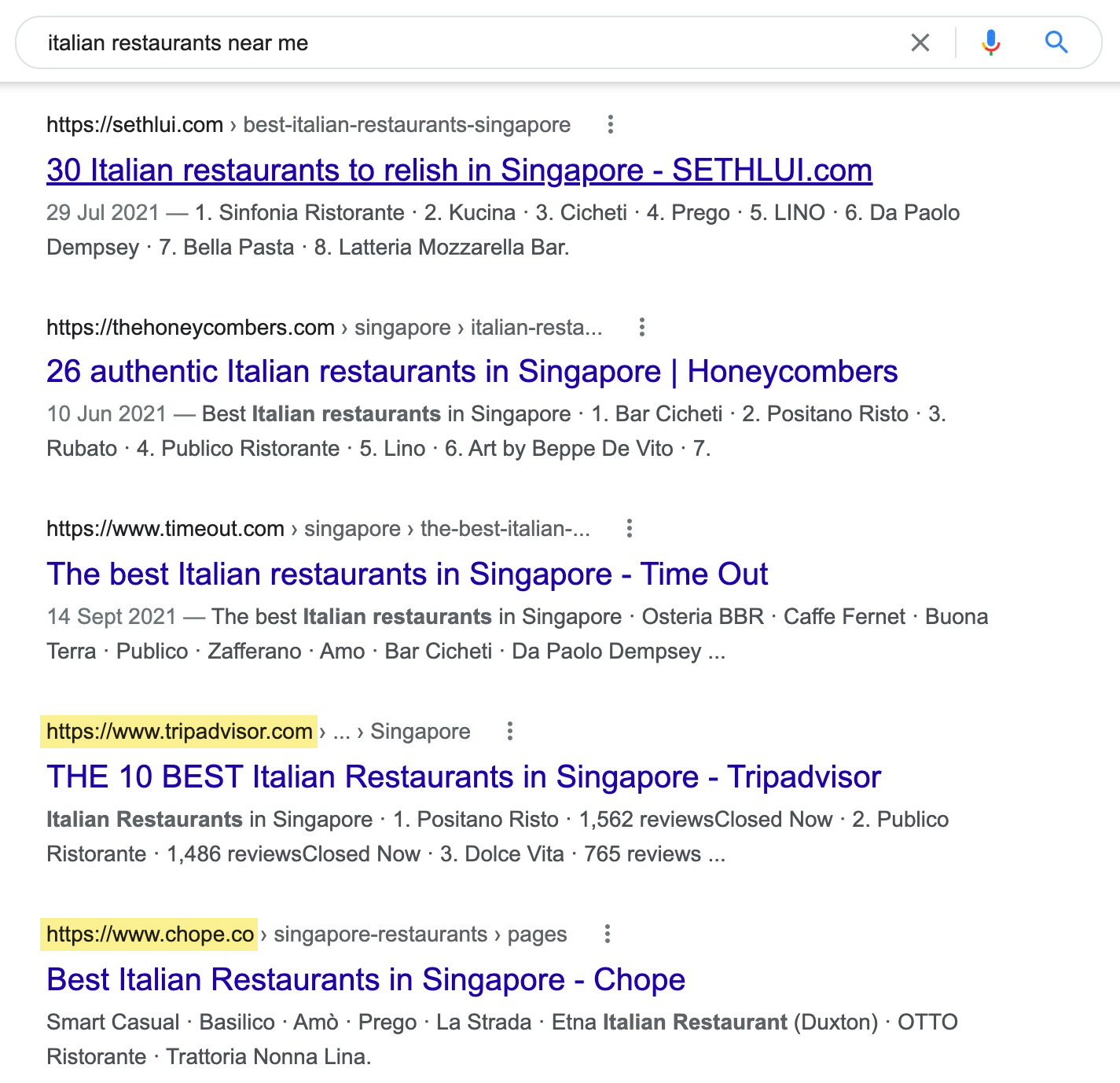 Another method is to use Ahrefs' Link Intersect tool, which is a tool that shows you who's linking to multiple competitors, but not you. Here's how:
Go to Link Intersect
Enter a few of your competitors' homepages in the top section
Enter your website in the bottom section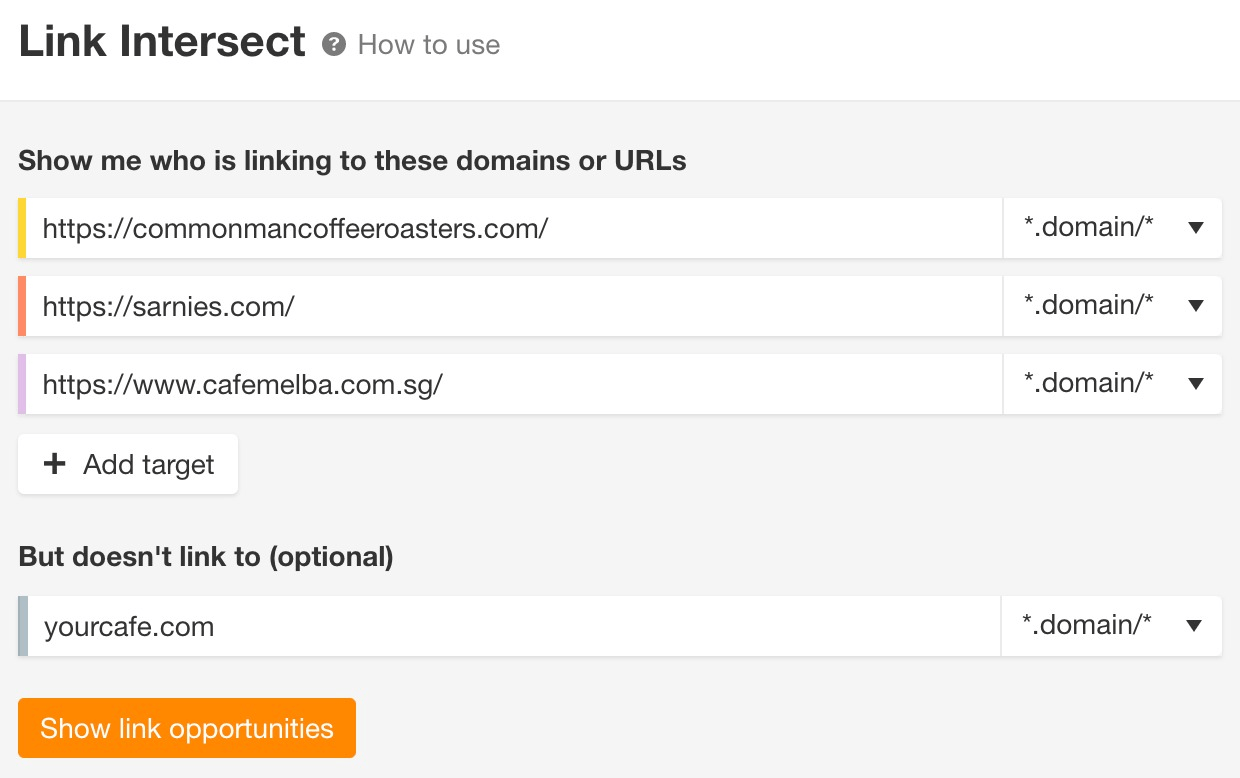 Then, hit "Show link opportunities."

Look through the list and see if there are any directories. For example, this site looks like it is a directory and links to all three competitors' sites.

Go to the website and see how you can be added to the directory.
In all, 93% of consumers say that online reviews have influenced their purchase decisions. So the more positive reviews you have, the likelier it is for someone to buy from your business.
Not only that, typically speaking, if you want to rank higher on directories or marketplaces (#3), it is likely you'll need more reviews. One thing, though: On most of the major directories, it is against guidelines to offer incentives for reviews. As a result, you may be penalized for doing so.
So how can you get more reviews?
The simplest way is to make it easy for people to review your business. Create a link that your customers can access easily so that they don't have to figure things out. The fewer hoops to jump through, the more likely customers will leave a review for you.

The timing matters too. Ask them to review your business only if they have expressed satisfaction. It may be after a customer compliments you on the delicious food at your eatery or shares a positive Net Promoter Score (NPS) online.
No matter which country you reside in, there are plenty of seasonal occasions and events that people are willing to spend good money on. Examples include Valentine's Day, Black Friday, Cyber Monday, Christmas, and Singles' Day (Asia).
Your business should capitalize on people's willingness to spend.
One way you can do this is to find seasonal topics and rank for them. Here's how you can find these topics:
Go to Ahrefs' Keywords Explorer
Enter a few relevant keywords
Go to the Matching terms report
In the Include box, enter a few holiday keywords (e.g., Black Friday, Father's Day) and choose Any word.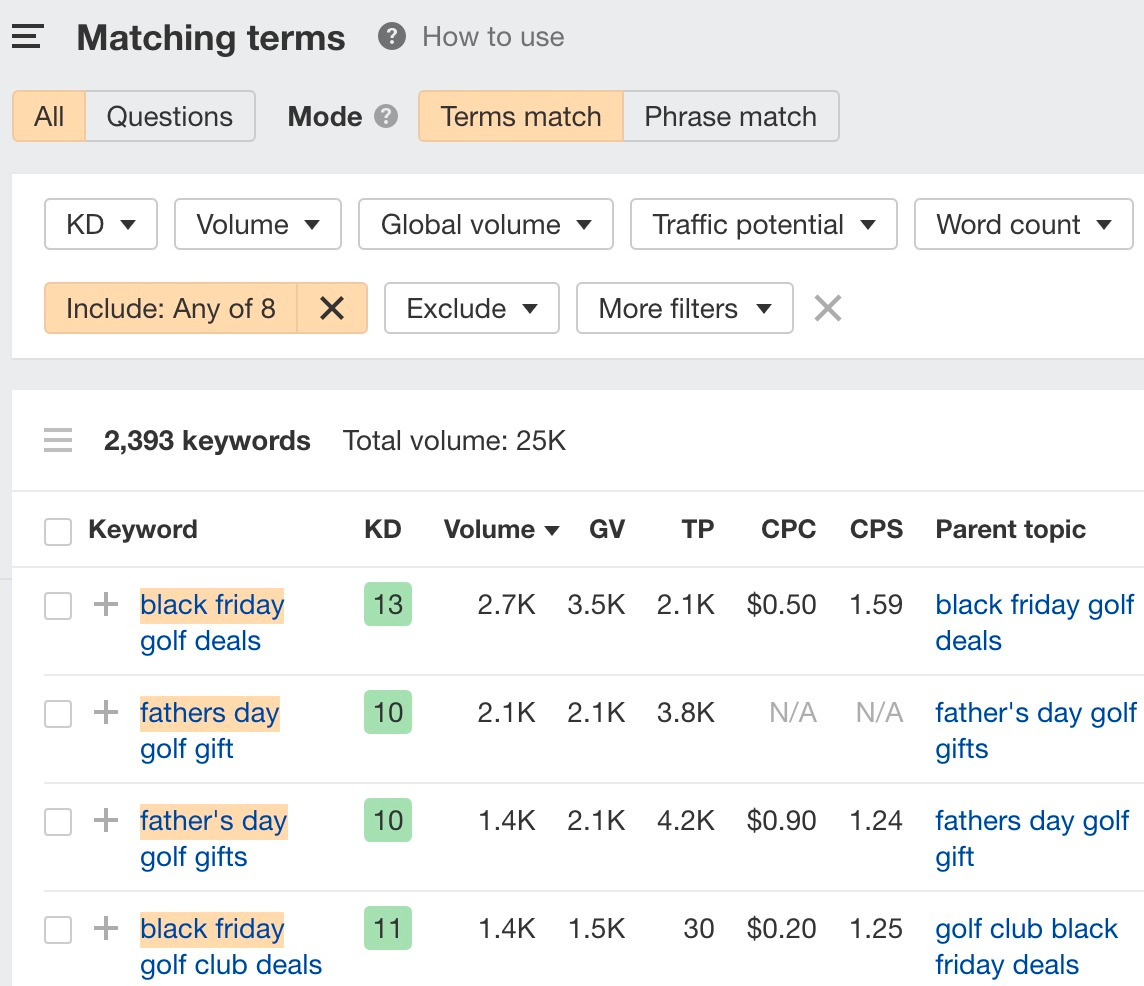 From here, eyeball the list for relevant topics you can target, then create content that ranks for it.
Recommended viewing: Holiday SEO Tips to Maximize Organic Traffic
Here's an interesting statistic: 53.3% of all website traffic comes from organic search. Yet, according to our study of 1 billion pages, 90.63% of pages get zero traffic from Google.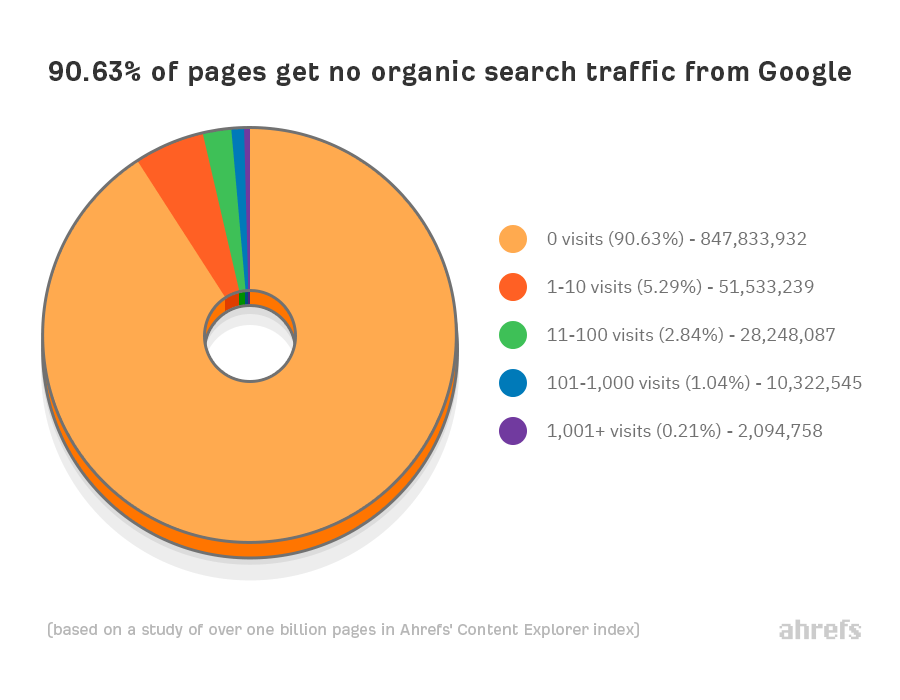 One of the reasons is most of these pages aren't optimized for SEO.
If you want to rank high on Google and get passive, organic traffic over time, you have to optimize your pages for SEO.
First, let's start by identifying pages on your site that do not currently get any search traffic. Here's how to do this:
Go to Ahrefs' Site Explorer
Enter your domain
Go to Overview 2.0 and scroll to the Organic pages by traffic chart
Click on the "0" bar, and it'll show you all the pages on your site that do not get any search traffic.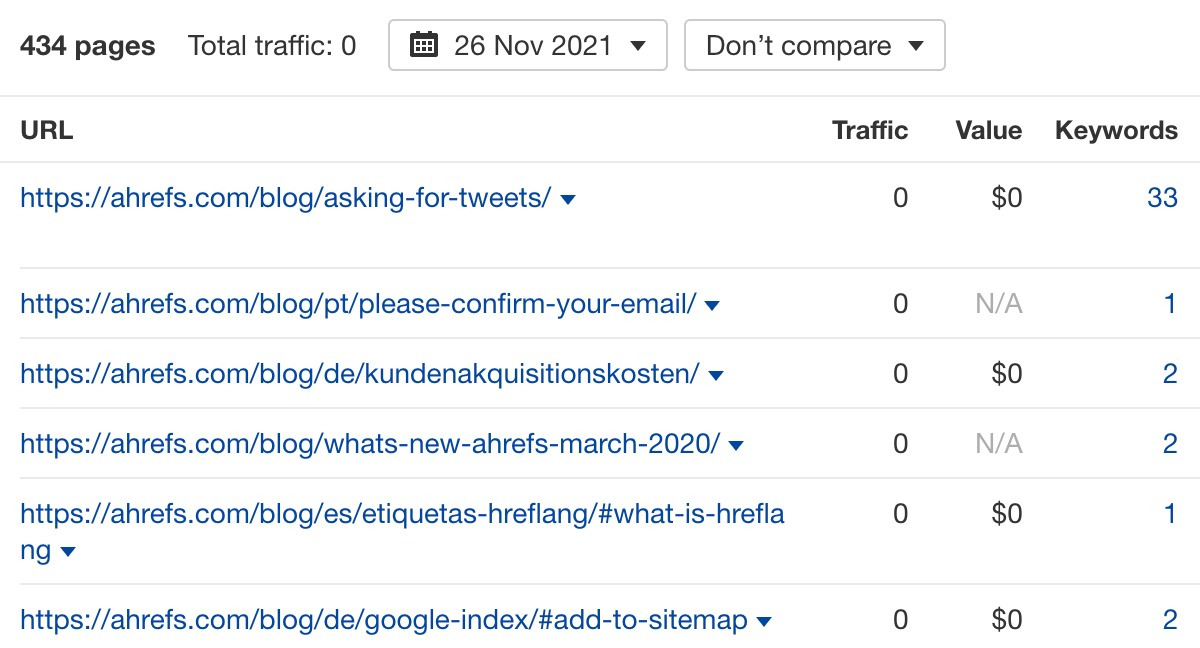 Look through the list and note down those pages that are important to you. They should be your priority. Then follow the guide below on how to improve your pages' rankings.
Recommended reading: How to Rank Higher on Google (6 Easy Steps)
Everyone loves freebies. Give away your product—and you'll get to promote it, raise brand awareness, and even collect email addresses along the way.
Doing a giveaway is pretty easy. Set it up with a free tool like KingSumo, and you'll be good to go.
You can even gamify the giveaway by handing out more entries if participants complete a set of actions. The good news? KingSumo does this automatically for you too: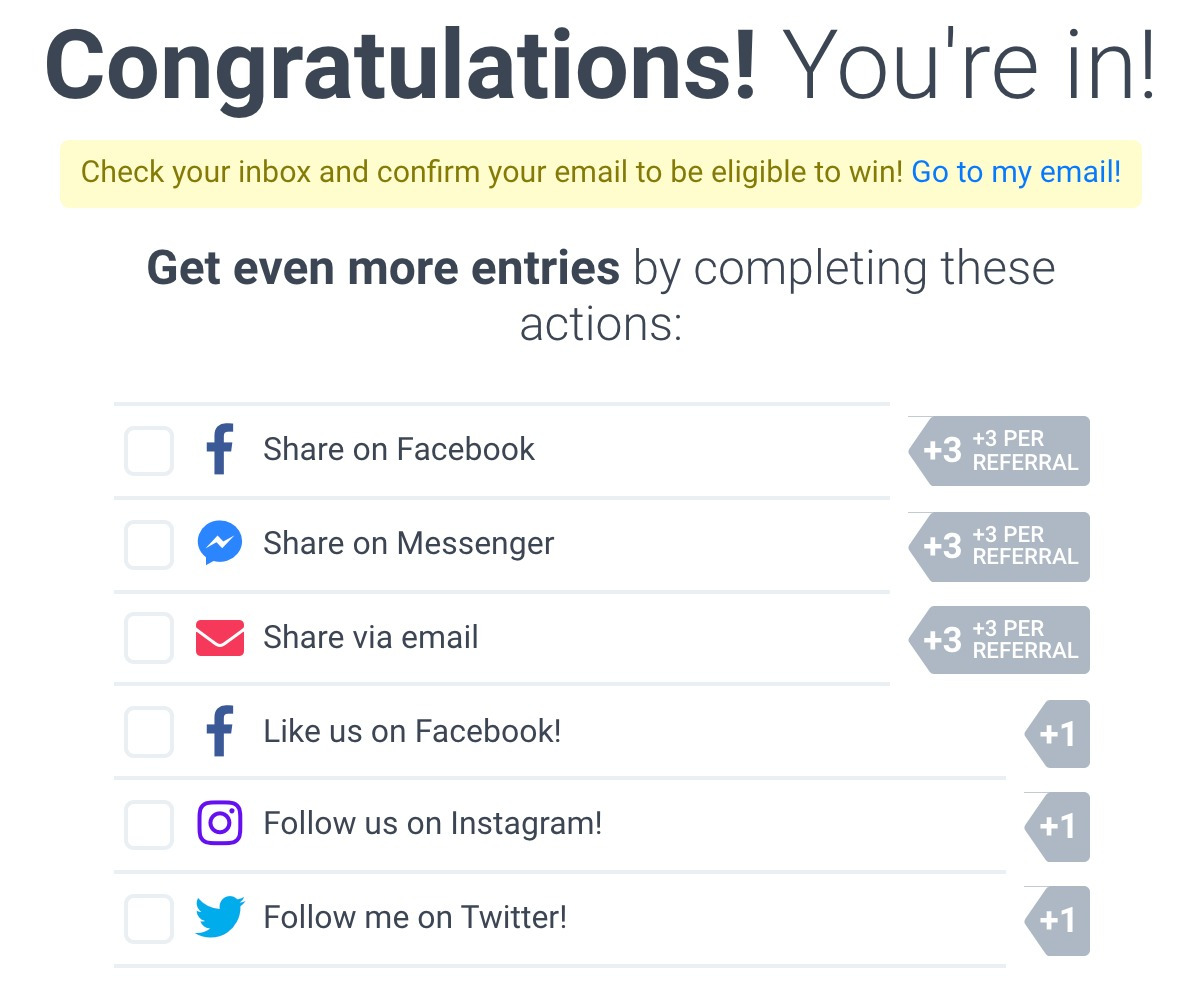 American entrepreneur Tim Ferriss sold out wild sardines and Mizzen+Main's shirts after one podcast shout-out. Kpop singer Hwasa sold out dishes at a local restaurant in Korea after she was filmed eating there.
Work with influencers to tap into their audience. Their followers trust them and are happy to buy whatever the influencer recommends.
This happens at Ahrefs too. Even without an influencer marketing campaign, an endorsement from an industry expert has led to a significant boost in sign-ups:
There are plenty of ways you can work with influencers. For example, if you're a restaurant owner, invite them for a tasting session. Or you can give them your product for free.
However, unpaid engagements mean the influencer may not be inclined to promote you. If you have the budget, you can work with them on a paid basis. You don't have to work with celebrities. You can always work with nano or micro influencers to reach more people at lower costs.
You can even combine this idea with other ideas in this article. For example, you can get them to join your referral program (idea #12) or partner with them to do a giveaway (idea #7):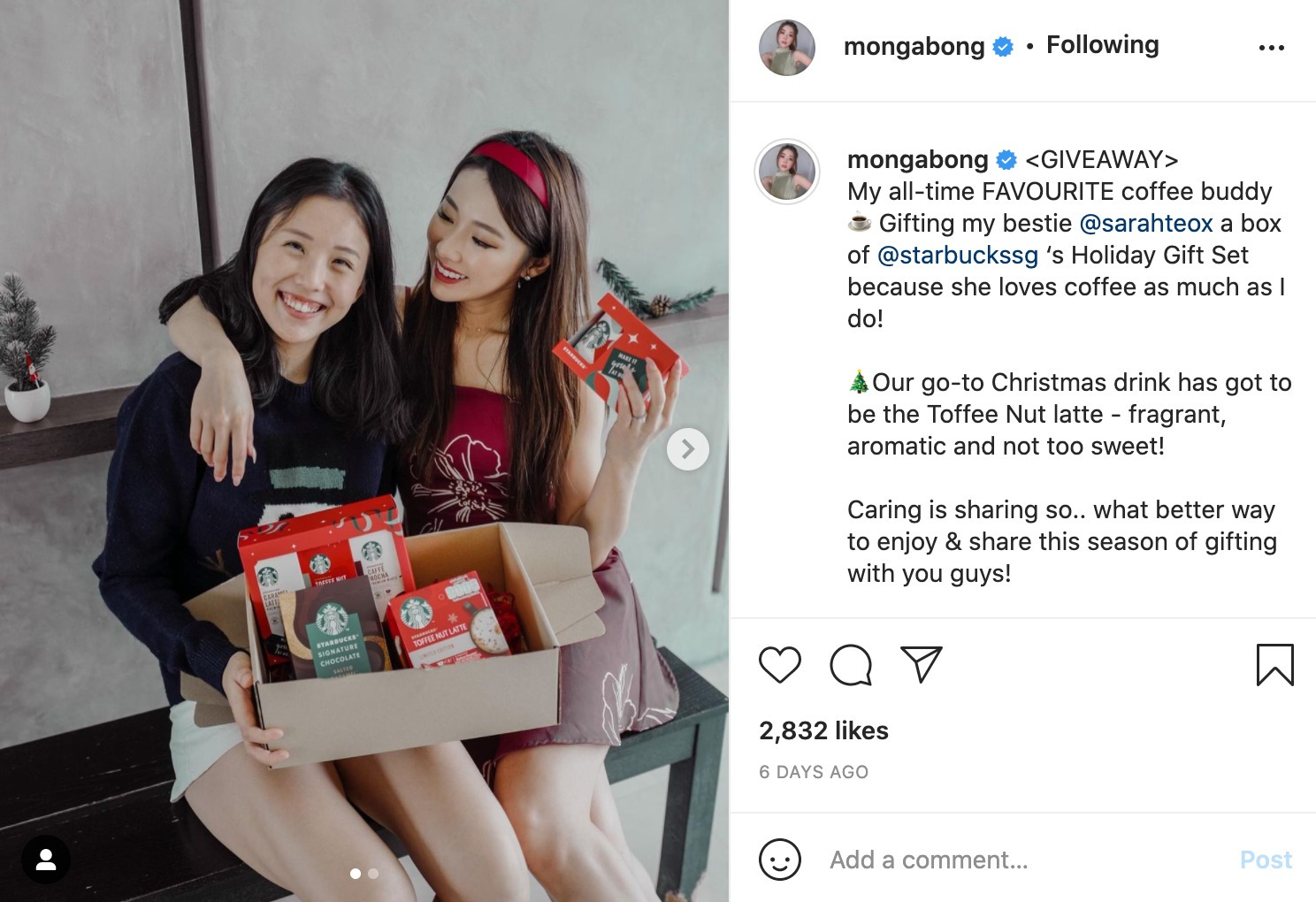 Recommended reading: Influencer Marketing in 2021: Definition, Examples, and Tactics
Thank-you pages, cart pages, email confirmation pages, receipts, and more. Most businesses just leave them as is, but they're actually underutilized real estate.
More can be done with them. You can add upsells, add cross-sells, collect emails, ask for reviews, etc., on these pages.
For example, after you sign up for Ramit Sethi's email list and click "confirm," you'll be redirected to a page where he offers you a few free downloadable resources and a link to check out his paid course.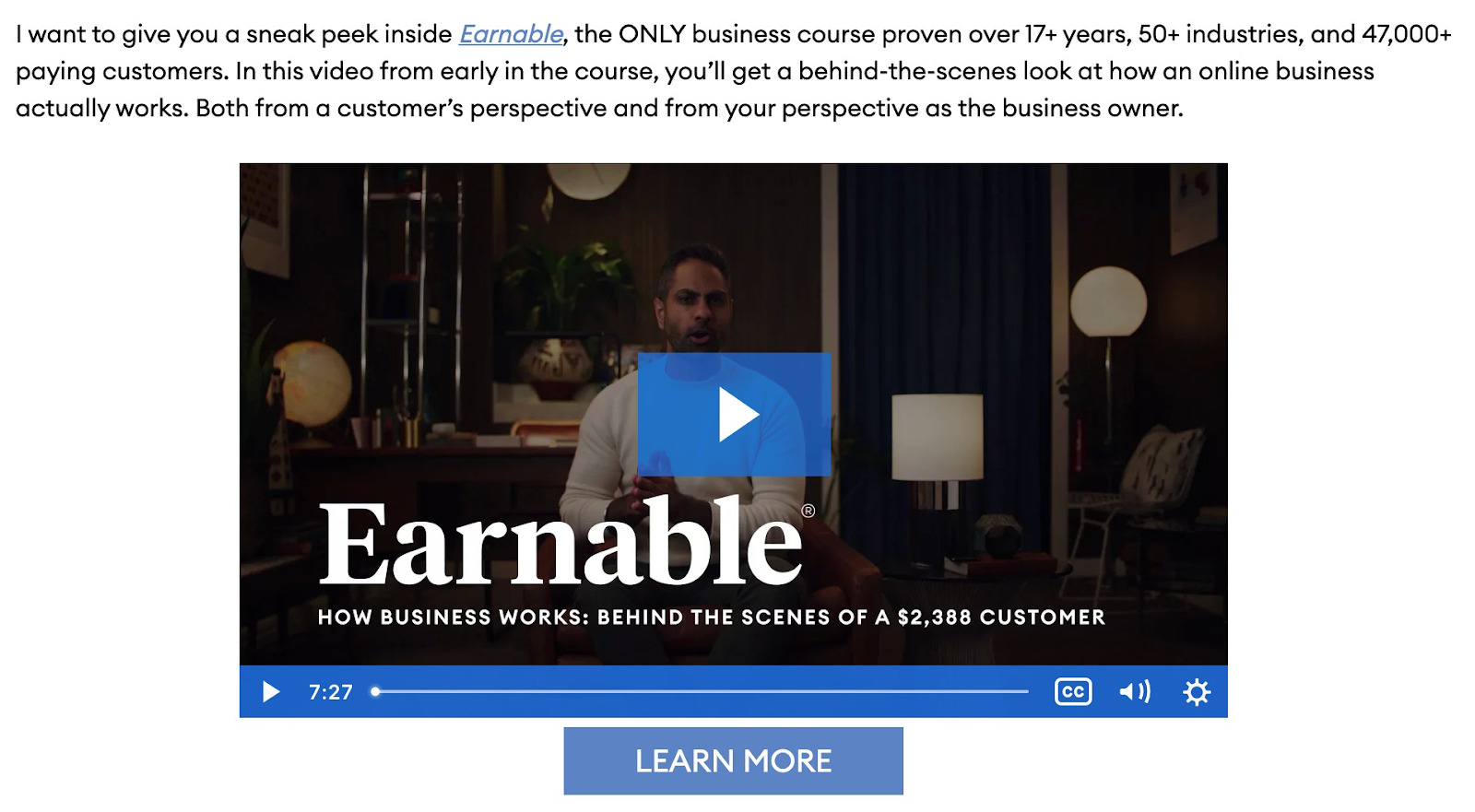 Other examples include Amazon showing recommended or sponsored products on its cart page: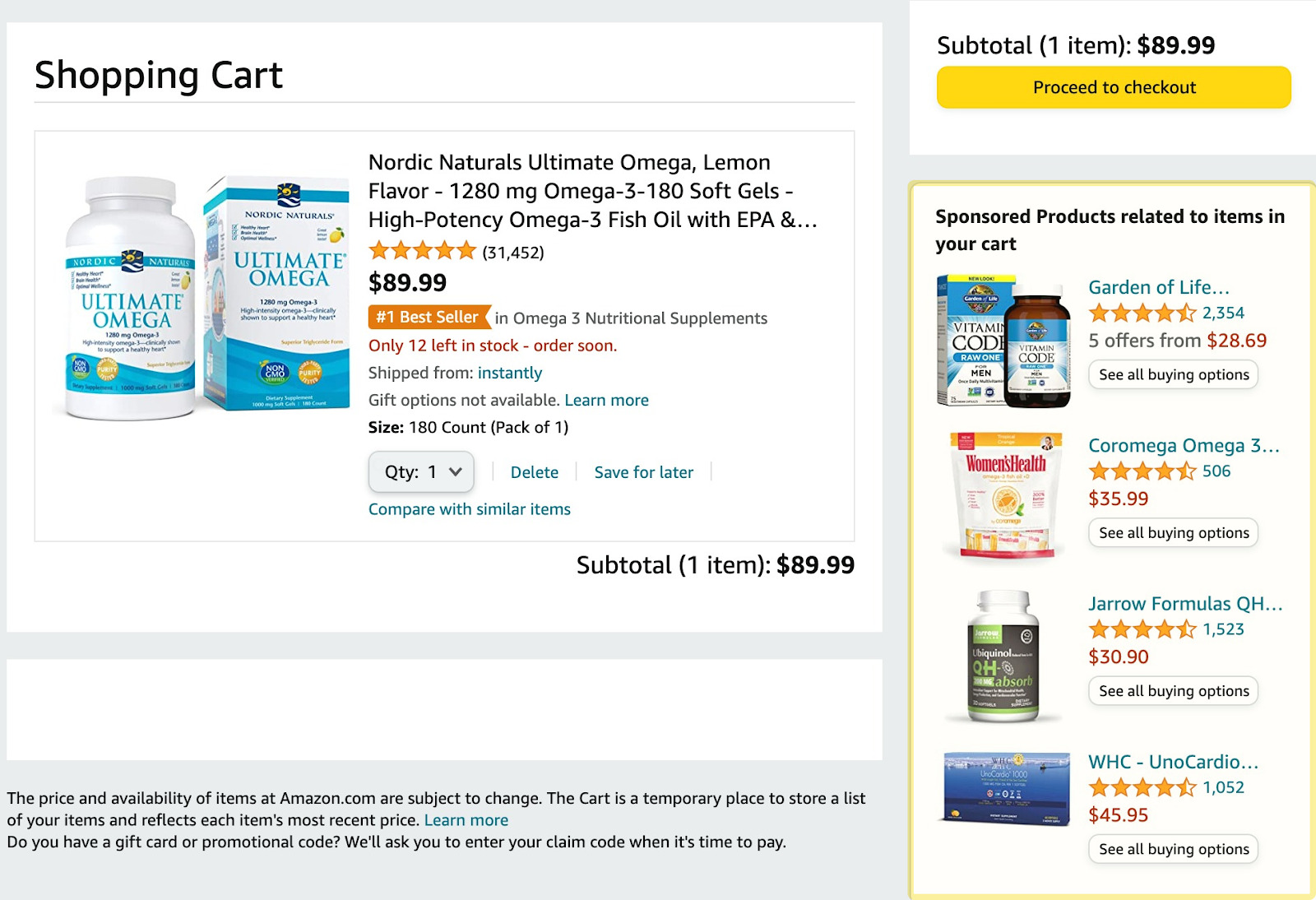 Pret A Manger offers a monthly coffee subscription for only £20.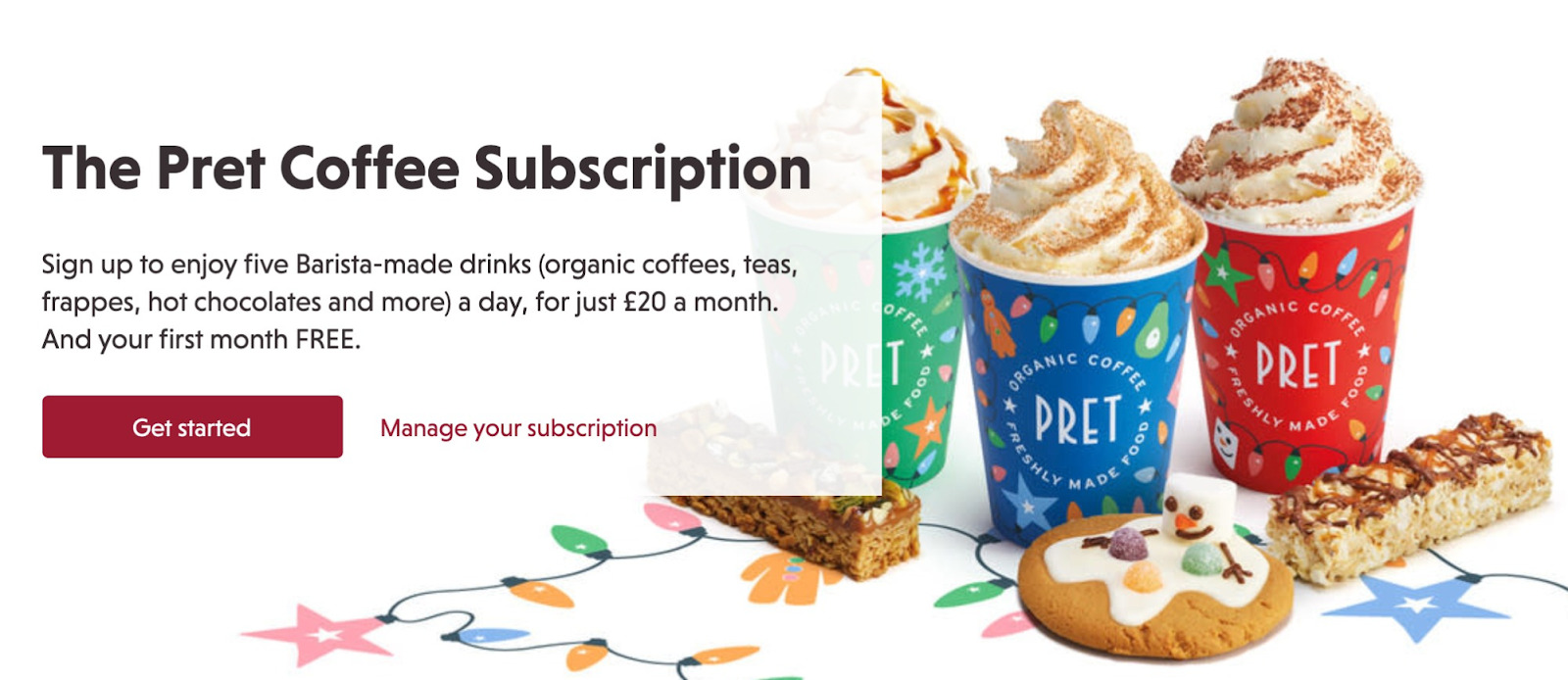 If you're a regular coffee drinker, this is an amazing deal. So why would Pret do this? A few reasons:
Guaranteed income – A person may not drink Pret's coffee every day. That represents a "potential" loss of income. A subscription model gives Pret a fixed amount of sales per month.
Habit building – There are lots of coffee options in the U.K. Pret is only one of them. But someone with a Pret subscription becomes more likely to get coffee from Pret and, therefore, build a habit.
If you have a product or service that is bought regularly, consider asking customers if they want to turn their purchases into a recurring affair. Coffee is one such product, but there are more.
For example, Onnit asks customers if they want to buy supplements on a recurring basis, as opposed to just a one-off: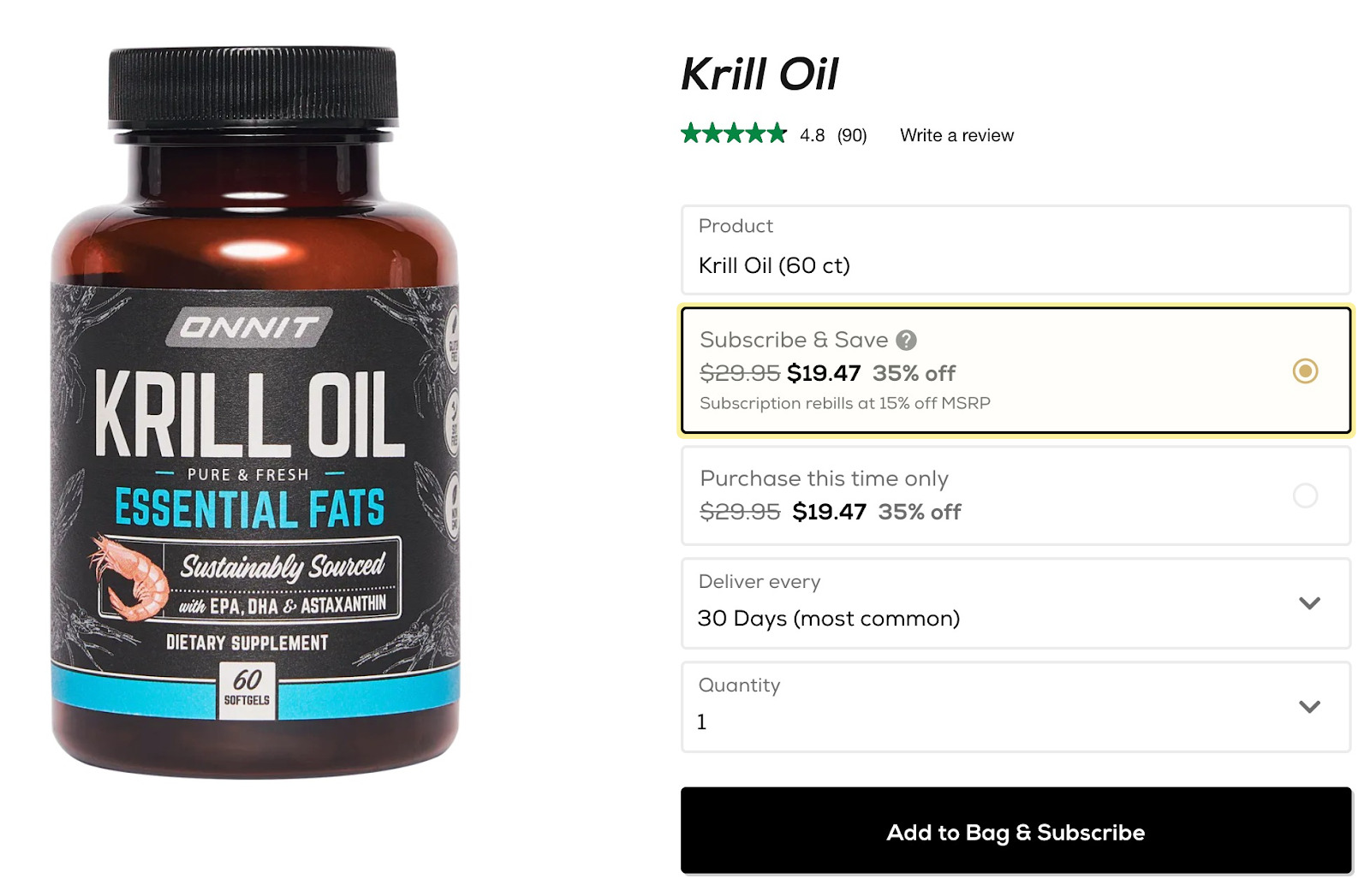 If providing a subscription is not applicable to your business, then you can always offer customers the option to buy a bundle.
For example, Beardbrand offers customers an option to buy a bundle of three beard oils (with a discount as an incentive):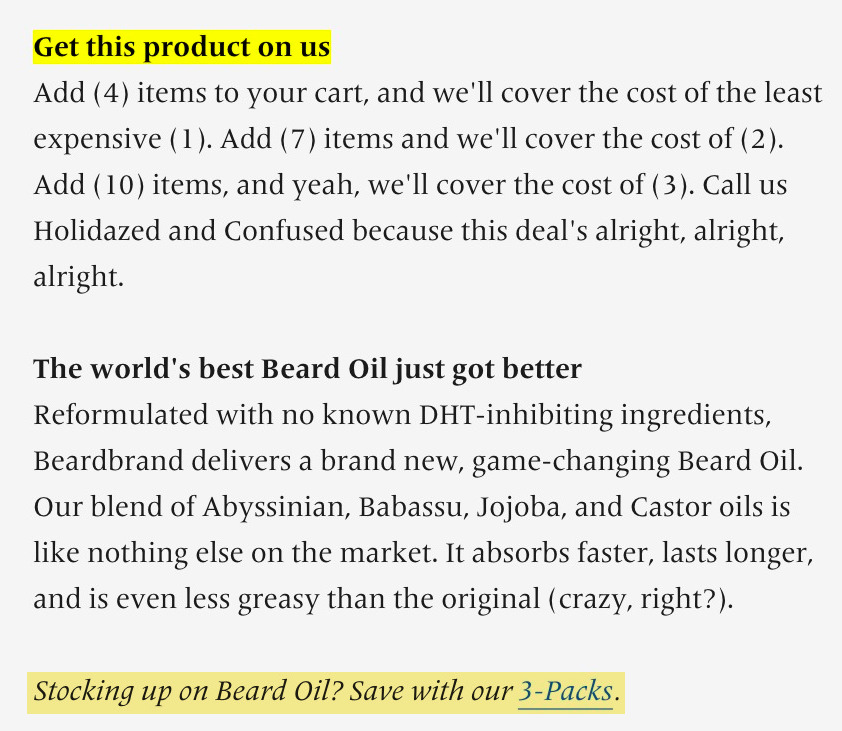 Frank Body upsells its original coffee scrub by offering a scrub kit: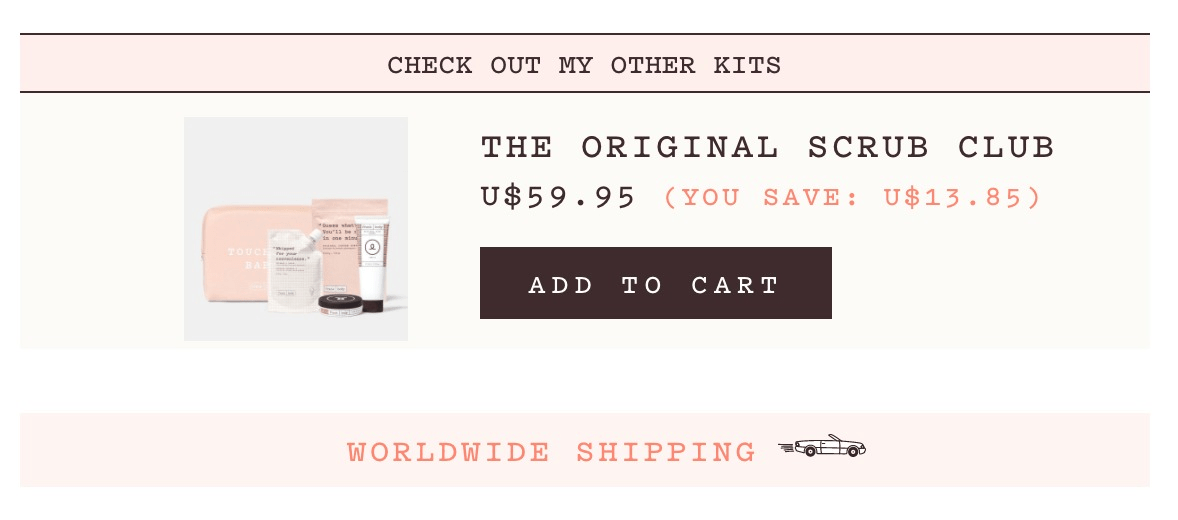 Some satisfied customers may naturally recommend your products to their friends. However, most need prodding. This is where you can use a referral program—create incentives that encourage customers to tell their friends about you.
The success of your referral program depends on the incentive. For that, you can either give away a cash or non-cash reward:
Cash rewards – For every new customer someone refers, you give them and the person they referred $X. Neobank Revolut is one such example.
Non-cash rewards – For every new customer someone refers, you give them and the person discounts, store credits, free products, or more. For example, MeUndies gives away a $20 discount off the next purchase with every successful referral.
Which one should you choose?
If your product is not something customers buy frequently (e.g., a mattress), then a cash reward may be more enticing. If the product is often bought (e.g., clothes), then store credits for the customers' next purchase may be more exciting.
Recommended reading: 10+ Top E‑Commerce Referral Programs to Learn From
When someone signs up for your email list, they're starting to like you. They've consumed one piece (or a few pieces) of your content, decided they enjoyed it, and signed up for more. But at this point, they may not exactly know what you do or what you sell.
Creating an email drip campaign can help nurture the subscriber, introduce them to your products, and (hopefully) get them to buy.
So what is a drip campaign?
Drip campaigns are a series of emails triggered automatically at specified intervals or after a user completes a specific action that you track. This can be as simple as introducing them to more of your content so that they become familiar with your brand (what we do at Ahrefs):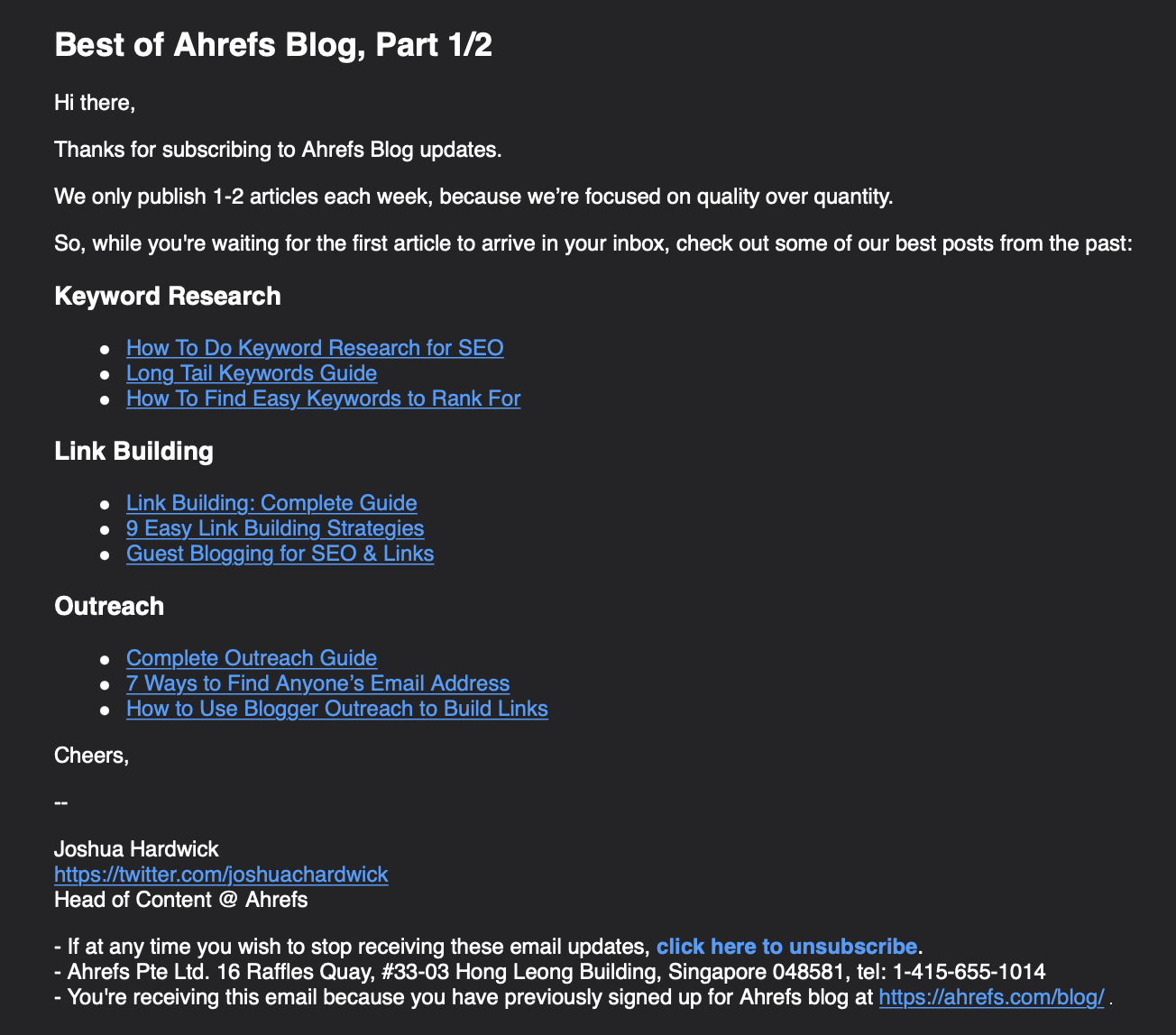 You can also create a multiday email series—like what Rhonda Patrick does after you sign up for her email list. In her first email, she offers immediate value: a free video and slide deck usually reserved for premium members: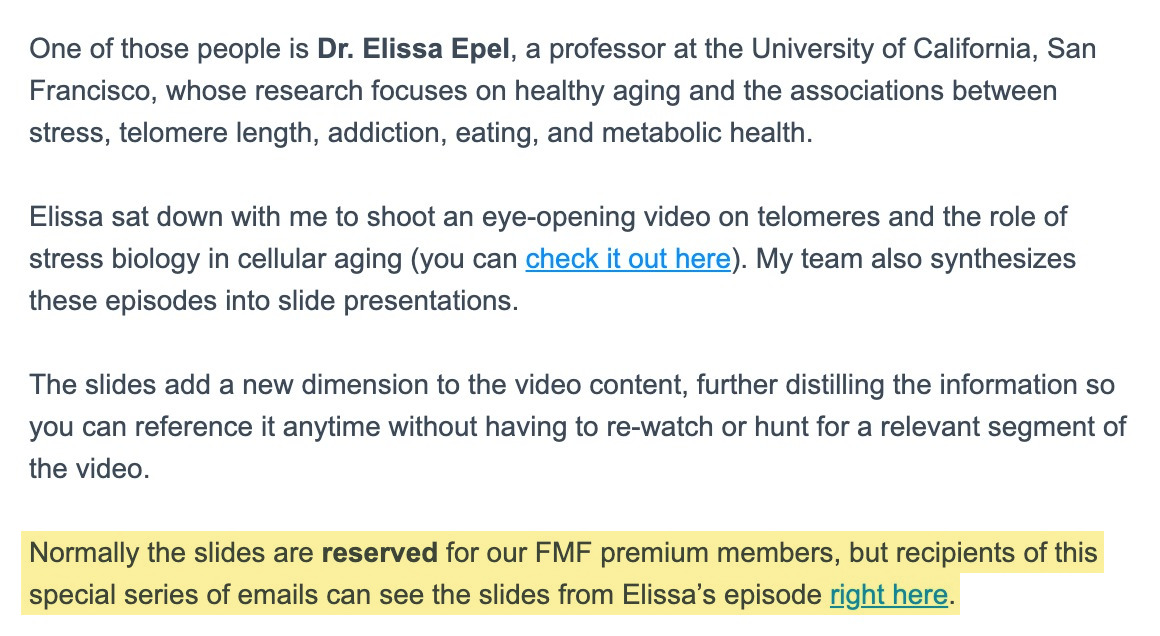 She continues to send a few emails that feature premium content, giving subscribers a taste of the incredible value they'll get: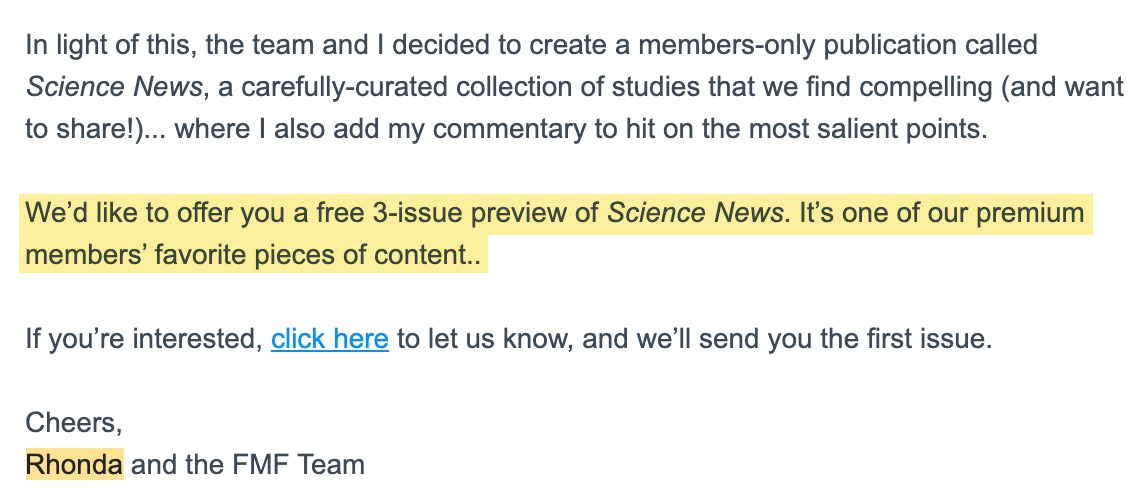 Ten days and six emails later, Rhonda finally sends the call to action—sign up for her premium membership: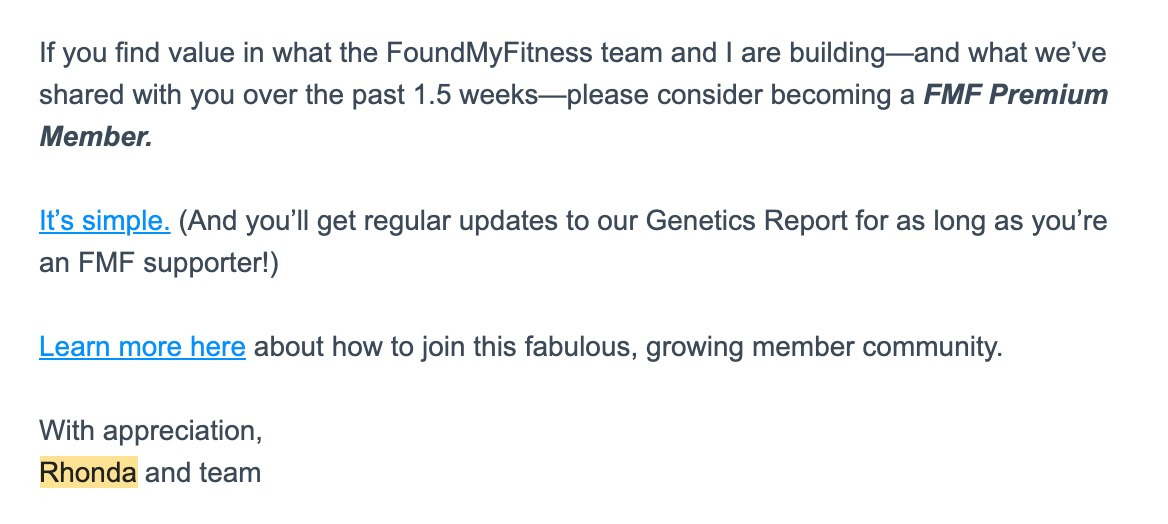 By then, you'd have received so much value from her that signing up is a no-brainer.
Think about the objectives you want to achieve with your emails. Then create an email sequence to bring your subscribers closer to that. But always remember to give value first—don't just ask them to buy something from the get-go.
Final thoughts
You can implement any of these ideas for your small business, but make sure they fit into your overall marketing strategy. Don't chase a tactic for the sake of it. Remember that each one you execute should bring you one step closer to your marketing objectives.
Did I miss out on any cool small-business marketing tactics? Let me know on Twitter.